How Our Forecasting Tool Works
WHY YOU NEED FINANCIAL FORECASTS NOW
Helps You Plan for the Future
With all of today's market moves and shifts in your customer's behavior, a good set of financial forecasts can help you anticipate.
Inform Your Business Decisions
You can easily spot challenges and areas of concern as well as know when it's best to grow and expand your business.
Prevents Many Surprises
If you prepare forecasts on a regular basis, you'll know more about your taxes and other liabilities as well as assets and company growth.
Gain An Understanding Of Cashflow
We all want bank balances to grow but unless you're forecasting your financial situation you won't know when to expect your cashflow to improve.
Help You Raise Capital For Your Business
Borrowing from your business banker, raising capital from investors or taking on debt to finance business improvements are all much easier with a sound financial forecast.
Sleep Better At Night
Or whenever you sleep... a solid, accurate financial forecast puts you in action mode and takes away much of the worry and stress about your company's future.
"Small business owners are passionate about what they are doing and don't love the financial aspect of running a business, but it's a crucial piece of being successful."
Clare Levison, CPA
Member of the American Institute of Certified Public Accountants Financial Literacy Commission
"In order to get the attention of serious investors, it's important to have realistic financial projections incorporated into your business plan."
Megan Sullivan
Quickbooks Blog
5-year Forecasts of Business Financials

Includes Income Statement and Balance Sheet

With Exit Strategy Business Valuation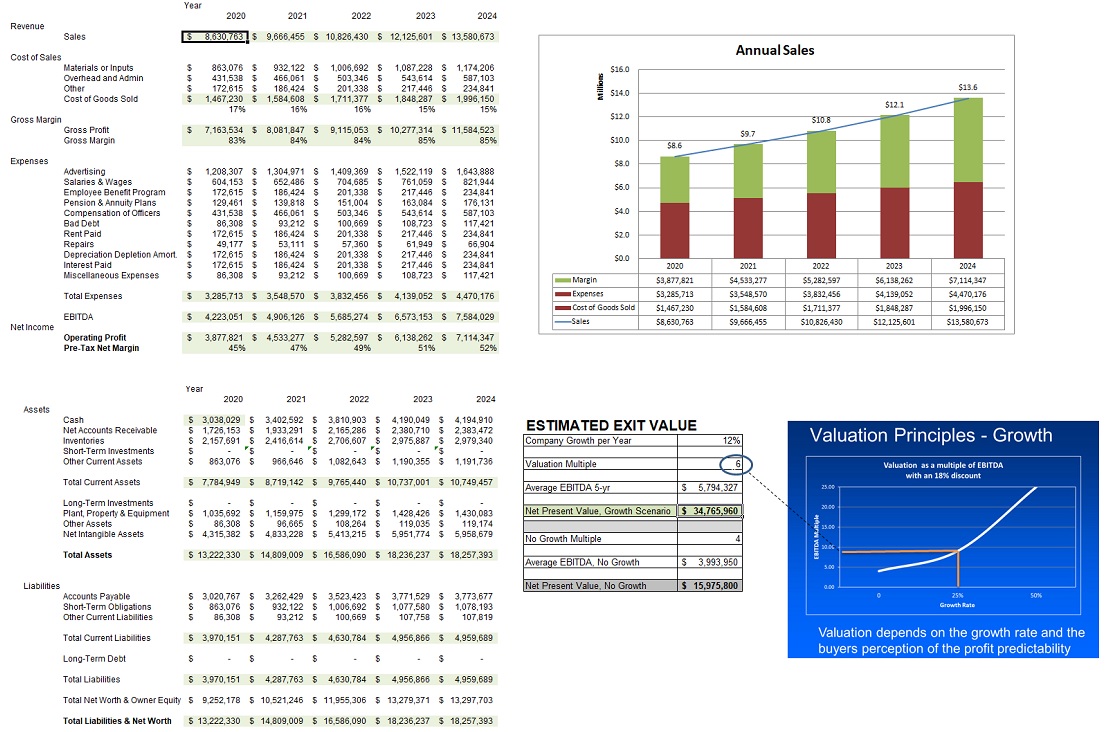 Our forecasting tools depend on your input.

We start with an initial interview (by phone or online survey -- your choice).

We add relevant benchmarks and assumptions based on your industry and markets.

Your Income Statement and Balance Sheet -- both projected over 5 years -- are sent to you for review.

We'll make any need adjustments and provide you with fully documented Financial Forecasts.
Use your Financial Forecasts:
For better planning

Manage debt

Look for weaknesses

Accent strengths

Raise Capital

Vetted for Reg D, 506(b), 506(c), PPM
Buy today for a one-time fee of $2,250 -- includes detailed review of your business or start-up, and a complete set of ProForma Financial Forecasts -- Income Statement, Balance Sheet, and Exit Strategy Valuation.
© Copyright 2022 - CreativeDataNetworks.com - All Rights Reserved