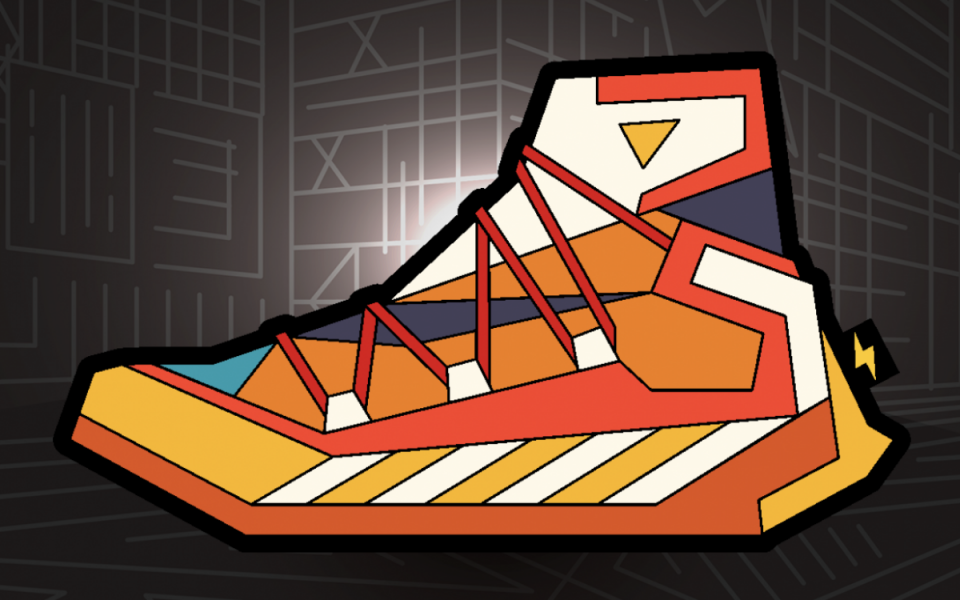 A Guide to StepN: The App That Lets You Earn Crypto While You Exercise
Making money while taking your dog for a walk is an idea that most people can get behind. A chance to get outside, get some exercise, and profit from something you have to do anyway certainly has its appeal. This is the idea that Jerry Huang and Yawn Rong had in mind when they co-founded and launched StepN, the activity-tracking app that lets you earn crypto while exercising, in December 2021.
The app has made a name for itself in the gamified "X-to-earn" space in Web3 known as GameFi. Axie Infinity was one of the first NFT projects to use this model, where users increase their market value the more they engage with the blockchain-based game.
StepN's popularity is growing — even despite a June 2022 cyber attack. Two to three million users are active on the app every month, respectable numbers for such a young NFT project. The company also raised $5 million in funding from Sequoia Capital in November of last year and secured an undisclosed amount of investment from the venture capital arm of Binance this April.  
At the time of writing, the market cap of StepN's native governance and value token (GMT) sits at just under $690 million. Given the hype surrounding the project, we've put together a comprehensive guide on StepN to help you sort through all the buzz and decide whether it's a project you want to invest in.
What is StepN?
StepN is a fitness app similar to other activity-tracking apps like Strava that keep a record of the distance you've covered during a given exercise session. But with StepN, users are able to earn crypto while doing so.
The app essentially gamifies fitness with the potential to earn what can end up being quite a bit of money, depending on a number of factors. In this way, StepN smartly taps into a preexisting demographic of exercise enthusiasts and encourages others to start exercising as well. According to StepN's whitepaper, this also offers the non-Web3-initiated an easy path to the complex and messy world of crypto and NFTs. 
The idea behind StepN is intriguing to say the least, but it isn't without its risks, which we'll dive into later. First, let's look at how the app works, how to get started using it, and why it's so good at getting users to not only exercise but to reinvest crypto into the ecosystem itself.
How does StepN work?
Just like other fitness apps, all you have to do is open StepN before you go on your walk, jog, or run. For now, you'll select Solo Mode (two other modes are currently in development). Because the app uses GPS to track your movement, you can't use it on treadmills or ellipticals, so make sure you're headed outside for your exercise.
Before you start moving, you'll have to choose a digital sneaker that matches your planned activity level. ASICS paired with StepN last year to produce a limited edition NFT sneaker set which you can buy on Binance, and the designs are pretty cool.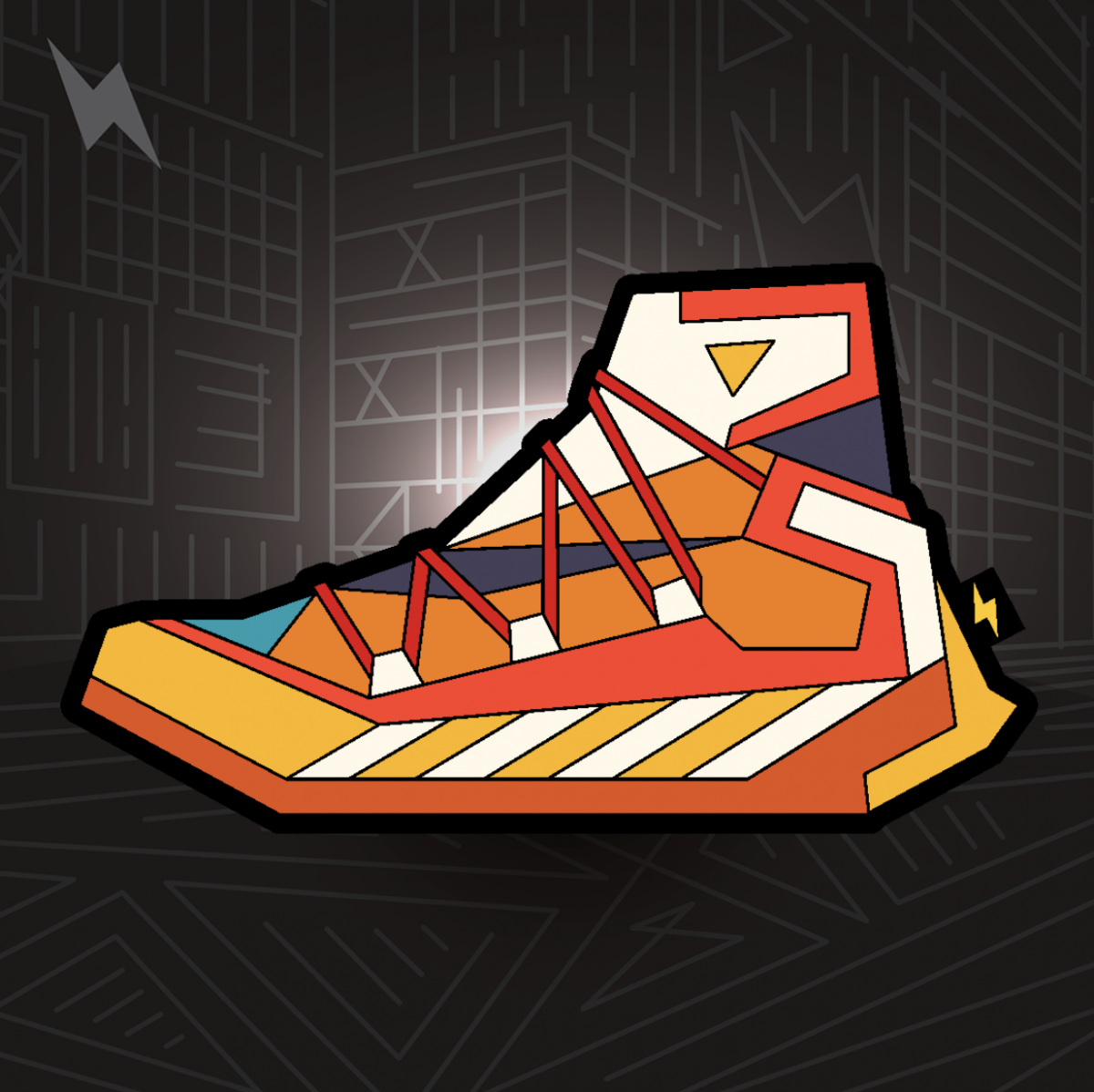 If your speed exceeds or falls below the activity range of your selected sneaker, you'll stop earning tokens, so choose your shoes carefully. You can walk (1-6 kph), jog (4-10 kph), or run (8-20 kph).
During your exercise, you'll earn StepN's native in-game spending token, GST, for every minute of movement. The app is geared to detect natural movement, so no hopping on an e-scooter to try to make bank and cheat on your workout goals (in fact, there are numerous anti-cheating mechanisms in place). Your earning time is limited by your Energy, which determines how long you can use the app and earn GST in a single session. How much Energy you have is connected to how many (and what kind) of digital sneakers you own. 
If you own a single Common sneaker, for example, you have 2 Energy, which means you can only earn for a duration of ten minutes (1 Energy = five minutes of earn time). The more sneakers you buy and own, the longer you can move and earn. Three sneakers gives you 4 Energy, or 20 minutes of earn time, nine sneakers gets you 9 Energy, or 45 minutes of earn time, and so on.
More unique, high-quality sneakers also gain you more Energy. Uncommon, Rare, Epic, and Legendary sneakers add 1, 2, 3, and 4 Energy to your earning ability, respectively. So, if you have two Rare sneakers and one Common sneaker, you'll have a total of 8 Energy (4 starting + 4 bonus energy), and be able to earn GST for 40 minutes per session.
So that takes care of how long you can earn for, but how much can you actually make with the app?
Exactly how much you earn varies depending on four sneaker characteristics: Efficiency, Luck, Resilience, and Comfort.
Efficiency is simple — higher-efficiency sneakers earn you more tokens per time spent moving.
Luck introduces a quality of randomness to the earning. If you have higher Energy and a higher Luck score on your sneaker, you have a higher chance of getting something called a Mystery Box at the end of a run. These boxes contain gems that add features to your sneakers, like increased Efficiency. You can also sell these gems on the StepN in-app marketplace.
Resilience determines how quickly your NFT sneakers degrade. If you're not using GST to repair your sneakers from time to time, they'll lose their earning power and eventually become defunct. While users are incentivized to move and earn, the more they do, the faster their shoes wear out. This is one of the fun ways the game makes you strategize your approach to it.
At the time of writing, 1 GST is worth about $0.93, significantly down from a late-April high of $8.51. A basic set of NFT sneaker walkers in StepN earn 5 GST for every 1 Energy, so at the most basic level, you'd be earning $4.65 for every walk or run that you do.
While it might seem tempting to earn as much GST as possible and cash out, the game does a good job of getting people hooked on reinvesting their tokens into the system to repair and upgrade their shoes for better earning power. You can also mint a new sneaker from two you already own. This is the game's way of breeding, and can only be done with more developed sneakers (those at Level 5 and above).
Comfort is the last of the four characteristics, and here is where StepN introduces its governance token, GMT, into the mix. Only sneakers that reach Level 30 and have a minimum of 3 Energy are able to earn GMT. At that Level, you'll choose to either continue earning GST or switch to GMT. GMT can be spent on a number of things, including renaming your sneakers, leveling them up, and redistributing attribute points.
How to get started with StepN
After downloading the StepN app, you'll need a pair of NFT sneakers to start earning, which you can purchase in the in-app marketplace. You can also buy them on Binance. It's possible to find StepN sneakers on marketplaces like OpenSea and Magic Eden, but users who have done this have reported problems like shoes not appearing in the app post-purchase, so it's best to use the StepN's marketplace to avoid these issues.
As StepN is based on the Solana blockchain, you'll need some SOL to do that. The cheapest sneaker will cost you somewhere around 11-12 SOL (roughly $500). That will definitely price some people out of using the app. To counter this, StepN has announced that it will introduce a leasing feature in which users can rent other users' sneakers and share the earned crypto. Until they do so, you'll have to part ways with some SOL.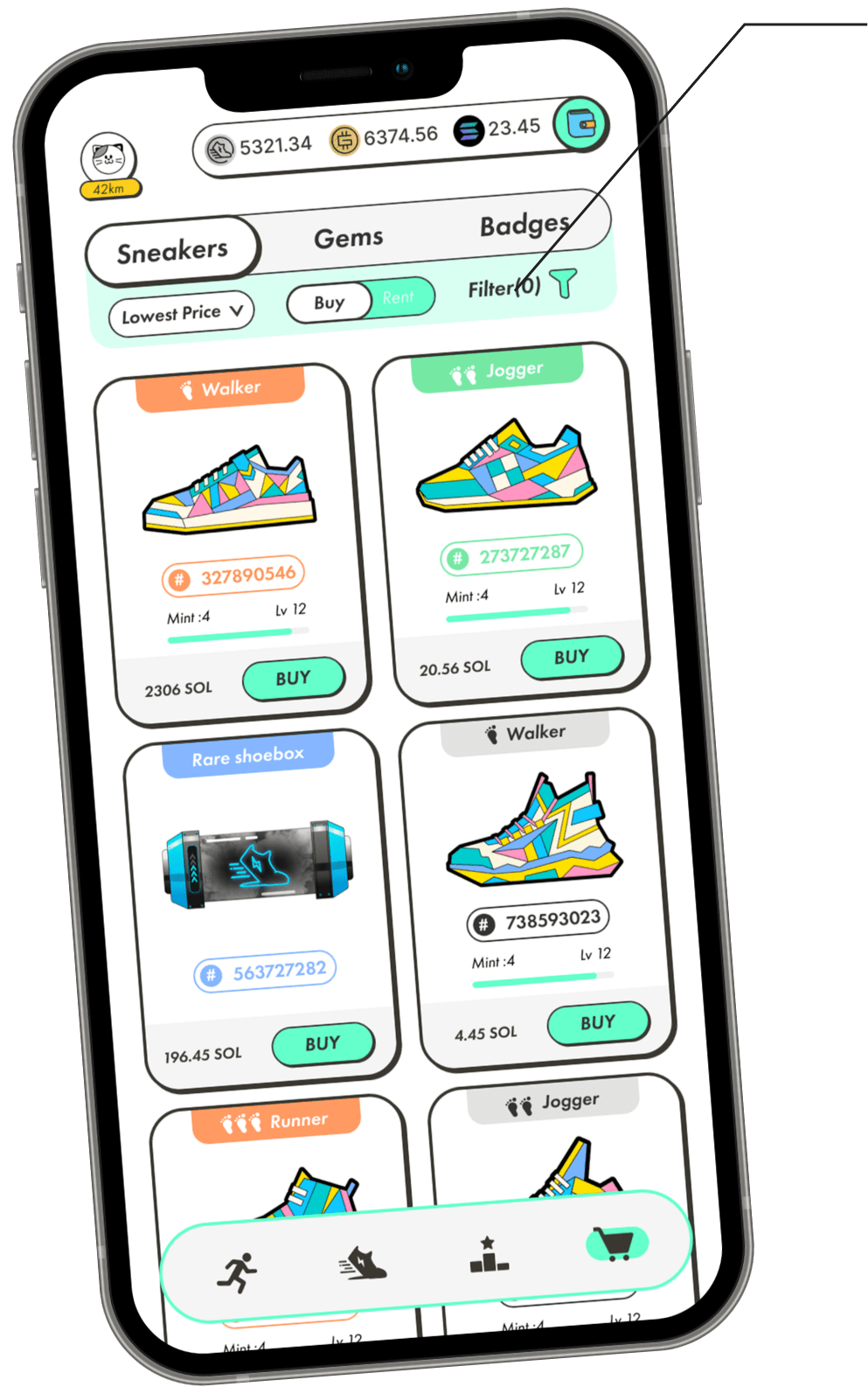 The other barrier to entry is the activation code, which you'll have to get from a current StepN user. These can be difficult to come by, occasionally popping up in the StepN Discord, but it's recommended that you do this by the books and get a code from a current user.
After you've landed an activation code, you'll set up your wallet in-app and transfer some SOL into it. You do have the option to import an existing wallet, but if security is a concern to you, it's best to go with the in-app option. You'll then transfer your SOL from your wallet to your spending account, which you'll use to spend GST for game activities.
When you go out for a walk, jog, or a run, you open the app, choose the sneaker that matches the speed you plan on moving at, and start earning.
How StepN tokenomics work
Play-to-earn projects in the GameFi space often carry with them the worry of sustainability and are even accused of being pyramid-scheme-esque. Axie Infinity is the common go-to example of this, as the project's token (AXS) has been unable to maintain its massive rise in value, falling to $23.48 from a November 2021 high of $165.37. 
To make the app a long-term project, StepN will need to attract enough new users to replace ones on the way out or make the game so enticing that players would rather keep using it than cash out their token earnings.
The other crucial issue is to establish a longevity-focused tokenomics template. StepN utilizes a two-token model just like Axie Infinity, Crypto Raiders, and others play-to-earn games do. The first is GST (Green Satoshi Token), the in-game utility token you use to do things like repair your sneakers, and the second is GMT (Green Metaverse Token), which also has some functionality, but can be viewed more as an investment token.
The structure of the game encourages users to put GST back into the system because it's more likely that you'll make out with better returns than just earning as much as you can with a Level 0 sneaker and cashing out. Aside from sneaker repairs and upgrades, you'll also spend a lot of GST on minting new sneakers, which costs a minimum of 200 GST and can go much higher than that. By taking GST out of the system in these ways without increasing the number of sneakers in circulation, they better maintain their value.
The big problem is that the very functionality of GST is explicitly to increase your ability to earn GST, and that's a potential recipe for a crash somewhere down the road. StepN is going to have to find a way around this if it wants to sustain itself.
GMT is the other player here, and it's the reason why some in the NFT space retain some optimism regarding the project. Beyond featuring certain utilities like increasing your GST earning cap and giving you the ability to mint Rare, Epic, and Legendary sneakers, the token's distribution points to how serious its founders and investors are about making this a long-term project.
A total of 6 billion GMT tokens will be released and distributed between the community, the StepN ecosystem treasury, individuals in separate public and private sales, StepN team members, and advisors. StepN's litePaper provides a handy graphic to help you see what percentage of tokens will be released to which groups in the future, which is a level of transparency not often seen in the crypto world. 
StepN's private-round tokens won't even start unlocking until 2023 and will take a full three years to fully do so. This slow token emission, if nothing else, reveals a distinct intention of longevity on StepN's part.
The other issue is with the NFT sneakers themselves. Though it's a bit costly in terms of tokens, StepN can't allow its users to mint new sneakers forever without them losing at least some of their value. And without a way to burn sneakers to take them out of the ecosystem, the app could face a similar fate as Axie Infinity.
The future of StepN
StepN feels like a unique NFT project, mixing an odd amount of worry and optimism into an exercise-to-earn app concept. It could end up being a massive success in the NFT world if it finds a way to avoid the problems that seem to be plaguing it even now, given the continued decline in value of both GST and GMT over the past month or so.
If you're willing to accept a fair amount of risk in the pursuit of earning crypto while getting out and moving, StepN could be for you. As always, make sure you do your research and invest wisely, never putting in more than you can afford to lose. If all of that sounds like it's for you, then happy running and happy earning.
The post A Guide to StepN: The App That Lets You Earn Crypto While You Exercise appeared first on nft now.