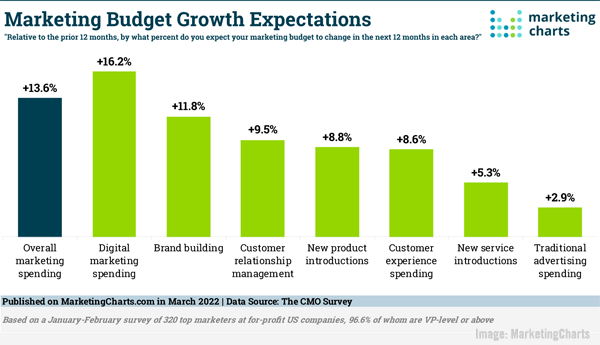 B2B Marketing News: B2B Content Consumption Report, Twitter Adds Editing, CMO's Expanding Budgets, & Brands' Mobile Ghosting
Key Takeaways From NetLine's 2022 State of B2B Content Consumption and Demand Report
When it comes to the top formats in B2B content consumption, eBooks, guides, cheat sheets, and white papers lead the way, with 40 percent of content being accessed by corporate-level executives — two of several statistics of interest to B2B marketers contained in recently-released survey data. Chief Marketer Twitter is adding an edit button
Twitter will test the ability to edit tweets, first among its premium Twitter Blue subscribers, paving the way for a possible future rollout to all users on the social platform, Twitter recently announced, in a major shift from its traditional stance suppressing tweet editing. The Verge [bctt tweet=""I used to want an edit button, but now what I want is a 'typo' button, which just automates the whole process of deleting a tweet and starting a new tweet with the same content that I can fix." — Daryl Sng @dsng" username="toprank"] Google's Privacy Sandbox ad technology testing begins
Search giant Google has begun allowing developers the ability to test its new Topics, FLEDGE and Attribution Reporting components — Google's replacement for the former Federated Learning of Cohorts (FLoC) advertising technology offering, giving marketers the opportunity to learn more about the new privacy-focused system, Google recently announced. Search Engine Land Instagram Updates Reels Editing Tools to Make it Easier to Re-Order and Edit Clips
Meta-owned Instagram has rolled out an array of new video editing tools for its Reels video clip feature, including the ability to re-order and preview clips, along with a simpler-to-use Reels video trimming system, Instagram recently announced. Social Media Today 79% of Consumers Are Comfortable Seeing Contextual Than Behavioral Ads [Harris Poll]
65 percent of consumers said that they were more likely to respond to digital ads that were relevant to the webpage they were visiting, while 66 percent noted that they were uncomfortable with brands using online browsing history to deliver personalized ads — two of several findings of interest to digital marketers contained in newly-released survey data. Toolbox B2B Twitter Tests New, Interactive Ad Types as it Seeks to Boost its Promotional Appeal
Visually bold product explorer and collection ad types will join text-based options with the launch of three new ad formats from Twitter — including 3D campaigns — all currently being tested by certain advertisers on the platform, Twitter recently announced. Social Media Today
How is IoT Reshaping the B2B Marketing Experience
The Internet of Things (IoT) has brought new opportunities for B2B marketers looking to innovate, and MacTech Series takes a look at some of the ways the two seemingly-different areas can come together to form advantages in personalization, automation, and more for B2B marketers. MarTech Series LinkedIn Launches 'Career Pathfinder' Which Maps Educational Pathways for Professional Opportunities
Microsoft-owned LinkedIn has released a new Learning Pathfinder feature that allows users of the platform to utilize its LinkedIn Learning services to create custom professional education journeys, LinkedIn (client) recently announced. Social Media Today Why Are Brands 'Ghosting' Consumers With Mobile Media?
53 percent of consumers have said they experienced frustration over being ghosted and unable to reply to mobile brand messaging, while some 89 percent said they wanted to have two-way mobile and social conversations with brands — two of several findings of interest to digital marketers contained in newly-released survey data. MediaPost As Marketing's Importance Rises, CMOs Plan Budget Expansion
CMOs and other senior marketers have said that they expect digital marketing to top the list when it comes to spending increases in the coming year, accounting for a 16.2 percent increase ahead, with overall marketing spending in all channels expected to expand by 13.6 percent, according to recently-released marketing budget planning report data. MarketingCharts ON THE LIGHTER SIDE:
A lighthearted look at "virtual reality marketing" by Marketoonist Tom Fishburne — Marketoonist How The Smiley Company has built a smiley face retail empire — Modern Retail TOPRANK MARKETING & CLIENTS IN THE NEWS:
Lee Odden — Top Marketing Experts, Analysts, and Influencers to Follow — CDP
Joshua Nite — This Week in Marketing: Second That Emotion — LinkedIn (client)
Lee Odden — "Marketing Champions" with Lee Odden from TopRank Marketing [Video] — Marketing Champions
Do you have your own top B2B marketing news for the week? Please don't hesitate to let us know in the comments below. Thanks for joining us for this week's edition of the TopRank Marketing B2B marketing news, and we hope you'll return next Friday for another selection of the most relevant B2B and digital marketing industry news. In the meantime, you can follow us on our LinkedIn page, or at @toprank on Twitter for even more timely daily news.
The post B2B Marketing News: B2B Content Consumption Report, Twitter Adds Editing, CMO's Expanding Budgets, & Brands' Mobile Ghosting appeared first on B2B Marketing Blog – TopRank®.