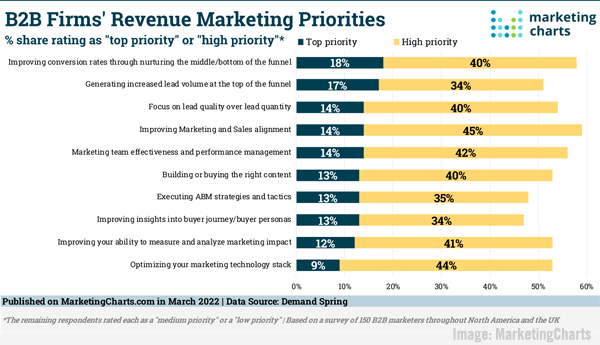 B2B Marketing News: B2B Conversion Priorities, Google's Sweeping Analytics Change, Ad Market's Continued Recovery, & YouTube's New Livestream Features
The Top Benefits of a Data-Driven B2B Demand Gen Strategy B2B marketers have said that better leads, customer experience, and return on investment (ROI) were among the top benefits of effective data-driven strategy, while 54 percent said that quality data enables them to make more effective spending decisions, according to newly-released survey data of interest to digital marketers. MarketingProfs Prepare for the future with Google Analytics 4 Google will sunset its longstanding existing analytics incarnation in July 2023, and has laid out a plan encouraging users of the present version to switch to the new version, which adds greater privacy law compliance, while also removing access to analytics data from the current version, the search giant recently announced. Google [bctt tweet=""Data analytics isn't some new magic bullet. It's a way of leveraging the data that most every business has been quietly accumulating for years to deliver insights that lead to better decisions." — Joel Snyder, Ph.D. @JoelSnyder" username="toprank"] Wanted in B2B ecommerce: smooth supply chains and skilled workers 43 percent of B2B sellers have said that a top challenge in 2022 will be achieving supply chain improvement, while some 39 percent noted that locating and maintaining staffing levels would be a key obstacle, with 38 percent having said that getting additional B2B customers to purchase online would be key — three of several statistics of interest to digital marketers contained in recently-released survey data. Digital Commerce 360 YouTube Launching 5 New Features For Livestreams Google's YouTube has released information about forthcoming new features, with an update that will allow marketers the ability to utilize multi-person live-stream events, recommend additional channels, and more, Google recently announced. Social Media Today U.S. Ad Market Marks A Full-Year Of Economic Recovery In February The U.S. advertising market's rate of spending grew by 14.7 percent in February compared to the same month in 2021, with digital categories continuing to see the top performance gains, and helping to drive ad market expansion that has now grown for a full year, according to newly-released report data. MediaPost What Does it Mean for an Organization to be "Data Driven?" Trustworthy data, easy data management tools, and swift scalable data access topped the list of how corporate executives, directors, and managers define data-driven operations, with some 36 percent having said that flexibility and agility are key in both business and data practices, according to recently-released report data. MarketingCharts
Report: Edge technologies will drive emerging tech investments in 2022 When it comes to investments in edge technologies, over half of global professionals at mid-to-large organizations have said that board directors were among the primary decision makers at their firm, more so than for traditional technology choices that typically see greater involvement of IT departments — one of several findings of interest to B2B marketers contained in newly-released report data from Gartner. VentureBeat Microsoft Data Shows Consumers Looking For Experiences Microsoft report data reinforces expanding consumer desire for in-person experiences — a trend that is likely to influence how marketers make a shift from virtual and hybrid events to physical experiences, accounting to recently-released findings from Microsoft Advertising Insights. MediaPost Email Marketing Benchmarks: Trends From 2021 Data from over 100 billion marketing emails has shown little variance in performance depending on which day of the week campaigns were sent, with only a small advantage in performance for Monday at 22 percent, while average open rates were around 20 percent in the advertising and marketing industry, according to newly-release report data. MarketingProfs Revenue Marketing Priority in 2022: Improving Conversion Rates When it comes to revenue marketing, B2B firms are prioritizing getting more middle and bottom of funnel conversions, while 40 percent of B2B marketers noted that technology was seen as the top barrier to driving both revenue and pipeline, according to recently-released survey data of interest to digital marketers. MarketingCharts ON THE LIGHTER SIDE:
A lighthearted look at "user-generated content creep" by Marketoonist Tom Fishburne — Marketoonist Executive On Deathbed Requests Obituary Be Optimized For SEO — The Onion TOPRANK MARKETING & CLIENTS IN THE NEWS:
Joshua Nite — Top Content of the Week: Keys to Catchy Content — LinkedIn (client)
Nick Nelson — Digital Decluttering, Using Email for SaaS Loyalty and More — Only Influencers
Do you have your own most relevant B2B marketing news for the week? Please don't hesitate to drop us a line in the comments below. Thanks for joining us for the week's TopRank Marketing B2B marketing news, and we hope that you will return again next Friday for another selection of the most relevant B2B and digital marketing industry news. In the meantime, you can follow us on our LinkedIn page, or at @toprank on Twitter for even more timely daily news.
The post B2B Marketing News: B2B Conversion Priorities, Google's Sweeping Analytics Change, Ad Market's Continued Recovery, & YouTube's New Livestream Features appeared first on B2B Marketing Blog – TopRank®.