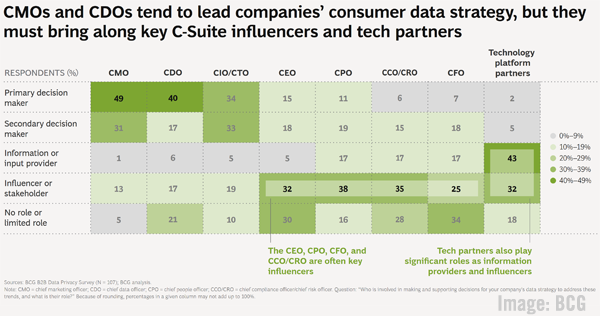 B2B Marketing News: More B2B Brands Podcasting, LinkedIn's New Page Newsletters, Meta's 3D Ads, & Instagram's Voice Responses
B2B Content Consumption Booms, With eBooks In First Place
Overall B2B content consumption time increased by 3.6 hours, up nine percent from last year, while consumption among corporate-level executives rose by 15.8 percent — two of several findings of interest to B2B marketers contained in the recently-released sixth annual edition of NetLine's B2B content consumption report. MediaPost B2B Marketers Open to New Opportunities; Training Could Improve Retention
79 percent of B2B marketers have said that bolstering existing skills was the primary reason managers authorized training, followed by 75 percent who said learning new skills, and 53 percent who noted that employee retention and satisfaction was a top reason organizations turned to B2B marketing training, according to newly-released survey data. MarketingCharts [bctt tweet=""The more you can learn how to think critically, no matter the job, the better off you'll be long term." — Tamsen Webster @tamadear" username="toprank"] LinkedIn Adds Newsletters for Company Pages, Updated Campaign Manager Navigation
Microsoft-owned LinkedIn has expanded its on-platform newsletter creation and distribution system to qualifying company pages — a feature previously available only to individuals using the professional platform's creator mode, along with new campaign manager navigation features, LinkedIn (client) recently announced. Social Media Today We also recently took a look at this and other new LinkedIn features in "Virtual Vision: 5 New LinkedIn Features & How B2B Marketers Can Use Them To Succeed." The Business Case for B2B Podcasts
Podcast advertising revenue is slated to top the $2 billion threshold by 2023, with more B2B brands turning to the format each year, and CMSWire examines the opportunities and challenges brands and B2B marketers are increasingly facing when entering a crowded podcast playing field. CMSWire B2B Marketers Plan Upgrades to Support Channel Partner Programs
Some 53 percent of B2B marketers have said that they plan to start using or upgrade a partner training program during the next year — the top choice when it comes to supporting channel partner programs, followed by 43 percent who indicated channel incentives and program management, according to newly-released survey data. MarketingCharts Twitter 'Collabs' feature could make it possible for users to co-author tweets with brands
Twitter has tested a collaboration feature that would allow tweets on the platform to have co-authored status — a change that if implemented could offer B2B influencers and brands particularly attractive new options for content co-creation and promotion, Twitter recently announced. TechCrunch
Most will stick with Google Analytics 4, but some are shopping for new platforms
14 percent of marketers noted that they will utilize outside help with migrating to Google's forthcoming new analytics offering — one that will do away with access to most data from previous versions — while 70 percent said they would manage migration to Google Analytics 4 internally within their organization, according to recently-released survey data. MarTech Meta inks partnership for 3D ads in step toward the metaverse
Facebook and Instagram parent firm Meta has formed a partnership with social augmented reality company VNTANA, that will allow brands to more easily create and implement 3D advertising on the platforms, the social media giant recently announced. Reuters Instagram may soon allow you to respond to Stories with voice messages
Meta-owned Instagram has tested the ability to leave private spoken audio replies to content in the Instagram Stories format, a change that if rolled out would continue the trend of social platforms incorporating more voice content options, and Engadget looks at how such a system may work with Instagram. Engadget B2B Marketing in a World Without Cookies [Report]
39 percent of B2B marketers have said that they have experienced a negative impact on the performance of marketing efforts due to changes meant to better protect user tracking among advertisers, such as the shift away from web browser cookie-based systems, according to recently-released report data. A majority of marketers also said their organizations didn't yet have a coordinated strategy in place to adapt to the forthcoming changes. BCG ON THE LIGHTER SIDE:
A lighthearted look at "loyalty programs and personal data" by Marketoonist Tom Fishburne — Marketoonist Man creates entire game of Pong inside a single sprite — Neowin After 25 years, Brewster Kahle and the Internet Archive are still working to democratize knowledge — NiemanLab / Harvard TOPRANK MARKETING & CLIENTS IN THE NEWS:
Have you come across your own top B2B marketing news for the week? Please don't hesitate to drop us a line in the comments below. Thank you for taking the time to join us for the week's edition of the TopRank Marketing B2B marketing news, and please stop in again next Friday for another selection of the most relevant B2B and digital marketing industry news. In the meantime, you can follow us on our LinkedIn page, or at @toprank on Twitter for even more timely daily news.
The post B2B Marketing News: More B2B Brands Podcasting, LinkedIn's New Page Newsletters, Meta's 3D Ads, & Instagram's Voice Responses appeared first on B2B Marketing Blog – TopRank®.