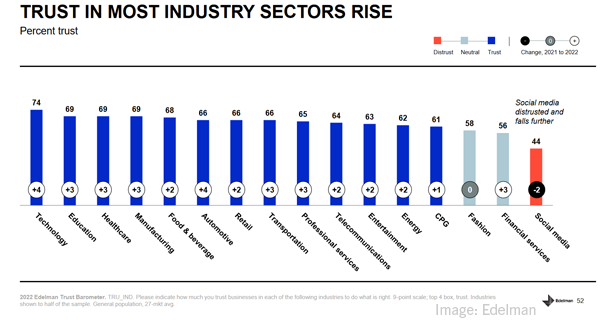 B2B Marketing News: More Executives Using Social, B2B Events Rebound, New Trust Barometer Data, Meta's New Ad Policies, & Mobile Ad Spend Rises
B2B Pros Worry About Leads Getting To The Right Person, Study Finds
58 percent of B2B marketers have said that they are only somewhat or not confident in their organization's process for taking inbound leads to proper sales team members — one of several statistics of interest to digital marketers contained in recently-released survey data. MediaPost More executives are turning to social media during the pandemic. [Report]
Some 56 percent of business executives have said that they are increasing their usage of social media due to the pandemic, with 68.4 percent expressing positive reactions to colleagues or leaders sharing industry news and content on social media, according to newly-released report data. PRWeekUS [bctt tweet=""Social media is a great way to amplify the work that your team is doing and frankly, our next generation of leaders." — Sarita Rao @saritasayso of @ATTBusiness" username="toprank"] LinkedIn Adds New Courses on Building Your LinkedIn Presence, New Alert and Newsletter Tools for Company Pages
Microsoft's LinkedIn has launched three new online courses of interest to digital marketers, while also releasing new details about forthcoming additional platform features including newsletters and audio events, LinkedIn (client) recently announced. Social Media Today Last Year's Global Ad Spend Said to Have Outperformed Pre-Pandemic Total by Almost 20%
A strong 29.1 percent increase of the digital ad spending category highlighted overall 2021 global advertising spending that outperformed pre-pandemic figures by nearly 20 percent, according to newly-release report data of interest to online marketers. MarketingCharts Microsoft Removes Minimum Spend For Customer Match, Adds Shopping Enhancements
Microsoft has eliminated minimal spending requirements to utilize audience targeting with its Customer Match feature in Microsoft Advertising, and added several new features, as the firm increases its use of zero-party data, voluntarily shared information the firm makes use of for increased transparency and control, Microsoft recently announced. MediaPost
Social Media Usage Statistics For Digital Marketers In 2022
There were nearly 10 percent more global social media platform users in 2021, representing a total of over 4.5 billion people, while 84 percent of the U.S. population now say that they use at least one social platform — two of numerous statistics examined in a new look at digital marketing usage. Search Engine Journal Only 1 in 5 B2B Exhibitions Were Canceled in Q3
After a near-total 98.1 percent drop in year-over-year in-person B2B exhibition industry performance during the third quarter of 2020, the most recent 56 percent decrease in the The Center of Exhibition Industry Research (CEIR) index points to progress on the slow road back to pre-pandemic in-person B2B event totals. MarketingCharts Mobile Ad Spend Leapt 23% To $295B In 2021, 19% Jump Forecast For 2022
A robust 70 percent of overall digital advertising spending was accounted for by mobile during 2021, with mobile ad spend garnering a 23 percent increase, as globally some 3.8 trillion hours were spent on mobile during the year — three of numerous statistics of interest to digital marketers contained in recently-released report data. MediaPost Meta Outlines Policy Requirements for Businesses Looking to Advertise and Sell on its Platforms
Facebook and Instagram parent firm Meta has rolled out information about forthcoming updated advertising policies, including some that will see the removal of certain targeting options used by marketers, Meta recently announced. Social Media Today Edelman Finds 'Vicious Cycle Of Distrust,' Puts Onus On Businesses, Brands
Edelman has released the 22nd edition of its Trust Barometer report, highlighted by a growing 'vicious cycle of distrust," as fewer people have said that they trust the media, while some 58 percent have said they either buy or advocate for brands bases on their values and beliefs — two of many insights of interest to B2B marketers contained in the newly-released report. MediaPost ON THE LIGHTER SIDE:
A lighthearted look at the "thought leadership" by Marketoonist Tom Fishburne — Marketoonist Woman Bravely Powers Through Instagram Warning that She's Been on App Too Long — The Hard Times TOPRANK MARKETING & CLIENTS IN THE NEWS:
Demandbase — Considering Working With B2B Influencers? Read This First — MediaPost
Joshua Nite — 10 Ways to Adjust Your Current Marketing Strategies for Today's Consumers — Small Business Trends
Lee Odden — 5 Content Marketing Tips Using Webinars As An Example — Pepper Content
Have you run into own top B2B marketing news for the week? Please drop us a line in the comments below. Thanks for joining us for this week's TopRank Marketing B2B marketing news, and please return again next Friday for another examination of the most relevant B2B and digital marketing industry news. In the meantime, you can follow us on our LinkedIn page, or at @toprank on Twitter for even more timely daily news.
The post B2B Marketing News: More Executives Using Social, B2B Events Rebound, New Trust Barometer Data, Meta's New Ad Policies, & Mobile Ad Spend Rises appeared first on B2B Marketing Blog – TopRank®.