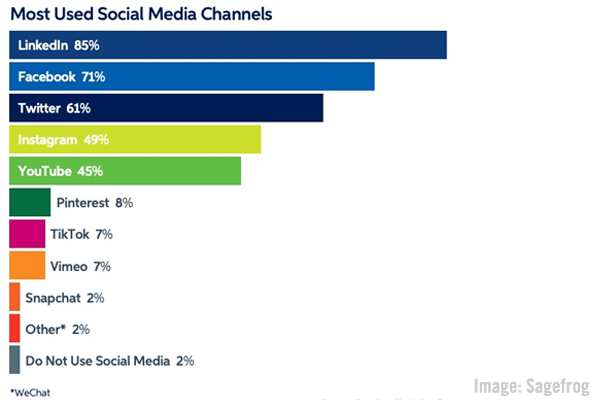 B2B Marketing News: Top B2B Social Networks, Marketing Trust Drivers Study, Twitter's Article Plans, & How B2B Communication Is Changing
Traditional B2B Sales and Marketing Are Becoming Obsolete
Some 43 percent of B2B buyers have said that they would like a buying experience without a sales representative, with higher rates among Millennials, and The Harvard Business Review examines the rise of all-digital B2B buying and takes a look at some of today's out-of-sync interaction preferences. Harvard Business Review 4 Ways the Pandemic Changed B2B Communication (From A Nationally-Representative Survey)
53 percent of Millennial professionals have said they prefer email communication over conversations, while 54 percent felt that email could cause miscommunication — two of several findings of interest to B2B marketers contained in newly-released B2B communication survey data. Sales Hacker What Drives Trust in Businesses and Institutions?
The technology industry leads as the most trustworthy global industry, while social media is among the least trusted, according to recently-released survey data. Reliability, transparency, responsible behavior, and shared values were also seen as the top drivers of trust in organizations. MarketingCharts [bctt tweet=""If you want to be a trustworthy company, it can't be just a marketing philosophy. It has to be a business philosophy." — Margaret Magnarelli @mmagnarelli of @MorganStanley" username="toprank"] LinkedIn Launches New Updates for Sales Navigator, Including Improved Opportunity Discovery Options
Microsoft-owned LinkedIn has rolled out a refreshed customizable homepage, new search and filtering options, and other lead and trend data tools, in the latest update to its Sales Navigator offering, LinkedIn (client) recently announced. Social Media Today Bing's New PubHub Offers Millions Of New Site Visitors
Microsoft has expanded its Bing Webmaster Tools to include a new PubHub content publishing feature, offering potential new audiences for marketing content for digital publishers who meet requirements to take part in the new Bing Publisher Network, Microsoft recently announced. Search Engine Journal Twitter Tests New 'Articles' Option, Potentially Enabling Long-Form Posts in the App
Twitter has tested new article-length posts that go well beyond the social platform's traditional short-form text limits, a change that could alter both the character and character count of the platform, and provide B2B marketers with new options for publishing long-form content. Social Media Today
Mobile, Social, Digital Video Are Top Advertising Priorities For 2022
76 percent of digital experts have said that mobile ads will be a top priority in 2022, with 61 percent pointing to digital video, 56 percent desktop environments, and 48 percent podcast and audio — four of numerous findings of interest to online marketers contained in newly-released survey data. MediaPost IAB warns of 'measurement blackout' as marketer priorities remain misaligned
Marketers doubled down on spending for third-party audience data, as 2021 saw an 8.1 percent increase that was double that seen in 2020, as digital marketers have made adjustments to combat the forthcoming loss of user cookie data, according to recently-released Interactive Advertising Bureau (IAB) survey data. Marketing Dive Amazon Ad Business Reaches $31B, Solidifies Position In Digital's Big 3
Advertising revenue at Amazon grew by 32 percent to reach $9.7 billion during the final quarter of 2021, with annual ad revenue at the firm expanding to $31 billion, even as advertising accounted for just seven percent of the firm's total fourth quarter revenue, Amazon recently announced. MediaPost The Top Social Networks With B2B Marketers
85 percent of B2B marketers have said that LinkedIn is their most used social media platform, followed by Facebook at 71 percent, Twitter at 61 percent, and Instagram at 49 percent — four of several statistics of interest to digital marketers contained in recently-released survey data. MarketingProfs ON THE LIGHTER SIDE:
A lighthearted look at the "data-driven decision making" by Marketoonist Tom Fishburne — Marketoonist Tell Us Now: 16 Discontinued Candies We Miss — Cracked TOPRANK MARKETING & CLIENTS IN THE NEWS:
Lee Odden — 152 Marketing Quotes To Inspire Your Next Great Campaign — CopyPress
LinkedIn — LinkedIn Shares Insights into Platform Usage and Audience in New Guide for Wealth Planning Marketers — Social Media Today
TopRank Marketing — Chief Marketer Unveils the 2022 CM200 Top Marketing Agencies of 2022 — Chief Marketer
Have you found your own favorite B2B marketing news for the week? Please don't hesitate to drop us a line in the comments below. Thank you for taking the time to join us for this week's TopRank Marketing B2B marketing news, and we hope that you will return again next Friday for another round of the most relevant B2B and digital marketing industry news. In the meantime, you can follow us on our LinkedIn page, or at @toprank on Twitter for even more timely daily news.
The post B2B Marketing News: Top B2B Social Networks, Marketing Trust Drivers Study, Twitter's Article Plans, & How B2B Communication Is Changing appeared first on B2B Marketing Blog – TopRank®.