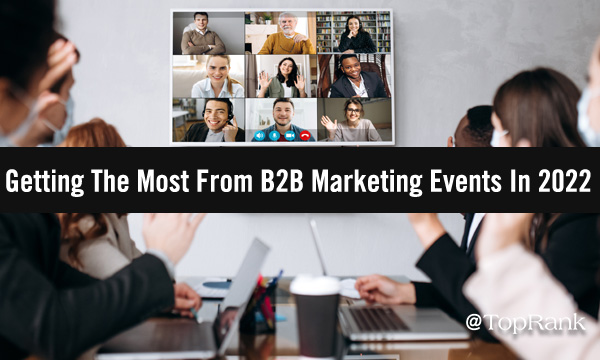 In-Person, Virtual & Hybrid: How To Get The Most From B2B Marketing Events In 2022
How can B2B marketers get the most from events in 2022, whether they're in-person, all-virtual, or in any of several combinations of hybrid formats? The marketing event landscape in 2022 may not be as topsy-turvy and uncertain as it was in 2021, yet there's no shortage of questions many events are still facing. Some have chosen to hedge their bets as long as possible, waiting to see whether an in-person format will work for their audience. Others have gone all-in with one format or another, hoping that their event won't have to make last-minute format changes as the winds of the pandemic shift. After a near-total 98.1 percent drop in year-over-year in-person B2B exhibition industry performance during the third quarter of 2020, the most recent 56 percent decrease in the The Center of Exhibition Industry Research (CEIR) index points to some progress on the slow road back to pre-pandemic, in-person B2B event totals.

Whatever an event's format may be, B2B marketers can still enrich their professional learning and networking with the many real benefits that come from attending conferences. My first involvement with technology conferences took place in the 1980s, when the Commodore hardware and software company I worked for — Progressive Peripherals and Software — would attend what was usually the world's largest computer-related trade show, the annual COMDEX event in Las Vegas, with up to 225,000 attendees. Later on in 1993, I was exploring options for taking the computer bulletin board system I'd operated since 1984 into new terrain, as rumblings of the nascent World Wide Web began, and attended one of the early online communications conferences, ONE BBSCON. Dr. Vinton Cerf, who in 1973 co-developed the TCP/IP protocol that the Internet uses, and who has worked for Google since 2005 as a vice president and chief Internet evangelist, spoke during the conference, and I still have the cloth ONE BBSCON attendee bag I got during the event. You can learn more about Dr. Cerf and the history of marketing on the Internet in my look at, "Classic Marketing Insights to Celebrate the Internet's 50th Birthday." For a decade beginning in 2007 I was involved in the operational side of the event landscape, as lead editor for social media, digital marketing and search engine conference firm Pubcon. Over the many decades I've been taking part in technology conferences, I've learned a few helpful tips for making the most of events. Let's look at how B2B marketers can get the most from the three primary varieties of events being held in 2022 — in-person, virtual, and hybrid. [bctt tweet=""The closer you look at something,the more complex it seems to be." — Vinton Cerf @vgcerf" username="toprank"]
1 — Capitalize On In-Person Opportunities
In-person events have a certain unique magical atmosphere that can't quite be turned into a digital format with the same aplomb, and for B2B marketers fortunate enough to be attending in-person events in 2022, there are a few key advantages to focus on:
Human-to-human interactions
Forging deeper, in-person connections
Reuniting and reinforcing long-standing professional relationships
Building new business relationships
The human-to-human interactions real-world events provide are among the greatest advantages of the format, and savvy B2B marketers will make sure to capitalize on the opportunity to meet face-to-face with cohorts, existing and potential clients, event keynote and session speakers, and others. Humanizing B2B marketing with newfound authenticity is in fact one of the year's greatest opportunities for marketers, as our CEO Lee Odden recently elaborated on in, "Three of the Biggest Opportunities to Elevate B2B Marketing in 2022." In-person events certainly allow attendees to forge deeper connections, in sometimes subtle ways that can be difficult to simulate during an all-digital event. Real-world events are known for their "conference family" atmospheres, as multi-year attendees form bonds that are strengthened at each subsequent in-person conference. Every conference gives off its own unique vibe, and during my time at Pubcon we were fortunate to attract a number of early search engine pioneers who didn't attend any other events. It can be helpful to make a ranked list of who you most wish to meet at an in-person event. Building new business relationships is often another advantage of in-person events, as typically the entire experience is built on bringing together people who don't know each other to network — going beyond the traditional learning elements offered by keynotes and breakout sessions.
2 — Learn More From Virtual Events
During the pandemic, virtual events have gone from sometimes-kludgy afterthoughts to highly-polished and full-featured premium digital experiences. Established events have found new audiences, and new events have risen up as virtual conferences have proliferated. B2B marketers can benefit by keeping a few things in mind when taking part in virtual events:
All-virtual doesn't have to mean digital-only
Take advantage of the unique aspects virtual offers
Don't forget to share your digital learning with teammates and associates
Just because you're attending a virtual event doesn't mean it has to be a digital-only experience, as most events offer a multitude of convenient ways to communicate with fellow attendees, speakers, and sponsors. The key here is to study conference materials ahead of time, so that you'll know where the event after-parties, social hours, or interactive one-on-one sessions are taking place. A well-prepared attendee will not only have — depending on the size of the event — first, second, and third choices of concurrent sessions to attend, but will also know just when and in which online hangouts the conference's bonus networking opportunities will be taking place. Virtual events offer special advantages, often including the ability to go back and replay sessions you were a part of and wish to study in greater detail, or to watch all of those that you weren't able to see live. Taking what you've learned back to your organization and work associates is another way B2B marketers can get extra value from attending conferences, and with the digital-only events of today it's easier than ever.
3 — Double-Up On Insight With Hybrid Events
The hybrid event truly came into its own in the later part of 2021, and this year the format is likely to see nothing but continued growth, as it combines the best of both real-world and digital experiences. When attending hybrid events, B2B marketers can get the most by coming into the experience prepared to:
Take advantage of both in-person and virtual elements
Experience the best of each format
Respect associate decisions regarding in-person or virtual
B2B marketers fortunate enough to be attending hybrid events in 2022 should take part in at least some event elements in-person and others in all-digital formats. Hybrid events provide a unique networking opportunity, as attendees can interact with new associates both in the hallways or exhibition halls between sessions, but also in the online experiences the conference has lined up. It's a one-two networking punch that can pay off even more than at all-digital or solely in-person events. Not all attendees will be able to take advantage of the real-world portion of a hybrid conference, however, for a variety of reasons. This is another motivation to position yourself to take part in each of the event's formats if you are able to, so that you have the opportunity to meet those who are attending only in one format.
Initial Challenges Can Strengthen Us In The End
via GIPHY In 2022 some B2B marketers will attend, speak at, or exhibit during events taking place in all three of the formats we've explored, while others will experience just one form of event. No matter which form of marketing event you attend, the tips we've looked at here can give you Popeye-like strength at planning, putting you ahead of the game as you prepare, attend, and then apply the knowledge you've gained throughout the year ahead. Be sure to catch our own CEO and co-founder Lee Odden presenting a virtual session presentation entitled, "How B2B Content Marketers Can Dominate in Search: Be the Best Answer," on March 23, 2022 at 3:35 p.m. CEST, at the Content Marketing World Europe 365 event, and keep posted for information about additional TopRank Marketing event presentations throughout the year. As a bonus, we wanted to share additional resources relating to how B2B marketers can benefit from the ongoing learning opportunities events offer. Below are several articles we've published about events B2B marketers can attend, and how to get the most from them.
Crafting award-winning B2B marketing that elevates, gives voice to talent, and humanizes with authenticity takes considerable time and effort, which is why an increasing number of firms are choosing to work with a top digital marketing agency such as TopRank Marketing. Contact us to learn how we can help, as we've done for over 20 years for businesses ranging from LinkedIn, Dell and 3M to Adobe, Oracle, monday.com and others.
The post In-Person, Virtual & Hybrid: How To Get The Most From B2B Marketing Events In 2022 appeared first on B2B Marketing Blog – TopRank®.