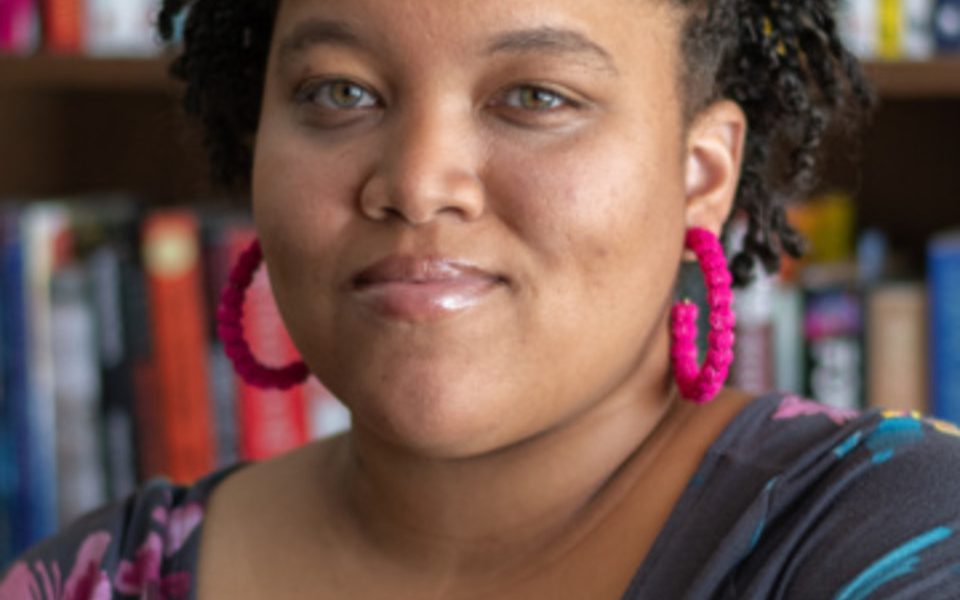 Jessica Pryde: On Representation in Romance
Jessica Pryde is a Contributing Editor for Book Riot, where she is the co-host of the "When In Romance" podcast, and writes about bookish things of all kinds. Having earned an AB in the Interdisciplinary Project in the Humanities at Washington University in St. Louis and her MLIS at San Jose State University, she is now a librarian for a public library system in Southern Arizona, where she lives with her husband and an ever-growing collection of Funko!Pops. Black Loves Matter is her first book. Find her on Twitter, Facebook, and Instagram.
In this post, Jessica discusses how she highlighted Black representation in romance novels in her new essay collection, Black Love Matters, the essay collection that inspired her, and more!
Name: Jessica P. Pryde
Literary agent: Tara Gelsomino
Book title: Black Love Matters: Real Talk on Romance, Being Seen, and Happily Ever Afters
Publisher: Berkley
Release date: February 1, 2022
Genre/category: Essay/Romance
Elevator pitch for the book: A collection of essays by authors, readers, and scholars about the consumption of romantic media and the Black experience.
IndieBound | Bookshop | Amazon
[WD uses affiliate links.]
What prompted you to write this book?
I was reading Glory Edim's Well Read Black Girl, an excellent collection of essays in which several Black writers discuss the first time they felt seen in literature, and I didn't see myself on the page. There were certainly elements of being Black and a reader that I could connect to, but as someone who has been reading romance for most of my life, there were elements of my life as a reader that didn't match what I saw in those reflections.
So I started to think about what something similar might look like from the perspective of romance readers, and a few conversations with some key people broadened it to a greater consumption of romantic media, but still with a focus on romance and the HEA.
How long did it take to go from idea to publication? And did the idea change during the process?
I started really considering the idea in early 2019, after letting it sit as a thought in my head and a few paragraphs of ideas in a Google doc for a few months. Tara and I were mutuals on Twitter and I reached out to her to ask if the idea of an essay anthology by romance readers and writers would be a viable idea. She was excited and encouraging, and I learned a lot about what I wanted while writing several drafts of a nonfiction proposal.
As I mentioned, while talking to editors and potential contributors as well, the concept broadened a little to include not just genre romance but romantic media in all formats, with thoughts that it might appeal to a broader audience while still holding on to the central thesis. But the core group of people writing essays for the collection would still be known mostly for their work in romance and be talking about romance.
Were there any surprises or learning moments in the publishing process for this title?
While I theoretically understood the process involved in taking a book from concept to publication, it was very interesting to learn about the steps for this kind of book and how it might be different from a novel. The proposal process is very detailed, and I worked on that for several months before getting anywhere near publishers, let alone getting into the text of the book itself. Each element of a good nonfiction proposal lays out not just what the book is about, but how it might look in perpetuity.
Were there any surprises in the writing process for this book?
I had no idea how many times I would read the whole thing before it was published. As the editor of a collection, even more so than someone writing all of their own content would. I mentioned that I worked on the proposal for a long time—each section I needed to produce, and every essay submitted by a contributor got several passes, from first draft with notes to revisions to copyedits to pass pages to "Just In Case" kinds of revisits.
I knew this wasn't the kind of book where everything would be perfect the first time and we could just compile pages and send them in. But I shocked even myself at how many times I found myself reading through every essay while we worked towards a finished book.
What do you hope readers will get out of your book?
The purpose of this book is twofold: first, it's for our peers; Black folks who have lived our experiences, sought what we sought, and who see themselves in the pages of these essays. It's to show them that there are others like them, and that their stories are there, and they matter. Second, it's for those who don't share our backgrounds and lived experiences, but who are looking to not just learn about how the other half has lived, but how they might explore the differences in their communities in the future.
In both cases, it's for readers not just of romance but of all kinds—to present the role we all play in affirming the importance of Black love within media as well as outside of it.
If you could share one piece of advice with other writers, what would it be?
Read broadly. No matter what kind of writing you focus on personally, there is always something you can learn from a writer in another genre, another format, another style.
While Black Love Matters is a collection of essays, I've found my voice and inspiration not just by reading popular nonfiction and academic authors, but novelists, poets, and short story writers. You never know where you'll come across a passage that inspires you to write something half as well.