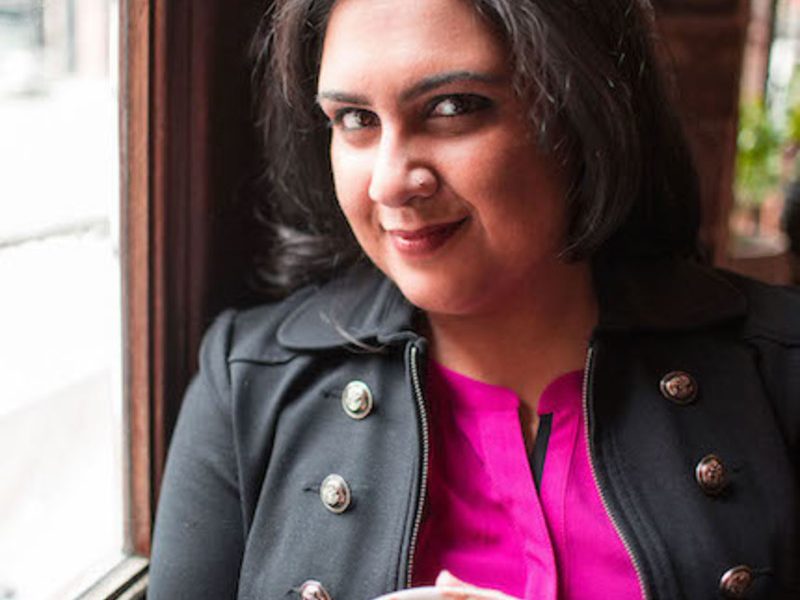 Nisha Sharma: On Authentic Writing
Nisha Sharma is the award-winning author of YA rom-com My So-Called Bollywood Life, and contemporary romance drama The Singh Family Trilogy. She grew up immersed in Bollywood movies, 80s pop-culture, and romance novels, so it comes as no surprise that her work features all three. Her writing has been praised by Entertainment Weekly, NPR, Cosmopolitan, Teen Vogue, Buzzfeed, Hypable, and more.
She lives in New Jersey with her Alaskan-born husband, her cat Lizzie Bennett, and her dog Nancey Drew. You can find her online at nisha-sharma.com or on Twitter, TikTok, and Instagram.
In this post, Nisha discusses how she was encouraged to be authentic by her editor for her new romance novel, Dating Dr. Dil, what it was like trying to write humor at the height of the pandemic, and more!
Name: Nisha Sharma
Literary agent: Joy Tutela, David Black Literary
Book title: Dating Dr. Dil
Publisher: Avon Books
Release date: March 15, 2022
Genre/category: Romance
Previous titles: The Takeover Effect, The Legal Affair
Elevator pitch for the book: Dating Dr. Dil is a reimagining of Taming of the Shrew about a love-phobic cardiologist and a soulmate-searching lawyer.
IndieBound | Bookshop | Amazon
[WD uses affiliate links.]
What prompted you to write this book?
I wanted to do a story about three women in New Jersey who were in the South Asian dating scene, something that (unfortunately) was very familiar to me. Like the romance trilogies in my youth, I'd planned on creating individual love stories for each character and delve into unconventional romance beginnings that still resulted in a happily ever after.
The Shakespeare inspiration hit me when I was visiting the Folger Shakespeare Library in Washington, D.C. Shakespeare wrestled with similar themes in romantic relationships, but of course, the woman never won.
After my visit, I was inspired to take Shakespeare's structure and use it to unpack South Asian dating stereotypes with women who have agency.
How long did it take to go from idea to publication? And did the idea change during the process?
I have a strong support system at Avon, and my editor is fantastic. I called up Elle and basically said "What if I do this Shakespeare thing, keep the comedy but really make it about South Asian women who have to navigate dating on a deadline? Oh! And meddling aunties." Elle said "I'm with you!"
I wrote the proposal, sold it to Avon in 2019, handed in my first draft in 2020, and after extensive editing, a final draft in 2021. It'll be a little less than three years from idea to publication.
Were there any surprises or learning moments in the publishing process for this title?
For a Taming of the Shrew reimagination, something that isn't new in the romance genre, it was surprisingly difficult to figure out the title. When I suggested Dating Dr. Dil, I thought it was going to be rejected. I had experienced interactions with biased marketing teams and uninformed publishers who believed that Hindi words in titles that weren't "Indian" or "curry" or "chai" wouldn't sell the book.
Instead, Avon was so open and excited about the title, it reaffirmed my belief that they are the best home for the story. They truly understand that author authenticity creates reader curiosity.
Were there any surprises in the writing process for this book?
I loved the complicated themes in Taming of the Shrew as a student but tackling it as a writer was more challenging than I expected. I had these broad ideas that I wanted to unpack in my novel, all while being witty and engaging, but most of this book had to be drafted during the worst of the pandemic. I didn't feel funny or witty or engaging.
My emotional journey affected my characters in a way that I didn't expect. From Kareena's constant frustration because no one ever listened to her, to Prem's struggle with the power of love and loss. The story that I created is still light-hearted (I think), but it's definitely different from the joyous place that I wanted to be. In the end, I think I wrote the book that I was always meant to write.
What do you hope readers will get out of your book?
I wanted to show a different side of South Asian dating compared to the stereotypes perpetuated in movies, TV, and books written by non-diverse authors. My hope is that readers will resonate with Kareena's belief that she doesn't have to lower her standards on her quest for true love.
I also hope readers see that Dr. Prem Verma believes in love to the point where it's so powerful that it can cause tremendous pain, but rejecting love can be part of the process when recovering from a loss. Lastly, I hope readers see that relationships are messy. Parents, siblings, and family friends can feel like a burden sometimes, but you still need them in your life because they play a critical part of your community and sometimes, they can even make your love story a magical experience.
If you could share one piece of advice with other writers, what would it be?
My advice to authors would be to take every piece of writing advice you hear with a grain of salt. There are so many tools, tips, and "tricks" out there, and not all of them will work for you. The best thing you can do as a creative is take the time to try everything at least twice and discard processes that aren't fruitful.
More importantly, remember that your process can change from book to book and from year to year. Variety can often help fuel creativity. The most important thing you can do is keep writing.