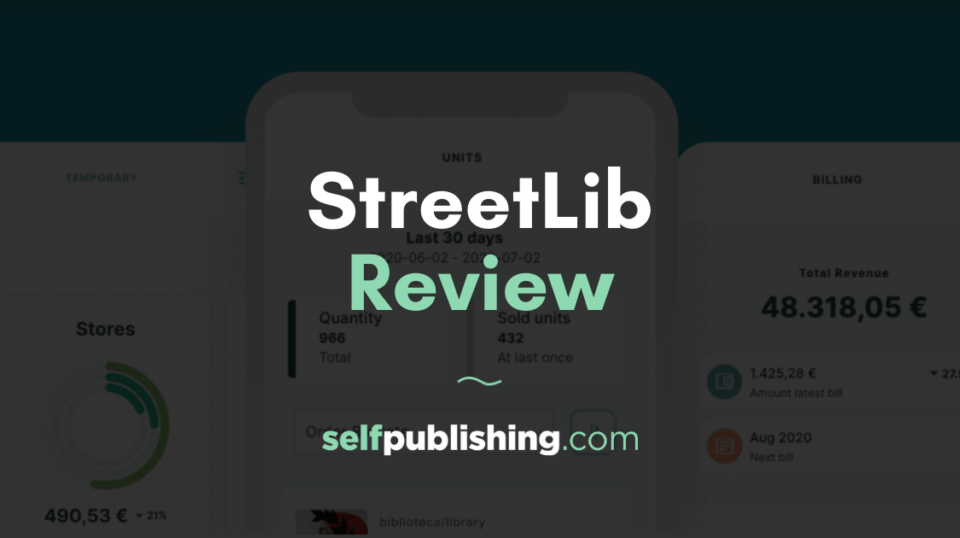 StreetLib Review: An Honest Look at One Global Book Distributor
If you're a writer with a book ready and ready to share it with the world, looking into StreetLib is a great next step. Chances are you're busy working on your book, the editing, marketing, and everything that being a writer entails. You may not feel like you have time right now to research self-publishing companies, figure out how it works, and whether or not you should use it. So, bonus, we've done the initial research so you don't have to!
In this StreetLib Review we cover:
One of the many benefits of being a writer is actually sharing what you write with those around you and those around the world. Writing a book is no small feat.
The initial drafting and editing are crucial parts of the process, but so is getting your book into the hands of readers.
While writing a book can teach you many lessons (persistence, how to communicate, the writing craft itself), ultimately the goal is to write something for others to read.
This comes down to distribution, so let's get started. If you need more information on what distribution is and what those companies do, check out our article on book distributors.
What is StreetLib?
StreetLib is a cloud publishing technology that helps you with global distribution. If you want to market worldwide, StreetLib helps you to do so. According to StreetLib, "From production to digital distribution, from sales monitoring and statistics to the constant support of our customer care team, our goal is to be your best partner for your success in the digital publishing world, wherever you may be."
In today's world of audiobooks, Ebooks, social media connections, and online marketing, the potential for your book to reach a global readership is very possible.
StreetLib even has an app where, "You can control all your publishing business across 50+ distribution partners."
Their app allows you to track daily sales analytics, sales charts and maps, transaction details, and invoices repository.
With 76 distribution partners, over 7,000 audiobooks, over 400,000 Ebooks, and over 9,000 paperbacks, StreetLib is making use of the global publishing economy.
A Note To Our Readers:
We want you to make informed decisions when it comes to how and where to invest your money. That's why our mission is to help educate authors on the various self-publishing companies and services that are on the market today.
Our reviews are meant to be unbiased, 3rd party reviews, but we will speak up if there is a scam or a clearly better option.
How does StreetLib work?
The way StreetLib works depends on if you want to focus on Ebooks, audiobooks, or print-on-demand.
If you want to publish an Ebook with StreetLib, you can rely on StreetLib to help you manage your distribution, production, sales, and anything else that comes up. You as the writer have full creative freedom to, "Create Ebooks independently and upload with us, or use our production services, then distribute and promote via our retail, subscription and library partners."
StreetLib takes care of the billing and payment system "for a transparent management of your revenues."
If you want to publish an audiobook, you will follow a similar process. The main difference is you can use their production services, then distribute and promote via their retail, subscription and library partners.
For print-on-demand, you can position and promote via their retail partners.
Is StreetLib free?
StreetLib has no upfront costs, but they do earn a distribution commission based on your sales.
According to StreetLib, "You only have to create a StreetLib account, fill your billing profile, upload your books catalog and enable the worldwide distribution (with no exclusivity)."
As mentioned, StreetLib earns a commission based on your sales, "meaning that our interests are fully aligned with the ones of our beloved authors and publishers."
So what does this actually mean for you, the writer? Let's break it down.
How much does StreetLib cost?
StreetLib costs are determined by the type of formatting you choose to distribute your books through (Ebook, audiobook, and print-on-demand), as well as your sales. Remember, StreetLib earns a distribution commission on the actual sales.
For Ebooks, the Distribution fee is 10% of the cover price and includes:
Global Distribution (*)
Daily Analytics (approximate)
Monthly Earnings Reports
Automated 3-Months Billing
Batch upload via XLS or ONIX
Free ISBN codes
Manage discounts or offers
Email support from Monday to Friday
For audiobooks, the distribution fee is 20% on the net payout from apps or stores and includes:
Global Distribution (*)
Quarterly Earnings Reports
Automated 3-Months Billing
Batch upload via XLS or ONIX
Free ISBN codes
Manage discounts or offers
Email support from Monday to Friday
*Link to the complete list of bookstores included in their worldwide global service.
For printing, one-off plus the distribution fee is 49€ plus 10% an activation cost for each title. The percentage is applied to the cover price and includes:
Online Distribution (**)
Distribution in B&M Bookstores on Totem (***)
Opportunity to buy print runs
Daily Analytics (approximate)
Monthly Earnings Reports
Automated 3-Months Billing
Batch upload via XLS or ONIX
Free ISBN codes
Manage discounts or offers
Email support from Monday to Friday
**They distribute printed books in these online bookstores: ilgiardinodeilibri.it, IBS.it, Amazon.it, Amazon.com, Amazon.co.uk, Amazon.es, Amazon.fr, Amazon.de, webster.it
***Their books are distributed in Italian Mondadori bookstores and on all independent Italian bookstores by Fastbook and LibriDiffusi.
You may also want to use their book printing calculator to help you determine exactly how much you can expect to invest in print-on-demand books.
Their calculator walks you through the steps to calculate your book printing costs and royalties you can earn from your book sales.
This simple process allows you to:
Select the features of your book
Receive a book-printing quote instantly
Estimate of earnings from the sale of a single copy
After you calculate prices, you can then compare prices based on the type of paper, color of paper, cover finish, the size of your book, the number of black and white pages, or the number of color pages.
For print-on-demand, StreetLib says, "​​We provide a complete service for the printing and distribution of paper books with Print-On-Demand, to reduce management and warehouse costs. When your book is ready to be printed, upload your files and start selling right away both online and in physical bookstores. You can order and receive your copies at your selected address at preferred rates."
Now that you have a general understanding of pricing, you may be wondering…
How do I upload to StreetLib?
When you're ready to upload your final product, simply go to the Publish homepage.
For Ebooks, click the New Ebook button and upload your file. At this point, "You'll be directed to the book's publishing page, where you'll be able to enter the metadata and upload the outer cover."
For audiobooks, make sure you've followed StreetLib's guidelines, then go to the Publish homepage, click the Audiobook button, and follow the prompts.
For print-on-demand books, you need your book in a PDF format that fits the requirements of StreetLib's system. "You can create the PDF independently using Write or by using other production software like InDesign, or you can buy our paid professional production services on Ready."
StreetLib will ship your print-on-demand books to the location you request. According to StreetLib, "The system will activate the distribution of the books in our online and physical bookstores, including: Amazon, IBS, Il Giardino Dei Libri, Webster, Libri Diffusi, Fastbooks and all Mondadori bookstores. The book will also be published on Totem, our B2B e-commerce for independent bookstores."
Where does StreetLib distribute to?
StreetLib's distribution partners include: "Transnational retail and subscription outlets, global digital library distributors and myriad smaller retail outlets and other consumer points across Ebooks, audiobooks, podcasts, POD, comics, magazines and online reading apps."
If you're looking for a myriad of retail distribution options, simply browse through their full list of options here.
Should I use StreetLib?
Whether or not StreetLib is for you depends on your writing goals. However, StreetLib works with a multitude of publishers globally, including academic, scientific, trade, digital comics, graphic novels, audiobook, and podcast publishers. Their connections span the United States, United Kingdom, Nigeria, Turkey, Denmark, Spain, the United Arab Emirates, Qatar, India, and their home base, Italy.
You may want to create a pros and cons list as you consider working with StreetLib. To help get you started, here are a few facts to consider:
StreetLib has been based in Italy since 2006, but its team is spread across three continents: Europe, Africa, and North America. 
Since its beginning, StreetLib has worked with both Italian and international authors and publishers, "Supporting them to succeed in the fast-evolving digital publishing economy." 
In October of 2021, StreetLib expanded its audio distribution to Spotify, Deezer, YouTube Music, iHeartRadio, Apple Books, and other audio services.
You can find more info on their current company stats here.
Whether or not you choose to use StreetLib will be determined by a variety of factors.
Self-publishing allows you to control every word that goes into your book, the formatting, the cover design, the back cover sell copy, your marketing plan, your distribution plan, and many other factors. StreetLib can be the avenue you choose to use to help you with your distribution plan. However, if you choose to go with StreetLib, understand that you will be giving them a percentage for commission. 
While StreetLib is a global distribution company, because they are spread so wide they are not focused on one particular geographic region. This may go on your list of pros. If you are not looking to distribute globally at this time, you may consider this a con. Other distributors may focus on your specific region and be able to help you in a more detailed way, simply because your region is their primary focus.
Also consider that if you want to distribute globally, marketing should still be a focus. Are you equipped to efficiently market to all the locations you hope to distribute to?
Consider, then decide.
Now that you have a general understanding of StreetLib, what they offer, the amount of investment you will need to make, their commission rates, and who they are affiliated with, it's time to decide your best step for moving forward.
StreetLib may be the next step on your journey as a writer.
StreetLib may be something to keep in mind for the future.
Whether StreetLib is for you or not, make the decision that's best for you and your writing career. You put so much thought and time into your book. You had an idea, you took the time to expand that idea into something that would fill every page of a book, you learned the editing techniques, you published your book, and now it's time to distribute it to the world. 
Don't skimp on this aspect.
Consider all your options, do any further necessary research, and then move forward in confidence. Whether you want to focus on local distribution or global distribution, pour yourself into your marketing, then sit back and watch your hard work take root.
Choosing the method for your book's distribution is no small task, but you've got this. Choose your distribution, build your author platform, and get your book in more people's hands.
We can't wait to see what you do!