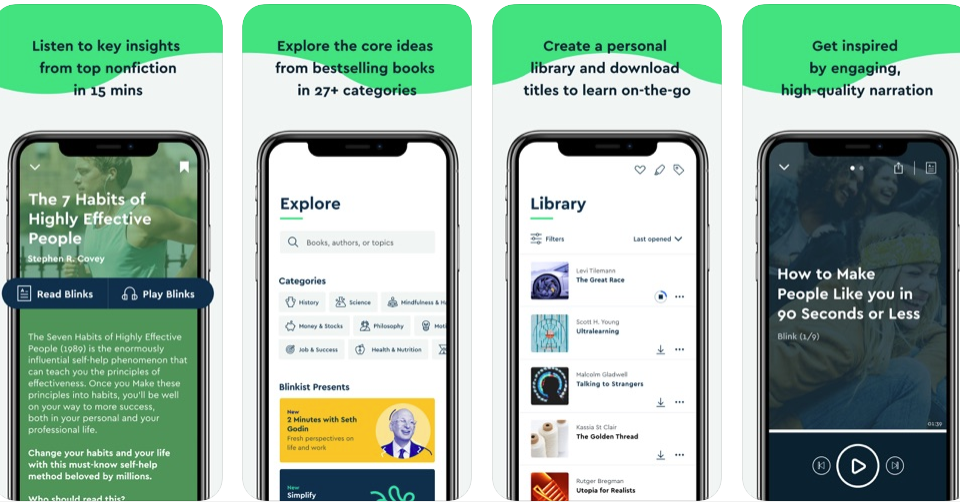 The 5 Best Book Summary Websites to Quickly Boost Your Knowledge
There's a lot of reasons you might need a book summary. Maybe you don't have the time to get through the books on your "want to read" list. Maybe you need to write some book notes for an article you're working on. Maybe you just want to figure out if you want to read a full book.
Either way, it can be incredibly time-consuming to read through a whole book to find what you need, which is where book summary websites become a great option.
In this article, we're going to dive into five different options. Most sites cover different types of books or have different uses, so you should be able to find the one you need.
What are book summaries?
Book summaries are pretty much exactly what they sound like — a summary of a book. Some summaries are incredibly in-depth and give you a ton of details. Others are shorter and give you main bullet points. Which one you pick will depend on what you need the summary for, but just know both are available.
If you're a person who loves the nitty gritty details in some books, book summaries might not work for you. Most summaries skip over the stories that accompany most of the points the author is trying to make. However, if you love just being able to understand the main points and don't mind losing some of the accompanying stories, these are exactly what you need.
Each book summary also depends on the person or company creating the summaries, as different people might find some parts more important than others.
Blinkist
Blinkist is one of the more well-known book summary websites. It helps you get through books within fifteen minutes instead of the usual hours (or days) it takes to get through a book. Currently, there are over 5,000 books you have access to inside of Blinkist to learn. At the time of writing this, there is currently a free plan which only lets you access one summary per day, but depending on your schedule that might be a great option.
The main premise behind Blinkist is to use your blocks of time where you're doing something mindless, such as commuting or waiting in line at a store, to learn great takeaways from some of the most popular books out there. You can download the audio versions of any of the book summaries so you can listen to them while you travel or are offline.
Pros:
Curates a to-read list for you as you go through books
Gives notes on podcasts as well as books
Provides both audio and video summaries
Works offline
Around 40 books added per month
Available on iPhone and Android
Cons:
Limited free plan
To fit in their time frame for summaries, longer books can be missing more key information than shorter books
Pricing:
With a free account, you are capped at only one book summary per day
Free trial for first 7 days
Paid plan starts at $8.34/month and is billed at $99.99 for the year
Month-to-month plan is $15.99/month
getAbstract
If you're a fan of business books but don't have time to read all the ones you wish you could, getAbstract is a great option. With a third of the Fortune 500 using GetAbstract, it has some of the best information to keep you up to date on all the newest books and information being published regularly. They have some other books out
As opposed to some others, getAbstract also has features based around businesses with employees. You can set up a monthly reading club or give access to certain topics for your employees to get caught up on a subject before important meetings.
Pros:
Mobile app for on-the-go learning
Rights secured for every title
22,000+ books
Comes in multiple languages: English, German, Spanish, Chinese, French, Portuguese and Russian
Summaries of articles and reports
Summaries of TED Talks
Cons:
More expensive than some other options
Mostly focused on business books
Pricing:
3 day free trial
A free student plan with access to 5,000 book summaries (upgrade to 22,000+ titles at $99 per year)
The Pro Monthly starts at $29.90 per month or $299 for the year
SparkNotes
Most of us used SparkNotes in school to get a quick summary on a book we had to read for an assignment. SparkNotes mainly focuses on academic books and topics such as Shakespeare, biographies, classic books, and other commonly-read books in schools.
It's not purely summaries either, it's mostly meant to help you understand what is being said, which is particularly helpful when it comes to old texts or Shakespeare. With over 500 guides, you're bound to find the text you need.
Pros:
Accurate, quality summaries of most of the famous classic books
No Fear Shakespeare which is a side-by-side translation of Shakespeare which takes the text and turns it into plain English so you can understand every line
Apps available on iOS and Android
Help to make sure you can source from SparkNotes correctly
Cons:
It doesn't have a lot of the new bestsellers as most content is for students
If you're being tested on a book, it might not have all the details you need
Pricing:
SparkNotes is free to use
Instaread
Instaread has a ton of book summaries inside of a clean, simple interface. They have a built-in "cards" feature which allows you to save your favorite quotes from books for reference. If there's a book you're enjoying more than the others, you also have the option to purchase the audiobook through the app itself to store in your digital Instaread library.
There are also some books exclusive to Instaread, so you can get all-new content. Some authors with exclusive content include Oprah, Elon Musk, Steven Hawking, Tim Ferriss, and so on. Along with major books, they also release summaries of articles from publications such as The New York Times and Harvard Business Review.
Pros:
Available on all devices
Can buy audiobooks through the app
Exclusive content not available anywhere else
Some of the reviews and summaries are longer than you would find on the other apps
Cons:
Fewer book options than some of the other websites
Pricing:
Seven days of a free trial
Plans start at $
Optimize
Optimize.me focuses mainly on books and content surrounding personal development — thus, it's name. Most of the books focus on health, wealth, business, fitness, lifestyle, and philosophy. It has a sleek design which makes reading each of the notes easier. There are also accompanying videos for a ton of the books for a deeper understanding.
While it has over 600+ personal growth book notes, it also has tips for better optimizing your life along with a class that shows you how to get the most out of your life. Due to a great funding round, Optimize is now free for people to use.
Pros:
Available on iOS and Android
Focuses on personal development
Personal development bonus options (quotes, courses, and so on)
PDF and mp3 downloads available
Cons:
Not many books outside of the personal development realm
More for personal development than notes in an academic setting
Pricing:
It used to be $100 per year, but now it's free