The Complete Guide to CryptoPunks NFTs
In NFTs, there's nothing quite as punk as owning a CryptoPunk. A status symbol, a piece of Internet history, and an unspeakably valuable asset, CryptoPunks may be the most important NFT project there is.
The CryptoPunks' journey to non-fungible stardom is intertwined with the growth of the Ethereum blockchain. And the rise of multi-billion dollar projects like Bored Ape Yacht Club can be traced directly back to the CryptoPunk mold. So, for those of you who are considering buying a CryptoPunk — or who are wondering what the heck these weird pictures are and why they cost millions of dollars — we spoke with prominent NFT investor GMoney to get some answers.
From these conversations, we've pulled together the ultimate guide to CryptoPunks. So, let's dive into one of the most expensive NFTs collections that money can buy.


What are CryptoPunks?
Launched in June of 2017 by product studio Larva Labs, and acquired by Yuga Labs in 2022, CryptoPunks is one of the first NFT collections on the Ethereum blockchain. It consists of 10,000 unique 24×24 pixel art images that depict mostly humans (male and female). However, there are several other unique types, which are considered more valuable because of their rarity. These include zombies (88), apes (24), and aliens (9).
Each CryptoPunk can also exhibit a combination of 87 unique attributes. These are known as "traits" and include things like hats, pipes, necklaces, earrings, eyepatches, and more.
The maximum number of traits that a single CryptoPunk can have is seven. However, there is only one CryptoPunk in existence with seven traits, #Punk 8348. It has a cigarette, earring, mole, buck teeth, classic shades, a top hat, and a big beard. CryptoPunks can also have zero traits, but most tend to have two or three. You can see how the number of traits impacts both the value and scarcity of a CryptoPunk NFT in the image below.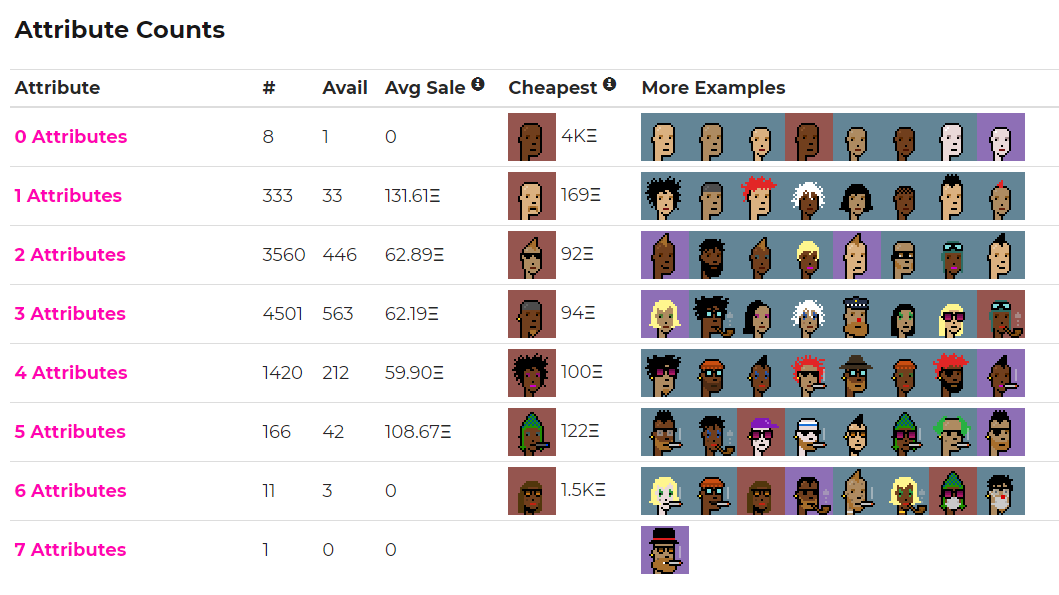 Who created CryptoPunks?
Unlike the more recent projects it inspired, CryptoPunks didn't initially set out to create a community. In fact, the team didn't even have a roadmap. The project was an experiment conceived by Canadian software developers and Larva Labs founders Matt Hall and John Watkinson.
At the time, the NFT space was a far cry from the robust market we see today. As a result, CryptoPunks initially started out slow. The collection went live in June 2017. Initially, the NFTs were given away for free to whoever wanted them. Because you needed an Ethereum wallet to collect one, supply was limited to those who were already invested in crypto. "What makes CryptoPunks important is that a community grew around them organically," explains GMoney. "There is a provenance around them because they are one of the first NFT projects on Ethereum — and they were free to claim at the start."
GMoney says early supporters of CryptoPunks, such as now top-tier NFT influencers Pranksy, DaveDave, and SeedPhrase, "realized earlier than most that digital ownership was going to be spreading more and more on-chain. Being able to own and claim stuff on-chain was going to be very valuable."
Since 2017, CryptoPunks has grown from a simple, niche internet fad into one of the world's more expansive and well-known NFT projects. While it was not technically the first NFT project on Ethereum, it is one of the earliest, and it is undoubtedly the most influential. Many of those patient enough to hold have become multi-millionaires, and those lucky enough to get in before the 2021 craze are regarded as some of the most fortunate people in the NFT space.
How to buy a CryptoPunk NFT
Those new to the NFT space will inevitably come across CryptoPunks sooner than later. And when they do they'll immediately understand one thing: Punks are a remarkably valuable asset.
Let's put the pricing in perspective:
On July 6th, 2017, Alien Punk #3100 sold for 8 ETH. That was roughly about $2,000 at the time. Back then, this would've seemed like an absolutely ludicrous price to pay for a JPEG. Yet, almost four years later, in March of 2021, that same Punk sold for a staggering 4,200 ETH. That translates to $7.58 million.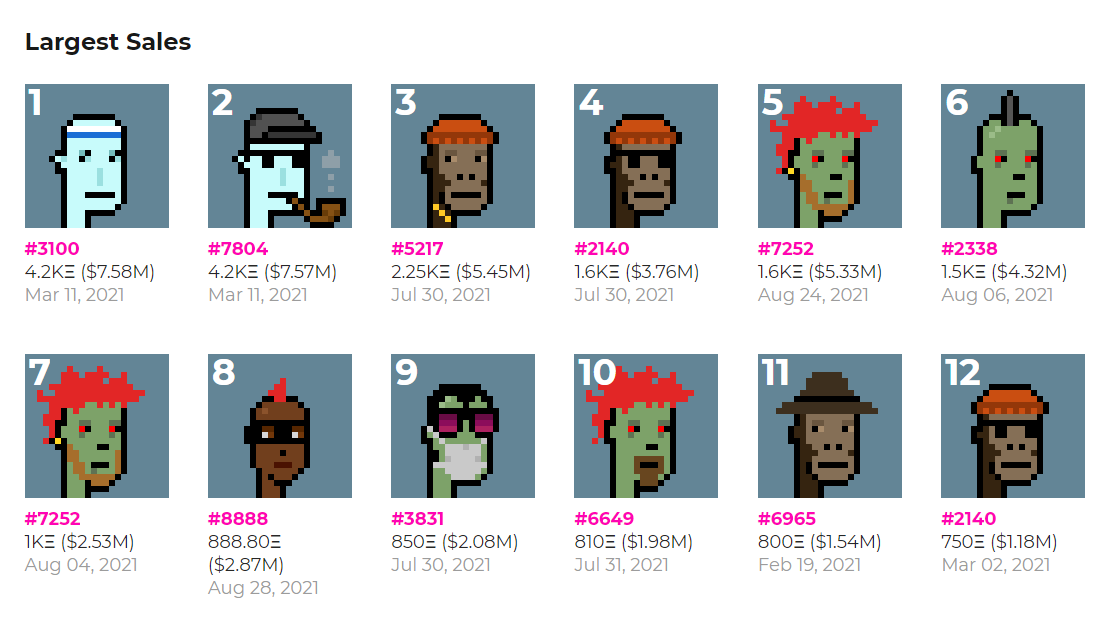 Although we're talking about one of the highest Punk sales to date, such sales were far from uncommon during the duration of the 2021 CryptoPunk bull run. Over the course of the year, Punks went from selling for as low as 7 ETH to absolutely exploding towards the fall. During this time, the price of even the cheapest available Punks was around 100 ETH. Today, the most recent Punks sales are priced similarly, at around 60-100 ETH each. The rarest CryptoPunks sell for as much as 150 ETH, But the prices have more or less stabilized.
If you have enough crypto in your wallet, you can buy one on the LarvaLabs website.
Auction houses have also taken to selling Punks. So if you keep your eye out, you can buy one in a special sale. In fact, Christie's has to be given a great deal of credit for the development of the Punk marketplace by exposing those in more traditional art spaces to Punks. As a follow-up to the major auction house's $69 million Beeple sale in March, Christie's presented a collection of nine CryptoPunks in May that sold for a whopping $16.9 million.
Why are CryptoPunks so expensive and worth so much?
Over time, CryptoPunks have come to be seen as an investment and a status symbol. In fact, GMoney says that he purchased his CryptoPunk because he wanted the status that came with it. "With an NFT, by posting it as my avatar on Twitter and discord, I can quickly 'flex' with a picture….It has the same effect as wearing that Rolex in real life, but digitally," he said.
People in the NFT community tend to see CryptoPunks owners as builders and visionaries. Rightly or wrongly, they are viewed as people who foresaw where NFTs were going and got in ahead of the curve. As a result, they are given the presumption of trust and status. In fact, a number of collectors have created entire personas, projects, communities, and brands around a single CryptoPunk NFT.
Additionally, considering their history, and how they grew and developed from the early days alongside the Ethereum blockchain, some argue that owning a Punk is like placing a bet on the importance of NFTs and the Ethereum blockchain. The early supporters of Punks, for the most part, didn't just chance upon the project. As GMoney put it, "you had to be around in crypto early on to get involved with CryptoPunks."
In short, the project is valued so highly because of its historical significance and the way in which it represents a belief in Ethereum.
But whatever the ratio of social to financial value may be, celebrities, venture capitalists, and even hedge funds have been joining the CryptoPunks race in droves. And when all is said and done, it's hard to discount a project that turned collectors into millionaires nearly overnight. To this end, the collection continues to be valuable partially because of the success early collectors were able to secure. Everyone is hoping for a repeat.
CryptoPunk controversies
While Punks may be one of the top NFT projects of all time, the team behind the endeavor isn't immune to controversy. In February 2022, Larva Labs faced backlash when one of its co-founders, John Watkinson, sold off his stock of V1 CryptoPunks NFTs. Days after selling the V1 Punks, Larva Labs attempted to blacklist the budding project and get it kicked off NFT marketplaces. This denouncement had the potential to cause the price of V1 Punks to plummet, creating a financial loss for everyone who bought the NFTs from Watkinson.
Watkinson, meanwhile, kept all the money from his sales and would incur no losses from the drop in price — which was a drop that was caused by a company he and one other person controlled.
The community at large was split on whether or not what Larva Labs did was actually wrong. Some argued that the company wasn't worthy of criticism, as the team clearly stated that they didn't approve of the project and intended to sell. Others found fault with the company because the team only condemned the project and stated that they were selling two days after the cofounder had already sold…which isn't exactly forthright.
And that wasn't the only time the company has received criticism from the NFT community. Larva Labs also faced backlash for allegedly attacking valid projects that aren't actually trying to scam people and also for failing to clarify what Intellectual Property (IP) rights users have in relation to the CryptoPunk NFT they own.
CryptoPunks acquisition by Yuga Labs
In March 2022, Yuga Labs — the creator of Bored Ape Yacht Club — acquired both CryptoPunks and Meebits. With this acquisition, Yuga Labs says they aim to foster a "community of builders" creating derivative works around the two projects. To accomplish this, as they've done with their own BAYC collection, Yuga Labs stated that they will transfer IP, commercial, and exclusive licensing rights to the individual NFT holders. This will enable CryptoPunks and Meebits owners to create artwork and products based on their NFTs the same way BAYC owners have.
In effect, this sale addressed one of the major controversies, as users were finally told what rights they have in relation to their CryptoPunk NFT. In a statement, the CryptoPunk creators said they moved forward with the deal because they felt Yuga Labs would be better stewards of their projects. "Yuga Labs are the best in the world at what they do, and are the ideal stewards of the CryptoPunks and Meebits. In their hands, we are confident that they will continue to be vital, thriving projects in the emerging decentralized web," they said.
Hall and Watkinson may be correct, given the backlash they faced when they controlled CryptoPunks.
As part of the deal, Yuga Labs also received 423 CryptoPunks and 1711 Meebits. When asked what they plan to do with them, Yuga Labs said, "We're not in a rush to do anything but give people their IP, see what they build, and listen."
The future of CryptoPunks
At only a few years old, CryptoPunks is already a legacy project in the NFT space. GMoney notes that, even with the NFT space growing as fast as it is, Punks won't get lost in the surge or be forgotten. Why? Because they are where everything really began. "CryptoPunks will continue to be a very big pillar of the NFT community. They don't need to evolve and nothing needs to happen for them to cement their place in history," he said.
Still, with a new owner, Punks will likely undergo some changes. Yuga Labs currently gets a cut each and every time a Bored Ape is resold. However, Larva Labs didn't do that with CryptoPunks and Meebits. Yuga Labs says they don't plan to change that, but they didn't offer any statement indicating what they do plan to do with the collections.
While the world waits to see what Yuga Labs does with CryptoPunks, the prices continue to fluctuate wildly. CryptoPunk #273 was purchased for approximately $1.03 million in October of 2021. Just six months later, in May of 2022, it sold for a massive loss. It was purchased for just $139,000. As such, it seems that Yuga Labs might end up having a difficult time earning a return on its investment.
Regardless of what happens, considering that the NFT community is so often looked down upon as a temporary fad, it seems very fitting that the mascot of the space is a Punk.
Additional reporting by Alex Yates.
The post The Complete Guide to CryptoPunks NFTs appeared first on nft now.