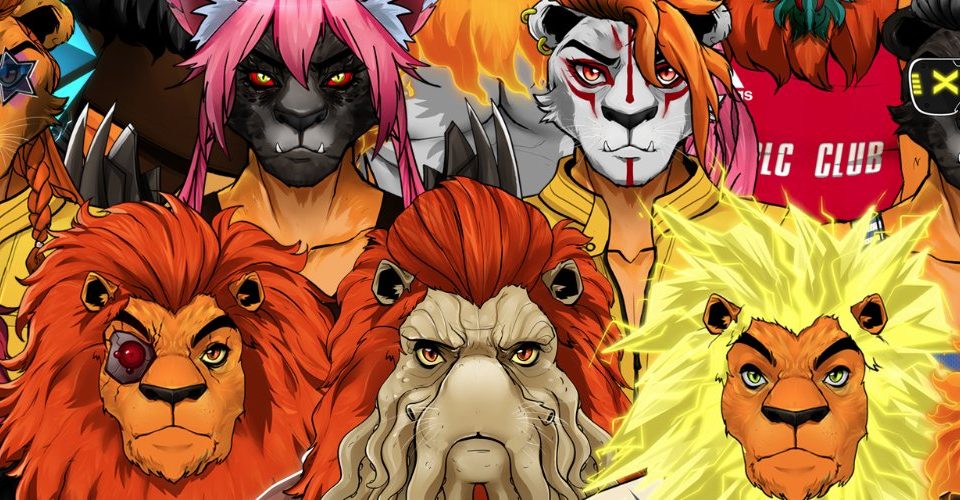 We are Able to Give our Holders Attractive Discounts are They Travel the Globe — Creator's Interview
Greetings, NFT fans! My guest today is Amal Aka – King Lion — Founder of Proud Lions Club.
Amal by profession Is multi-talented in the field of IT, Hospitality and all things De-Fi. He has worked in multiple sectors of IT, from Hardware to Software, leading major Virtual reality and Augmented reality projects in the middle east for the last decade. He specializes in project management for large scale organizations and delivering massive events. Amal has been in the crypto space since 2016 and his love for tech got him interested in mining, he initially started to build out his own mining rig and grew that over a year into a viable business of over $150,000, soon realizing the environmental impact it had and moved to the NFT space. Amal holds a degree in Graphic design and Animation engineering and this is where NFT sparked his attention, he has a few of his art pieces sold online as well.
Being a professional gamer for years, Amal took up the Play to Earn games and immersed himself into the industry, being part of some major projects like Nifty's WB Matrix and the p2E game Dragon Watch Heroes, he has played many virial roles within the communities and created custom apps and bots for the same.
Amal holds a degree in IT, Travel Tourism and hospitality and Animation Engineering. With a combined work experience of 14 years in various sectors across the globe, he brings a huge array of skills and versatility to the project.

Chris: A tribe of 7777 mythical lions is ready to rage the metaverse. Why did the team decide to bring lions as their NFT collection?
Amal: The majority of the team comes from the beautiful Island of Sri Lanka, which is the land of the lion, it also hosts the 8th wonder of the world called Sigiriya Rock, which translates to Lions Rock. The lion represents confidence and a strong mindset, the lion might not be the strongest or the fastest in the jungle, but there is a reason he is known as the king, it's his mentality. We are proud of who we are and where we come from and we wanted that to reflect in our NFTs, hence we are The Proud Lions Club.
Chris: Interestingly, when you say 'A travel membership NFT', what do you exactly mean? Please elaborate.
Amal: We wanted to be unique in our own way, rather than be another NFT project. We took our teams' 35 years of expertise in tech and travel and merged them into one, giving NFTs some real-world tangible assets. The NFT will act as a virtual membership card, which will be recognized by more travel agencies and hospitality establishments, to receive rewards and discounts across the globe. We target 4 countries per year and leverage our existing relations with these countries from our travel experts and bring are able to give our holders attractive discounts are they travel the globe.

Chris: What other benefits are there for the investor when they mint a Proud Lions token? Moreover, what are the Club benefits?
Amal: Holders will be able to book VIP tour packages right from our website and pay directly with crypto. We currently have our 1st destination live, which is Sri Lanka, and offering 10 different packages varying in style, budget and number of travellers. Our team will process the entire booking from visa to hotels to transportation and even assign a personal chauffeur to guide you from the start to the end of your tour. Not only that, but using our unique rarity pyramid system, our holders will be able to connect their wallets to our audited DApp and based on how rare your lion or lioness is, they can avail of discounts on the entire package, up to 35% per booking.
Chris: So, when do the Proud Lions enter the Web 3.0 platform? How many tokens will be released on the minting date?

Amal: Proud Lions Club NFTs will go live on the 27th of April at 9:30 AM UTC. There will be a total supply of 7,777 Lion and Lionesses.

Chris: You also seem to have a whitelist. How do I get on the whitelist? What will be the cost of one Proud Lion Club NFT for the whitelisted members?

Amal: Whitelisting can be done, by joining our discord and completing the simple task of changing your profile picture to one of our Lions sneak peeks, and saying 'Hey check my PFP' in the chat. The price will be 0.0616 ETH, which is a 20% discount compared to the public price.
At the time of writing this: we only have 300 spots / 1000 spots left. So hurry up.
Chris: Also, what will be the minting cost for one token at public minting? How much will be the minting fee?
Amal: The cost per mint of the NFT will be 0.077 ETH at the public sale, which is on the 5th of May
Chris: At last, we would like you to share your roadmap with the potential investors. What do you have in mind for the Proud Lions for the next 6 months?
Amal: PLC has an extensive and very achievable roadmap put in place, the reason being we have worked beforehand to add partners for the travels and have in house full-stack devs, who have worked around the clock to create the ecosystem even fore launch, ready to be executed. Our next step is to add more vendors on board and start to make our NFT a globally recognized 'virtual membership card'. While we onboard new partners, our holders need not wait for things, we have a robust utility map laid out, for holders to use in the De-Fi space, namely the Morphing system, where users can combine 2 common lions + a Gene splicer NFT to get a Delta Legendary or a Gamma Rare lion in return. ( launches 2 weeks after the public sale) Also 30 days after the public sale, users can stake their NFTs to daily earn our native utility token called STEAK token (STK token) These will also be used for certain discounts while travelling and as well as in-game concurrency out Sandbox P2E games. Details for all utilities can be found on our whitepaper here: https://proud-lions-club.gitbook.io/whitepaper/
Final points: Acting as a virtual membership card NFT, our value will only go up in price as we add more real-world establishments, countries and partners to the program. This will be a go-to NFT for travellers across the world to always have on their phones and be recognized and accepted at all locations.