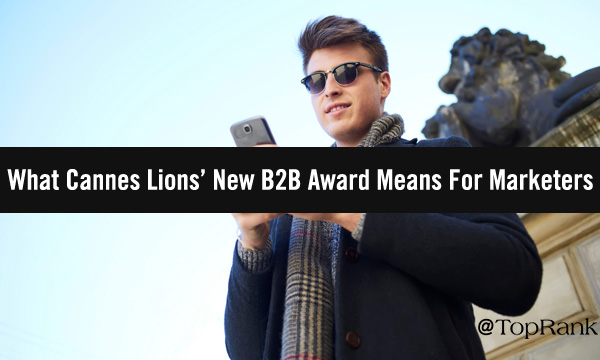 What Cannes Lions' New Creative B2B Award Categories Mean For Marketers
The venerable Cannes Lions International Festival of Creativity has been around in one form or another since the 1950s, offering brands worldwide the opportunity to showcase their top marketing work and advertising talent. They haven't had specific B2B marketing awards, however. Until now. What do B2B marketers need to know about the new Creative B2B Lions, which will launch during Cannes Lions 2022 this summer? Let's explore what's on tap with the launch, and what B2B marketers and other creative professionals can look forward to learning from the new B2B awards portion of this preeminent event.
Welcoming The Creative B2B Lions
The new Creative B2B Lions event and awards have been established in conjunction with the B2B community, most notably The B2B Institute, the industry think tank funded by LinkedIn* that researches the future of B2B marketing and decision making. The director of market engagement at The B2B Institute is Ty Heath, who we recently featured on our annual list of the top women in B2B marketing, in "25 Women of Color Who Rocked B2B Marketing in 2021," alongside a powerful array of other game-changing marketing leaders. Last month The B2B Institute heralded the arrival of the new Creative B2B Lions, noting in a LinkedIn post that, "We are excited to announce The Cannes Lions International Festival of Creativity is launching a new Creative B2B Lions Award to recognize creative effectiveness and brand-building in B2B advertising. The inception of this highly prestigious award marks a new LinkedIn partnership with Cannes Lions, with LinkedIn's B2B Institute supporting the award as the strategic thought partner." What type of brand efforts will be among this year's inaugural entrants, and what will drive the campaigns of the eventual winners? While we won't know until the winners are unveiled, let's take a look at some of the elements the Creative B2B Lions will showcase. [bctt tweet=""We are beyond excited to celebrate and honor game-changing B2B marketing creativity! This conversation and the investment of energy is about the effectiveness, the long-term potential and welfare of B2B marketing overall." — @tyrona" username="toprank"]
Showcasing Global B2B Benchmarks in Creative Excellence
Some of the elements the new Creative B2B Lions seeks to showcase include the following, broken down into 11 service-focused categories and 11 categories built around B2B products::
Creative and game-changing brand-building work in the B2B industry
Celebrate creativity and effectiveness in work for B2B products and services
A mix of short-term tactics and long-term brand-building strategies that connect with customers, improve brand health and ultimately drive growth
When the winners of the new B2B awards and the other traditional categories are announced during the event, which takes place in hybrid format both in Cannes, France on online from June 20 through 24, it will be the result of the judging of more than 400 global marketing experts who are slated to tabulate and rank all entries.
Key New B2B Categories For Award Entrants
The new Creative B2B Lions awards offer a wide selection of services and products categories, each consisting of the following 11 areas:
Cross-channel Storytelling
Brand Experience
Innovative use of Broadcast & Content
Targeting & Engagement
Effectiveness & Measurement
Long-Term Brand Building
Breakthrough on a Budget
Challenger Brand
Corporate Purpose & Social Responsibility
Market Disruption
Craft in B2B
With a well-rounded slate of categories, B2B brands entering the new Creative B2B Lions this year should have no difficulty finding the appropriate one for submitting their best work having run during the period between March, 2021 and the end of April, 2022 in order to be eligible. The Creative B2B Lions present B2B marketers the unique opportunity to be a part of the first-ever Cannes Lions celebration of B2B-specific work, with entries opening up on January 20, 2022. Philip Thomas, chairman at LIONS, has noted the forthcoming inaugural Creative B2B Lions have been under development for several years, having observed an increase in the number of B2B advertising efforts producing winning entries over recent years. "We first started discussing a Lion that recognizes B2B work way back in 2013, but we always try to get the timing right, so that our Awards are reflective of the industry and in line with its needs," Thomas shared in announcing the updated 2022 awards. "Having seen a rise in B2B work winning across the Lions, and with many in the industry believing that a specialist Lion in this area will raise the creative bar and elevate the discipline, we think that now is B2B's moment to have its own spotlight on the global creative stage," Thomas added.
Award-Winning B2B Marketing Opportunities Abound
While the addition of B2B-specific awards at the Cannes Lions International Festival of Creativity is certain to be a highlight for many B2B marketers and brands the world over this year, there are thankfully many other esteemed events that also present awards to top marketing efforts. We've explored what award-winning B2B marketing efforts look like, and presented authoritative lists of global B2B marketing events, including the following helpful articles to learn more:
No matter how well you're able to implement digital content small and large, crafting award-winning B2B marketing takes considerable time and effort, which is why an increasing number of firms are choosing to work with a top digital marketing agency such as TopRank Marketing. Reach out to us today to learn how we can help, as we've done for over 20 years for businesses ranging from LinkedIn, Dell and 3M to Adobe, Oracle, monday.com and others. * LinkedIn is a TopRank Marketing client.
The post What Cannes Lions' New Creative B2B Award Categories Mean For Marketers appeared first on B2B Marketing Blog – TopRank®.