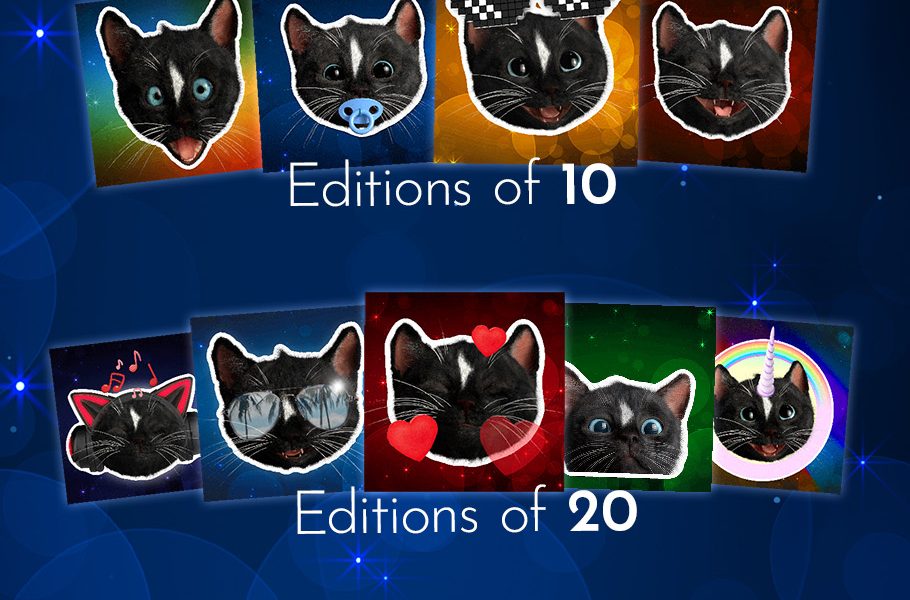 10% of the Proceeds Will be Donated to Charity to Help Felini's Big and Wild Relatives — Creator's Interview
Hi! Can you tell us more about yourself and the role you're playing in that blooming project?
Til: That's me, Til. Character animator by day, entrepreneur and NFT artist by night.
For the record: Tilmann Vogt, professional character animator since 2004 – mostly on feature films, some tv-series, commercials and games.
Chris: Felini's Kitty NFT is a digitally created black furry cat that looks almost real! Who is the artist? What is the story behind the team coming together to create the Kitty Cat Sticker NFTs?
Til: Thank you so much for having me at NFT Calendar Chris and for commenting on Felini the Kitty looking almost real. The creation process is quite involved, so it makes me very happy seeing others see beauty in my labour and creation too! Actually Felini the Kitty is the artist… He is very playful and just acts out silly stunts in my head, giving me new ideas. Well, then he is my muse you could say. Also I am easily amused by cat-memes… haha, cats and the internet!
Anyhow, it all started with my life as a traveling freelance animator, missing an actual cat. I grew up with and love cats – but you can't have a cat when you move house twice a year. That's when I decided to create a digital one to keep me company – Felini the Kitty!
Felini in-computer cat was conceived with the help of my colleges and friends Peter Colebatch aka Polygon Pete (love ya!), who modeled the initial cat geometry and Oyvind Nostdal, who integrated his Advanced Skeleton (kudos!) rig into the digital kitty cat back in 2015. Peter also combed the initial groom and we ended up creating a few mobile kitten games together with Felini's alter ego "Little Kitten" for iOS. While Peter and Little Kitten went on to produce more apps, Felini and I ventured into different projects, like e.g. Felini's shop.
Felini still keeps exploring new creative formats and technologies. One of those projects is the creation of Felini's Kitty Cat Stickers. They are freely available for WhatsApp on Android (still) and as animated stickers for iOS Messenger… and on Giphy. Giphy is where they ended up making quite a splash: Felini's Kitty Cat Sticker with the birthday present has been viewed over 325 million times (as of June 2022). I look forward to bringing some of the most popular stickers to the NFT world, exploring this new territory with Felini's first non-fungible token collection.
Chris: Felini's Kitty Sticker NFT follows the popularity of the widely known sticker of the cat. Has this also affected the price of the token? How much will be the cost of one Felini Kitty Sticker NFT?
Til: Yes, the price of each token reflects it's popularity on Giphy as well as feedback on other channels. My personal perceived value is also factored in – this includes the complexity of the creation process but also the beauty and authentic feel of the finalized stickers. The rarity of each token will be the main indicator for pricing however (see image below).
Following this logic Felini's Kitty Sticker NFT collection will feature a wide pricing range. There will be very rare items available for almost 1 ETH, hopefully attracting investors that do see the future potential of the Felini brand. But there will be very affordable tokens also, even below 0.03 ETH to cater to Felini fans who just want to join the fun for the price of a nice t-shirt.
Chris: Besides, the token is also engaging in cat welfare. How does it do that? How much of the funds would be allocated towards kitty welfare?
Til: Felini is really keen on helping his big & wild relatives! 10% of the proceeds will be donated – at the moment my charity of choice is Panthera.org – they are doing an amazing job! There is more info on the why and how of Felini's mission at: https://felini.rocks/mission
Big Cat Rescue is also a great charity we might support in the future. Felini is also eyeing some NFTs by WWF geared towards saving endangered feline species. Helping keep those animals alive, for our kids and grand-kids to watch and enjoy just feels crucial to Felini and me.
Chris: Meanwhile, Felini's Kitty NFT is being released on the Polygon to save on the gas. How much would be the gas? Also, is there any other reason for not picking the widely popular Ethereum network?
Til: It's really those two big reasons why Felini's collection was minted on Polygon:
1. We wanted to keep the NFTs affordable for everybody and maybe even more importantly
2. The environmental impact of Polygon is just a fraction of what Ethereum would cause in terms of carbon footprint. What's the point in giving money to charities that protect the big cats if we fry their habitats with our CO2 emissions?
Chris: The cat is black and furry, how is each token distinct from the other? How many tokens will be released in the first drop?
Til: Felini`s Kitty Cat Stickers reflect diverse moods just like proper emojis would: Feeling like a king today? Looking forward to a Birthday party? Rather cool or surprised? Felini has got you covered even if you feel like the goddess of spring, a rainbow unicorn or just want to shoot lasers from your eyes. Each sticker has it`s own little story (in the description) – how it has been made or where else it can be found.
There are 15 different tokens planned for this collection, divided into five categories of how rare the tokens are. Have a look at the image below.
Chris: Along with this, please state if there are some rare tokens? If so, is there a rarity referencer available for the investors?
Til: The following image lists the supply of each token. These also determine the price categories. I hope this is straight forward and enables a fair and simple NFT launch to as many people as possible: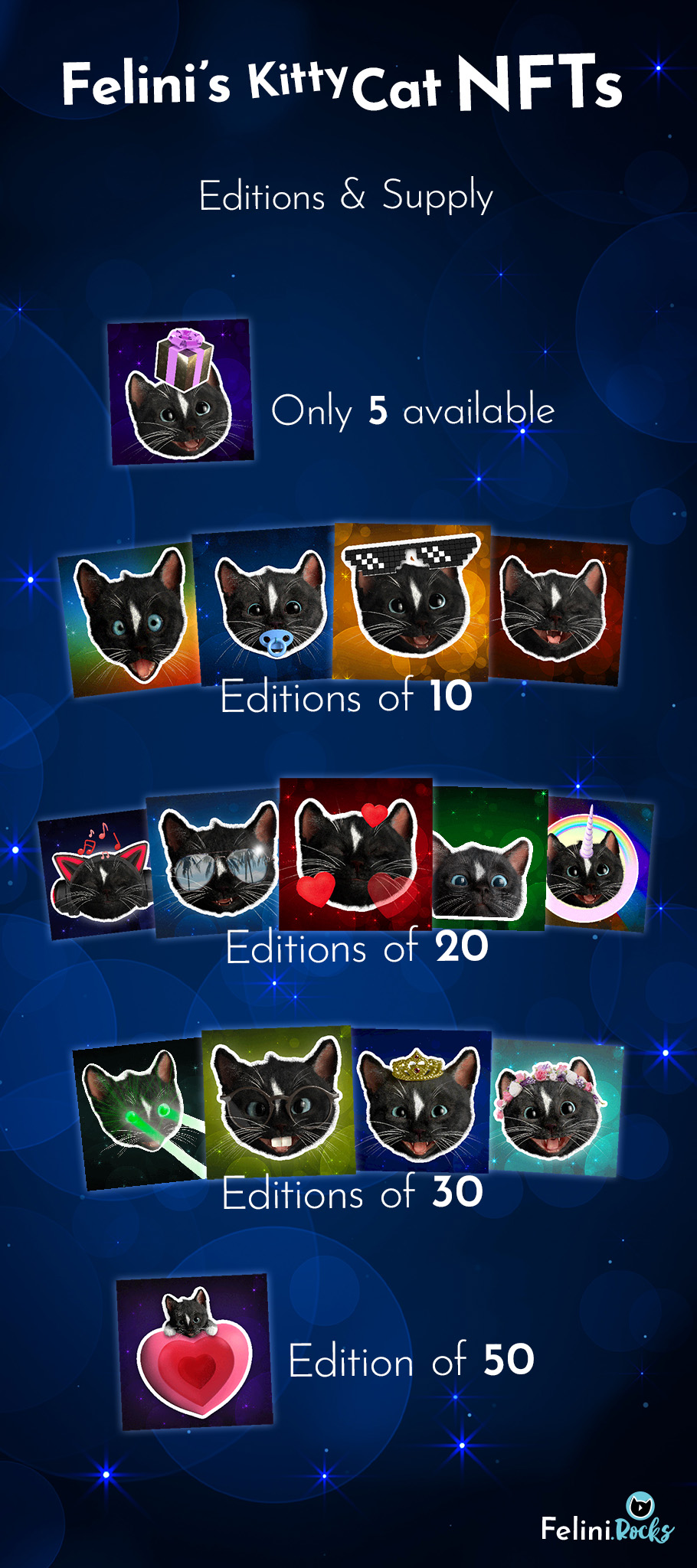 Chris: Before closing, please share your plans for the future of Felini's Kitty NFT. Do you have plans to sell stickers of the NFTs IRL through a live merch store?
Til: These are great questions. In terms of future NFT projects, there is actually a super fun 10k NFT collection in my drawer waiting to be released. It's still image renderings of Felini with lots of fun objects alluding to cat memes and also Felini's personal adventures. For now I want to enjoy the current experience of releasing the Kitty Sticker NFTs and see what the takeaways are. The next collection will definitely aim once more for an eco-friendly blockchain (Solana maybe?).
As you suggest there is so much more to explore with NFTs. Linking real life products at Felini.shop to NFTs is certainly something that I want to look into. There are also some kitty game ideas playing in my mind that could benefit from a web3 integration (e.g. NFT in-game assets)… The sky is the limit, really. Looking forward to exploring!
Also, don't forget to join our Discord and Twitter. It is the best way to stay informed on news and announcements.
I really appreciate your time and consideration regarding my Kitty NFT project! And of course I want to thank the NFT community as well as Felini's fans for reading and wish everybody heaps of fun browsing Felini`s Kitty Cat Sticker collection!