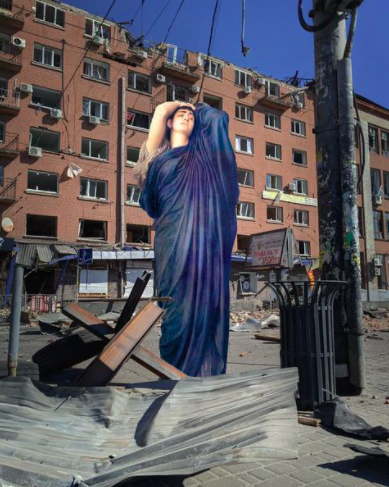 A New Project Uses NFTs to Feed Ukrainians Impacted by War
Amidst the chaos happening on the ground in Ukraine, ordinary citizens and the Ukrainian government alike have been using NFT auctions to quickly raise large amounts of much-needed funds for the ongoing humanitarian effort.
Joining these noble ranks is Kyiv-based multimedia artist Alexey Kondakov. With the help of Bonhams, one of the world's longest-running auctioneers, and crypto donation solution The Giving Block, he's launched Reverberate Ukraine.
From longing to relief
Reverberate Ukraine is an art collection that features five NFTs of artwork created by Kondakov. Each piece is done in Kondakov's signature style, featuring characters lifted from various century-old fine art paintings juxtaposed on top of scenes from modern-day Kyiv, all taken with Kondakov's mobile phone. Speaking about his collection in a press release, Kondakov shares, "Reverberate Ukraine is me showing the world what it's like living in a war. It's the only thing I can do right now, living in Kyiv."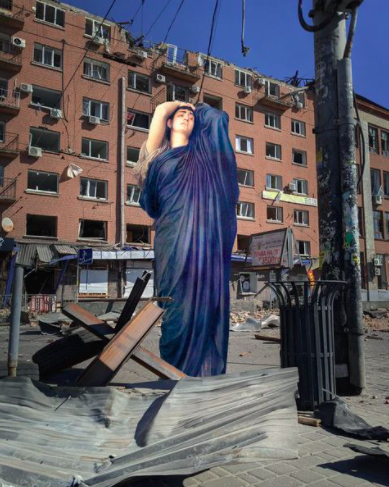 Despite the fact that the characters and scenes in Kondakov's collection come from points in time hundreds of years apart, the underlying message of each piece ties everything together: the pain of longing for a better world is universal, unbound by place or time.
Kondakov hopes to help create that world through his charitable NFT launch. All proceeds from the auction will be donated to World Central Kitchen, a non-profit that is providing meals to people in Ukraine and those displaced in neighboring countries. Founded by celebrity chef José Andrés following the 2010 Haiti earthquake, the nonprofit has already set up eight kitchens and counting on the Ukraine-Poland borders.
Long-term aid
Reverberate Ukraine will continue helping out the World Central Kitchen long after the auction's conclusion. With the help of The Giving Block, they'll be able to route portions of the revenue generated by secondary sales of the auction's NFTs towards the non-profit.
The project will also feature the sale of 1,000 physical prints of Kondakov's 'Peaceful evening in Kyiv' piece, with an exclusive blue version of the work going on sale once the original print run sells out. Each piece will sell for £100, with all proceeds going directly to World Central Kitchen's Chefs for Ukraine initiative.
Kondakov believes that this project should encourage anyone else with the means and connections to do something similar, stating, "I think humanity has the ability to end wars, by sharing love and support. This is the only path to peace. Love can heal. Care and support can melt the coldest of hearts."
With how accessible the NFT space is for new parties to enter, in theory, anyone with a mobile phone and a good eye could similarly make a difference. Auctions for Reverberate Ukraine began on May 3 and will run until May 12. Interested bidders can register to join the auction here.
The post A New Project Uses NFTs to Feed Ukrainians Impacted by War appeared first on nft now.