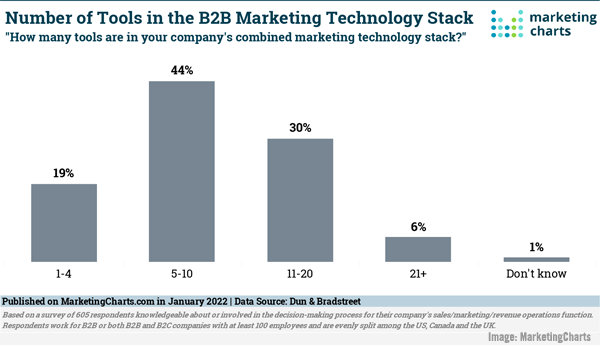 B2B Marketing News: B2B Marketers Use More Tools, Brands Turn To Empathy-Based Marketing, & eCommerce Searches Become More Informational
Can You Relate? Empathy-based marketing requires brands get to know the people behind the data
52 percent of consumers have said being treated with respect is a key way brands can show empathy to customers, followed by being treated like a human being at 50 percent, according to survey data also showing that listening and curiosity are more key for brands in 2022 than at any point during the pandemic, and the Association of National Advertisers (ANA) takes a look. ANA Are Brands Investing in Social Media Communities in 2022? We Asked 1,000+ Marketers [HubSpot Survey]
51 percent of global marketers expect to build more social media communities in 2022, with some 64 percent planning to dedicate investment in social communities, while the top challenge has been managing community members — three of several findings of interests to digital marketers contained in recently-released survey data. HubSpot [bctt tweet=""Marketers need to build digital relationships and reputation before closing a sale." — Chris Brogan @chrisbrogan" username="toprank"] Google Patent Describes How Its Technology Authorizes Transfer Of Data Without Cookies
Google will incorporate a new form of packets containing authorized web browser calls as a key part of its forthcoming browser cookie replacement system for delivering advertisements and certain other types of information, the search giant recently outlined in a U.S. patent filing. MediaPost Zoom acquires video production assets from Liminal
Zoom has aqcuired video technology firm Liminal, adding the video production company as part of efforts centered around helping the expansion of Zoom's virtual large-scale event offerings, virtual communications giant Zoom recently announced. MarTech Half of E-Commerce Searches Are Informational in Nature
The health sector tops the list when it comes to online searchers looking for information before making a purchase, according to recently-released survey data that highlights how search engine users in both B2B and B2C sectors are increasingly turning to digital solutions. MarketingCharts Survey: Publishers Reflect On The Ups, Downs Of A Bumpy, Change-Laden 2021
66 percent of publishers have said that they had increased numbers of digital subscriptions in 2021, accompanied by 39 percent who saw decreased traditional print subscription numbers, while 75 percent noted that the rise in remote work has been a positive change during 2021, according to newly-released survey data of interest to online marketers. MediaPost
Twitter Tests New Options to Restrict Spaces Access to Smaller Groups
Twitter has been testing an array of new customizable private or followers-only audio discussion options within its Twitter Spaces feature, an update that could eventually offer brands new ways to connect more closely with particular audiences or sub-sets of fans. Social Media Today Marketing's digital skills gap could become 'unmanageable' as proficiency declines
Marketers who specialize in data measurement and analytics have become the most scarce, with a 2021 drop of some six percent from 2020 figures, while content marketers recorded the second-highest decrease in digital skills, falling four percent — two of numerous statistics of interest to marketers contained in newly-released digital skill gap report data from the Chartered Institute of Marketing (CIM). Marketing Week Twitter completes sale of MoPub to AppLovin for $1.05 billion
Twitter has completed the sale of its MoPub mobile advertising company, which it acquired in 2013 for some $350 million, to AppLovin Corp for more than $1 billion, as Twitter looks to place greater emphasis on new products with an eye towards doubling its revenue by 2023, the firm recently announced. TechCrunch 6 in 10 B2B Companies Rely on MarTech Tools from Multiple Vendors
Some 44percent of B2B marketers have said that they use between five and ten marketing technology tools, with 30 percent using between 11 and 20, and six percent utilizing 21 or more such tools in their work efforts, according to recently-released marketing technology survey data. MarketingCharts ON THE LIGHTER SIDE:
A lighthearted look at the "customer experience and shipping delays" by Marketoonist Tom Fishburne — Marketoonist At 9 for every 100 workers, robots are rife in Singapore – so we decided to visit them — The Register TOPRANK MARKETING & CLIENTS IN THE NEWS:
Have you located your own top B2B marketing news for the week? Please drop us a line in the comments below. Thanks so much for taking the time to join us for this week's TopRank Marketing B2B marketing news, and please return again next Friday for another selection of the most relevant B2B and digital marketing industry news. In the meantime, you can follow us on our LinkedIn page, or at @toprank on Twitter for even more timely daily news.
The post B2B Marketing News: B2B Marketers Use More Tools, Brands Turn To Empathy-Based Marketing, & eCommerce Searches Become More Informational appeared first on B2B Marketing Blog – TopRank®.