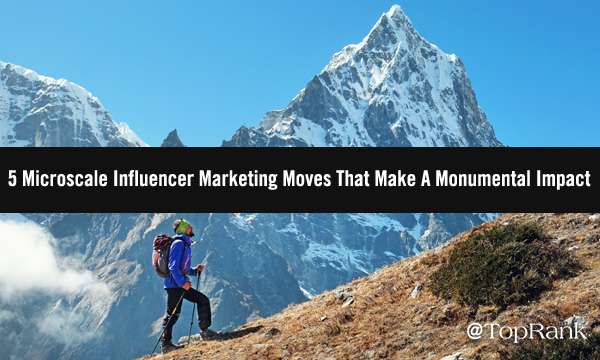 5 Micro-Scale B2B Influencer Marketing Moves That Can Make A Monumental Impact
Can seemingly minute marketing maneuvers combine to make a truly monumental impact? When you're talking about the power of influence in B2B marketing, even some of the tiniest digital interactions can — when done smartly — lead to the loftiest of business successes. These tiny digital touches can create enduring relationships, amplify talent, feed the increasing need for unique B2B content experiences, and even supercharge our connections with more compelling stories. Just as a single small stone joins others to form huge mountains including K2 and Mount Everest, sometimes it's the smallest moves marketers make that end up on the highest summits of B2B marketing success. Let's start our trek together and explore five micro-scale marketing moves that can make a monumental impact on your B2B influencer marketing success in 2022 and beyond.
1 — Tiny Digital Touches Create Enduring Relationships
As I enter my thirty-eighth year using online communications, it strikes me how important the tiny digital touches we can make with each other — no matter how small they may seem at the time — form part of a tapestry of connection, that over time can add up to become the type of enduring relationships that energize our professional business networks. It begins with the mere act of recognizing that focus placed solely on large steps ignores the many benefits offered by embracing the many small ways that we can nurture business relationships. Whether it's reacting to, sharing, or commenting on an associate's social media post, sending a private message of support or gratitude, or introducing like-minded people in your network to one another, each little step works to strengthen our professional relationships, as I outlined in "5 Ways To Inspire Your Marketing With Gratitude." A million small digital touches can have far greater impact than a solitary large one-and-done interaction, which is why B2B marketers have found increasing success working with always-on programs, such as those built on influence, as our CEO Lee Odden outlined in "How to Elevate Post Pandemic B2B Marketing with Always-On Influence." [bctt tweet=""Authenticity is a collection of choices that we have to make every day. It's about the choice to show up and be real. The choice to be honest. The choice to let our true selves be seen." @BreneBrown" username="toprank"]
2 — Amplifying Talent To Drive Meaningful Change
B2B influencer marketing is also an ideal avenue for amplifying talent to drive meaningful engagement and affect significant change, especially when it comes to talent that's under-represented in marketing technology and related areas. Just look at the recent example from our own twelfth-annual celebration of influential women in digital marketing, which serves to amplify powerful yet under-represented industry voices, in the form of "25 Women of Color Who Rocked B2B Marketing in 2021." One of the grass-roots level advantages influence has in marketing is its ability to expand the power of one to the power of many, in this case focusing on women of color in senior level roles creating inspiring efforts in the B2B marketing industry. If you're interested in learning about the rising power of influence in B2B, watch our comprehensive free new webinar "How to Accelerate B2B Marketing Results by Working With Influencers," and learn how to create greater content marketing impact with influence.
3 — Feed The Need For Unique B2B Content Experiences
The majority of today's B2B buyers are digital-first, driven by the pandemic's effect on how the world conducts business, and in the digital realm there's certainly more competition than ever for attention. It's now imperative to feed the growing need for unique and compelling B2B content experiences, to deliver what today's B2B buyers are looking for, where they're seeking it, and in the formats that inspire and inform them. Some marketers get one of these three cornerstones right, or perhaps two, however it's only when all three elements come together that marketing efforts truly blossom. It's not easy being a B2B marketer in 2022, with buyers often running the gamut from old-school traditional audiences who look for answers from the same sources they did a decade or more in the past — company websites and the longstanding social media platform giants LinkedIn, Facebook, Twitter, and Instagram — to newly-minted buyers looking for answers in a wider array of formats and digital hangouts, from Reddit, Discord, and TikTok to Twitch, YouTube, and countless other communication channels. Knowing your audience is more important than ever, in order to reach them and provide the answers they're looking for, however that's only one element, as creating compelling and unique stories is also needed to truly make valuable and long-lasting connections.
4 — Supercharge B2B Marketing With Compelling Stories
An important element of best-answer B2B content experiences comes in the form of building connections through the use of compelling storytelling, which is often most effective when approached with a touch that's much more human and a whole lot less corporate. Miri Rodriguez, senior storyteller at Microsoft's Future of Work, has been an outspoken advocate of the power of storytelling in B2B marketing. "Storytelling isn't the mere telling of story, it's the intentional design of story structure, attributes and elements that conjure emotion, drive inclusion and lead with empathy," Miri has observed.
Telling B2B technology marketing stories and creating relationships that add value can also be key in new approaches to B2B marketing, according to Carla Piñyero Sublett, senior vice president and chief marketing officer at IBM. "Since the advent of ad tech, B2B marketers have lost their way," Carla told Campaign Asia. "We forgot that our No. 1 responsibility is to create relationships and add value. That's not going to happen by peppering LinkedIn inboxes, chasing with banner ads or flooding emails. I want to create more of a pull than a push by educating and inspiring customers through rich storytelling," she added. Take a deeper dive into Miri's take on digital storytelling in my piece, "Microsoft's Miri Rodriguez on How B2B Marketers Are Embracing Empathy For Better Customer Storytelling #B2BMX," and for new ideas on infusing the best humanizing elements of storytelling into your marketing, the following articles we've published can also be a helpful starting point:
[bctt tweet=""Brands want to transact with people who are showing high levels of empathy." — Miri Rodriguez @MiriRod #B2BMX" username="toprank"]
5 — From A Single Stone To Mount Everest
American folk music icon Pete Seeger for many decades told a story about the power of a single grain of sand, which offers a lesson that applies just as much to digital marketing as to any important challenge in life. "I honestly believe that the future is going to be millions of little things saving us," Pete shared. "I imagine a big seesaw, and one end of this seesaw is on the ground with a basket half-full of big rocks in it. The other end is up in the air. It's got a basket one-quarter full of sand. And some of us got teaspoons, and we're trying to fill up sand… One of these years, you'll see that whole seesaw go zooop in the other direction. And people will say, 'Gee, how did it happen so suddenly?' Us and all our little teaspoons," Pete observed. B2B influencer marketing is also about the power of joining together individual voices to produce mighty outcomes that outweigh the sum of their individual parts.
B2B Marketing That's More Than The Sum Of Its Influencer Ingredients
via GIPHY By using tiny digital touches to create enduring relationships, amplifying talent to drive meaningful change, feeding the need for unique content experiences with compelling storytelling, B2B marketers can turn their single teaspoon of marketing sand into efforts powerful enough to shape the world. We hope you've enjoyed our look at the power of micro-scale marketing moves that together can make a monumental impact, and that you'll incorporate some of the suggestions we've explored into your own 2022 B2B marketing efforts. No matter how well you're able to implement digital content both small and large, crafting award-winning B2B marketing takes considerable time and effort, which is why an increasing number of firms are choosing to work with a top digital marketing agency such as TopRank Marketing. Reach out to us today to learn how we can help, as we've done for over 20 years for businesses ranging from LinkedIn, Dell and 3M to Adobe, Oracle, monday.com and others.
The post 5 Micro-Scale B2B Influencer Marketing Moves That Can Make A Monumental Impact appeared first on B2B Marketing Blog – TopRank®.