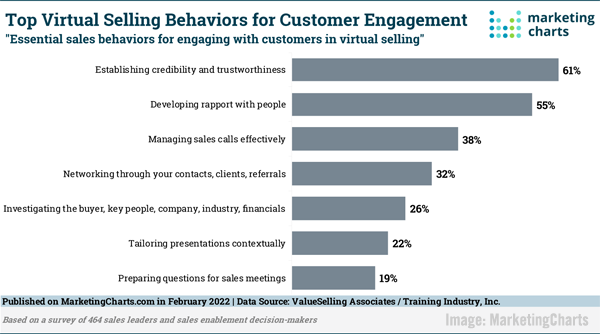 B2B Marketing News: Trust Is Key In B2B Virtual Selling, New Google Ads Features, Podcast Ad Spend Climbs, & Marketing Data Effectiveness Survey
Ad Spending Surges 19% In January, Expands For 11th Consecutive Month
The U.S. advertising market's rate of spending grew by 19.2 percent in January compared to the same month in 2021, with digital categories continuing to see the best performance, driving ad market expansion that has now grown 11 consecutive months, according to newly-released report data. MediaPost Brands Turn Up the Dial on Podcasting
Podcast advertising spending climbed by 60 percent in 2021, with accompanying growth rate forecasts seeing $2.2 billion in spending by 2023, both figures representing a healthy rebound from 2020 pandemic-driven deceleration, according to recently-released Association of National Advertisers (ANA) report data. ANA [bctt tweet=""Podcasting is the new 'blog'. At one time, businesses wondered if they needed one." — A. Lee Judge @ALeeJudge" username="toprank"] Meta Provides New Recommendations to Help Advertisers Lessen the Impacts of Apple's ATT Update
Facebook and Instagram parent firm Meta has encouraged advertisers to use Meta's new Conversions application programming interface (API) in order to help counteract the effects of Apple's AppTrackingTransparency (ATT) iOS data tracking privacy feature, and to prepare for certain performance data delays, Meta recently announced. Social Media Today Spotify is acquiring two major podcast tech platforms
With the new addition of Podsights and Chartable, Spotify has augmented its podcast advertising program for marketers, as the two companies have been among the more prominent podcast ad attribution and marketing firms. The move has also bolstered Spotify's ability to let marketers use audience insight data, the firm recently announced. The Verge Google Ads Announces Top 3 Priorities for 2022
Search giant Google has outlined several top 2022 priorities for its Google Ads unit, including additional forthcoming first-party data measurement, privacy updates, and automation features of interest to B2B marketers seeking to offer more relevant ads on the Google Ads platform. Search Engine Journal Twitter Adds Option to Pin DM Chats in Order to Keep Track of Key Conversations
Twitter has rolled out a new option for its direct messaging feature, which has allowed for up to six private chat exchanges to be pinned for easy access — making it easier for marketers managing and monitoring multiple private audience messages, Twitter recently announced. Social Media Today
Marketers Aren't Yet Confident They Have the Data Necessary to Make Effective Decisions
Only 29 percent of marketers have said that they have enough data for effectively deciding where to best spend marketing or sales resources, while just 33 percent had data of sufficient quality to make effective spending decisions, according to recently-released survey data of interest to digital marketers. MarketingCharts Yahoo Offers 'ID-Less' Targeting Tool Via The Web
Yahoo has released details about its new targeted advertising tool to counter Google's decision to phase out its use of third-party web browser cookies, a system Yahoo has named Next-Gen Solutions, promising so-called "ID-less" user identification and ad serving, the firm recently announced. MediaPost Twitter might be testing a way to let you untag yourself from threads
Twitter could bring a change to how users and brands are tagged in tweets on the platform, as a test offering the ability to leave Twitter conversations would extend muting options for marketers on the platform, and The Verge takes a look at the possible change's potential impact. The Verge Soft Skills Remain Critical in B2B's Virtual Selling World
61 percent of B2B sales leaders said that building credibility and trust were the top drivers of customer engagement when it comes to virtual selling, followed by 55 percent who said that building customer rapport was key in an all-digital landscape, according to newly-released B2B sales behavior survey data.MarketingCharts ON THE LIGHTER SIDE:
A lighthearted look at "meeting overload, hybrid work, and asynchronous communication" by Marketoonist Tom Fishburne — Marketoonist New iPhone Setting Reduces Eyestrain With Black Text On Identical Black Background — ANA TOPRANK MARKETING & CLIENTS IN THE NEWS:
Lee Odden — What's Trending: Eyes on the Prize — LinkedIn (client)
TopRank Marketing — A primer on growing your media brand – as an indie publisher or for your business — Adam Singer
If you've come across your own top B2B marketing news, please don't hesitate to drop us a line in the comments below. Thank you for taking the time to join us for this week's TopRank Marketing B2B marketing news, and we hope you'll return again next Friday for another array of the most relevant B2B and digital marketing industry news. In the meantime, you can follow us on our LinkedIn page, or at @toprank on Twitter for even more timely daily news.
The post B2B Marketing News: Trust Is Key In B2B Virtual Selling, New Google Ads Features, Podcast Ad Spend Climbs, & Marketing Data Effectiveness Survey appeared first on B2B Marketing Blog – TopRank®.