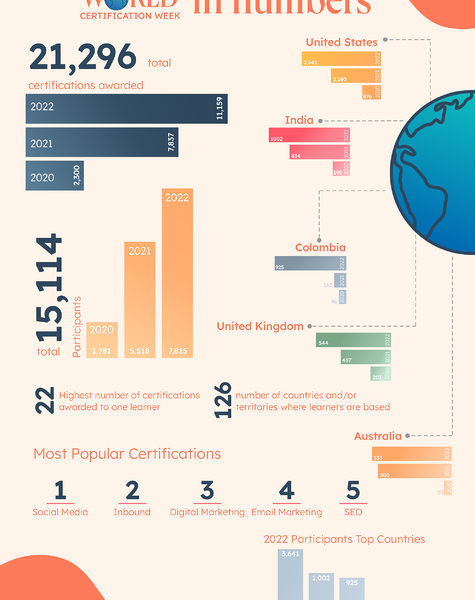 Celebrating HubSpot's Third Annual World Certification Week
Last week, HubSpot wrapped up the third annual World Certification Week – a global virtual event where learners and peers from all around the world connected and grew by dedicating time to their professional development.
This community of people learned about a variety of industry topics, connected with fellow learners and thought leaders, and earned thousands of HubSpot certifications. HubSpot certifications are awarded year-round, but for one week, we donated $5 to education-focused organizations for every certification completed.
The first World Certification Day kicked off in 2020 when a team member bought a "certification day" web domain and we awarded over 2,300 certifications. This event has continued to grow each year, with over 7,800 certifications awarded in 2021 and 11,159 certifications in 2022.
We are lucky to bring people together to share in the sense of community, give back, and grow better. Thanks to you, we were able to donate $10,000 in 2020, $35,000 in 2021, and $50,000 in 2022.
In addition to learning and supporting a good cause, participants from around the world were dedicated to making World Certification Week fun. From learning together in groups and taking certifications live to friendly competitions and certification-inspired videos, participants got creative and made the World Certification Week their own.
World Certification Week Impact
We want to thank the 7,815 of you who took part in World Certification Week and completed 11,159 certifications.
By participating, you advanced your career and gained valuable knowledge while helping others. Your contributions will have a big impact on others as well.
This year's World Certification Week donations are supporting the following organizations:
What's next?
We are already excited about what's in store for WCW 2023 when more learners, companies, and agencies will take part in this initiative and extend the impact.
Until then, you can take HubSpot Academy courses any day of the year. From Inbound to Contextual Marketing, choose the courses that will help you excel in what you do and grow better. See you next year!