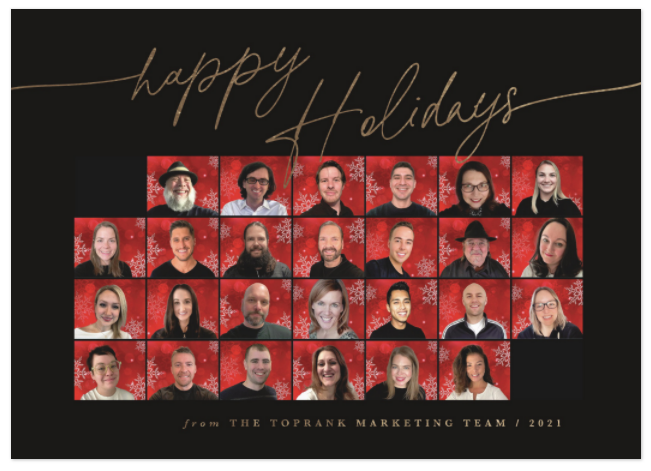 Happy Holidays & 2022 Wishes from the Team at TopRank Marketing
Positivity may not be what first comes to mind when B2B marketers the world over describe 2022, yet during this holiday season it's the positive energy, outlook, and attitudes from our team, clients, associates, family and friends that spring forth. Overcoming the world's continuing shared challenges with positivity has brought us closer together in new ways, even as most of us collaborate in creative remote and hybrid ways, and as we enter the holiday season all of us at TopRank Marketing bring you special wishes for health and happiness. We wish you and your family a joy-filled holiday season filled with warmth, laughter, and friends. We also wish you a happy 2022 that eases some of the greatest challenges we've all faced the past two years, and sees newfound levels of positivity in your professional and personal life. The trust our many new and long-time clients have continued to place in us during 2021 has allowed us to reach record levels of client retention, and for this we are very thankful. Our team has pulled together and we've added major new B2B technology industry, global telecommunications and IT firms as clients. We've also continued to expand and grow partnerships with existing clients such as LinkedIn, SAP, monday.com and many more. This unique year has reminded all of us just how important communities are — communities of clients, associates, influencers, executives, our fellow B2B marketers, as well as our local communities here in Minnesota — and we wish you all a joyous holiday season and a very happy new year ahead in 2022. We're also continuing to grow and hiring in many roles. Take a look at our careers page for a full list.
TopRank Marketing Wishes You the Happiest of Holidays
We're incredibly grateful for each other, our wonderful clients, subject matter experts, and friends we've worked and grown with this unique year. From our marketing family to yours, Happy Holidays!
The post Happy Holidays & 2022 Wishes from the Team at TopRank Marketing appeared first on B2B Marketing Blog – TopRank®.