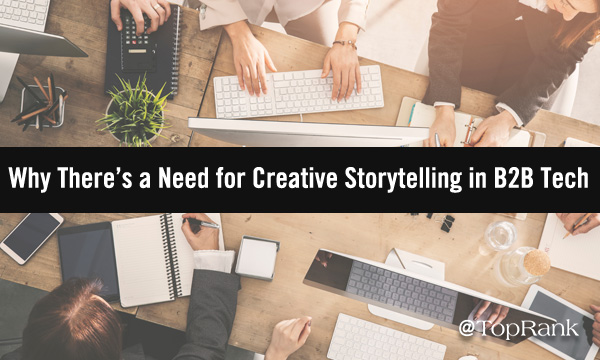 Why There's a Need for Creative Storytelling in B2B Tech and How Influencer Marketing Can Accelerate Results
Today's B2B marketers have more challenges than ever, making it hard to cut through the noise and deliver results for their companies. In all of their efforts they must maintain a focus on connecting with new audiences, expanding their reach, and building relationships founded on a sense of mutual trust. Here are a few examples of some of the biggest challenges today's B2B marketers are facing:
Finding ways to boost marketing efficiency: Marketers are often expected to achieve greater results with fewer resources, so finding ways to maximize efficiency is critical to achieve success within budgetary parameters.
Increasing marketing impact: Marketers are expected to deliver a higher return on investment (ROI) on their marketing efforts.
Improved experiences: Customers have higher expectations than ever before in a digital world, and those expectations will only continue to get higher. Marketers must fulfill those expectations by providing high caliber customer experiences.
Being authentic: Customers also expect a certain level of authenticity, even in B2B interactions. Brands need to find ways to be more human in order to build increasing trust with their customers.
Using influencer marketing to overcome these challenges
One of the most effective ways to get past these substantial challenges is to invest in influence marketing. By collaborating with experts who already have earned the trust of your audience, you can develop high-quality content that improves the customer experience, helps position your brand as a thought leader, and in turn earns new levels of trust. Keep in mind that there is a big difference between who or what an influencer is in the B2B world versus the typical B2C world. Many people hear the word "influencer" and think of a celebrity or notable figure who has a paid partnership with a company to show off its products on social media. With B2C, this style of influencing relies heavily on tone, a sense of coolness and image, while also building a certain amount of trust — at least to an extent. B2B influencers need to be significantly proficient in their particular subject matter, and genuinely passionate about what they do as thought leaders. They should regularly publish or create content, whether it's in the form of text, video, podcasts, or social content. They should already have an audience that pays attention to that content, and they should be well-versed in promoting the content they've collaborated on with you. Businesses can successfully turn subject matter experts to influencers for collaboration and integration with just about any kind of content, from thought leadership and lead generation to product launches, reviews, and more.
Studies show greater demand for, effects from influencer marketing
TopRank Marketing performed extensive research into B2B influencer marketing, which we published as part of our 2020 State of B2B Influencer Marketing Report. One of the primary insights was just how many brands said that they stood to gain from collaborating with influencers. According to our research, 63 percent of marketers believe they would achieve better results with an influencer marketing program. Another 74 percent of marketers said they agreed that influencer marketing improved the brand experience for customers and prospects. Ultimately, influencer marketing can impact the entire customer lifecycle. It can help attract new audiences and inspire advocacy, engage through greater authenticity and through the voice of the customer. It can also convert new customers thanks to the trust already built-in to the influencer, help retain leads, encourage community participation, and create greater incentive for customers to become brand advocates and refer others.
Learn more about implementing influencer marketing for your business
TopRank Marketing recently developed a comprehensive webinar that takes a deep dive into B2B influencer marketing. In the new webinar we go beyond the information outlined in this article to extensively discuss key issues such as the top ways influencer marketing can address the challenges B2B marketers will face in 2022, and an array of actionable tips on implementing an influencer strategy for your company. Want access to the free video webinar to start your B2B influencer marketing journey? You'll find it all here.
The post Why There's a Need for Creative Storytelling in B2B Tech and How Influencer Marketing Can Accelerate Results appeared first on B2B Marketing Blog – TopRank®.