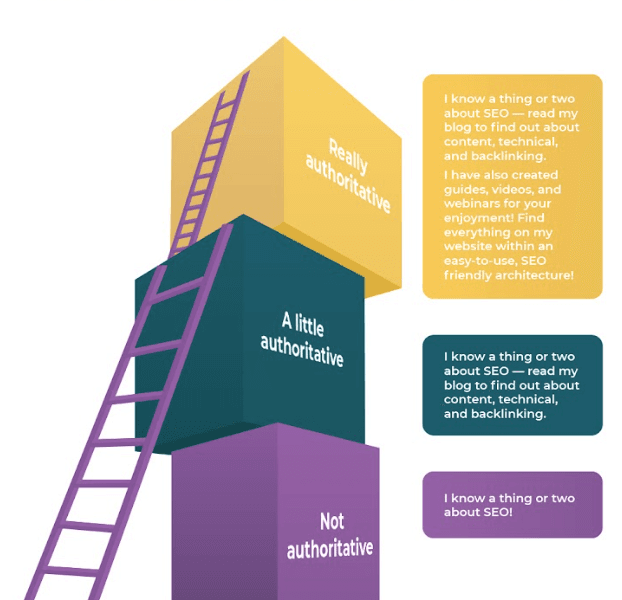 How to Earn Topical Authority in 2022 and Beyond
As is often the case with SEO, if you're doing it well, then you are probably already topically relevant. Topical authority isn't new, but it's a term that I'm seeing a lot right now in the SEO sphere.
But hey — if you've not yet earned topical authority, now is a good time to start.
In this article, I'll take a deep dive into topical authority: what it is, how to earn it, and, importantly, how to strategically develop topical relevance.
What is topical authority?
Topical authority is a measure of authority built up through proven expertise and trust in your field. The more high-quality, informative pieces of content there are on your site, the more likely your website is to be perceived as a trusted source of information on a particular topic.
To be topically authoritative, your site needs to serve your web user, answer all their questions, and provide high-quality content at every step of the buyer journey. Unlike domain authority (DA), topical authority is more of a quantitative measure of how authoritative a site may be. Whilst DA looks primarily at backlinks and the number of high-quality, relevant backlinks, topical authority is proven expertise built over time by covering the breadth and depth of a topic.
Why is building topical relevance important?
If you reach out to someone for a service or product and they speak confidently and passionately about their offering, answer all of your questions, and understand your needs, then you're more likely to trust them. Why should the internet be any different?
Your buyers are drawn to your offering, your expertise, and your passion. Buyers also want to know you can help serve them and that you understand them.
In the digital world, content is how you nurture buyers. Where Google is concerned, topical relevance proves to search engines that you're trustworthy and knowledgeable. We all know that Google wants to show its users the best possible content from the most credible sources.
You know a thing or two about your product or service, so prove it to Google through content. Cover related topics, hit keywords, and present information in a way that's easy for your user (and Google) to understand.
Medic and topical authority
Google's desire to present only the most useful pieces of information was made clear (if it wasn't already) in 2018 through the medic update. Back in 2018, the medic update impacted all verticals, but predominantly, health.
It was a positive update, encouraging everyone to improve content production. The update meant that instead of writing content in isolation and expecting it to rank well, content needed to showcase expertise, authority, and trustworthiness (E-A-T).
And it makes sense for this standard to be upheld across the web, especially when we consider that there are more pieces of content being published than ever before. In short: publish only the most well-written, well-informed pieces on your website if you want to stay competitive.
How does topical authority help you rank higher?
Topical authority's impact on rank is fairly logical. Consider your own buyer journey. You want to source a good product or service that you also love. Perhaps the brand values need to align with your own.
Before making a purchase, you most likely head to Google — but even if you didn't, you'd be looking for credibility before you make your purchase. Without Google, you would need to source referrals from friends or pop into the store and speak with an advisor. You'd ask questions and gauge if the product or service does everything you need it to. You'd likely be looking to build a rapport and to see if you trust the person or business to deliver whatever you're thinking of paying them for. If you were torn between two vendors, you might be swayed by the more passionate person or value-driven business.
Topical authority allows you to provide this same experience online. You showcase all the reasons why someone should buy from you. If you're saying everything your competitor is saying — plus some more — and you've created different types of content to appeal to your audience (videos, guides, etc.), your site is starting to look more authoritative and useful. Why would Google prioritize a competitor site when it perceives your site to have more useful information?
There's one key thing to remember: when it comes to ranking on Google and earning favor in the algorithm, you need to use keywords in your content. As you center your strategy around creating high-quality articles, you need to be especially cautious of keyword cannibalization.
There's also what I call topical cannibalization. To build topical authority strategically, you need to know how to build out your content architecture in a smart way. I'm going to walk you through that now, step by step.
1. Research your topic
Before you can build out your content strategy, you need to research your topic. What you're looking for are the search terms your buyers are typing into Google to solve their problems.
Here, you can turn to keyword tools like Moz's keyword explorer. Type in a keyword (or your topic) and see what else is suggested. You will find exactly what terms are being searched in Google so you can use them within your content to earn ranks for them.
Moz shares keyword suggestions, many of which can form part of your content strategy. Remember: covering all relevant topics helps build topical authority.
Social media sites like Quora and Reddit are also useful. Within these sites, you can see exactly what discussions your audience is having. You'll likely encounter their pain points, queries, and buyer apprehensions that you can then solve, answer, and/or soothe within your content.
Finally, it's my favorite: people also ask (PAA). Want to know what your audience is asking? There's a trove of information in there!
Tools like AlsoAsked make light work of PAA, allowing you to view PAA data in a visually appealing, hierarchical structure. There's a lot of opportunity to build topical authority in any niche. Just take a look at knitting as an example!
2. Create pillars and clusters
When researching your topic, map out every single piece of content that you want to create based on what your audience is searching or looking for.
Then, you're going to work on assigning keywords to the pieces. This is the crucial step that prevents keyword and topical cannibalization.
3. Map keywords to pillars using SERP analysis
When mapping keywords, it's easy to assume that every keyword needs its own page. Take the knitting example from earlier: if you dig around in the keyword suggestions, you can find "what is knitting" (590 searches/month) and "history of knitting" (480 searches/month).
A quick analysis of the SERPs shows that these two keywords can perform well in SERPs used on the same page. You don't need to write two articles. Two articles could result in what I call topical cannibalization.
4. Write high-quality, well-researched content
When planning your content, look for opportunities to write quality, well-researched, long-form articles instead of just trying to publish as many as possible.
Instead of writing two articles, consider writing one more in-depth article like sustainablefashioncollective.com did. Their article features high up on the SERPs for 'what is knitting' and has a featured snippet for "history of knitting".
It's also on page one for "knitting uses" (20 searches).
The point is, more articles don't necessarily equate to more ranks. When it comes to topical authority, Google wants to present well-written, in-depth, well-informed articles.
5. Share it with your audience
There's no need to wait for your page one rank before you get eyes on your article or page. Share it with your audience, use social media, and present content to your subscribers through email. Try repurposing content and creating videos.
Quick tips for earning topical authority
The steps above briefly detail the steps you can take to help build topical authority over time. Here are some final steps to integrate into your content plan:
Keep up with current events related to your topic.

Identify new trends and write about them.

Cluster your keywords and cover a topic in full based on SERP analysis.

Don't be afraid to share something new — just because it's not on the SERPs doesn't mean you can't be the first to say it.

Don't be afraid to link out to trusted sources. Referencing other materials is a great way to show you've done your research.

Update your content to keep it fresh. For example, if you've got a page about your topic in 2021, it might be time to update it and make that article relevant to 2022.
How can you tell if a website is authoritative?
There are many ways to work out if a website is authoritative. Find out how the you can use the following items to tell if a website is authoritative:
Check the domain authority

Look out for indented SERPs

Check organic keywords

Strong internal link profile

Well-written, informed content
Check the domain authority
An SEO favorite is domain authority (DA). Although we're focusing on topical authority here, domain authority is still a measure of an authoritative website. The DA score is a number between 1 and 100 that indicates the website's strength in search engine results pages. There are several factors that feed into this algorithm and backlinks are one of them.
Simply put, the more backlinks a site or content piece has earned, the higher the domain authority will likely be. After all, other websites tend to link to highly authoritative websites.
Look out for indented SERPs
Indented SERPs are a strong indicator that a site is topically relevant. If you search a keyword such as: 'landscape design tips' (90 searches/month), you might find housebeautiful.com and their indented search results.
Indented SERPs are where similar topics that exist on one website are grouped together, giving the site more prominence in search results.
Check organic keywords
Generally, the more keywords a site ranks for on a topic, the more topically authoritative it will be.
SEO tools can give you some insights into what your competitors are ranking for. They can also share topic ideas for how you can close the gap by covering the same topics.
If you do cover the same topics, remember to add more detail, more media, or a unique perspective.
Strong internal link profile
Assuming a site is using internal linking well, a strong internal link profile should demonstrate that a site is authoritative on a subject.
Take 'beginners guide to seo' (480 searches/month) as an example. For this keyword, Moz is in position one.
A quick internal link analysis tells me there are 26 links within content pointing to this page. Links are coming from pages such as On-Page Ranking Factors in the 'learn' section of the website. This is a highly relevant topic for beginner guide SEO.
Well-written, informed content
If you're on a website and you're discovering well-written, high-quality, original pieces of writing, then it shows that the site has some topical authority.
If the site is also updating this high-level content regularly, it's probably earning topical relevance.
Do backlinks still count toward website authority?
Yes, backlinks still contribute to website authority. We can also predict that backlinks will continue to be helpful toward SERP rankings — but they're not everything.
Backlinks needn't be your goal when it comes to topical relevance. They will happen naturally as you earn visibility in SERPs and write high-quality, linkable content. Nevertheless, authoritative sites will continue to earn backlinks at a higher rate than non-authoritative sites. Plus, having topical authority can only help you attract links from other websites.
Koray Tugberk conducted an incredibly useful experiment where topical authority is concerned. To add credibility to his study he isolated E-A-T as the driving factor for success — he literally implemented no other SEO tactic. Take a look at his interview with Matt Diggity:
Tuberk claims he earned 300,000 organic users, built up from zero in just five months. And he did it all using topical authority and semantic SEO only — no backlinks.
Final thoughts on topical authority
Building authority on a subject should come easy. After all, this is the topic you loved so much you built a website to share your expertise on it, right?
Reach out to your subject matter experts, ask them questions, and get to writing.
Be creative with what you put out there, repurpose your content, answer questions, and nurture your buyer.
Follow my steps above and don't be afraid to inject some new information into the SERPs. Your buyer wants to know you and your business! The extra efforts go a long way when it comes to content.
Remember, content and topical authority in a digital world often replace face-to-face interactions. Show your buyer why you're an expert, what you know about your subject, and all the reasons why they should trust you.