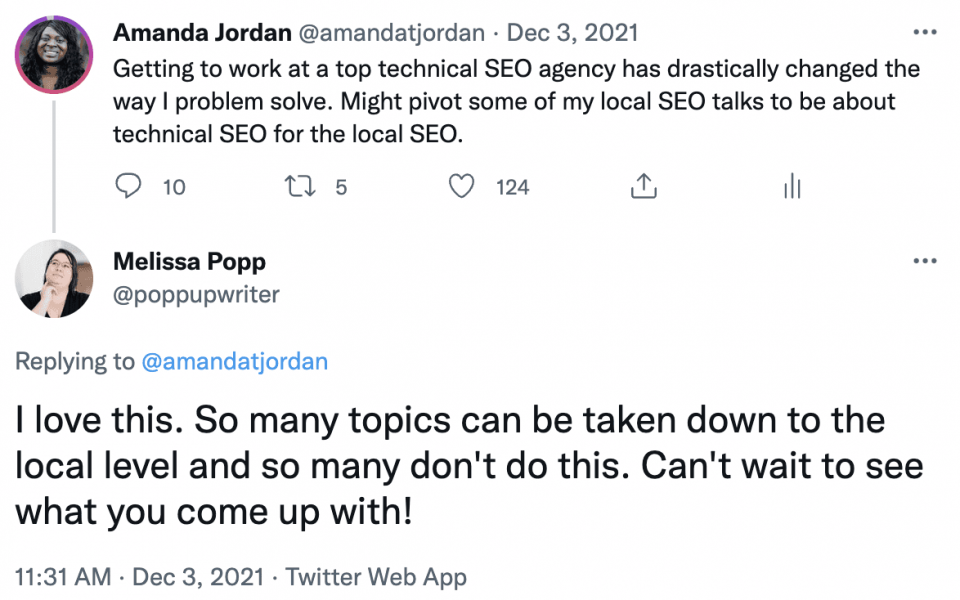 How We Increased Revenue with Speed Optimization [Local SEO Case Study]
Last year, I pitched a series of technical SEO topics for local SEO on twitter and got lots of positive feedback.
One of these elements of technical SEO that can feel extremely daunting and unfamiliar to local SEOs is speed optimization.
There are some key scenarios when local SEOs should seriously consider speed optimization, even for a small local client. After all, these clients are still impacted by the issues that come along with having a slower website — such as higher bounce rates, lower conversions, and worst of all, a poor user experience.
There are also plenty of instances where speed optimization is a practical next step in your SEO strategy. If your client has great content, great links, but low engagement or rankings, speed issues may be the culprit.
This case study is about a client just like that. The only service my team at RicketyRoo provided during the length of the case study was speed optimization, and we saw some impressive results. In this post, I'll share our experience, and hopefully this inspires you to take on some speed issues you've been nervous to address.
The client
The client is a multi-location residential cleaning franchise with over 40 locations across the United States. The website consists of approximately 580 pages, with a landing page for each location.
Our client's goal is pretty simple: take a bigger piece of the pie from the larger nationwide home cleaning franchises. Our technical audit showed that the site was very slow, so site speed is where we started.
Our methodology
1. Set up staging environment with WPEngine
Whether you're using tools and plugins or choose to manually update the website for speed, you should create a staging (or test) environment. Making manual changes to the code that a website is built with (even through a plugin) can break a website. A staging environment is a cloned version of the production site that can be tinkered with without the risk of breaking anything on the live site. Once you have a staging site set up, you can essentially update and change any elements you would like and test without fear of your client losing traffic or leads.
Our speed philosophy is to test and verify. Verifying that the staging site is still functional after making a change and then getting an updated score through the speed tool of your choice is the only way to be confident about the changes you are making.
2. Run through a tool like WebPageTest
During this stage, you're diagnosing issues such as script files returning 404 errors, unused CSS files causing longer load times, and render-block resources. Find these issues and update them. Web.dev is a great resource for finding solutions:
1. Review Core Web Vitals scores to determine where issues lie.
2. Find out what's taking the longest amount of time from the waterfall
3. Review render-blocking resources and update (deferring them is likely the best call here)
3. Check to see if anything is broken
This is why we're using a staging environment — just in case any of these changes we've made breaks something. Check out the live staging site and compare the visual and functionality to the production version of the site. If everything is working as expected, then you're doing great.
4. Review large images via WebPageTest
The Largest Contentful Paint issues are often caused by images that are too large. There are many guides on how to optimize images out there. If you're using WordPress, you can also use a plugin like Imagify:
Download any large images, resize, and reduce space

Reupload images at smaller sizes

Check image resolution on staging site
5. Rinse and repeat for other page templates
Everything we've done so far we'll repeat for every template type used on the site. Most sites will have separate templates for location pages, services, categories, blogs, products, contact pages, etc. Each of these page types should be reviewed with a tool like WebPageTest.
6. Install WP Rocket
If your site is on WordPress, you can use WP Rocket to further optimize your site for speed. WP Rocket can sometimes have issues with other plugins or themes used on WordPress sites, so it's important to test on the staging site first.
7. Review plugins
While we're on the topic of plugins, you should also review your current plugins and deactivate and remove any that are not in use.
8. Check to see if anything is broken
We've made a decent amount of changes at this point. We should review the live version of the staging site again and compare it to the production site.
9. Run through Webpagetest again
Let's see how we've done! If you're happy with your results then your work is nearly done.
10. Push changes live
Any changes you made should now be pushed to the production site.
11. Annotate changes in GA
Remember to annotate these changes so that you can check back and draw a conclusion from your results for yourself.
Results
Our speed optimization started in July 2020. Soon after, we saw improvement in rankings for non-branded keywords that already ranked in the top 20 positions. The client saw a 32% increase in new users, a 47% increase in phone calls, and a 63% increase in free quote requests in a year-over-year comparison of 2021 to 2020. 2021 saw a 55%+ increase in revenue over 2019 and over 60% in comparison to 2020.
This correlates with an increase in both site traffic and qualified leads. Our client measures qualified leads as scheduled appointments, which grew by 49% PoP.
We also reviewed the CRux data for our client in comparison to closely-ranked competitors. The winner for each UX/speed element is highlighted in yellow. As you can see, our client's scores are generally higher than competitors that do not rank as well:
Conclusion
Technical SEO can be done, even if you don't consider yourself a tech expert. Having a backup makes it easy to test out changes with confidence. Never dismiss the importance of a SEO tactic because you're unfamiliar. Our client saw ranking and improvements as well as a 55% increase in revenue due to Core Web Vital optimization alone. Now that you have a staging website, you're free to tackle other technical issues you may have discovered but felt uncomfortable with approaching.