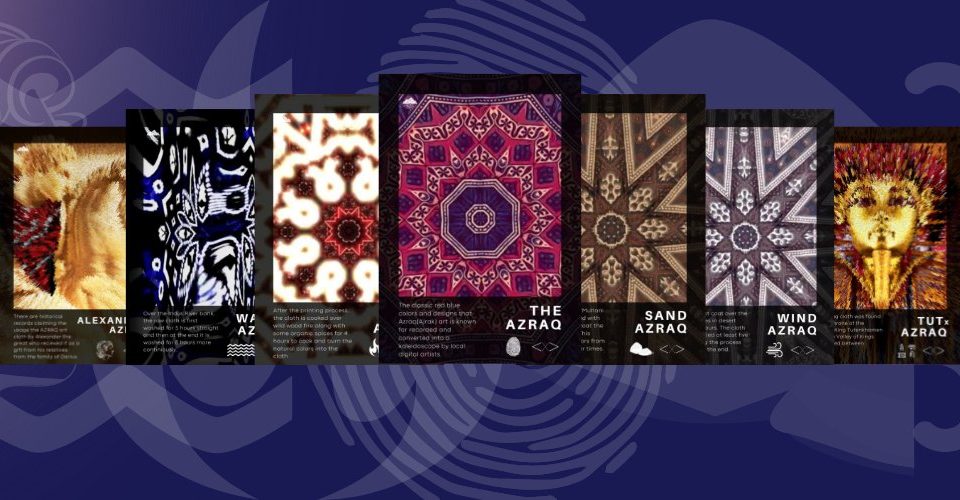 If you Hold our NFT, you are Getting passive Income — Founder's Interview
M. Abubakar Lala aka Lala, Founder and CEO of The BIG. Ventures leading the project iNFiniTy ft. AZRAQ.
A Serial Entrepreneur who started building websites at the age of 14 for small clients. After experimenting and failing at several projects, he launched a food business 7 years ago which became one of the first in Asia to accept crypto as a mode of payment. In parallel to all of those entrepreneurial ventures, he spent his time volunteering for charity work most significant of which was his work for rehabilitation of Internally Displaced People in Pakistan due to the war in Afghanistan and the installation of several fresh water hand pumps and wells in Thar desert where people have to walk 6-7 miles a day for a glass of drinkable water.
Wanting to do something more impactful and to combine all his passions; entrepreneurship, tech and philanthropy, he waited for an opportunity to present itself and when it did in the April of 2021, he was ready. The BIG. Ventures: Blockchain Innovation and Goodwill was founded.

Chris: The Azraq collection is an artwork inspired by the history of Sindh. What does the artwork represent? Why did you pick this particular form of art for the NFT collection?

Lala: It always starts with the concept, what we wanted our art to mean, what we stood for and our mantra. We are all proud people, proud of our culture and proud of our roots so naturally we looked deep down into our own culture. We researched a lot, traveled through the country meeting carpet makers, pottery artists, truck artists, etc. but when we met the Azraq artisans of Haala and Tando M. Khan, Sindh and learnt the rich history, it literally moved us. What moved us was the story more than the art itself and how ironical its present was compared to its royal past. I mean it is a 4000 year old craft that was so popular throughout the World at that time that Royals like Alexander the Great, King Tutunkhamen, Darius of Persia and King Priest used it and we have archeological proofs for that. But, today it's a whole new story for those who still practice the ancient ways for Azraq printing. I have seen poverty and poor people, I have worked with several charity organizations but this was on a whole new level. If you take the income of an average Azraq artisan and multiply that by 2, you'd still end up miles below the poverty line!
We wanted to take this story to the world, not for marketing, not for charity, just so that the world knows and I once said and I'll repeat it, "There is no need for a miracle, what these people do is already miraculous, the world just needs to recognize it".
When I was coming back to Karachi from the Artisan colony in Haala, I promised them a better life, with my own money not from others.

Chris: Accordingly, what would the NFT look like? What would the investors receive when they buy the AZRAQ NFT?

Lala: This is not a regular PFP type NFT collection where each piece is unique. There are a total of 10 variations with several copies making it a total of 342 NFTs.
Four of these represent all 4 elements of Nature being used in the production of the cloth, four of these feature Kings who are reported to have used Azraq. One, which will be auctioned as a 1 of 1, is the original Red and Blue colored pattern that Azraq is known for. And there is one more 1 of 1 that we will be holding as our share of the Passive Income Pool.
By the way, the collection is already on Opensea for anyone to see. We will sell directly on Opensea on the 15th of April.
Chris: As a result, each one fog the NFTs will be unique for holders. What are the key distinctive traits and characteristics that set them apart?
Lala: As I said earlier, each piece is not unique. There are just 10 unique art pieces. I think the main differentiator (if there has to be any) would at the end of the day be the price they are sold at. Because that price defines a share in the Passive Income Pool that we are building for this collection's holders.
Chris: And so, do you also have some tokens that bear some rare traits? How do the investors identify the rare tokens?
Lala: As I said, by their prices. The collection is already public. It is not one of those click to mint collections where you do not know what you get. As it is a small collection and the entry price is comparatively high plus the utility is huge, I believe those factors make owning one of these NFTs a rare thing in itself or as some may say a flex. Especially when the profits start rolling in!

Chris: So, how have the tokens been priced? Are the rare tokens more expensive than the not so rare ones?
Lala: We made copies and set prices based on the significance of the art and the time and effort that went into creating them. And that somehow defined the rarity. So, if a specific art piece has 30 copies and price is high, it will be considered rare compared to the one with 70 copies and a lower price or even if it is the same.
Chris: How does the token ensure passive income for its holders? What is the concept of the Crypto Mining Farm?
Lala: This is the best part. I believe that we have created the biggest and the safest passive income play in the history of NFTs. That is because we are not greedy for the sale money of the NFTs, in fact we will be putting in every single penny from the sale into the Passive Income Pool and all of those expenses will be made public on our website.
Let me break down the Passive Income Pool for you. We will put 80% of the sale capital into building a crypto mining farm with a combination of ASIC and GPU miners. We will give 10% to professional crypto and NFT traders and put 5% into other income sources like Strong Nodes
All the profits compounded will conservatively reach an APR of 85% even though we have written 79% on the website. Our aim is to get this upto 100% by the end of this year.
People will be paid for holding their NFTs at a date of every month in Ethereum ETH.
I do not think that you understand how big this is! We have successfully eliminated all possible factors of a failing passive income play. People tend to take all the profits and create money out of thin air like Genesis Cyberkong and so on. We are leveraging from tested and experimented sources of income to give value against holding an NFT the price of which itself will skyrocket once people start to see what we are doing here!

Chris: Before closing, please share some of the pointers from your roadmap. How do you plan to move ahead with the token in the next 2 quarters?

Lala: Well the first task right after the collection sells out is building the Mining Farm which will take about a month. This stage will be completed once the profits start rolling out to holders of iNFiniTy ft. AZRAQ.
Then we will continue building more similar projects and will airdrop them to existing holders as a bonus. We are building a complete Web3 ecosystem and you can visit our website if you want to understand our future plans. But basically for the holders of this collection, it will be an ongoing utility; we will give them a part in everything we do including a custom Crypto Token drop.
We claim that in a lifetime, one NFT holder can earn benefits worth a Million dollars and as stupendous as that may sound, it is not only possible but we already have an exact plan on how we are going to achieve that.
Also, don't forget to join our Discord and Twitter. It is the best way to stay informed on news and announcements.