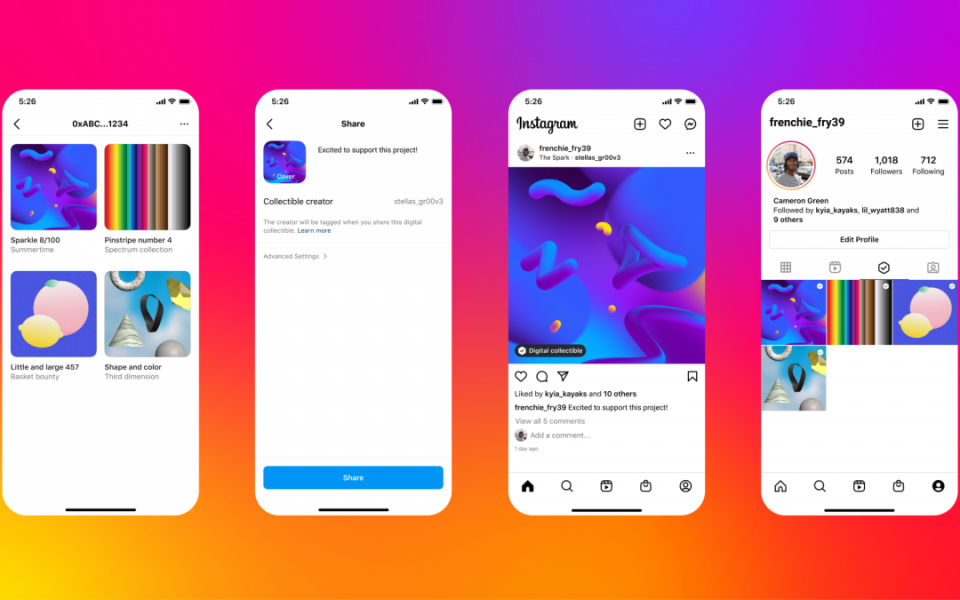 Instagram NFTs Are Here… What Does That Mean for Artists?
It's official: Instagram (IG) is diving head-first into the NFT ecosystem. With the recent launch of new in-app NFT features, a select number of influential creators were greenlighted to start interacting with blockchain tech on the larger-than-life social media platform.
Although Meta originally announced plans to create an Instagram NFT marketplace back in March, these latest features lean more towards content sharing rather than commerce. And why shouldn't they? Considering that Twitter and Discord have proven to be the stomping grounds of the NFT community, some would say that IG taking the plunge into the NFT space is overdue.
Additionally, while Meta is undoubtedly still hard at work on Instagram's impending NFT trading functionality, the NFT marketplace/Web3 social media race has continued to grow, with the anticipated Coinbase NFT Beta now live and blazing a trail through the NFT ecosystem.
But IG is, at its core, a social media platform geared toward visual art. It is vastly different than any other NFT platform or marketplace in existence. So what do IG NFTs mean for artists? Let's take a look.
What are Instagram's NFT features anyways?
As previously mentioned, Instagram's new features have not been made available to everyone. With this latest update, 16 artists, NFT creators, and collectors have been empowered to post NFTs that they either created or own on IG by linking third-party digital wallets (like Rainbow or MetaMask) in-app. There are currently no fees associated with posting or sharing a digital collectible on IG. 
NFTs displayed on the app are differentiated from regular posts by way of a special "shimmer" visual treatment. Aside from looking different, NFT posts are also given a "digital collectible" badge that lists metadata including who the creator and/or owner of the NFT is, what platform it was created on, a brief description of the NFT, and an identifier linking it to the blockchain it was minted on.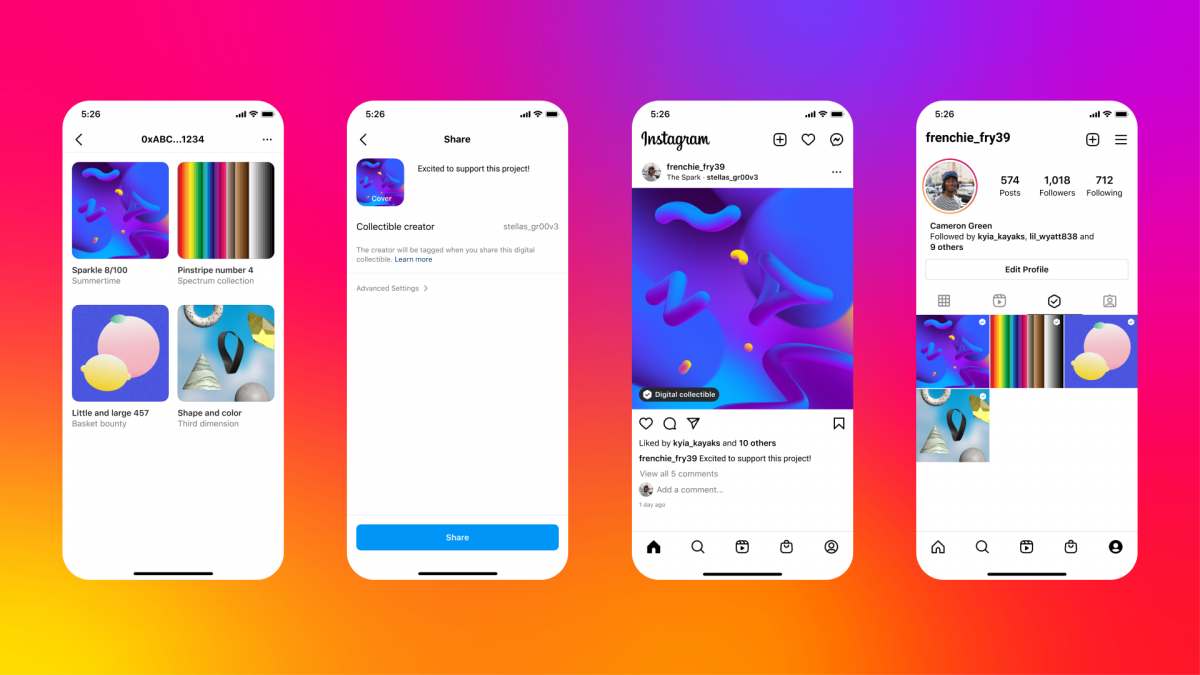 While it seems Meta's social media NFT endeavors have launched via Instagram, the company is also gearing up to roll out digital collectibles on Facebook, with more digital collectibles features also on the horizon for IG. Similarly, at this time only the Ethereum and Polygon blockchains are supported, with integrations for other top NFT blockchains like Flow and Solana coming soon.
How will artists use these new features?
So far, artists are using IG's NFT features as indented by posting NFTs that they created or own on IG by linking third-party digital wallets. Again, these features currently have no NFT trading elements built-in, but are rather meant to be a way for creators to share NFTs with their IG audiences.
This doesn't mean that IG NFTs are a simple one-and-done process, and creators, especially those like IG-native aerial/street photographer Natalie Amrossi (@misshattan), are already finding unique uses for them.
"I decided to not just be the creator that posts NFTs that I've created, but also support other artists in the space," Amrossi said in an interview with nft now. "And that's the most beautiful thing about being able to connect your wallet and being able to share your NFTs. It's not just the pieces that you create, but it's also the ones that you collect."
Now a prominent name in the NFT space, Amrossi has been creating and uploading her art to Instagram for years. With the recent launch of IG's NFT features, she says she can clearly see the value of Instagram joining the NFT space in support of artists.
"Web2 gave me the tools that I needed to become an artist and make a living," says Amrossi. "Before the term 'influencer' was even a thing, all I was doing was creating my art. And with Instagram's help, I was able to reach so many different people and different brands, and that gave me a livelihood."
Even artists like Sophia Wilson (@phiawilson) who haven't yet amassed millions upon millions of views on their pieces are incentivized to share NFTs on IG. Wilson, a relatively new name in the NFT space, seems to have already gone above and beyond the scope of these new IG features. By pivoting to release her new NFT series "Losing My Mind" by way of IG NFT posts, she has circumvented the lack of IG NFT commerce by using her network to market her multi-piece collection.
"'Losing My Mind' is a photo series I've been working on for a while now. I was planning on releasing it as NFTs even before IG reached out to get involved, so it was kind of a match made in heaven," Wilson tells nft now.
Wilson says the series is, among other things, about Black feminine figures and increasing representation in the media for those similar to herself. A respectable endeavor to be sure, as we've continued to see a huge lack of representation for POC artists in the NFT space thus far.
"Over the past year, I've been dealing with some mental health issues that caused my emotions to be so extreme that it was hard to function in everyday life for a while, so that's really what inspired this photo series. I will be releasing a new photo with Meta from my series for sale every Wednesday and Friday for the next three weeks."
In addition to providing her with a new platform through which she can share her own minted artworks, Wilson says she hopes that these new IG features might help further build a bridge between the NFT community and the many other subsections of the internet, many of which live and thrive on Instagram.
"NFTs can often seem daunting as an outsider, but having the ability to see NFTs so clearly on your day-to-day IG feed as you're scrolling makes it a lot less foreign of a concept," says Wilson. "I definitely think IG has tons of potential to become a hub of discovery for NFT enthusiasts, and this will make NFTs more accessible to artists and collectors alike."
What does it all mean for the NFT space?
If one thing has become clear surrounding Instagram's new features, it's that Meta's NFT and metaverse endeavors will continue to impact the NFT ecosystem at large. Many hope that it will be for the better, as IG NFT scams have themselves become another major problem plaguing the NFT ecosystem.
Although IG's new NFT features at present seem comparable to Twitter's PFP NFT verifications, we could very well see Instagram's tools helping to cut down on scams as users are now able to verify the creation and ownership details of entire NFT collections featured in IG posts.
Considering the massive volume of visual artists and NFT creators that use the platform, it's possible IG could, as Wilson said, become yet another hub of discovery for NFT enthusiasts. But if this becomes the case, it calls into question just who might be most successful on Instagram. Will we see up-and-coming artists incentivized to share their NFTs? Or will those with an already established and robust fanbase dominate this new ecosystem?
To influential multidisciplinary artist Elise Swopes (@swopes), it's the smaller artists who truly need to be the beneficiaries of these new features. Swopes has remained one of the most prominent visual artists on Instagram for years, earning accolades as one of the first accounts added to Instagram's original suggested user list in 2012.
Swopes says that she would love to see IG become a hub of discovery, and acknowledges the importance of artists in the NFT space as well as the necessity of taking care of the creators that keep the NFT ecosystem going.
"I'd love to see [IG become a hub of discovery] not just for the Beeples and, you know, everybody who already makes a lot of money: like the Apes and PFPs. That's great for them, but I think [IG NFT features] are more for utilizing this new type of technology to support artists at their start," Swopes said in an interview with nft now.
"Especially music artists. I mean, this is all across the board. We're talking dancers, poets, painters, sculptors, and musicians. It's not just like digital artists and the element that I'm creating, it can be anything at this point. So I'm excited to see how people get creative."
The sentiment of IG's new features having the potential to uplift smaller artists seems to be shared across the board by Swopes, Wilson, and Amrossi. And while it remains to be seen just how these new features might truly impact the NFT ecosystem once unlocked for the rest of the growing IG NFT community, we will undoubtedly see more social media NFT integrations cropping up in the months and years to come.
The post Instagram NFTs Are Here… What Does That Mean for Artists? appeared first on nft now.