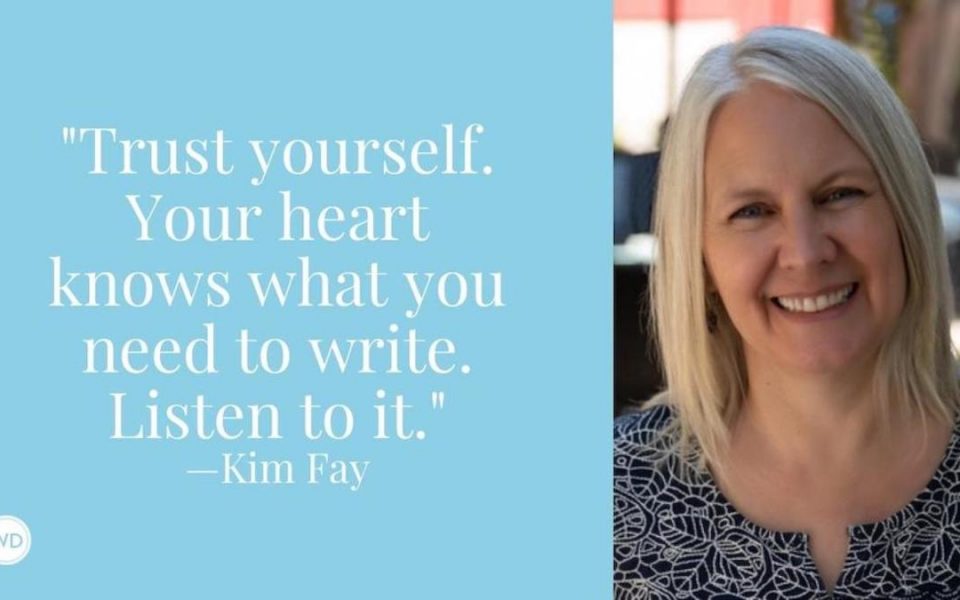 Kim Fay: On Turning to Friendship in Times of Need
Born in Seattle and raised throughout the Pacific Northwest, Kim Fay lived in Vietnam for four years and still travels to Southeast Asia frequently. A former bookseller, she is the author of Communion: A Culinary Journey Through Vietnam, winner of the World Gourmand Cookbook Awards' Best Asian Cuisine Book in the United States, and The Map of Lost Memories, an Edgar Award finalist for Best First Novel. She is also the creator/editor of a series of guidebooks on Southeast Asia. Fay now lives in Los Angeles. Find her on Twitter, Facebook, and Instagram.
In this post, Kim discusses the hard right turn she took when beginning work on her new historical fiction novel, Love & Saffron, what she learned from her previous publishing experience, and more!
Name: Kim Fay
Literary agent: Kate Garrick/Salkey Literary Agency
Book title: Love & Saffron
Publisher: G.P. Putnam's Sons (Penguin Random House)
Release date: February 8, 2022
Genre/category: Historical fiction
Previous titles: The Map of Lost Memories; Communion: A Culinary Journey Through Vietnam
Elevator pitch for the book: In 1962, when 27-year-old aspiring food writer Joan Bergstrom sends a fan letter with a gift of saffron to 59-year-old magazine columnist Imogen Fortier, a journey of culinary exploration, soul-deep friendship, and personal transformation begins.
IndieBound | Bookshop | Amazon
[WD uses affiliate links.]
What prompted you to write this book?
When the pandemic struck and L.A. went on lockdown, I found myself at my desk every morning, writing a novel as a gift for two dear friends. I had no thought of publication. I was too busy escaping from COVID and politics, taking comfort in the 1960s world of Imogen and Joan—a gentle world of friendship, love, food, travel, and self-discovery.
How long did it take to go from idea to publication? And did the idea change during the process?
I was in the process of revising a mystery novel (for the umpteenth time) when I suddenly took a hard right turn and started writing Love & Saffron in March of 2020. I always have a lot of loose ideas floating around in my head. The one that poured out—pushing my novel-in-progress aside—was this story about a friendship told through letters. I'd already jotted some random notes about the characters and I've found a sketch of the first two letters in my old files, but that was all. I had no idea what the story was going to be, and it surprised me (pleasantly) every time I worked on it.
According to my calendar, Love & Saffron took me three months from start to finish, with the physical act of writing taking place on 31 of those days. My brilliant agent sold it in December 2020, and my editor—a master of nuance—guided me in refining it over the next few months. It will be published in February 2022.
Were there any surprises or learning moments in the publishing process for this title?
My first novel taught me the ins and outs of a traditional publishing experience, so there were few surprises in that regard. The one significant lesson for me with Love & Saffron, I would say, is to not turn past experience into expectation.
If something negative happened before, that does not mean it will happen again. My first experience contained a lot of disappointments (through no fault of my editor for that book), and it took me a beat with Love & Saffron to let go of that and be fully open to the new journey I was on.
Were there any surprises in the writing process for this book?
The ease! All my life I have been a writer who stops and starts, spins in circles, revises and then revises some more. It takes me forever to achieve a final draft. But Love & Saffron came out fully formed. When I finished it, I knew it was what it was meant to be.
What do you hope readers will get out of your book?
Friendship and trust and integrity and compassion and acceptance and forgiveness and kindness and curiosity and openness and good food and unconditional love are essential to a life well lived.
If you could share one piece of advice with other writers, what would it be?
Trust yourself. Your heart knows what you need to write. Listen to it.