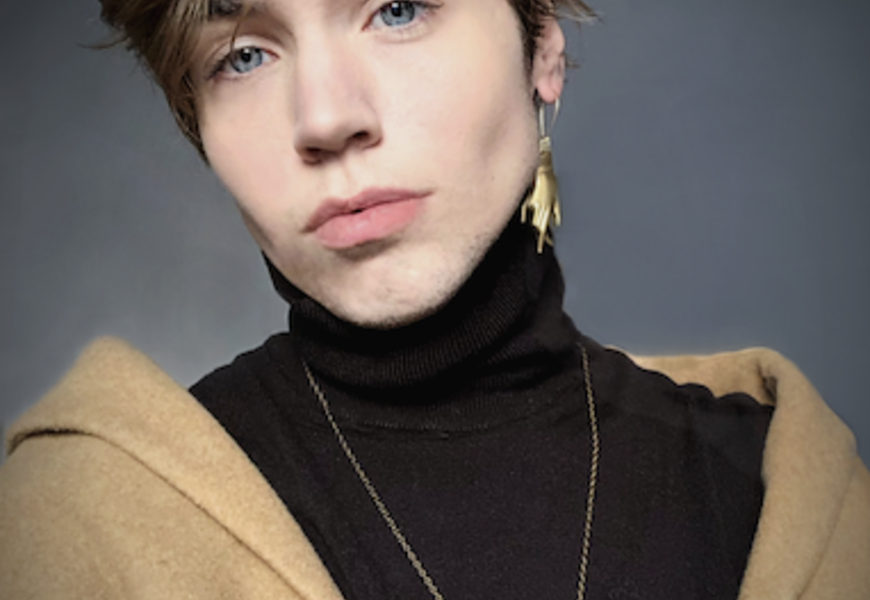 Kit Mayquist: On Writing the Book You Want To Read
A fan of everything spooky and indulgent, Kit Mayquist is a bisexual, trans masculine writer who can be found in the historic shadows of Boston, MA, hunched over his desk with a sullen Persian cat in his lap and surrounded in antiques. He has a MA degree in Medieval History from the University of Iceland, and a BA from Portland State University (and if you ask him, yes, Stumptown will always have the best coffee). Find him on Twitter and Instagram.
In this post, Kit discusses how craving a nostalgic, gothic story led him to writing his novel, Tripping Arcadia, the big and small changes that came about throughout the editing process, and more!
Name: Kit Mayquist
Literary agent: Emmy Nordstrom-Higdon
Book title: Tripping Arcadia
Publisher: Dutton
Expected release date: February 22, 2022
Genre/category: Contemporary Gothic
Elevator pitch for the book: When a young woman discovers she was hired by the same wealthy family that fired her father, she uses her knowledge of botanical poisons to take them down one party at a time.
IndieBound | Bookshop | Amazon
[WD uses affiliate links.]
What prompted you to write this book?
I always write to entertain myself above all else. Maybe that's selfish or self-indulgent, but most of what ends up on the page only exists because I happened to be bored one day and started to daydream enough that an idea stuck around and became book-shaped.
Tripping Arcadia began when I was lying on a friend's couch, essentially on bedrest recovery and facing an uncertain future after graduate school. Ill and in pain, both emotionally and physically, I found myself craving a kind of story that felt nostalgic and dark at the same time. I couldn't think of one, so I just sort of sat there trying to figure out what exactly I did want, and that's when the idea of this Gatsby-esque party scene came about, and with an added dash of poison, the idea just sort of… blossomed.
I suddenly saw a horrific scene and ended up lying there the entire afternoon, tracing the story backwards from this dark, chaotic moment, until I had told myself the story from beginning to end.
How long did it take to go from idea to publication? And did the idea change during the process?
The first draft was written very quickly around 2016. The idea took hold and, again, since I was on break from graduate school, I clearly had nothing better to do with my time. I think I ended up with a 20-page outline that very same week, and a messy first draft in about three months.
A lot of details like character names (and characters in general), as well as things like the overall tone of the book changed over the drafting process, and even more during the rounds of edits over the years, to the point the book was torn apart and rebuilt probably four or five times. But honestly, even with all of that, the story being told really did remain the same.
There are quotes and scenes that didn't change once during the process. In fact, the final word in the book is the same as in that very first draft, and that's something that always makes me smile.
Were there any surprises or learning moments in the publishing process for this title?
I think initially, I didn't expect Tripping Arcadia to be so difficult to place. I knew I wanted to write a contemporary gothic, but I hadn't realized that was going to be such a hard sell! I'm very grateful to all the individuals who took a chance on it and saw the potential for a story like this. As a fan of the gothic genre, it's hard not to see how the themes present in those classic novels are echoed in today's society, especially with regard to perspectives on wealth, class and power.
I think that's why we're seeing such a resurgence of classic gothic books and retellings around now. It's been very interesting to see the continued influence of books like Mexican Gothic for example, and I think I certainly have that book specifically to thank for opening the doors to and giving space for novels like Tripping Arcadia.
Were there any surprises in the writing process for this book?
The biggest surprise for me when I was writing was actually something that happened very early on in the writing process, which was that when everything was originally outlined and when those first scenes were imagined, Lena was a guy. The original story was closer to a retelling of The Great Gatsby, and I certainly had in mind other stories like The Talented Mr. Ripley or Brideshead Revisited when I was daydreaming that day, which are great, but very male-centric.
When I was outlining, I quickly realized that wasn't the story I wanted to tell, and so that was a question that remained somewhat bumpy during the outlining and only settled once I had tried to write the first chapter. Everything about Lena remained the same, but it was certainly a surprise to feel like I had plotted a book only to change the main character part way through!
What do you hope readers will get out of your book?
First and foremost, I hope readers enjoy Tripping Arcadia. I hope it entertains them like it did for me that day on the couch, and I hope it can be a story to retreat to when the world feels unfair or maybe when it's just a snowy New England day and they need an escape.
If you could share one piece of advice with other writers, what would it be?
Tell yourself the story. Don't worry about writing it down or taking notes. Don't even think about a page. If you get the idea for something, whether it's a scene you know nothing about, or you think of a location so real you can't let it go, then give yourself the pleasure of letting the story come to you. Hit rewind in your brain and replay things until it feels real.
If that doesn't work, I'm always a fan of starting with the darkest moment. Think of the worst possible thing, or the highest emotional point for your character, and then work backwards from there.