Mayan Warrior: Burning Man Icon Is Driving Change With NFTs
For most, Mayan Warrior is a name that probably inspires images of a distinguished ancient champion clad in ornate tribal garb. Yet, those within the electronic music community or who have had the pleasure of experiencing a Burning Man event will undoubtedly understand the name as belonging to the purveyors of a legendary art car.
For more than a decade, Mayan Warrior, a 501c3 non-profit, has perfected its art car to niche specifications featuring a Mexican culture/sacred geometry aesthetic and a sound system that, set up in the middle of the desert, rivals most major festivals. And after years of bringing together technologists, electricians, artists, engineers, musicians, videographers, and more to curate an undisputed week-long Burning Man vibe while, during the rest of the year, fundraising to support its journey back to Black Rock City, the brand is venturing into new territory on the blockchain.
The Mayan Warrior Amulet
By way of a new Amulet NFT project, Mayan Warrior is launching a fundraiser aimed at supporting the many artists that endeavor to craft large-scale creations for Burning Man. Although final details surrounding the launch of the collection have yet to be released, it's apparent that the project will present several benefits to both those who venture to collect an Amulet NFT, and the artists that have remained an active part of both the Mayan Warrior and Burning Man communities.
To the general collector, an Amulet NFT will act as a membership to the greater Mayan Warrior community. While anecdotally, the community has operated in-person or remotely via social media, this first-ever NFT project from Mayan Warrior hopes to improve the interconnectivity of the fan base and create a more robust two-way street of communication between the brand and its patrons via Discord.
"We want to test the traction of something like [an NFT fundraiser]. In the Web2 world and where we come from, you don't see much of this. We're trying to test the waters, and hopefully, this will be a great vehicle to do more," Mayan Warrior Founder Pablo Gonzalez Vargas said in an interview with nft now. "I think there's a lot of potential in the Burning Man community all over the world. To expand the project, we need resources, and we need different communities to be on board and to support."
To this end, initially, Amulet collectors can look forward to all-access passes to Mayan Warrior fundraisers (including backstage/special VIP holder area access). Yet there are more incentives to come, and in maintaining the link between digital and physical value, holders can also expect to receive physical gifts made especially for the community.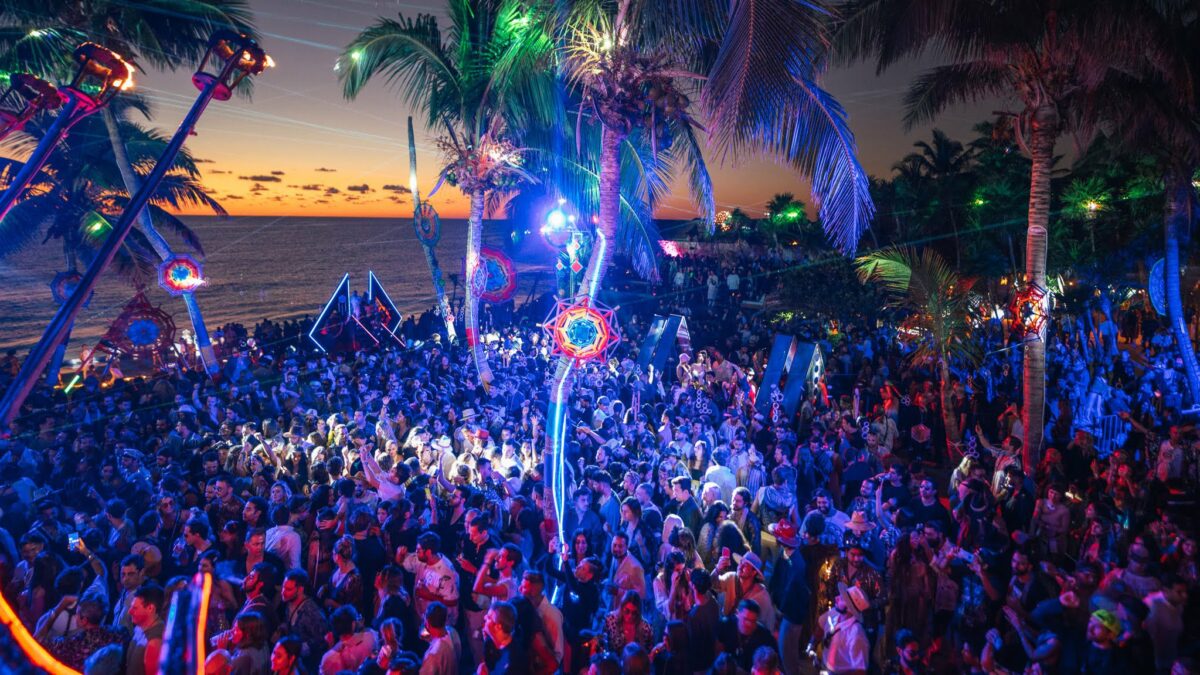 On the other hand, for creators, the Mayan Warrior Amulet fundraiser will help directly with the cost of building, transporting, and showcasing interactive art both on the playa at Burning Man, and at Mayan Warrior events. As to why Mayan Warrior decided to hold a fundraiser via NFTs, to Moid Khan, who heads Web3 for the company, in addition to the community building factor, it all comes down to transparency.
"Essentially, we would like to be more transparent and let people see how the nonprofit works and where funds go. If people have this idea that we're doing all these fundraisers and making a net profit, with blockchain, you can see the reality," Khan told nft now. He also noted that funds from both the primary sale and secondary royalties generated by the Amulet collection will initially go to the Mayan Warrior foundation before then being allocated to artists.
Although the specific set of artists that will be eligible to receive benefits from Amulet sales is still up in the air, Gonzalez Vargas made it clear that Mayan Warrior will be considering creators from both within the Burning Man community and from outside of the U.S. as well. All in all, the Amulet project will see the opening of a new chapter for the Mayan Warrior community, and a push to bring the 10-year-old company further into the digital world and to a global audience.
Editor's note: This article has been updated to clarify that Mayan Warrior's fundraisers are primarily aimed at supporting its return to Black Rock City. A previous version said the efforts were focused on supporting indigenous communities.
The post Mayan Warrior: Burning Man Icon Is Driving Change With NFTs appeared first on nft now.