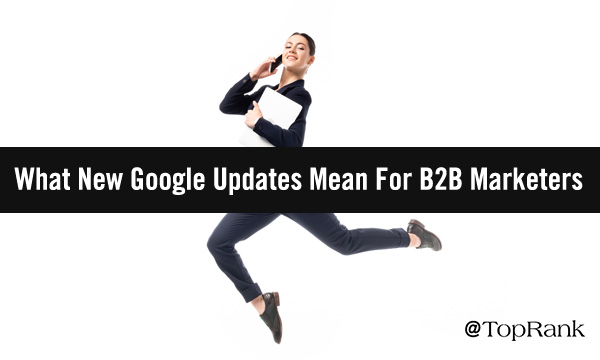 New Google Search Updates & How B2B Marketers Can Use Them To Elevate Efforts
In 2022 Google has made changes that affect what B2B marketers are able to accomplish with its search and advertising offerings, but how can these sometimes subtle changes be utilized to elevate marketing efforts in the year ahead? Google's recent search updates — and its plans for the year ahead — offer B2B marketers new opportunities and challenges. Here's a look at five changes, and how they can help improve your B2B marketing efforts in 2022.
1 — Google & The Cyclical Nature of Content Delivery Evolution
Gary Illyes, webmaster trends analyst at Google, recently joined fellow Google associates John Mueller, senior webmaster trends analyst, and Martin Splitt, Google Search Relations team developer advocate, in an episode of Google's "Search Off the Record" podcast, and the trio took a fascinating look at several areas of interest to B2B marketers. Gary, John, and Martin shared some of the ways that Google's Search Central resource hub — formerly known for years as Google Webmasters — is looking to grow in 2022, from sustainability efforts and search guidelines to how Google plans to meet the challenges of events in 2022, and more.
2 — Data Gathering With An Energy-Saving Eye
Gary explored some of Google's continuing efforts to refine the web crawling process with an eye towards saving energy and increasing sustainability. What might seem a small goal at first becomes much larger in scope and importance when the vast size of the web in 2022 — and the frequency with which Google automatically indexes it —  are considered. Additionally, an increasing number of surveys have shown that consumers in both the B2C and B2B markets are placing greater value on sustainability when it comes to how they view and choose to interact with brands since the pandemic began.
[bctt tweet=""We are definitely thinking more about the sustainability of crawling and indexing. We are going to focus even more on those topics in 2022." — Gary Illyes @methode" username="toprank"]
3 — Wealth Of Guideline Documents Ripe For Updating
Martin, John, and Gary also took a look at changes 2022 may bring to Google's webmaster guideline documents — a wealth of information amassed over many years that could offer new benefits by being updated. Many B2B marketers — especially those on the search engine optimization (SEO) side of brand efforts — utilize these guideline documents, however the Google trio noted that in some areas they may have gotten a bit too complicated. They could essentially be split into basic and technical versions, the three noted, such as separating technical and quality guidelines, and some areas could also benefit with the addition of more examples. With more than 15 years worth of guideline documents, certain old content references may now include an occasional outdated citation, such as to services that have changed names or even ceased operations, while other portions might not be as clear as they could be. The guidelines may even have a name change in store in 2022, the three speculated. 2022 could see changes in these areas, and the way that the issue of web page crawler cloaking is covered in the guidelines was also singled out as a possible target for improvements this year. Any such changes would likely be announced well ahead of time, Martin suggested, in order to give webmasters and marketers alike a healthy heads-up on changes to what are for many in the industry key search help documents from Google. [bctt tweet=""The goal is to make webmaster guidelines clearer and more specific to help people." — Martin Splitt @g33konaut" username="toprank"]
4 — Smaller Meet-Ups & Events As Google Keeps Safety Paramount
When it comes to 2022 event plans for the Google search department, Martin suggested that due to the pandemic, virtual events are the most likely to take place, while also looking for viable ways do hybrid events. It could also be a year during which small, local in-person events are utilized, especially the "unconference" format, Martin noted. While safety concerns likely mean that B2B marketers may not be able to attend any massive in-person Google events during 2022, smaller local meetups held on short notice — announced three or four weeks ahead of time — will likely still be possible. Large events will take longer to get back on track, and Martin urged patience as teams at Google seek a safe road to the large in-person conference experiences of pre-pandemic times. Google is not alone in facing the challenges of holding events during the global health crisis, as Microsoft and other large organizations also struggle with how to safely hold in-person conference gatherings. I recently explored some of the ways that B2B marketing events and the people who attend them are dealing with these issues, in "In-Person, Virtual & Hybrid: How To Get The Most From B2B Marketing Events In 2022." [bctt tweet=""We are definitely going forward with virtual unconferences this year. I'm really, really looking forward to that." — Martin Splitt @g33konaut" username="toprank"]
5 — Bulletin Boards & The Cyclical Nature Of Content Delivery Evolution
While exploring possible new formats the Google Search teams could use for providing helpful new content in 2022, several ideas were mentioned. Two content formats with fairly deep roots were noted, in the form of newsletters and blog posts, which have both seen somewhat of a resurgence in the past year. I explored the staying power of the newsletter format recently, in "Sign Me Up: How B2B Marketers Will Create Top-Notch Newsletters In 2022." Another content format with even deeper digital roots was mentioned lightheartedly by Martin – the bulletin board, which brought a big approving smile to my face, as that's how I began my own online journey 38 years ago back in 1984, when I operated a 300-baud computer bulletin board system on a Commodore 64 computer. Having this trio of Google professionals mention these formats from a digital yesteryear led me to ponder the cyclical nature of online content delivery's evolution since the 1980s. Does the nature of online information make it inevitable that the formats in which it is presented will not only change and evolve throughout the years and decades, but also eventually become cyclical, and naturally make a slow but inevitable return back to some of the purest and most clear forms of content delivery, such as the beautiful straightforwardness of plain text, before once again going through the next in an endlessly evolving series of formats? As I get close to 40 years in online communication, these sorts of questions looking at cyclical content format changes seem more and more relevant, and I think they are by and large mostly positive moves. B2B marketers can all too easily get caught up in wrapping up content in the flavor-of-the-month social platform or app formatting, making it helpful to sometimes step back and make sure that the actual messaging is as relevant and powerful to your audience as the latest splashy way that it's published. [bctt tweet=""B2B marketers can all too easily get caught up in wrapping up content in the flavor-of-the-month social platform or app formatting. It's good to step back and make sure that the actual messaging is relevant." — @lanerellis" username="toprank"]
B2B Search Success Is A Long & Winding Road
via GIPHY Learning from some of Google's ideas and plans for 2022 can help B2B marketers better prepare for forthcoming changes, and we hope that the five areas we've explored here will serve you well as you create new audience experiences in the year ahead. To dig in to more B2B search marketing tactics, tips, and strategy, here are several helpful related articles we've published:
Crafting award-winning B2B marketing that elevates, gives voice to talent, and humanizes with authenticity takes considerable time and effort, which is why an increasing number of firms are choosing to work with a top digital marketing agency such as TopRank Marketing. Contact us to learn how we can help, as we've done for over 20 years for businesses ranging from LinkedIn, Dell and 3M to Adobe, Oracle, monday.com and others.
The post New Google Search Updates & How B2B Marketers Can Use Them To Elevate Efforts appeared first on B2B Marketing Blog – TopRank®.