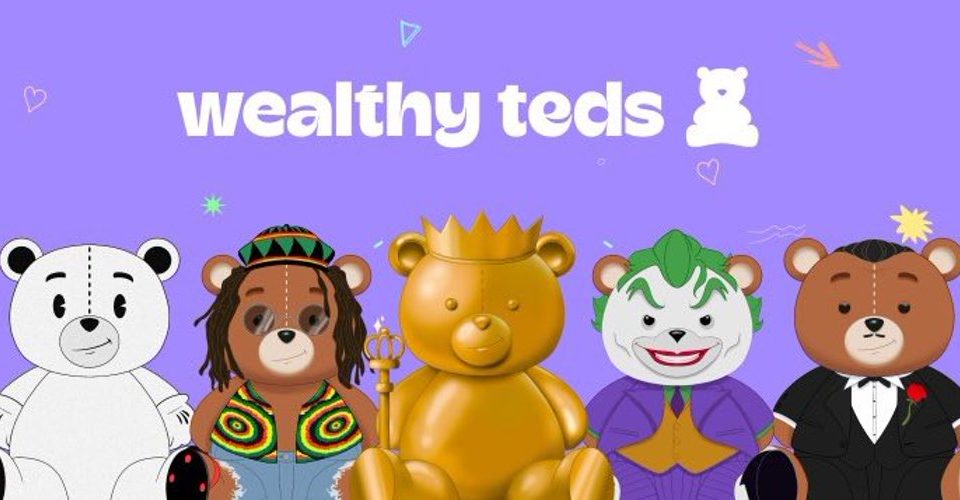 Owners will have Instant ROI with Worldwide Events, IRL Business and Much More — Creator's Interview
Today my guest is Ksanoff, he is a Co-Founder of Wealthy Teds Club.
NFT collector and market connoisseur with experience in launching different collections. Previously worked in play2earn gaming companies and has several contacts in the industry.
Chris: The Wealthy Teds will be available for public minting in a few days. What were the first impressions that led the team to work on the Wealthy Teds NFT?
Ksanoff: The wealthy ted is like a teddy bear version for investors, when you are a little kid you go with your teddy everywhere because it gives you the sense of security and makes you feel safe. The concept of the wealthy teds is to make the community feel the same, being backed by all the WT family when they have to decide important investments, select opportunities and more. Having a big community of investors and entrepreneurs ready to help and empower each other.
Chris: The Wealthy Teds are here to grow your money. What are the important features of the token? How is each token unique?
Ksanoff: You will be able to claim money with each token, literally. We habe created an staking system directly integrated into our smart contract, that distributes money from our staking pool. Moreover, depending on the number of pieces staked and rarity of each ted, they will be able to win extra rewards while having them staked, entering into exclusive raffles. Every token is unique and with a very special design, the owner will have the commercial rights and the intellectural property of the NFT, being able to create their own brands.
Chris: Again, how does the NFT ensure the fastest return on investment?
Ksanoff: The owners will have instant ROI with:
– dAPP investment platform with investment signals, alpha group, knowledge courses and more
– worldwide networking events
– exclusive clothing brand
– community experiences
– private NFT gallery
– Metaverse lands
– IRL business
Chris: While the Wealthy Teds go up for sale for the whitelisted members, what will be the release date for the public minting?
Ksanoff: We will save all of them for WL members, doing the minting in 4 different phases. First phase starts 16th of July, being out in the open market around September, creating a strategy to fully unlock the collection once the 4 phases are totally minted. All the members will have rewards during this period.
Chris: More importantly what will be the benefits of owning a Wealthy Ted NFT? What more can the investor do with their Wealthy Teds?
Ksanoff: As the previous response in question 3 made it clear, just to add that the wealthy teds will open the doors of an exclusive group of investment, full of business opportunities and global connections to feel like home everywhere.

Chris: There is a private club for the Wealthy Teds. How does one get a membership to the Wealthy Teds Club?
Ksanoff: Being part of the Wealthy Teds is being in a private club. Inside the club, there will be private areas for the most loyal and committed ones, where investments projects are going to be proposed and voted through DAO voting systems.
Chris: Also, what does the team look like? How many members are there and how does each one of them contribute to the Wealthy Teds Club?
Ksanoff: Our team is build by professionals in each of the crucial fields to launch an NFT collection. Our DEV team has launched more than 30 projects and our marketing team has experience managing 8 projects at the same time. The founders team come from different business areas, giving the community an opportunity to diversify and expand their network in several fields.
Chris: Finally, what are your plans for the future of the Wealthy Teds Club? What are some of the important milestones that you want to achieve in the future?
Ksanoff: Once we do the soldout. We want to build a solid project, supported by investors, entrepreneurs and business people that want to share and grow within a powerful community. Our main objective is to create a lifetime brand, expanding it through different countries and being able to create IRL businesses. We want to show our business abilities creating tangible assets for our members, so that they can enjoy them feeling part of a movement. Also, don't forget to join our Discord and Twitter. It is the best way to stay informed on news and announcements.