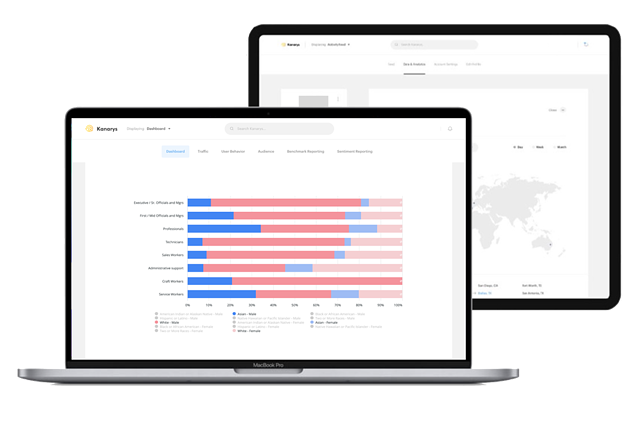 Partnering with Kanarys to Support the Future of Diversity, Equity and Belonging
HubSpot's commitment to diversity, equity, and inclusion (DEI) best practices has played an essential role in our success and we know that it can for all companies in the HubSpot community. We're seeking to help our customers achieve their best performance through adopting these practices too.
Our commitment to DEI helped us foster a culture that prizes a range of ideas from people with an array of experiences and backgrounds. We invested innumerable people hours, hired professionals, and sought world-class expertise to identify the DEI best practices, implement them and measure their success.
Although there's no finish line for this work, that massive effort has supported our company's growth trajectory through talent acquisition, employee retention, and workplace culture. We recognize that not all companies have the resources to make an equivalent investment, but all companies in the HubSpot community can make DEI a sustained advantage. We asked, shouldn't it be easier for companies to identify and adopt DEI best practices and measure their success?
This increasingly common challenge faced by companies of all sizes is why HubSpot Ventures is excited to announce our investment in and partnership with Kanarys, a DEI technology company focused on providing the tools that organizations need to create long-term systemic change around DEI.
Kanarys utilizes human resource information systems integrations and artificial intelligence (AI) powered assessments to gather the data organizations need to meet DEI challenges head-on. Knowing where to start is important, which is why Kanarys is now partnering with HubSpot to offer HubSpot customers access to its DEI Maturity Quiz.
This DEI Maturity Quiz identifies where companies are on their DEI journey, and ways they can grow their DEI strategy for long-term success. It analyzes and assesses best practices for critical DEI components, such as DEI Councils, employee resource groups, unconscious bias training, paid apprenticeship programs, supplier diversity programs, and more. In addition, HubSpot customers will now have access to Kanarys' comprehensive library of guides and toolkits developed by subject matter experts in DEI, available here (invitation code is HUBKAN@2022).
Kanarys co-founders Mandy Price, Star Carter, and Bennie King all grew up in the Dallas area and attended The University of Texas at Austin where they became friends, yet twenty years later the three would come to call each other co-founders of Kanarys after experiencing inequities in the corporate workplace. Guided by data, the Kanarys co-founders are now on a mission to help companies identify opportunities to avoid common mistakes when implementing and measuring DEI initiatives.
While many companies approach diversity through quarterly trainings or specially organized committees, these initiatives often lack measurement of how inclusion and equity are being addressed and truly impact the business model. HubSpot has taken a detailed, fact-based approach to assess the performance of its efforts.
Kanarys makes it easy for all companies to take an innovative data-informed approach by bringing together cutting-edge technologies like AI, machine learning, and natural language processing to better understand the effectiveness of DEI initiatives based on employee sentiment and an organization's systems, policies, procedures, and practices.
Kanarys' intelligent platform allows companies to uncover DEI stumbling blocks and develop proactive strategies to implement instead of being reactive under pressure. The opportunities for companies are that they can now retain employees longer, build a healthier culture, develop more innovative products and solutions, and serve their customers more empathetically.
Joining Kanarys on their journey to build more equitable workplaces was a natural fit for HubSpot. Diversity, inclusion, and belonging are mission-critical for us, and we believe they are crucial to helping our community grow. By using Kanarys, HubSpot customers will be able to jumpstart or assess their own DEI initiatives to identify areas of growth and put DEI programs in place that foster growth and innovation.
Learn more about Kanarys here, and HubSpot Ventures here.