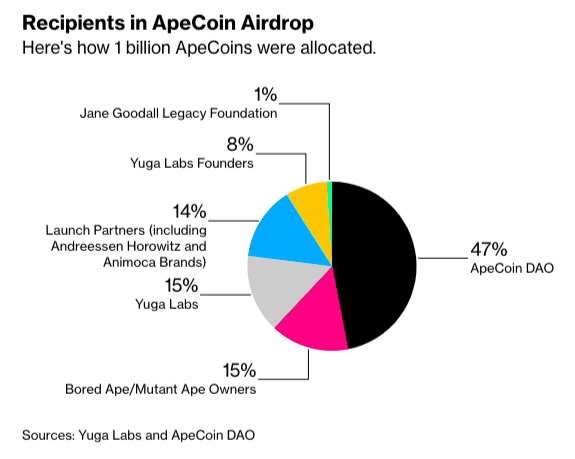 People Are Using NFTs to Create Literal Empires
A business empire is often defined as a large commercial organization or group of businesses owned or controlled by one person or entity. These organizations are powerful and governed by a centralized authority. For example, think of the Big Tech behemoths of the Web2 world – Meta, Amazon, and Google. With much of the core ethos of Web3 based around decentralization and community control, it's counterintuitive to describe any Web3 organization, no matter the size, as an empire. But it seems that this is exactly what some Web3 organizations are becoming.
Except that, instead of immediately turning to institutional funding to drive growth, many Web3 powerhouses have turned to NFTs as an initial form of fundraising. For the major players in the space, NFTs serve as an entry point and consumer access token for a much larger vision.
Let's take a look at three of the largest NFT entities, and break down how they've used NFTs to extend their influence across gaming, books, TV, audio, merchandise, events, digital environments, and beyond.
Yuga Labs
Yuga Labs is currently the biggest player in the NFT space. Since the launch and meteoric rise of the Bored Ape Yacht Club (BAYC) in April 2021, Yuga Labs has posted incredible financials: a 92% net profit ($127 million) on $138 million of revenue. Nearly all of this income is from the initial mint and secondary royalties of the Bored Ape Yacht Club and its respective derivatives: Mutant Ape Yacht Club and Bored Ape Kennel Club. 
Then came March 2022, the biggest month in Yuga Labs' short existence. First, the company completed a 10-day trial of their play-to-earn game, Apes vs Mutants, and went on a shopping spree, acquiring the full IP rights to two of the largest projects in the space: CryptoPunks and Meebits. Initially owned by Larva Labs, both CryptoPunks and Meebits had fairly stringent copyright restrictions that did not allow holders to profit off of their IP. Yuga Labs plans to change that, granting both projects Creative Commons Zero (CC0), thus allowing all Punk and Meebit owners to create derivative work from their art. This move took Yuga Labs from a power player to the premier entity in the NFT space, further bolstering their portfolio of IP as they venture across media and events.
"We see ourselves with tentacles into all those things: streetwear, events, gaming, NFTs, et cetera. It's just a matter of figuring out and extending that utility to these new IPs," said BAYC founder Wylie Aronow (Gordon Goner) in an interview with The Verge.
A week later, Yuga Labs announced the launch of the long-awaited ApeCoin along with ApeDAO, a coinciding governance DAO whose treasury will be funded by the initial ApeCoin sale. The ApeCoin itself will initially be used as an in-game cryptocurrency, but will soon have utility that stretches far beyond the Yuga Labs ecosystem.
Although ApeDAO is run independently from Yuga Labs, a portion of the money is expected to be spent on Yuga Labs' game development, events, and merch efforts. To execute decisions on behalf of the DAO (an idea that has been met with some criticism), a separate parent organization, the Ape Foundation, was set up with members such as Alexis Ohanian and Amy Wu appointed to the board. With a total supply of one billion ApeCoins available, each token will represent a single vote in the DAO. 
In late March, Yuga announced their biggest move of all (another that was met with mixed reviews from the community): a $450 million dollar funding round led by Andreesen Horowitz, a silicon valley venture capital firm known in the NFT space as a16z. The seed round priced Yuga Labs at a four billion dollar valuation and made one of the biggest financial institutions in the world a key stakeholder in both the DAO and the future of Yuga Labs.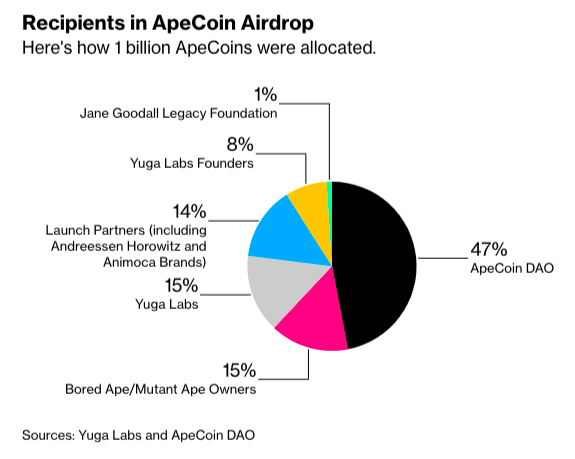 Alongside the funding news came the announcement of Yuga Labs' NFT metaverse project, Otherside. Otherside is set to be a massively multiplayer online role-playing game (MMORPG) created by Yuga in partnership with multiple big gaming studios. This was the first mention of Yuga Labs' grand plan to create a completely decentralized and interoperable gamified world.
With the top talent and financial resources at their disposal, only time will tell how far the Yuga Labs realm can expand.
Tally Labs
Tally Labs recognizes the critical role IP plays in the metaverse and is betting its future on it. Unlike Yuga Labs, they're tackling crypto-content domination from a slightly different angle. In a bet that the next generation of household characters will live on the blockchain, Tally Labs is partnering with existing projects (and their respective holders) to license their IP and create all forms of community-generative media including books, film, audio, and more. They are also acquiring and revamping distressed projects, along with creating their own proprietary worlds and characters to build an extensive library of crypto-native IP. 
To fund this mission, Tally launched the Writer's Room NFTs, a collection of 6,942 genesis NFTs that grant holders the right to vote on the creative direction of all future Tally Labs projects – starting with Jenkins the Valet's debut novel. Jenkins is Tally Labs'  first and primary fictional character (a Bored Ape) whose persona was created by the way of BAYC's CC0 approach to their project, providing all holders with full commercial rights to their Apes' IP.  
The novel will be written by Neil Strauss, a ten-time best-selling author, with community-generative creative direction from the Writer's Room NFT community. In exchange for their early support and creative say, the Writer's Room community will receive 50 percent of the net profit from the book along with a free book NFT. This move caught the attention of traditional entertainment powerhouse CAA, which is now representing Jenkins across all content mediums and has helped to further the quality of talent associated with the project. In the first attempt at mass IP licensing in the NFT industry, Jenkin's novel licensed 4,075 unique BAYC and MAYC characters from their respective holders.
Once released to both Writer's Room holders and via public mint, the book NFT will serve as an access key to The Writer's Room 2.0 where holders will be met with a game theory-based decision: burn their book or stake it.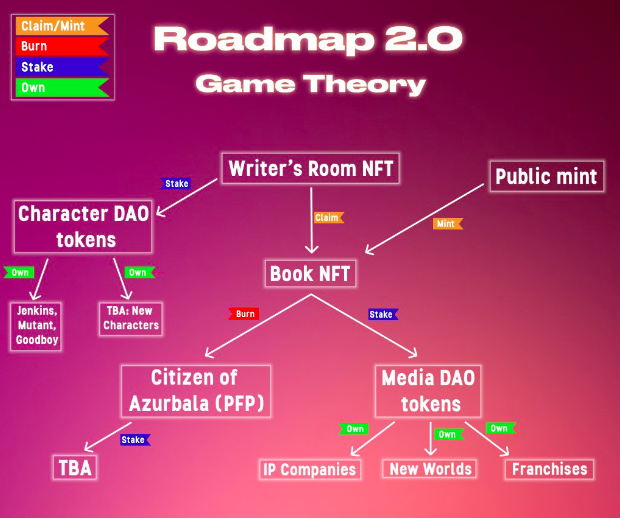 Those who choose to burn the book will make a visit to Azurbala, Tally Labs'  jungle city in the metaverse that is currently being crafted by Emma Needell, a talented Hollywood screenwriter. Stakers will receive governance tokens for a Media DAO which will be responsible for driving the creative say in Tally Labs' future crypto-native content as they build a "decentralized media empire."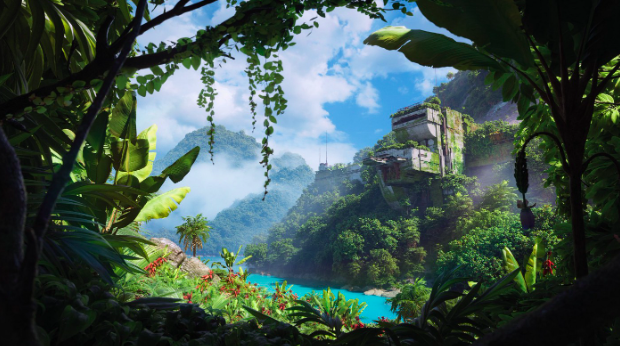 Separately, Tally Labs has also built The Character DAO, responsible for governing the creative decisions behind their own proprietary household characters: Jenkins, Jenkins the Mutant, and Goodboy. To receive governance tokens for the Character DAO, you must stake your Writer's Room NFT.

Tally Labs and the Writer's Room have a lot up their sleeves and with less than two percent of total Writer's Room NFTs listed for sale, it's clear that the community is supportive of the vision and is holding along for the ride.
Doodles
Doodles, one of the most sought-after PFPs in the world, is a collection of 10,000 generative NFTs. Unlike most "community-first" projects, Doodles empowers its community with a say on the complete direction of its roadmap. All proceeds from the Doodles initial mint and secondary royalties were put towards the Doodlebank treasury which has been used to fund Doodles live events, digital words, merch, team growth, and more. Operating like most DAOs, Doodles' decision-making around the treasury and future roadmap runs through community proposals where one Doodle equals one vote. 
Doodles has taken a "phygital" approach to community building through live events at cultural hubs like Art Basel and SXSW which featured partnerships with Shopify and Behr, along with musical performances from artists like Diplo. 
On the digital side, they recently released the long-awaited Space Doodles, a non-dilutive extension of the beloved project which will further the Doodles brand within the NFT community. While much of the Doodles team's plans are still under wraps, their grand ambitions for community-first domination are clear.
As mainstream NFT adoption continues, we are nearing an exciting, but critical inflection point in how the new conglomerates of the NFT world operate and define themselves. With the final execution of these ambitious goals left unseen, a big question remains: Will the core tenants of Web3 remain priorities as these organizations pursue scale and profit, or will traditional capitalism find its way back into the industry, leaving us right back where we started?
The post People Are Using NFTs to Create Literal Empires appeared first on nft now.