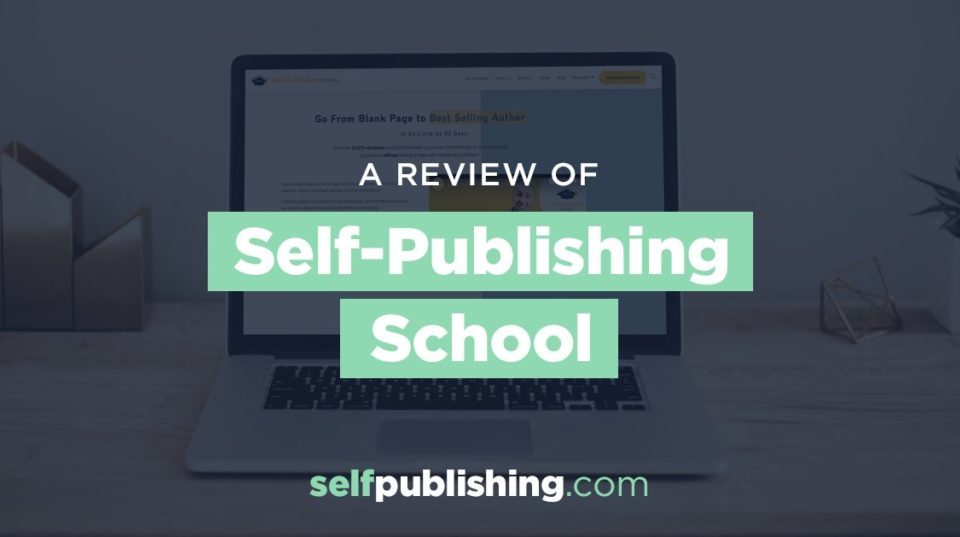 Self-Publishing School Review: A Report at Chandler Bolt's Self-Publishing School
If you're looking for a Self-Publishing School review, it's probably because you're an aspiring author looking for a self-publishing course on how to write and publish a book.
As you research how to write a book, you'll come across several self-publishing companies. And more than likely, one of them will be Self-Publishing School.
A quick Google search that includes the term "self-publishing" will likely land you on one of the company's resources, whether it be a blog article, a YouTube video, or an advertisement.
Or even other reviews of Self-Publishing School!
So, let's take an honest look at this self-publishing education company.
A note about this self-publishing company review…
We'll review other self-publishing companies in a different article. For this particular post, we've only got our eye on Self-Publishing School, simply because wanted to provide a detailed report on each program offering.
A Note To Our Readers:
We want you to make informed decisions when it comes to how and where to invest your money. That's why our mission is to help educate authors on the various self-publishing companies and services that are on the market today.
Our reviews are meant to be unbiased, 3rd party reviews, but we will speak up if there is a scam or a clearly better option.
First off, it's important to understand that this isn't an in-depth review of one specific Self-Publishing School program.
What are Self-Publishing School's product and service offerings? There are a few! And we'll cover each one in this article.
If you didn't know already, the company has a variety of author education programs, all geared towards authors, including:
Become a Bestseller – Where nonfiction-specific authors can write, market, and publish their books within 90 days, all with 1-on-1 coaching from expert bestselling authors.
Fundamentals of Fiction – Aspiring fiction authors will learn the ropes of fiction writing and publish their first fiction book with 1-on-1 coaching from a bestselling fiction author.
Children's Book School- Aspiring children's book writers will learn how to write and produce a quality children's book that parents, teachers, and kids love.
Author Advantage Accelerator – Their ultimate program. This bundled package of programs also includes a whole buffet of done-for-you services to make the production, publishing, and marketing easier.
Author Advantage Live – A writer's conference specifically for self-published and independent authors where you will learn, strategize, and network to build a book business.
With that said, this is a collective review of Self-Publishing School's online offerings, so that you can decide which program might be right for you.
Is Self-Publishing School legit?
Yes – Self-Publishing School is a credible online self-publishing company that offers comprehensive training and services for authors.
Self-Publishing School is an online education company geared toward aspiring authors, and those that are already self-published. The programs are built up around Amazon self-publishing.
If you've decided to go with self-publishing versus traditional publishing but aren't sure where to start, Self-Publishing School is worth checking out.
The team's mission is to help you bring life to the book you've always wanted to write.
And to help you start doing the work needed to share your book with the world.
Self-Publishing School takes an interesting angle with their inclusive approach. Their message is that you don't need to be the world's best writer to publish a bestseller.
In fact, the company's CEO, Chandler Bolt, makes it clear that he hated writing. Yet today, he's a six-time bestselling self-published author.
In a booming self-publishing industry, Self-Publishing School was listed as one of INC 5000's fastest growing private companies in America.
Small but mighty, Self-Publishing School may be on track to dominate the industry amidst other self-publishing companies.
Here's a peek at the company's "About Us" page:
How is Self-Publishing School different from other self-publishing companies?
When considering self-publishing companies and which program to take, it's important to understand the different types of business out there.
You can scour the internet to find a list of the best self-publishing programs in the industry, but chances are, each will serve a different purpose.
In an effort to clear up some of the confusion, we'll explain the difference between the various company types on the market today.
These are the main types of self-publishing companies:
Self-publishing platforms: This is where self-published authors actually upload their book to. Think Amazon self-publishing (KDP) and Apple's iBooks.
Self-published author services: These are self-publishing services that provide authors with the services needed to publish a book. Think of it like a one-stop shop for book editing, designing, and illustration services.
Self-publishing education: These are companies that teach authors the skill of how to self-publish a book successfully. Self-Publishing School falls under this category.
Who is Self-Publishing School for?
If you want to learn a tried-and-true method of how to write and publish a bestselling book with Amazon self-publishing, then Self-Publishing School might be right for you.
If you have the drive to finish your book, but want a bit of handholding and mentorship, then you can definitely benefit from one of their programs. And if you want someone to handle the tough processes of book production for you, they can handle that too.
Types of people that can use Self-Publishing School programs are:
Entrepreneurs wanting to uplevel their business and gain new leads
Writers who want to publish multiple books and build passive income
Authors who want to create a sustainable business
Anyone who wants to share their story
Self-Publishing School Review: The Programs
As mentioned above, Self-Publishing School offers a variety of programs geared toward helping authors expand their personal book businesses. Let's dive in a little deeper into each of the Self-Publishing School programs.
Become a Bestseller

Hailed as the company's flagship program, this guides you through the entire self-publishing process. It includes step-by-step tutorials and personalized coaching sessions.
This self-paced program is most similar to other online programs from other self-publishing companies on the market today in the sense that it is introductory for beginners new to the self-publishing scene.
With its three phases (Writing, Book Production, and Launching), it's a comprehensive program that covers the nuts and bolts of writing and publishing a book. And it's geared towards non-fiction writers who want to do it in as little as 90 days.
By the end of it, you'll know how to write a book, and how to publish an eBook and physical book on Amazon.
The Self-Publishing School coaches, regarded as industry experts and authors, help support you with individualized, private sessions throughout the duration of your publishing processes.
An additional perk included is access to the company's private Facebook group community, where you can connect with a robust self-published author community. There are also weekly live sessions, and members lean on each other for support and encouragement.
This program recently received a facelift, so it's been updated with new content and features.
For example, depending on which program you enroll in, a goodie box will arrive on your doorstep shortly after. This includes a physical workbook full of guided exercises, which really sets the company apart in this Self-Publishing School review.
If you want to write a nonfiction book, this comprehensive starter program might be valuable to you.
Fundamentals of Fiction

Like the Become a Bestseller program, Fundamentals of Fiction is an online introductory program that will guide you through the self-publishing process from start to finish.
However, this one is particularly for aspiring fiction authors.
This self-paced program includes components that make it suitable for novel writing, as opposed to non-fiction writing. Tutorials on storytelling fundamentals and development can be found in the course content.
If you need fiction development lessons, such as writing the setting of a story, and using figurative language, then this might be the program for you.
Many other self-publishing companies have introductory courses that teach you how to write and publish a book, but it's important to take one that's geared towards your book's genre.
This ensures that you're going to get the most out of the program, because the content is more aligned to your individual needs.
Like Become a Bestseller, this program also includes personalized coaching sessions, and access to the Mastermind Community along with a private Facebook group for only the fiction authors.
If you want to write a fiction novel, be it fantasy, romance, mystery, or thriller, this program will cover what you need to write a great story and it will be especially beneficial for you.
Children's Book School Program
This new Self-Publishing School program is specifically for aspiring children's book authors.
It includes the online course, 1-1 expert coaching with a bestselling children's book author, and a mastermind community.
If you want to learn the entire process on how to write, publish and launch an award-winning book for children, this program might be for you.
Full-Time Fiction Marketing Program
The newest program from Self-Publishing School, this content is specifically for the published fiction authors who want to create and implement an advanced marketing plan to generate a full-time income.
It includes the online course, 1-1 coaching with an expert fiction author, and complete guidance on building out your marketing plan.
Author Advantage Accelerator

Think of this program as having "all the bells and whistles." It's the next level up from the starter programs.
The Author Advantage Accelerator program is designed as a white glove service to take care of your book production and publishing needs. It is for folks who want to have a big launch and go all-out on their marketing efforts to sell more books.
Additional coaching calls, more done-for-you services, additional curriculum — this program has it all. The materials and training videos cover advanced book marketing strategies, email marketing, social media, building an author brand, and more.
This content is up-to-date and will be continuously expanding. It also includes a physical "playbook", which is a planning and strategy guide that walks you through step-by-step.
If you're about to publish your book and want to grow your business and increase your passive income, then this program might be for you.
How much does Self-Publishing School cost?
You can go to the Self-Publishing School website here to view pricing, as they may vary for their range of programs. These costs include the complete self-publishing program: online curriculum, group coaching, individual coaching, mastermind community membership, and any supplemental materials, including live group workshops.
Since there are a few different program offerings, the price varies depending on which product you are interested in.
You'll want to consider the program you purchase along with the package you choose to determine the cost of Self-Publishing School.
Self-Publishing School Reviews: The Good
There are a few reasons why Self-Publishing School has a leg up in the self-publishing education industry, such as:
1). Comprehensive, without information overload

There is a ton to know about the self-publishing industry, and it's rapidly changing.
The starter programs are great at giving you the nuts and bolts with actionable steps.
Sure, one could argue that you can learn all there is to know with tons of research and trial-and-error, but all that takes time and effort.
If you don't have the time to waste on that, these programs are a great start.
2). Designed to achieve a specific result

Each program is developed to help you reach a certain goal. Other self-publishing companies offer "one size fits all" programs, which doesn't always get you the results you need.
Whether you're wanting to write and publish a book in 90 days, grow your book revenue, or make a career of writing and publishing books- each program delivers a different result.
Which means you can really hone in on what results you want to get out of it.
3). Continuous improvement

Content is frequently updated, old programs are being redesigned, and new products are sure to come down the pipeline.
This is exciting because even if you don't find anything you're looking for with their current offerings, keep an eye out because Self-Publishing School will likely be rolling out new products in the future.
4). Extra perks

What truly makes Self-Publishing School stand out from competing self-publishing companies is the additional resources. The extra perks that come along with the programs, such as the workbooks and community access, are extremely valuable resources.
With so many online courses on the market today, Self-Publishing School is one of the few programs that actually mails you a box of goodies when you enroll.
5). Personalized, one-on-one coaching with a self-publishing expert

With the "online course" phase booming right now, self-paced courses oversaturate the market. While it's convenient to be able to take them at your own speed, this isn't always effective.
Too many people pull the trigger on self-paced courses, only to never actually finish.
Many of us need someone to hold us accountable, and some of us just need that extra push or hand-holding.
With Self-Publishing School's coaching system, you get the extra support and guidance needed to successfully work through the process, which isn't provided by other self-publishing companies.
6). Active, hands-on team

The team is super passionate about what they do, and are active in the Mastermind Community. As a result, they listen to feedback and continuously work to improve the company.
Whether you need guidance in the program, have a question, or a technical support issue, there will be someone ready to assist you.
7). Done-for-You Services
Until recently, this was an area for improvement, but now Self-Publishing School offers actual author services. Their services include book production, publishing, and even some marketing, depending on which program you enroll in.
If you're looking for a one-stop-shop to have your book self-published, designed, formatted, and even uploaded to Amazon, then Self-Publishing School can help.
Self-Publishing School Reviews: Room for Growth
No program out there is perfect and Self-Publishing School is no exception. While their results are outstanding, we found a few areas for improvement in our Self-Publishing School review.
1). Price

The price is high compared to other self-publishing companies. But keep in mind that the other self-publishing companies are likely not including the 1-1 and group coaching sessions, workshops, or additional support that come with Self-Publishing School.
The prices are subject to go up as more benefits are offered, so if you're considering Self-Publishing School, book a call to discuss all the details. Which leads us to our other point…
2). You have to apply first
Unlike other self-publishing companies where you can enter your payment information and instantly get access, Self-Publishing School has a "vetting" process, so to speak.
While this isn't necessarily a bad thing, it can be inconvenient for students that are ready to pull the trigger, which is why it's worth noting in this Self-Publishing School review.
First, you'll have to schedule a phone call with one of their publishing strategists to discuss whether it's a "mutually beneficial" idea to have you take their program.
While this can be off-putting for some, the call can be helpful for you even if you decide not to join the program.
And the company is always adding new features, so maybe there will be a digital application option in the future.
3). Focused on Amazon KDP publishing platform
For the programs on self-publishing, the material centers on the Amazon publishing platform, Kindle Direct Publishing (KDP).
It makes sense, since Amazon dominates the self-publishing market today. Many self-publishing companies also focus on Amazon self-publishing, so it can be an industry standard.
But for some people who want to focus on other platforms, you'll likely have to enroll in an advanced program.
4). Video quality
The bulk of the content is in video format, which is standard for online programs on popular platforms like Teachable.
But some of the Self-Publishing School videos can be a bit lengthy. Many of the videos follow a screen-share format, where the speaker is talking to you directly, so at times it's not the most engaging.
Some videos also don't seem to be scripted, so it can be similar to a casual conversation, which means the speaker may get sidetracked.
If you are a visual learner, and process information more thoroughly while reading, this might be inconvenient for you. But, many of the videos include transcripts so that you can read along if needed. You can also increase the video speed to skim over parts quickly.
5). Lacks writing development support

Writing is hard! If you're a writer at heart, you know the struggle with writing.
Actually writing a book and getting the words onto paper is more than half the battle for the author's journey.
While Self-Publishing School programs can help you simplify the ideation and writing process, they don't currently have a writing development course. There are sections within the programs to help you with certain aspects of writing, but it isn't too comprehensive.
Our Final Thoughts for This Self-Publishing School Review
Now that you have a more detailed birds-eye-view with this Self Publishing School review, we hope that you have more clarity on what the company offers, and which program might be right for you.
Even though we laid out some of the pros and cons to the company, it's important to consider your own needs and preferences.
For some people, some of the negative things mentioned in this article, aren't necessarily a bad thing. So it really boils down to your own individual needs, and what you're looking for.
If you are leaning towards joining Self-Publishing School, the next step is to schedule a call with one of their publishing strategists.
It's cost- and risk-free, so you'll be able to see if it's a program worth joining.
And remember, before working with any self-publishing companies, do a bit of research before deciding.
Writing a book is life-changing, and becoming an author is a choice you have the power to decide on.
Guide yourself in the right direction, invest in yourself when you're ready, and put in the required work.
With that formula, you'll be well on your way to being a self-published author in no time!