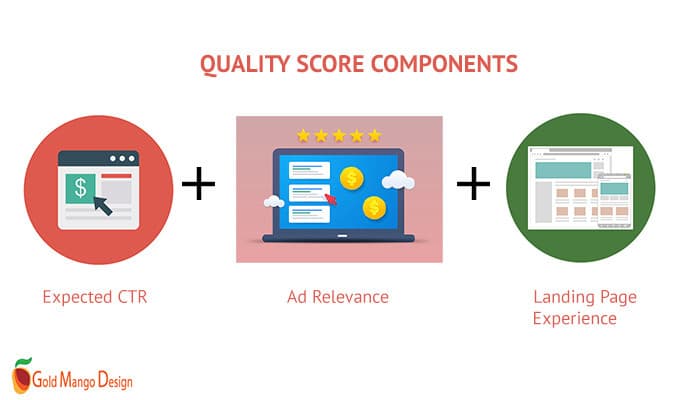 Understanding the Google Ads Auction: The Importance of Quality Score + How to Improve It
Google holds over 85% of global desktop search traffic and gets billions of searches per day. Google's advertising revenue through Google Ads was $209.49 billion in 2021, the majority of which came from search advertising.
Google Ads is very competitive and Google uses an auction system to decide which ads to show. When a search query is made with a keyword that has multiple bidders, Google Ads runs an auction to determine which ads are eligible to be shown for that keyword and their ad positions. Only ads that meet minimum quality requirements will be shown for a relevant search term.
With so much competition, how can advertisers improve their performance on Google Ads? In this blog post, I cover the importance of Quality Score in the Google Ads auction. For more details about the Google Ads auction process and Ad Rank, read my last post on Understanding the Google Ads Auction & Why Ad Rank is important.
What is Quality Score?
Quality Score is Google's estimate of the quality of your ads, as compared to those of other advertisers. It helps ensure that the ads that are most relevant to the search term are shown at a higher position in the search results, so it is based on the relevance of your ad to the search term, the likelihood that your ad will receive clicks when shown, and the user experience offered by your landing page. Every keyword in your account is assigned a Quality Score from 1 (bad) to 10 (excellent) and can be viewed in the keyword table.
Quality Score should be used as a diagnostic tool to improve the quality of your ads, keywords, and landing pages to increase ad performance, and is measured by the performance of three components:
1. Expected CTR
2. Ad relevance
3. Landing page experience
Each of these components is given a rating of "Above Average", "Average", or "Below Average". This rating is determined by comparing your ads with other advertisers who ran ads for the same keyword in the past 90 days.
Why is Quality Score important?
The Quality Score of your ads and keywords is important for the success of your Google Ads PPC (pay per click) campaigns, as they can impact:
Whether your ads are shown — Quality Score determines if your ads are eligible to be shown at all in the results for a search query.

Your ad position — Quality Score is one of the main factors that is used to determine your ad position or Ad Rank on the search results.

Your Cost Per Click (CPC) — Your Quality Score determines the actual cost per click (CPC) you pay for your ads. Ads with a higher Quality Score pay a lower CPC, while lower quality ads are charged a higher CPC which may be closer to their max CPC.

Whether ad extensions are shown — Ads have to have a high Quality Score for ad extensions to be shown with the ads. Ad extensions provide additional business information and can include call extensions, location extensions, and site links. Ad extensions help to increase the clickthrough rate (CTR).

Your ad performance — Higher quality ads and landing pages tend to have a higher CTR, higher conversion rates, and lower bounce rates.

How often your ads are shown — More relevant ads will have higher ad impressions on the SERP.
How to improve Quality Score and ad performance
To improve your ad performance, and compete successfully in Google Ads auctions, you should focus on optimizing the three components of Quality Score.
1. Review the Quality Score of your search keywords
The first step is to review the Quality Score of your search keywords in the keywords table. For each keyword, you'll see the Quality Score along with ratings for expected CTR, landing page relevance, and ad relevance. If you get a rating of "Average" or "Below Average" on any of these components, follow the tips listed below to better optimize. If you get a "-" in the Quality Score columns, it means there aren't enough clicks and impressions for that keyword to determine the values.
Note that the Quality Score status columns need to be enabled in your keywords table to show the values. For tips on how to enable the Quality Score status columns, refer to my post on Understanding the Google Ads Auction & Why Ad Rank Is Important
2.Select relevant keywords
Selecting the right keywords for each search query is essential for success with Google Ads. You need to make sure to select relevant keywords that are specific to the ads and match the intent behind the search query. Use the Keyword Planner tool in Google Ads to pick specific keywords based on search volume and competition.
Don't use generic keywords, as they'll result in your ad being shown for unrelated searches and that will waste your ad budget. For example, if you sell natural dog food, use "natural dog food" as the keyword in your ad, not the generic keyword "dogs". You can also use long-tail keywords to target specific search queries.
3. Create ads with specific keywords
Creating ads with specific keywords helps to increase ad relevance and expected CTR. Use the keywords from the previous step in your ad text, especially the headlines, to show that the ad is directly relevant to the search query and fulfills search intent. You can use dynamic keyword insertion to update ads with keywords from successful ads in your ad group.
You can also add more headlines and descriptions. Responsive search ads, now the default ad format in Google Ads, allows you to enter up to 15 headlines and four descriptions, and uses machine learning to combine them into multiple ad combinations. Create at least 10 headlines and multiple descriptions so that there are more ad combinations available to show, and make sure they're unique.
If your ads are targeting a local area, mention relevant locations in your ads. You can use location insertion in responsive search ads to dynamically enter a city, state or country. Locations are selected from your campaign location targeting.
When creating responsive search ads, utilize the ad strength indicator to gauge your progress, and aim for ad strength of "Good" or " Excellent". Ad strength measures the relevance, quality, and diversity of your ads.
4. Organize keywords into relevant ad groups
A Google Ads PPC campaign will typically contain several ad groups. Ad groups help to organize your keywords and ads by a common theme, such as the products and services that are being promoted in the ads.
All the keywords in an ad group should be specific to the ads in that ad group. To increase ad relevance and keep your targeting specific, don't have more than 20 keywords in one group. If you have ads targeting different search terms, you should create different ad groups for each target.
Since Google Ads is pay-per-click bidding, you can set a CPC bid at the ad group level, which would apply to all the keywords in that ad group. You can also set CPC bids for individual keywords. The CPC bids help to determine your ad position and the amount you are willing to pay for a click on your ad.
As seen in the examples, to advertise dog food and dog beds, I would create an ad group for dog food and a separate ad group for dog beds. Each ad group would contain only the keywords and the ads that are specific to that service.
5. Use negative keywords
To build a targeted Google Ads PPC campaign that's focused on your target customers, you need to exclude search terms that aren't relevant to your campaign. Negative keywords increase ad relevance by ensuring that your ads are triggered only for the keywords you want to target and shown for relevant search queries. They also decrease unwanted clicks on your ads, which helps to reduce wasted ad spend and increases ROI.
When building a negative keyword list, you want to exclude search terms for items that you do not sell. However, it's important to choose negative keywords carefully and make sure that they don't overlap with keywords you are targeting, since they'll prevent your ads from being shown for those terms.
After your PPC campaign runs for a while, there will be search terms that you aren't targeting that you'll want to add as negative keywords.
To add negative keywords to your ad group or campaign, or to build a list of negative keywords from search terms:
Sign into your google ads account

Click "keywords" on the left dashboard

Click "search terms" on the left dashboard

Check the box next to the search term you want to add as a negative keyword

Click "add as negative keyword" on top
For example, if I want my ads to show only to customers searching for dog food and not for dog beds, I would add "dog beds" to my list of negative keywords so that my ads are not shown for those search queries.
6. Improve CTR
The expected CTR is one of the factors that is used to calculate the Quality Score of your ads. To improve the clickthrough rate of your ads:
Use responsive search ads (responsive search ads can achieve up to 10% more clicks and conversions).

Your ads should highlight a unique or compelling benefit of your product or service (extended return policy, one year warranty), which include seasonal and time-sensitive offers around holidays and special events. Always make sure the offer advertised is reflected on the ad's landing page.

Your ads should have strong CTAs (Buy now, Call now, Order now, Get a Quote). Ensure the CTAs and ads are consistent with the landing page as well.
If your ad meets the quality thresholds mentioned above, up to four ad extensions (links with extra business information) can be shown, so make use of these to improve CTR even more.
7. Improve the landing page experience
The landing page linked to the ad must be relevant and consistent with the ad, matching any offers. It should have high quality content, related images and a strong CTA. In addition, your website should be mobile-friendly, fast-loading, and easy to navigate to provide a great user experience.
So don't send all ad clicks to a generic home page. For example, if your ad is selling dog food, your landing page should be specific to dog food. If you also sell dog beds, create a different landing page with ads and keywords that are specific to dog beds.
Always be sure the landing page follows optimization best practices, using an H1 header with a clear page title and the the main keywords used in the ad. Place the primary keyword towards the beginning of the title.
Your business contact information should be easy to find on the landing page to help build trust with your customers and let them know how they can reach you. Also include trust symbols like industry mentions and awards to further build trust.
The landing page shown for dog food above is a great example of a Google Ads landing page. I searched for "natural dog food" and clicked through from the Google Ad shown. The landing page is specific and relevant and continues the conversation from the ad. It has quality content, clear images, and a strong call to action which is visible above the fold.
It's filled with reasons why I should choose their dog food: "fresh, whole ingredients", "powered by science", "tailored to their needs", "change you can see", etc. If a consumer is still unsure, they add plenty of trust symbols at the end of the page to convince them. Their landing page speaks to their target customer, dog owners, and will be effective in converting them.
Conclusion
Google Ads is very competitive and Quality Score is an important factor in the Google Ads Auction. It is used to determine which ads are shown on the Google search results, how often the ads are shown, and what the ad ranking will be. It also determines how much you pay for a click on your ads.
By improving the three components of Quality Score, you can improve your ad quality and performance in Google Ads. You can also decrease your CPC costs, increase your ad position, compete effectively with other advertisers, and better reach your target customers on Google.