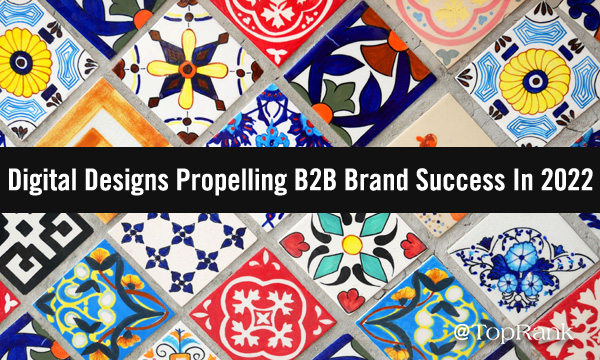 Visual Focus: The Digital Designs Propelling B2B Brand Success In 2022
Which digital designs will shine the brightest in 2022 when it comes to telling the evolving stories of B2B brands in fresh new ways? Each year the world's biggest firms in the world of design publish their takes on the new innovations that may come down the pike over the next 12 months, and while never a guarantee of digital design success, savvy B2B marketers and designers tend to keep tabs on the yearly visual shifts put out by Adobe, Pantone, and others. Let's take a look at some of the design ideas that are helping brands craft their digital identities in 2022, with insight from graphic design subject matter experts at Adobe, Pantone, Canva, Venngage, and MOO.
1 — Adobe's Turn To Digital Heritage Craft & The Metaverse Mix
Adobe's 2022 creative trends forecast — from the innovators at its Adobe Stock arm — provides a robust annual look into the design elements and digital styles that it sees as the most likely to make an impact with online audiences in the coming year. Brenda Milis, principal of creative and consumer insights at Adobe, outlined this year's forecast and the optimism and meaningful connections that audiences are seeking in 2022, in a wide gamut of formats including:
Photography
Illustration
Vector Graphics
Design Templates
Motion Graphics
3D & Immersive Experiences
Milis noted that there is a, "growing confidence and acceptance of our new reality — with companies in nearly every sector embracing remote or hybrid work and the digital transformation that only accelerates with each passing season." Designs that help people forge connections and build optimism will prove particularly effective in 2022, Milis suggested in describing the newest forecast. "People are hungry for optimism, and that unquenchable thirst for fun, whimsy, and play is evident across ages, industries, and brand categories," Milis explained, adding that, "we are all even hungrier for authentic, meaningful connection," insight that ought to ring especially true among B2B marketers and enterprise brands that are doing more digitally that ever before. Adobe's forecast was built using the firm's vast user and client bases, and included its own research along with data from:
Research Requests
Customer Data
Major Industry Campaigns
Stock Industry Insight
Customer Signals
Leading the way with visual trends for 2022 were the elements that celebrate playfulness and place a newfound focus on the centered self, along with several others including: Visual Trends
Powerfully Playful
The Centered Self
Prioritize Our Planet
In the Groove
The year's design trends emphasized soft pop, heritage craft, and others including: Design Trends
Soft Pop
New Naturalism
Heritage Craft
Otherworldly Visions
2022 motion trends in the Adobe forecast — as vital as ever for B2B marketers with the continuing importance of digital video — point to the rise of the so-called metaverse and to the power of new copy and caption movements. As we recently covered in our weekly Friday B2B marketing news, predictions for adoption of the metaverse have shown swift embracing of the technology. Some 30 percent of global organizations will offer products or services through the metaverse by 2026, while 25 percent of people will utilize at least an hour each day using metaverse technology, and while it won't be owned by a single vendor, the future metaverse will likely help boost engagement even among enterprise users, according to recent Gartner report data. Motion Trends
Metaverse Mix
Get Moving
Dimensional Delights
Copy and Captions
2 — Pantone's Very Peri Perspective
For 22 years the Pantone Color Institute has named a singular "Color of the Year," which has sought to match a color with the characteristics of the general state of the world during the year ahead. Pantone's choice for 2022 was a lavender-purple amalgamation it's called "Very Peri," — or PANTONE 17-3938 for the precise — the name giving nod to the subtle color of the flowers of the periwinkle plant. The color excels at encouraging personal creativity and inventiveness, according to Pantone — elements that B2B marketers can certainly weave into content through the use of color. "As we move into a world of unprecedented change, the selection of PANTONE 17-3938 Very Peri brings a novel perspective and vision of the trusted and beloved color blue color family, encompassing the qualities of the blues, yet at the same time with its violet red undertone, PANTONE 17-3938 Very Peri displays a spritely, joyous attitude and dynamic presence that encourages courageous creativity and imaginative expressions," – Leatrice Eiseman, executive director of the Pantone Color Institute shared as the new color of the year was announced.
3 — Canva
via GIPHY Since arriving on the digital graphic-design scene in 2012, Canva has seen its numerous creative tools adopted by more professionals every year, with company valuations hitting $40 billion in 2021. The Australia-based firm — with its easy-to-use online design tools running the gamut from icons to infographics — also released its take on the design trends that brands will be using in 2022. Some of the digital formats Canva sees as focal points for brands in 2022 included live-streaming, TikTik videos, user-generated content (UGC), and works in progress (WIPs) digital assets such as tutorials. Leading 2022 design looks to be aware of this year included:
Trendy Zine
UI Digitalism
Retro
90s and Y2K Nostalgia
Stickerbomb
Refined Scrapbook
Trendy Gradient
4 — Venngage
via GIPHY When infographic and data visualization specialist Venngage shared its defining 2022 graphic design outlook — it was little surprise that the company did so in infographic format. A few of the notable graphic design elements Venngage saw as ones to pay particular attention to in 2022 included:
Visible movement towards being more inclusive
Visually solidifying statements with facts and statistics
Crafting visual marketing materials that appeal to wider audiences
Greater options for images and icons that reflect more races, genders, and body types
Data visualizations that are both fun and simple
Bold backgrounds
Branded memes
Visual quotes
Social media screen captures
Few B2B marketers will have used all of these elements, and 2022 may be the year to test the inclusion of some of them in content efforts, as brands seek new ways to connect with business audiences — especially those that visually stand out among the competition.
5 — MOO
via GIPHY Digital print and design firm MOO put out its own suggestions for the design trends that will play the biggest roles during 2022, offering a glimpse into a few additional elements B2B marketers can take into consideration with forthcoming campaigns. Among the visual graphic design elements MOO sees as coming to the forefront in 2022 are:
Psychedelic Patterns
Arty Typography
Aestheticizing Humor
Vintage Advertising
Online Optimism Done Up In Style For B2B Marketing Success
via GIPHY We hope the developing ideas, creative insights, and new takes on old themes that we've explored from Adobe, Pantone, Canva, Venngage, and MOO will help B2B marketers reach both new creative heights and newfound levels of digital storytelling success in 2022 and beyond. Part of being the best answer in B2B marketing, as we recently explored in "Here, There & Everywhere: What Does Best-Answer Content Mean For B2B Marketers in 2022?" includes innovation, and while the industry's digital design trends we've looked at here today are certain to feature prominently in many powerful campaigns in 2022, the top B2B marketers and designers are already hard at work innovating in new ways that may form the visual trends of 2023. Creating award-winning B2B marketing that elevates, gives voice to talent, and humanizes with authenticity takes considerable time and effort, which is why an increasing number of firms are choosing to work with a top digital marketing agency such as TopRank Marketing. Contact us to learn how we can help, as we've done for over 20 years for businesses ranging from LinkedIn, Dell and 3M to Adobe, Oracle, monday.com and others.
The post Visual Focus: The Digital Designs Propelling B2B Brand Success In 2022 appeared first on B2B Marketing Blog – TopRank®.