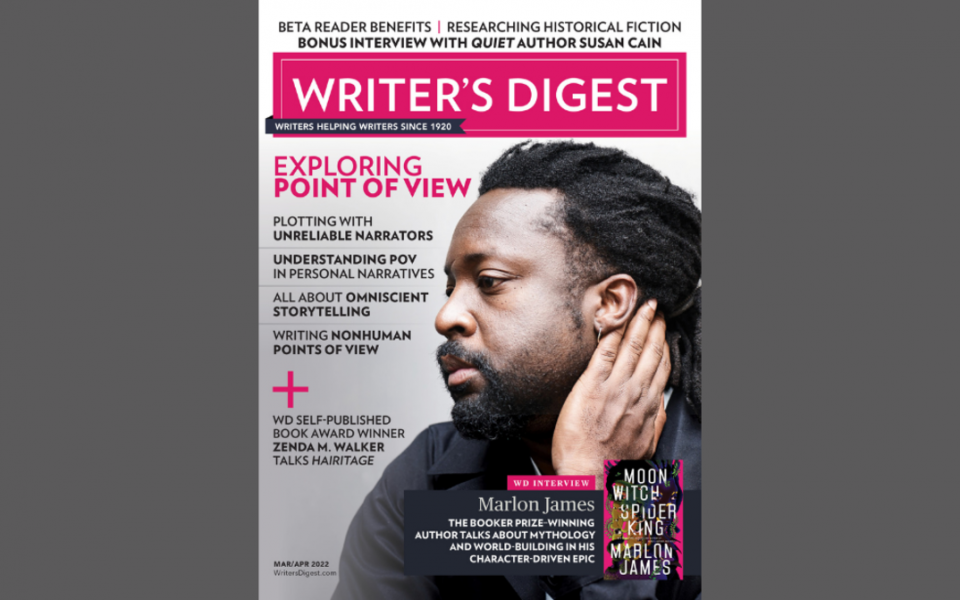 WD Presents: Our March/April Cover Reveal, New Podcast Episode, and More!
There's always so much happening in the Writer's Digest universe that even staff members have trouble keeping up. As a result, we decided to start collecting what's on the horizon to make it easier for everyone to know what's happening and when.
This week, we're excited to announce our March/April 2022 cover reveal, the newest episode of our podcast, and more!
****
Writer's Digest March/April 2022 Cover Reveal!
Point of view is one of the first things writers learn about creative writing, yet it's also one of the hardest things to master. It involves at a minimum: choosing the right POV for your story, making sure you don't break the guidelines of that POV and inadvertently take readers out of the narrative, but also experimenting with POV to better serve your story … It's a lot to consider and in this issue, we explore it all.
Subscribe to Writer's Digest now for this to be your first issue or order a PDF download of this issue from the Writer's Digest Shop today!
****
Listen to "Writer's Digest Presents: Flash Writing" Now!
In the second episode of the Writer's Digest Presents podcast, we talk about flash fiction and short stories, including interviews with Gina Barreca about flash nonfiction, Ran Walker about flash fiction (especially dribbles and drabbles), and the workshop experience at MFAs!
****
Submit to Our "For All Ages" Column in the Magazine!
For All Ages is a new 1,200-word, guest-written column about the craft of writing and the business of publishing for children, middle grade, and young adult readers (though we argue those books can and should be enjoyed by adults as well). With six issues per year, two issues will focus on children's books, two will focus on middle grade, and two will focus on YA. Topics should be specific and written by those with experience in that area. Examples include: rhyming or page turns in picture books, advice for setting up school visits to connect with readers, using accurate and contemporary language and references for YA, etc.
Click here for the full submissions guidelines and how to submit your work.
****
Deadline to Enter Your Story #116 Is Coming Up!
Write the opening line to a story based on the prompt at the link below. (One sentence only.) You can be poignant, funny, witty, etc. It is, after all, your story!
Deadline to enter is February 28, 2022.
****
Five WDU Courses Start This Week!
Mastering Amazon for Authors
Did you know? Amazon sells nearly 50% of all print books and over 70% of all e-books in America. These facts present a major wake-up call for authors. If you want your book to reach its full sales potential, then you must learn how to sell more books on Amazon. Failure to grasp this reality means dire consequences for your book sales.
Mastering Amazon for Authors is the premiere online course designed to help you maximize book sales at the world's largest retailer. This self-guided video course provides in-depth instruction for authors at every level.
Writing the Memoir 101
The goal of this course is to teach you how to structure your stories, develop your storytelling skills, and give you the tips, techniques, and knowledge to adapt your own life stories into a chronological memoir. Learn more about the genre through Writing and Selling Your Memoir by Paula Balzer and The Truth of Memoir by Kerry Cohen.
Focus on the Short Story
Short stories are a well-loved and popular form of fiction. When you take this online course, you will learn how to write short stories that will delight and entertain your readers.
In addition to weekly reading and writing assignments, you'll also read Writing in General and the Short Story in Particular by Rust Hills. By the end of this course, you'll improve your creative writing skills and write two complete short stories. Don't delay—start writing your short story today!
Writing the Middle Grade Book
Throughout this 8-week course, you can expect to read lectures and complete weekly writing assignments. Plus, you will read The Writer's Guide to Crafting Stories for Children by Nancy Lamb and learn how to write a middle-grader's book. Once you've mastered the basics, you'll be able to write the middle-grade book you've always wanted.
Build Your Novel Scene By Scene
If you want to learn how to write a story, but aren't quite ready yet to hunker down and write 10,000 words or so a week, this is the course for you. Build Your Novel Scene by Scene will offer you the impetus, the guidance, the support, and the deadline you need to finally stop talking, start writing, and, ultimately, complete that novel you always said you wanted to write.
****
Your Story #117 Is Now Open!
Write a short story of 650 words or fewer based on the photo prompt in the link below. You can be poignant, funny, witty, etc.; it is, after all, your story!
****
Subscribe to Our Newsletter!
Subscribe to Writer's Digest emails and get free writing tips, publishing insights, and expert writing advice delivered straight to your email inbox.
Click here to subscribe.