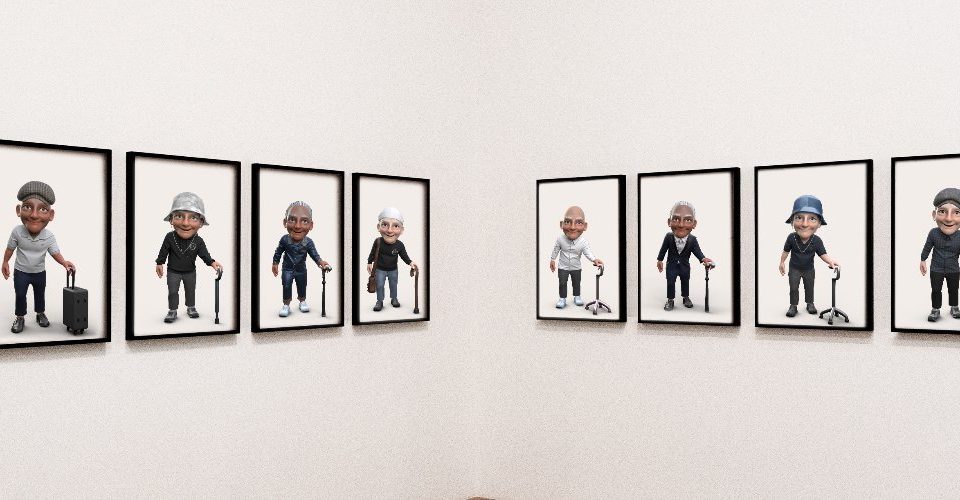 We Will Rent Exclusive Locations to Host Fashion Shows With Our Community — Creator's Interview
How's everybody doing? This time around we are talking with G-Oldman NFT team.
Key Points:
It's about fashion for young and old, to bring them together so that we not only learn from the older people in life, but also the young can teach the older what for example NFT's! Fashion is timeless and we embody that with the name and also with the models, because they have more than deserved to be back in the spotlight. We also want to draw attention to old age poverty worldwide and support it with donations and jobs for retirees.
Chris: G-Oldman is the most significant NFT in the metaverse to date. Tell us more about the inspiration for creating this unique token. Is there a story that brought the team together to work on a common goal?
G-Oldman team: Founder Marko Vincze born in Hungary, knows the feeling of having nothing and started early in life to help his grandparents after kindergarten and after school, for example with gardening while his parents were at work. The helper syndrome has accompanied him his whole life. When he came to Germany he learned IT to help his friends and acquaintances with IT problems. Afterwards he made a commercial apprenticeship as a real estate agent to offer people a roof over their heads. However, it did not fulfill him to his satisfaction. With his best friend he became more and more aware of old-age poverty, because they noticed in your own family circles that the pension is not enough despite high income during working life. However, his grandparents and his grandparents' generation are the ones we owe it all to. This is how the idea of G-OLDMAN's was born, they want to pay attention to the Golden Generation and put them in the spotlight, firstly with their 3D and 4K rendered NFTs and secondly with the high quality clothes for all ages.
Chris: How were the tokens designed to be unique? What are the main distinguishing features of the NFT?
G-Oldman team: We have rendered over 400 individual features in 3D and 4K to create 8000 NFT's and another 55 pieces are unique pieces designed by our artists according to a special concept.
Chris: Also, you talk about something unheard of like online fashion shows for old people. What is the whole idea behind that? How do investors benefit from such shows?
G-Oldman team: We will create a revolution with our clothes and put our models who are over 60 years old in the limelight both in real life and on web2 & web 3. They should proudly present our clothes that embody quality.
Chris: Are you also planning to open a merch store in the foreseeable future?
G-Oldman team: We will open pop up store in 2023 and travel around the world with it in the fashion world in New York City, Paris and Milan. It is important to also be able to touch our fashion to enjoy the workmanship and Supima cotton. We want to be tangible for our community in all aspects. Also, don't forget to join our Discord and Twitter. It is the best way to stay informed on news and announcements.
Chris: What are the benefits of being part of the G-Oldman DAO? How can an investor become part of the G-Oldman DAO?
G-Oldman team: In terms of the clothing collection, all holders of our NFT's will receive a 30% discount on all of our clothing, plus you will always have advance access to our collections. We will also rent exclusive locations such as Mercure Hotel MOA Berlin, Staatliches Textilmuseum Augsburg and Amsterdam Konforenz Centre Beurs van Berlage to host fashion shows with our community to celebrate us and the new collections. Due to the excellent network of the team, we will travel around the world with our community regardless of clothing and participate in art events worldwide where own NFT's can be exhibited if desired (Düsseldorf, NYC, Munich, Paris, Budapest, Istanbul,…). The aftershow party is of course guaranteed by us and to keep our community exclusive and safe all our holders get a stainless steel membership card in black gold with your NFT noted on a NFC chip. We will continue to develop with the community and the wishes of the community. New promotional items and merchandise will be raffled off to our community, such as cell phone cases, keychains and posters/stickers. To become a part of the community, an NFT must be purchased.

Chris: It is also important to know the price of the token. What will be the selling price of the G-Oldman NFT? What percentage of the cost is the minting fee?
G-Oldman team: Our NFT's will be sold at the price of 0.25 ETH in the Public Sale and for 0.2 ETH in the Pre Sale. For those who buy more than one NFT, for every 2 NFTs they will receive an additional garment from our limited collection. We work with a Smart contract and each buyer is responsible for the cost, but they can buy more than one at a time for the same fee as if they were buying one.
Chris: Finally we would like to ask you to explicitly state the minting procedure for our readers and of course for your potential future investors.
G-Oldman team: Our minting is on 23.07.22 for the WL and on 24.07.22 is the public sale.
The minting will take place on the homepage www.g-oldman.me.