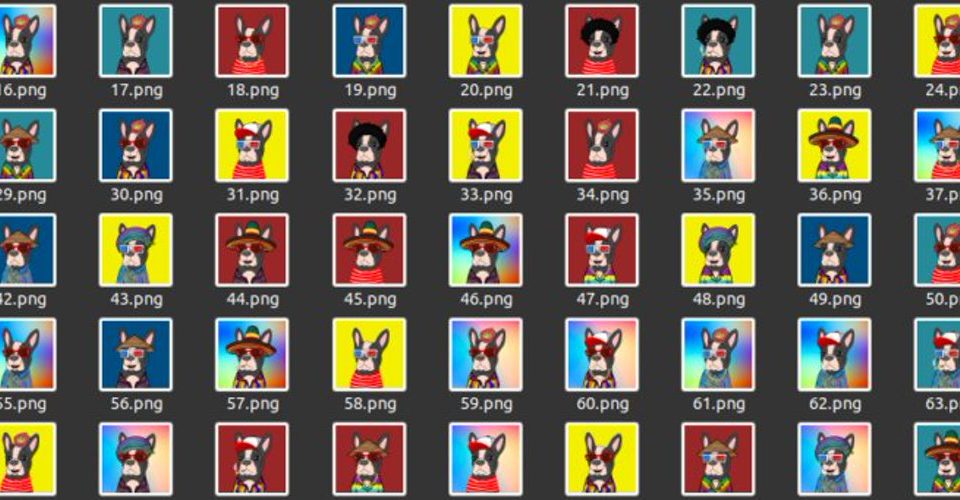 You can Lock your NFT for Certain Days to Get a Baby NFT as a Reward — Founder's Interview
Chris: Hi there! Please introduce yourself.
Saad: Hi there! My name is Muhammad Saad. I am the developer and Organizer of The Wacky Dogs.
Chris: The Wacky Dog Club is a token that promises to bring together Humans with a lot of personality. What is the central theme behind developing these cool Dog tokens?
Saad: I partnered with Dani Hernandez (the artist who is a beautician). The idea of the NFT's was inspired by her cute dog Akyles a Boston Terrier Puppy that is hyperactive and pictures very well. The original images of the collection were done in Photoshop and were 134 in total. Those images were eventually expanded to a total of 2,500 by me & the purpose of the NFT is to build a community of concientious cool human beings pulling toguether to bring awareness and support to those suffering with mental health issues. Our community welcomes wacky geniuses, daredevils, zealots, financially savvy, and successful humans. We care about humanity, global warming, and our planet. Owning them will bring many benefits to their holders.
Chris: Similarly, what are the main traits and characteristics of the NFT? Do you also have some rare tokens?
Saad: Yes Each Wacky Dog Will have its own Working Capacity and Rank & The Wacky Dog with Maximum Rank and Maximum Working Capacity Will Be The most rare.
Chris: Apart from this, what are the key benefits of owning a Wacky Dog NFT? Also, what can the user do with their token once they buy a Wacky Do NFT?
Saad: Metaverse's First NFT Collection With Custom Boosts And Ranking System. Collect Your Wacky Dogs Now ! To Take Part In Exclusive Metaverse's Projects. By Getting These Wacky Dogs You Will Have Following Benefits :
NFT STAKING & BABY NFT GENERATOR !
Through Getting Wacky Dog NFTS You Will Be Able To Stake Them To Earn Annual Yields + You Can Also Lock Them For Certain Days To Get A Baby NFT As A Reward From The Same Collection
MULTIVERSE
By Getting Access To Wacky Dogs You Will Be Able To Get Access Into Multi Metaverse's Projects. These Wacky Dogs Can Help You To Perform Various Tasks Based On Thier Working Capacity & Rank.
P2E GAMES
Through Wacky Dogs You Would Be Able To Take Part Not Only In Our P2E Games But Others Also.This Will Be A Game Changer In The World Of Metaverse
Chris: For owning the token, what is the minting process?
Saad: Minting Process will be simple. Users will just come to our minting page. They should ensure that Metamask is installed and network is polygon & They should have minimum oF 35 Matics to mint the Wacky Dogs.

Chris: Likewise, what will be the cost of one Wacky Dog Club NFT? Do you have any minting limit per investor?
Saad: Yes the price of each wacky Dog will be 35 Matics & of course we have a limit, an investor can take up to maximum of 10 wacky dogs and maximum of 5 in a single go
Chris: Again, how many tokens will be released at the public minting? Are you also have a presale or whitelisted membership?
Saad: Yes We have a Total supply of 2500 wacky Dogs. Under which 30 tokens will be whitelisted For presales & We don't have a private sale means : 2470 will be available for public sale and 30 will be available for presale. You can join our social (Twitter and Discord ) so as not to miss new updates
Chris: In the end, what are your plans for accentuating the collection of Wacky Dogs? Do you have a second series coming up anytime soon?
Saad: Sure we do have some plans. Our mutant collection will be launching soon after the successful launch of simple wacky dogs. Users will be able to breed two wacky dogs to produce a new one. Each one will its own traits.