9 Creative Company Profile Examples to Inspire You [Templates]
What do your customers really know about you?
Do they know that you sell products and have a website? That's not enough to build a brand identity that resonates with buyers and establishes your brand as the right choice.
In the digital world, an impactful first impression can make you stand out among the enormous amount of content out there. Being memorable is hard, but worth it if you want a brand that will resonate with customers, colleagues, and investors.
People who find you online want to know about your company's mission, vision, and, of course, how you can help them solve their problems.
How can you make sure that they have all that information at their fingertips? Well, a company profile is the perfect tool for the job.
In this article, we'll discuss:
A company profile serves multiple purposes , and two of its primary purposes are to attract investors for funding opportunities and to connect with the customers.
Why Company Profiles are Important
Company profiles go a step beyond the standard "about" page. They share how your company got started — and why you continue to serve customers.
Here are some of the reasons why having a company profile is important:
1. A company profile differentiates your brand.
A company profile describes what makes your company unique. It automatically differentiates your brand because no other company has the exact same founding story and reason for existing that your business does. Your history and values are integral parts of your brand positioning strategy, and a company profile is where you can mention this information without it feeling extraneous or out-of-place.
2. A company profile may justify a higher price point.
You can justify a higher price point for your products and services, if you go into details about your production values or ethically-sourced materials.
For instance, Starbucks' coffee may not be necessarily better than Dunkin' Donuts' coffee, but because Starbucks goes into details about its high-quality ingredients, it immediately creates the sense that you'll be paying a little more for a "better" product.
3. A Company profile builds your reputation.
What do you want your company to be known for?Is your company the one that started as a small family-owned shop then grew into a billion-dollar enterprise? Or is it a company that upholds sustainability and puts ethics at the forefront of its brand? You can build your reputation through marketing, service, and sales campaigns, but it all begins with a well-curated first impression.
Now that you understand the importance of a company profile, it's time to learn how to write one. Creating a company profile doesn't have to be nerve-wracking. In fact, it can be straightforward given the right guidance.
Here are 10 steps to guide you on how to write your company profile.
1. State the purpose of the company profile.
This is the most critical part when writing an effective company profile. You want to make sure that the statement aligns with what you're trying to accomplish. For instance, if your goal is to attract investors, you can include:
Your business's performance
The value of the products you sell
The company's revenue
On the other hand, if you want to attract customers, it's best to add the company values to your profile.
The purpose of a company profile should act as your guide throughout the process, so take your time on it.
2. Decide on the format or style.
How you present your profile significantly affects how successful it is. It's important that the style offers excellent readability and encourages the audience to engage with it.
This depends on your audience – for example, it's best to stick to the traditional format for an accounting firm. That is, list the company's achievements and awards.
On the other hand, if you're in a fashion or social media marketing firm, it's advisable to be creative and visual.
Don't be afraid to experiment or go wild with your ideas as long as they resonate with your target audience.
3. Tell your story & be authentic.
There are probably a million other businesses that sell what you're selling, but no one else shares your story. Your story is what makes you unique. Don't just write numbers and dates; let your prospects know who you really are. Be vulnerable and tell them why you started your business.
What inspired you? Share the bad and the good – it doesn't have to be glamorous. It only has to be authentic.
4. Add your company's mission statement.
If you don't have a mission statement, it's time to craft one. Writing a mission statement for your company isn't as scary as it sounds, and there is no need to overthink about it. You only need to ask yourself these three questions:
Who you serve – this is your target consumer
How do you do it – what product or service do you provide to solve their problems?
What makes you different – why should your consumers buy from you or trust you over your competitors?
5. Write your company's history.
This needs to be in chronological order; otherwise, it will confuse your readers. You can do it in a paragraph or a timeline format, as long as it shows a flow.
Another tip to have in mind is that, "less is more". As tempting as it is to share all your milestones, stick to the major ones to avoid overwhelming the reader.
6. Describe the products and services you offer.
The next step is to describe what your company offers. You can choose a few of your best products or services and give an in-depth description or simply list down everything your business offers.
7. Name the awards your company has received.
If you have received any awards or recognition, add them to your profile and describe them. They showcase your company's values and give the community a reason to trust you.
8. Add your customer's testimonials.
Your customers may take everything you say with a grain of salt, but they will believe other customers who have used your products.
This is an excellent way to promote your business without having your products or services come off as hard-sell.
If you're a B2C business, simply include some of your customer's best quotes, tied with your best value products. If you're a B2B business, have a testimonial from the most prominent client on your profile.
9. Include a call to action.
This isn't mandatory, but it's a nice touch to your company's profile. What do you want the readers to do after reading the profile? Visit your branch, check out your website, or call you? Simply include it at the end of your profile. This brings us to our last step.
10. Add your company's contact information.
This is one of the most critical parts of the company profile. Include all the possible ways your prospects can reach you. This may include but is not limited to; social media profiles, website, phone number, fax, email, and a physical address.
Make sure it's visible to anyone who reads your company profile.
Company Overview Template
Now that we have gone through all the necessary steps you need to create a company profile, it's time to put all that into action. Here is a simple company overview template that will help you get started.
Our Story
[Company name] was founded in [Year], and we have accomplished so much over the years. To create a world where [ the solution your business solves] has always been our goal.
Our Founder and CEO [Name] was inspired to start this company by [ one or two sources of inspiration].
At [Company Name], we encourage our community to [ a positive statement related to your brand].
Meet our Team
[Photo] [Name] [Job Title]
[Photo] [Name] [Job Title]
[Photo] [Name] [Job Title]
Our Mission, Vision & Values
Mission
Our goal is to provide our customers with the best [ service or product] at the best possible market price without compromising quality.
Vision
To be the most reliable [ service or product] provider and enhance [what your product or service does].
Core values
[List your company's core values]
What Our Customers are Saying
[Insert customer's testimonials]
Contact Information
Location
Website URL
Social Media Pages
Cell Number
Company Profile Examples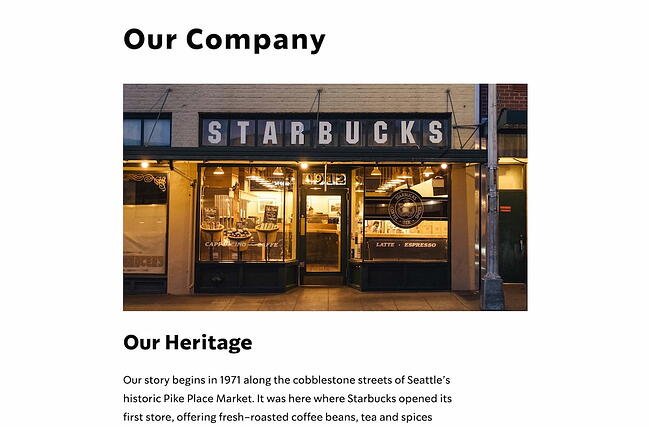 Starbucks' company profile has it all — the company's mission, background story, products, store atmosphere, and even folklore regarding the name. Best of all, they somehow manage to pull off sounding both genuine and grandiose. I don't know many other coffee stores that could claim that their mission is "to inspire and nurture the human spirit."
Starbucks' company profile is a fantastic example of a store with a common household product, which is coffee. Starbucks managed to stand out from the competition through their mission and values.
If your company has an interesting and intellectual history, you might consider creating a company profile like Wales Bonner's. The profile reads like an essay from the very first line — "Informed by broad research encompassing critical theory, musical composition, literature and history .WALES BONNER embraces a multiplicity of perspectives, proposing a distinct notion of luxury, via a hybrid of European and Afro-Atlantic approaches."
After sharing the brand's intellectual background, it describes the owner's journey in building the company, starting from the time she was a college student. With a good balance of image and text, the timeline serves as a reminder of Wales Bonner's stability and growth.
For both cleanliness and ease-of-use, take a look at Diehl Group Architects' company profile. The web page uses clickable boxes to separate topics, allowing users to choose which subject they'd like to learn more about. Additionally, the entire design — including the page's background, which displays a floor-plan — mirrors the company's purpose.
Nearly nine out of ten people report wanting to see more videos from brands, so you might consider using a compelling video to convey your company's story, like Bloomberg does in their company profile.
Bloomberg's profile proves the company knows its audience, because they offer a few quick statistics, and then link to other areas of the site, such as Careers and Tech. While other businesses might do well in offering a creative, long-form story, Bloomberg's typical demographic is likely more analytical.
You can get a sense of Nike's two primary purposes almost instantly — fitness and people. When you first open their company profile, you're greeted with videos of people of different ages, gender, and nationalities playing sports.
Additionally, their initial introduction is this: "Bring inspiration and innovation to every athlete* in the world." The asterisk implies, "If you have a body, you are an athlete." As you scroll, you'll see information on their internal diversity and inclusion initiative, their global community impact, and their sustainable business program, with very little mention of their products.
Nike's company profile portrays a larger, grander vision, compelling an audience to believe in their brand even before they purchase a product.
Seattle Cider Company's profile is minimal and engages the user through compelling animations that demonstrate the company's cider selection. The page flows seamlessly, and provides critical information regarding the product before displaying the company's mission and values. This profile is a good example of a company that understands its users' concerns (in this case, quality ingredients), and addresses those issues while still displaying personality and flair.
Delta's page is well-organized by topic, and showcases the company's values, including efforts to engage with the community and promote sustainability. They've included brief meta-descriptions below each category. The design allows for users to click-through if they want to learn more. Overall, Delta's company profile is simple and uncluttered, but includes all the necessary information to demonstrate why Delta is unique.
Do you have a personal story behind your company's founding? Roam Loud's example is the one you may just want to copy or get inspiration from. The brand's company profile is simple yet effective, starting with a friendly greeting "Hey there!" and ending with a list of values. In between, the founder makes it clear why she created this brand, and why its existence is so important to her and prospective buyers.
For simplicity and informativeness, take a look at MAD Architects' company profile. The profile isn't shy about the firm's numerous accomplishments, and it gives readers the opportunity to dive deeper by listing the firm's exhibitions, lectures, awards, and publications, all visible on different tabs within the same page. If your business is a leader in its field, it's important to establish that in your company profile. Consider creating one similar to MAD Architects' profile.
With this in mind, the description serves to align with the prospect as they are evaluating which providers are right for them. By leaning into a strong brand voice and providing details about what makes your company unique or superior to the prospect's alternatives, customers will believe in your brand and want to do business with you.
Examples of Company Descriptions
Here are some examples of company descriptions that enhance their organizations' company profile.
On HubSpot's company profile page, you can find a quick description of the company's mission and what it does. In just a few words, HubSpot explains that the company's goal is to help businesses grow through its specialized inbound software.
Landed, Inc. 's About Us page starts with their vision statement: "If we want stronger schools and safer communities, we need to support those who make it possible." From there, they talk about their history before launching into their mission statement and company description. The latter is summarized succinctly in bullet points in its own separate section, making it easy for prospects to find and understand.
In the "Why Us" page of their website, the founder of H&H Wealth gives a brief introduction of what she believes in and encourages her customers to walk the journey with her. She also makes a promise to her clients, which sets the expectations and the tone for the service being delivered. As a result, the tone comes across as that of a partner rather than a vendor.
In this description, Tesla explains when it was founded, the company mission, and what types of products it specializes in. It also provides added information about the history of the company and how it has continued to grow with the same values.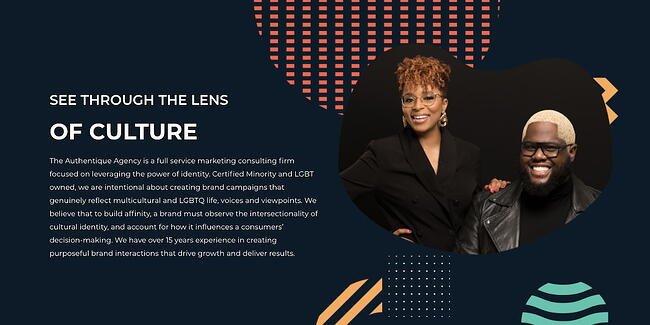 Authentique Agency provides a lot of information up front for their customers because they know that partnering with an agency (and choosing which one on top of that) is a big decision for scaling businesses. It does not only provide information about its values, it also tells about its long-standing experience in the industry as well as their primary goals when they work with clients.
The Cru is a service that connects members with like-minded women to fuel personal and professional growth. They use an "Our Story" page as their company profile, where the founder details how the organization was formed and how she owns "Cru" (a play on the word "crew"). This summary is a testament to the value of the service. The "letter from the founder" style also feels very personal and welcoming.
H.J Russell & Company opens up its description with its history and specialities: "H. J. Russell & Company, founded over 60 years ago, is a vertically integrated service provider specializing in real estate development, construction, program management, and property management." It also makes its values clear in the last sentence, so that you get a snapshot of the company's values, key value proposition, and leadership status in just a few sentences.
Carol H. Williams, an advertising agency, doesn't have an "about" page or a formal company description. However, it displays a snapshot of what the company is all about in its "Team" page. It emphasizes its core values and uses trendy language ("#squadgoals") to establish that it keeps up with the current trends.
Company Profile Templates
Download These Templates for Free
Company name
Established date
Physical address per location
Contact information
About Us / Our Story / Our Beginning
In this part of the company profile, you will need to include a brief introduction to your company, including where, when, and by whom the company was founded, the company's mission statement, and/or the company's vision and purpose. You don't necessarily have to include products or services in this section yet, but focus on your bigger meaning, and how you stand out from competitors instead. Tell your story in a compelling way. For instance, HubSpot starts their About Us section with, "More than ten years ago, we had a vision — an inbound world". HubSpot doesn't mention their products until further down the page.
If you want to add your company history in a more compact way, consider adding a company timeline, like this one:
Our Mission / Values
Here, you need to say what your company stands for on a larger scale. You can state your ultimate goal, and your hopes for your products or services. Take a look at these inspiring company vision and mission statement examples for ideas. Here's an example:
Our Team
Provide a picture or brief paragraph describing your tea.You can focus on leadership, or provide an explanation of your company's culture. Ultimately, this section should help users understand how your employees can uniquely serve them.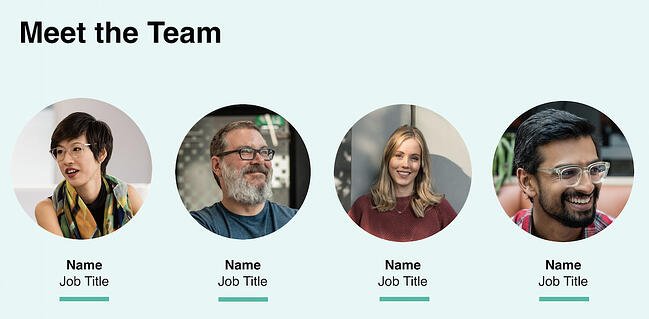 Our Product / Services
Describe a high-level overview of what your product is, and how you hope it will positively impact the user's life. You can link to a Product page if necessary, so keep this section relatively general.
Start Your Company Profile Today
There are a few elements that can contribute to a stellar company profile, and by adhering to a template, you can build one quickly and effectively.
Editor's Note: This post was originally published in January 2019 but has been updated for comprehensiveness.