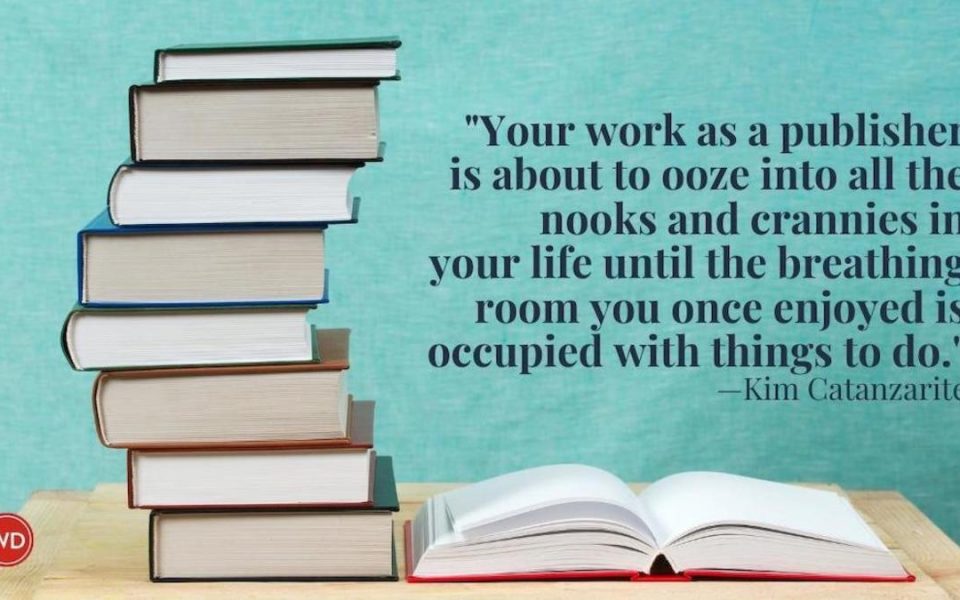 9 Ways Self-Publishing Changed My Life (and Will Change Yours Too)
As an editor and instructor who has a family and also writes novels "on the side," I thought I was busy. Then I pressed the publish button and realized I hadn't seen anything yet.
Are you thinking about publishing that thriller, self-help book, or short story collection you've housed all safe and sound in your computer for years? Congratulations! That said, this is to warn you that once that book sees the light of day, your "normal" will hit the ground running and never look back. Your work as a publisher is about to ooze into all the nooks and crannies in your life until the breathing room you once enjoyed is occupied with things to do.
I'm sure you've prepared yourself by reading, researching, and attending various webinars, but until you press that magic button, it's like becoming a parent for the first time: you have some idea of what life will be like, but you won't fully grasp the reality until you're living it.
(3 Things I Learned From the Best Self-Published Books This Past Year)
Consider this an opportunity to gird your loins. Publishing isn't going to be easy. You'll need to produce content, discover your best marketing devices, head up a local strategy, and be present (not to mention, pleasant) on social media on a regular basis. Here's a snapshot of your life after publishing:
1. Free time no longer exists.
Even when you're pouring detergent into the washing machine on Sunday afternoon, you'll be thinking things like, Did I remember to post on Instagram this morning? When was the last time I took a selfie? Do I need to shower/get dressed/put makeup on today? What am I going to blog about this week? By the time the wash cycle begins, you'll be in the backyard photographing your book.
2. Your new hobbies include building and maintaining a website.
I'm constantly revising mine. The welcome on my home page remains the same, but whatever excitement is currently happening must appear as well. For instance, giveaways you're hosting, a review you've received, the announcement of your book cover reveal. Other new "hobbies" include setting up book promotions, writing captions for social media, and shipping books to … everyone in the world.
3. Checking reviews and ranking may become an obsession.
It requires that you virtually head over to Amazon, Goodreads, Barnes and Noble, and/or other bookish websites. Prepare for the question "What is my current ranking?" to tread a furrow through your mind. If you're doing a promotion of any kind, you'll check the ranking a lot more than once a day. Be sure to take time away from your phone or computer to unclench your teeth and just breathe (learn more about climbing the ranks here).
4. Reading for pleasure is a thing of the past.
Or, not entirely, I should say. Reading is now part of your job. You need to read in your genre (as you've been told countless times) so you're aware of what the competition is doing and what the readership is buying. You'll also want to read in your genre so you can write reviews of those books and post them on platforms like Goodreads and Bookbub. Readers of your genre will notice these reviews and hopefully, in turn, they'll take notice of you and your book.
5. Frequenting bookstores is a must.
Put some money aside to buy books at independent bookstores. The relationships you develop with bookshop owners will be reciprocal. You will be a shopper at first, and hopefully one day the store will host your book signing and carry a few copies of your paperback. Spend some time nurturing these friendships. Then go to the library, introduce yourself to the librarians, and donate a copy of your book.
6. Engaging with your readership happens regularly.
Many writers don't want to blog, but if you don't, what reason will you have to check in with your "fans" on a regular basis? What will you do to get Google's help in sending potential subscribers to your website? A once-a-month newsletter is a start, but, if you're like me when I began, you have a low number (50) of subscribers made up of friends, family, and a few writing acquaintances. Only 30 percent (or so) will open your email, which means once a month you'll reach about 15 people. If you write a blog or start a podcast or vlog (video blog), on the other hand, your content will show up in searches, and interested parties will visit your website, learn about your book, and get to know you. Some of them will become subscribers, and you know how important that list is. You also might offer a course of some kind. Consider what type of content you can give the world and start producing it regularly.
7. Walking is your exercise of choice.
Because all you have to do is walk out the door. What I mean is it requires very little planning and can be done in half an hour. That's the perfect exercise program for an independent author. Also, walking inspires creativity. Virginia Woolf loved her long walks for this reason.
8. Educating yourself becomes mandatory.
We all know there's a lot to learn about marketing and promotion. Keep your eyes open for webinars that explain the skills you lack or need to brush up on. Practice what you learn, and little by little, you'll get better at these skills.
9. The planner is your friend.
The word leisurely is not one many would use to describe the life of a self-publisher. However, you can and should schedule some leisure time into your calendar. Whether it's time for working in the yard every day because that's your happy place, or a week in Aruba because you're motivated by the prospect of a vacation, pencil it in. Time away from your desk is more important now than ever before. Be sure to schedule opportunities to refresh.
With all you have to do as an independent author, you're sure to feel like you need more hours in the day. Not only are you a publisher of books, you are also the one and only writer of the books. Publishing tasks can eat up the workday, so when will you write? Don't forget that your love of writing brought you into this new business. Writing another book is not only what you need to do as a creator, but it's also the best marketing tool around. Protect your writing time like it's the most important thing—because it is.