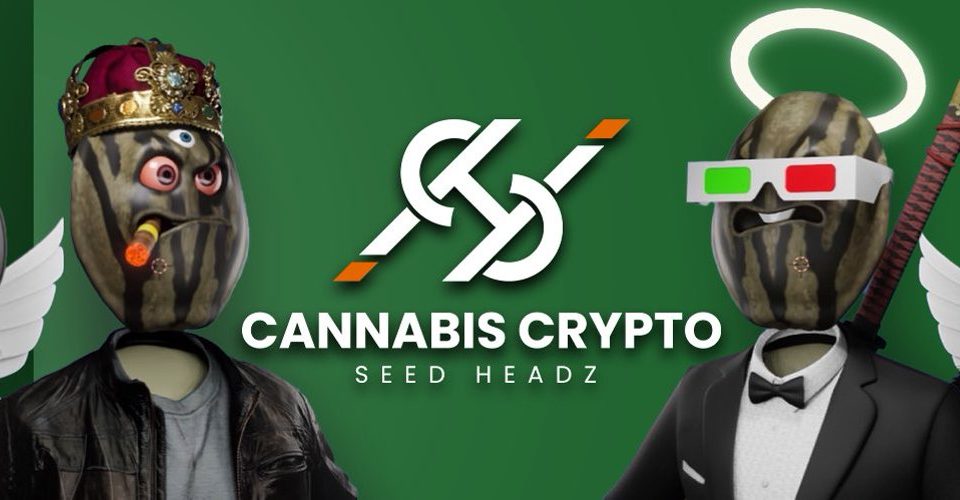 Holders get Substantial Tangible, Real World Benefits from our Seed Connect Store — Creator's Interview
Name: Dante Anthony
Position: Co-Founder
Professional background:
I have an entrepreneurial bend and in 2010 when Arizona legalized the sale of marijuanna for medicinal purposes, I pivoted from my career as a loan broker to start a business in an area where I had real passion. Honing my horticultural skills, I became adept at growing medical marijuana both indoors and outdoors.
I have been an authorized seed dealer in Arizona for the last 5 years. In 2020 when Arizona legalized the sale of marijuana seeds and the personal planting and cultivating of marijuana for recreational use, as a seed head myself, I set my mind to opening one of the first public marijuana seed stores. We now have one of the largest cannabis seed banks in the USA with countless varieties to choose from.
Chris: The private collection of Cannabis Crypto Seed Headz NFT is to release on the Polygon blockchain soon! How excited are you about it? Please tell us your story about the creation of this unique NFT!
Dante: We are totally stoked about it! You can't manage through your day without watching an ad, listening to a podcast, or reading a tweet about NFTs. My partners and I became fascinated by the concept, particularly about the community that supports an NFT.
Anticipating that the US Department of Agriculture would eventually recognize cannabis seeds as legal products, I discussed with my partners how we might be able to introduce our cannabis customer community to NFTs.
We started conceptualizing what our NFT would look like. We wanted something unique..something…different…something nobody was doing. Our business was cannabis seeds and wanted something to reflect that.
We held a 'seed beauty contest', looking for the most interesting candidate to be crowned king. The seeds were examined for their special characteristics and the winner was a Black African Magic seed, which became the Genesis Seed for our collection.
Stashing that coveted king seed in our vault, we sent photographs to artist after artist until we found the one who was able to capture our king's true essence in an NFT. When we received the floating seed head creation from our winning artist, we knew Cannabis Crypto Seed Headz was going to be a hit.
In early April of 2022, when the US Department of Agriculture recognized cannabis seeds as legal products, we knew it was time to finalize the collection and launch.
Chris: The utility and benefits from the NFT are tremendous. What are some of the highlights among them? How can the investors keep themselves updated on Cannabis Crypto Seed Headz NFT?
Dante: Cannabis Crypto Seed Headz is the first of its kind NFT in the nation, as far as we can determine, first of its kind in the world.
In addition to owning a limited edition piece of art, Cannabis Crypto Seed Headz holders get substantial tangible, real world benefits from our Seed Connect store. First and foremost, every newly minted NFT comes with 10 selected cannabis seeds from our seed bank, which is a $120 value in itself.
In addition, our NFT holders can purchase seeds from the Seed Connect store for 50% off until the end of the year.
Our investors can keep themselves updated on our Cannabis Crypto Seed Headz by joining our Discord and Twitter.
Chris: Through this NFT, you want to boost the hidden industry of marijuana! How do you plan to do that? What are some of the initiatives you have in mind?
Dante: With more and more states embracing legally growing of your own for personal use, Seed Connect has built a community of marijuana enthusiasts who are passionate about the plant and are finally able to emerge from the shadows to publicly collaborate on its cultivating and harvesting (and consuming!).
We will foster those conversations by bringing everyone together, which is why our NFT holders will also gain access to resources such as a private Discord community, Zoom conferences and events, as well as access to a future, private club in the metaverse.

Chris: So, what are the uncommon features of the Cannabis Crypto Seed Headz NFT? How many tokens can one mint in a transaction?
Dante: Some of the rare features to look for are:
Below are our rarity percentages:
Kind Bud: 35%

Dank: 25%

Loud: 20%

Gas: 10%

Fire: 5%

Top Shelf: <5%
We did not place a limit on the number of Cannabis Crypto Seed Headz you can mint.
Chris: Consequently, what is the price for one Cannabis Crypto Seed Headz NFT? Do rare tokens bear a higher cost?
Dante: Our mint price is $120, so with us providing $120 in marijuana seeds to those who mint a Cannabis Crypto Seed Headz NFT, it pays for itself. We chose the Polygon MATIC blockchain to expedite transactions and minimize gas fees for our NFT holders. They are all priced the same, so there will be some lucky people out there who land a rare one!

Chris: Further, what does your roadmap look like? What are the important milestones to achieve this year?
Dante: Our roadmap entails the launched 2,000 NFT collection on 4/20, 2022, a 5,000 NFT collection by Cyber Monday 2022, and a 10,000 NFT collection by 4/20, 2023.
Chris: In the end, please share the minting process for the Cannabis Crypto Seed Headz NFT.
Dante: You can go to our website to mint!