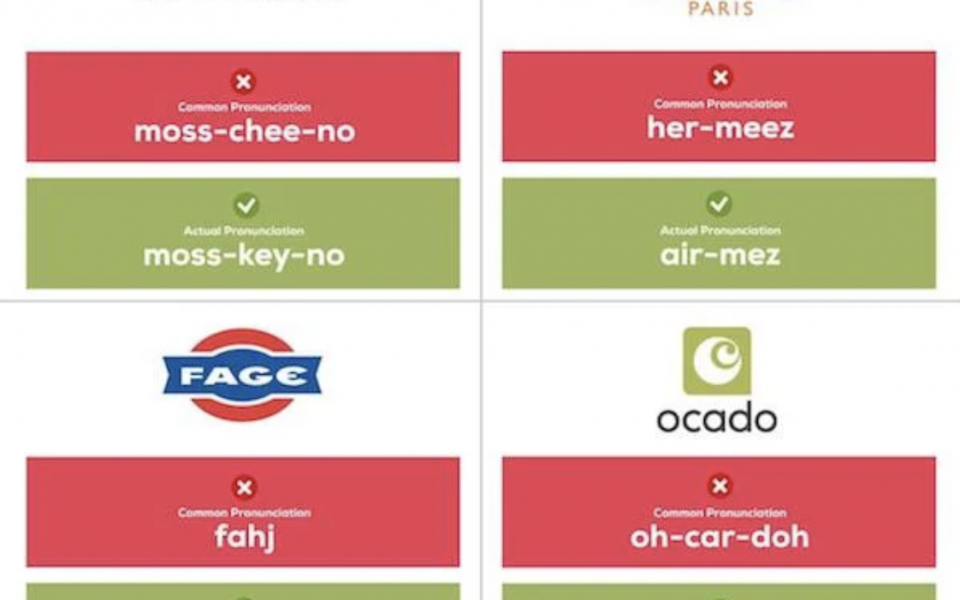 How to Come Up With a Brand Name [+Where 3 of Our Favorites Came From]
Coming up with a brand name is one of the most important steps in starting a business. A well-thought-out name can propel your company forward, and the wrong name can become a marketing nightmare. Where would Amazon be today if it stuck with its original name, Cadabra?
Oftentimes, founders think they know what makes a good brand name. But choosing a vague reference or visionary ideal (like Cadabra) for a name can confuse customers.
Naming a brand isn't as simple as creating a made-up word or picking a name that looks great on paper.
Fortunately, setting up a brand naming process can ensure your name is relevant, memorable, and meaningful. It helps you select a name that catches people's attention and is easy to remember, which makes marketing, sales, and brand awareness that much simpler.
To help your business become a household name, we'll explore how to come up with a brand name, cover brand naming guidelines, outline a brand naming process, and share examples of how popular companies decided on their brand names.
What Makes a Good Brand Name
A good brand name is a blend of creativity and strategy. It highlights your company's mission, vision, and values while showing off personality and creativity.
Josh Reeves, the CEO of Gusto, put it best when describing how his team came up with the company's name. "Choosing your name…will power everything else forward – the visual design, the way you message it to the team, the way you talk about it with customers. So if you're going to sink your time and energy into anything, it should be this."
Strong brand names tend to fall under one (or more) of these categories:
Descriptive: Brand names that tell potential buyers exactly what you do or make. Examples: Dude Wipes, The Weather Channel, Booking.com, and PayPal.
Evocative: These names use metaphor and suggestion to express a company's creativity, hint at its values, and tell a brand story. Examples: Nike, Amazon, Virgin, Uber, and Patagonia.
Blends: Names that combine two words to make a new word are popular today, and they can be considered descriptive and evocative. Examples: Photoshop, WhatsApp, Headspace, Airtable, and YouTube.
Invented: Made-up names are a good way to differentiate your company and show your unique brand identity. But you'll have to do more work to tell the story of your company and educate customers on your offering. Examples: Google, Pixar, Garmin, Slack, and Zoom.
Acryonymic: Good brand names are short and memorable, so it may make sense to use an acronym if you want a long name. Keep in mind that meaning is often removed with an acronym, so it's not the best option for storytelling. Examples: VRBO, BMW, IKEA, UPS, and IBM.
Brand Naming Guidelines
Boundaries are necessary when picking a company name. Without a structure or limits, you can end up with wacky names that have nothing to do with your brand. These brand name guidelines can help you stay on track throughout the process so you wind up with a name that fits your business.
Easy to pronounce and spell.
Even famous brands run into issues with mispronunciation. But you don't want stakeholders, potential customers, or employees scouring the internet to understand your company's name. Keep it simple to say and spell, so it doesn't distract people from your products or services.
Memorable
I don't know about you, but I never run to the store for "facial tissues." Brands like Kleenex, Chapstick, and Band-Aid are such noteworthy names, people use them as generic terms. So when you come up with a brand name, choose one that sticks in people's minds to help raise your awareness above competitors.
Meaningful
Brand names that hint at company stories make it easier for customers to connect your values to the brand. Think of the investing platform, Robinhood. The fictional story is about a bandit who steals from the rich to give to the poor, which aligns with the company's ethos of "Investing for Everyone."
Strong Visual Identity
Words have power, but it takes about 10 seconds of looking at a logo for someone to form an impression about your brand. Beyond the other elements, your brand name must look great on paper and online. Experiment with text logos and graphics to see if the name is too long or difficult to design around.
How to Name a Brand
Now that you have name inspiration and guidelines to follow, it's time to explore the details of how to name a brand. This approach is most effective when paired with your brand positioning strategy, so take time to do that work before jumping into the naming process.
1. Outline your brand goals and identity.
Defining your identity and goals solidifies what sets you apart from the competition and how you plan to position your company. You can pull this information from your positioning statement. If you don't have one yet, ask yourself the following questions:
Why does your company exist? This is your vision.
What does your company do? This is your mission.
How do you do what you do? This refers to your values. Fun fact,

89% of shoppers are loyal to brands

that share their values.
What brand identity do you want to create? This is your

brand personality

.
What do you want to accomplish with the brand name? Maybe you want customers to immediately understand your offering, or maybe you want to highlight your innovative spirit.
Once you answer these questions, it's time to look outward.
2. Consider your customers and competitors.
No brand succeeds in a silo, so it's essential to pick a name that resonates with your audience and within your industry. That's because people often identify themselves with the brands they buy. This is good news for companies, as customers with an emotional relationship with a brand have a 306% higher lifetime value.
When coming up with a brand name, consider customer reviews and surveys. This feedback can show how people perceive your brand, which is helpful when brainstorming names. If customers talk about how fun it is to work with your team and use your product, it wouldn't make sense to adopt a serious brand name or persona.
Another crucial consideration is your industry. What are the naming norms? What are your competitors doing? Based on your brand positioning, you have to decide whether to follow the industry formula or choose an unconventional name that makes your brand stand out.
3. Brainstorm and discovery.
Yes, it's time to break out the whiteboard. But before you jump in, put together a team for ideas and approvals. You need to define who is involved in the decision-making process. If you're a solopreneur, you can ask a few trusted peers or colleagues to take part.
Fill up your board with whatever ideas come to mind, and if you get stuck, think about:
The adjectives that describe your service, product, or brand
How customers feel about your brand, or how you want them to feel
Words that you want to associate with your business
As you ideate, reflect on what you think makes a good brand name and consider any major concerns you have about naming. Feeling stuck? Try Shopify's business name generator tool.
4. Refine your ideas.
You probably have a long list of brand names — and that's a good thing. It's easier to chop than to create. Start culling down your list by considering the following factors for each name:
Does it fit your brand personality?
Does it have emotional resonance?
Does it have meaning or connect to your company story?
How does it look on paper and on a screen?
Are there any trademarks for it?
Are the domain name and social media handles available?
Does it stand out from the competition?
Is it short, memorable, and easy to spell and pronounce?
Create a shortlist of 10-15 names for the next step. If you have less than this, that's okay — just aim for three to five options.
5. Get feedback.
There's nothing like asking your team, customers, stakeholders, or peers for feedback. You'll quickly learn if a name contender is difficult to pronounce or rubs people the wrong way. If possible, ask a diverse group of people for their opinions individually so you don't run into groupthink issues.
Once you've collected feedback, it's wise to see how the final options translate across languages. Consider where your company will operate and where you hope to expand. Wix learned this lesson the hard way, but the humor-oriented brand handled it well.
Before making a final decision, take a look at how a few popular companies came up with their brand names.
How Three Companies Came Up With Brand Names
From spelling errors to company-wide brainstorms, there are plenty of stories that highlight the creativity and complexity of the brand naming process. Check out how these three brands decided on a name.
Gusto
Originally named ZenPayroll, Gusto rebranded three years after its launch. The company had thousands of customers and a team that questioned if a new name was essential. Josh Reeves, CEO, and co-founder said the original name was chosen out of convenience. But the founders knew it was temporary.
To expand beyond payroll service into health insurance, ZenPayroll needed a new name and logo. The team wanted to combine their values at the time — peace of mind, calm, warm, trusting, and vibrant — with their vision for the future. "We wanted to capture our emphasis on the people doing the work," said Reeves.
The result? Gusto, which means enjoyment or vigor in doing something; zest. Here's the evolution of Gusto, from the original brand to today's identity.
Warby Parker
"Coming up with the name 'Warby Parker' was one of the hardest things we did as a founding team," said Neil Blumenthal, the company's co-founder, and co-CEO. As the story goes, the team came up with over 2,000 ideas over the course of six months before choosing the final brand name.
Their inspiration? A Jack Kerouac exhibition at the New York Public Library that contained a journal with two interesting characters: Warby Pepper and Zagg Parker. The founders had all been inspired by Kerouac and the beat generation ethos of taking the road less traveled. Soon after, the rebellious Warby Parker brand was born.
HubSpot
As fellow graduate students, HubSpot co-founders Brian and Dharmesh noticed that consumers had gotten really good at ignoring interruptive ads and bids for their attention. They started HubSpot on the idea of "inbound," the notion that people would rather be helped than harassed by marketers and salespeople.
According to the book, "Marketing Lesson from the Grateful Dead" by Brian Halligan and David Meerman Scott, the name HubSpot sprung from the vision to create a hub-based ecosystem that united software, education, and community to help businesses grow better. That idea, "combined with the double-entendre for Boston (nicknamed The Hub [of the Universe])…made it a good choice."
What's Next?
With a powerful brand name, you're ready to design the visuals that bring it to life. Learn how to make a unique brand identity that draws in customers, successfully launch a product, and create a brand that keeps people coming back.