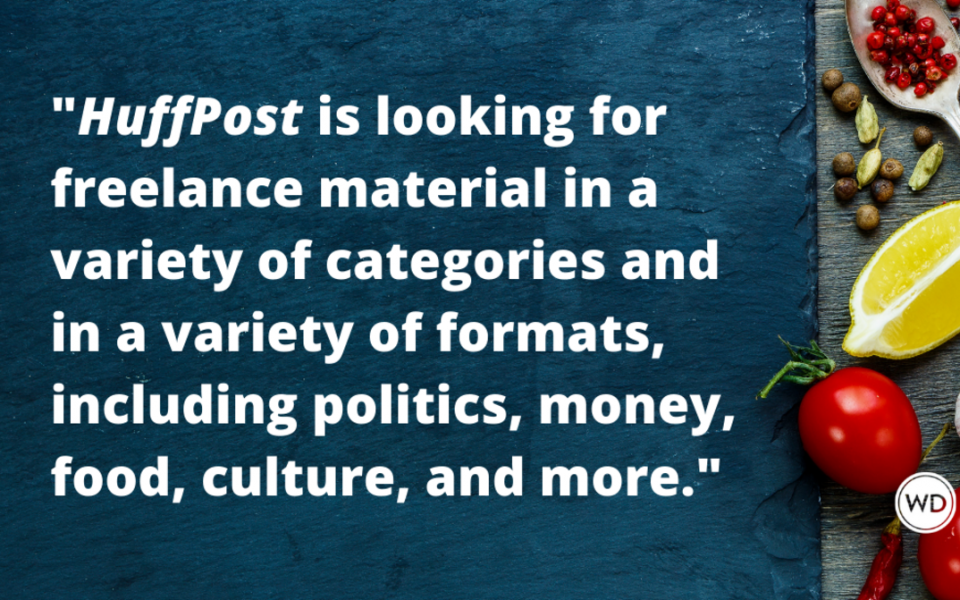 HuffPost: Market Spotlight
Launched in 2005 as The Huffington Report, HuffPost is a news aggregator site that's covered a variety of topics with its newer name since 2017. It was originally launched as an alternative to conservative sites like The Drudge Report, and it was purchased in early 2021 by BuzzFeed.
(Reader's Digest: Market Spotlight.)
The editors say, "At HuffPost, we report with empathy and put people at the heart of every story. We take a people-first approach in everything we report—be it news and politics or lifestyle and entertainment—and we cover real stories about real life. Regardless of who you are, where you live or what you believe, you can count on HuffPost to help you navigate what's happening in the world and how it affects you. We consider the needs, passions and curiosity of our readers in all of our journalism. If something matters to our readers, it matters to us."
All published contributors are paid for their work.
What They're Looking For
HuffPost is looking for freelance material in a variety of categories and in a variety of formats, including images, video, or other visual formats. Sections include:
National and Politics (social inequality, politics, economic justice, and environment)
HuffPost Personal (pieces on identity; health and mental health; sex/love and relationships; family and parenting; work, money, and career; body and body image; unique life experiences)
HuffPost Culture (TV, film, music, celebrity and internet culture)
Food & Drink/Voices in Food (food, nutrition, influencers in the food space, how America eats, future of food)
Style & Beauty (pieces about culture and trends through the lens of fashion)
Wellness (pieces related to "taking care of your mind and body so you can take on the world," covering mental health, personal health, body image, human behavior, and more)
The editors say, "As part of HuffPost's mission 'to write for, and not just about, those left out of traditional power structures,' HuffPost is seeking to elevate writers from a wide range of backgrounds, including those who are BIPOC, LGBTQ, people with disabilities, and writers from other underrepresented communities."
How to Submit
Potential writers can pitch to sections here:
The editors advise, "Pitches should include a working headline, two to three paragraphs that outline why you think the story matters, with some indication of how you plan to report and tell the story (e.g., sources, key characters or narrative events). Also tell us a little about who you are and why you're the right person to write this story, and please indicate whether your pitch is timely."
Click here to learn more and submit.
*****
This course guides beginning and intermediate writers through elements of how to write a personal essay, helping them identify values expressed in their stories and bring readers into the experiences described. Writers learn how to avoid the dreaded responses of "so what?" and "I guess you had to be there" by utilizing sensory details, learning to trust their writing intuitions, and developing a skilled internal editor to help with revision.