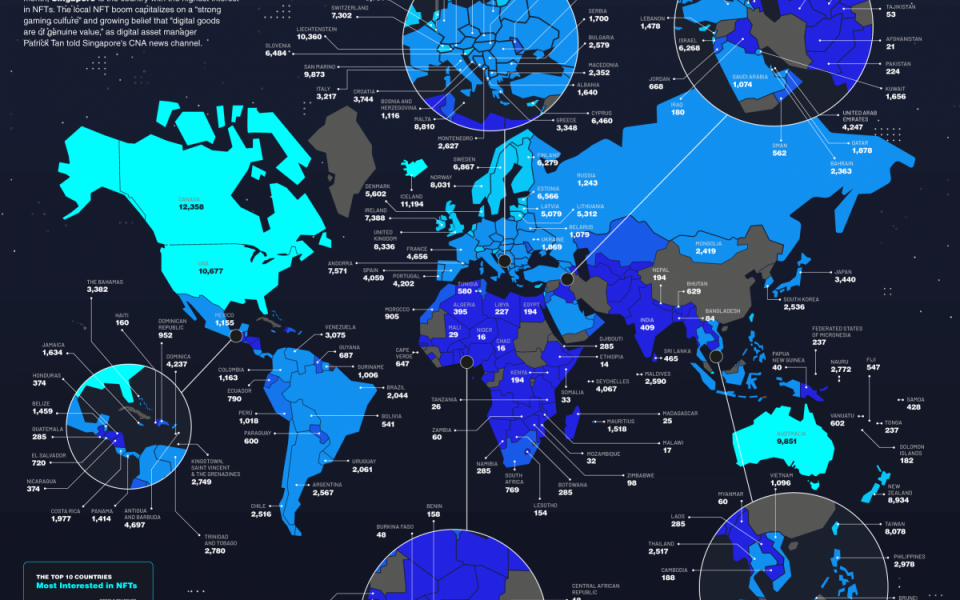 It's Official: These Countries are the Biggest Fans and Foes of NFTs
Web3 is an inherently decentralized phenomenon. Unlike more traditional institutions and infrastructures, this means it's tailor-made to fluidly operate across international borders. This characteristic has helped creators and developers the world over take advantage of blockchain-based technologies like NFTs. It has also allowed that ecosystem to burgeon into a highly profitable industry whose trade market size now measures in the billions.
The cultural and financial shift NFTs have brought about is only expected to increase, with reports estimating the global NFT market size to reach an obscene $13.6 billion by 2027. 
Unfortunately, despite huge market impact and continued mainstream adoption, NFTs remain a largely misunderstood and feared technological development. If you need proof, just check out the countless memes depicting community members' despair at having to explain the basics of Web3 tech to friends and family members who just want to screenshot that bloody JPEG.
Given that NFTs have both led to wild financial success for some and disastrous financial ruin for others, the international reception of NFTs varies quite a bit. FOMO, FUD, and a wide range of emotions both positive and negative dot the NFT landscape. Despite its international nature, though, rarely do we think in terms of how people view this technology on an international level.
Thankfully, this is changing.
NFT sentiment around the world
A recent analysis conducted by CashNetUSA breaks down global NFT sentiment by looking at the following categories: countries ranked by searches for NFT-related terms, the top 10 countries that like and dislike NFTs, and the most popular NFTs by country. 
To create these rankings, the company used tools for keyword research, rank tracking, and site audits. They searched for "NFT" in every country, tallying the search volume and calculating the number of monthly searches per million in population.
The team also gathered information from Twitter and ran sentiment analysis using models developed by Cardiff University. Tweets were labeled "negative" if the probability of a particular tweet being a "negative" was higher than 0.5. To ensure more definitive results, the team also dropped the countries with fewer than 50 NFT-related tweets.
Lastly, the team also compared search volumes of NFT projects to OpenSea's list of top 100 NFTs of all time, using the data to see which projects were most searched for in each country.
Countries most interested in NFTs
The findings of the analysis may be somewhat surprising. Among the countries most interested in NFTs, Singapore came out on top, with a monthly search volume of 18,717 per one million in population. Hong Kong, Canada, Iceland, and the United States round out the top five spots on that list.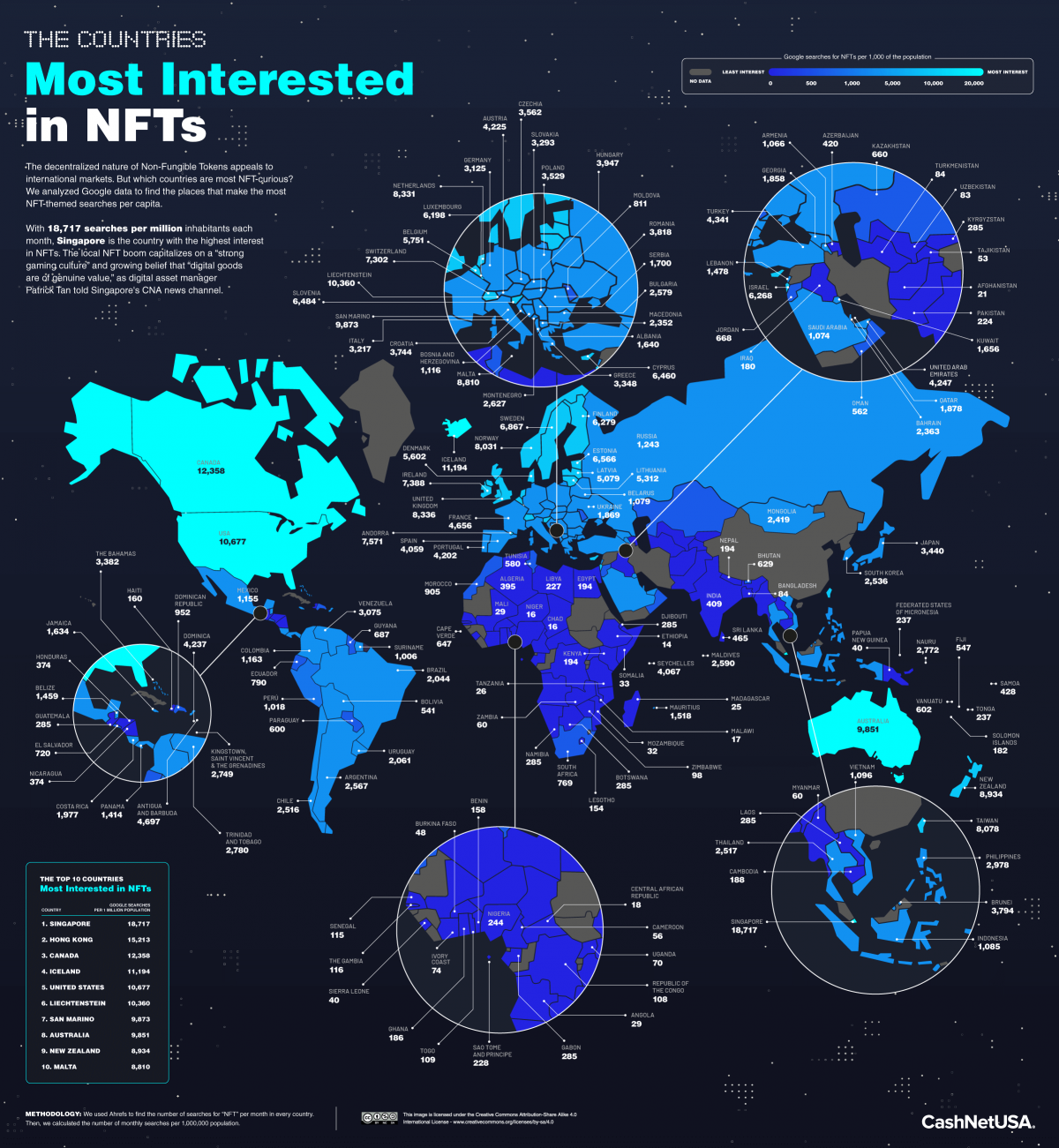 Countries that like and dislike NFTs the most
Montenegro grabbed the number one spot on the list of countries that like NFTs the most, putting out 862 positive posts per 1,000 NFT-related tweets. Rounding out the list are Colombia, France, Lebanon, and Vietnam.
Of course, NFTs don't have a positive reputation everywhere. Some of the countries with the most negative posts per 1,000 NFT tweets were Poland, Nicaragua, Ireland, Jamaica, and Kosovo.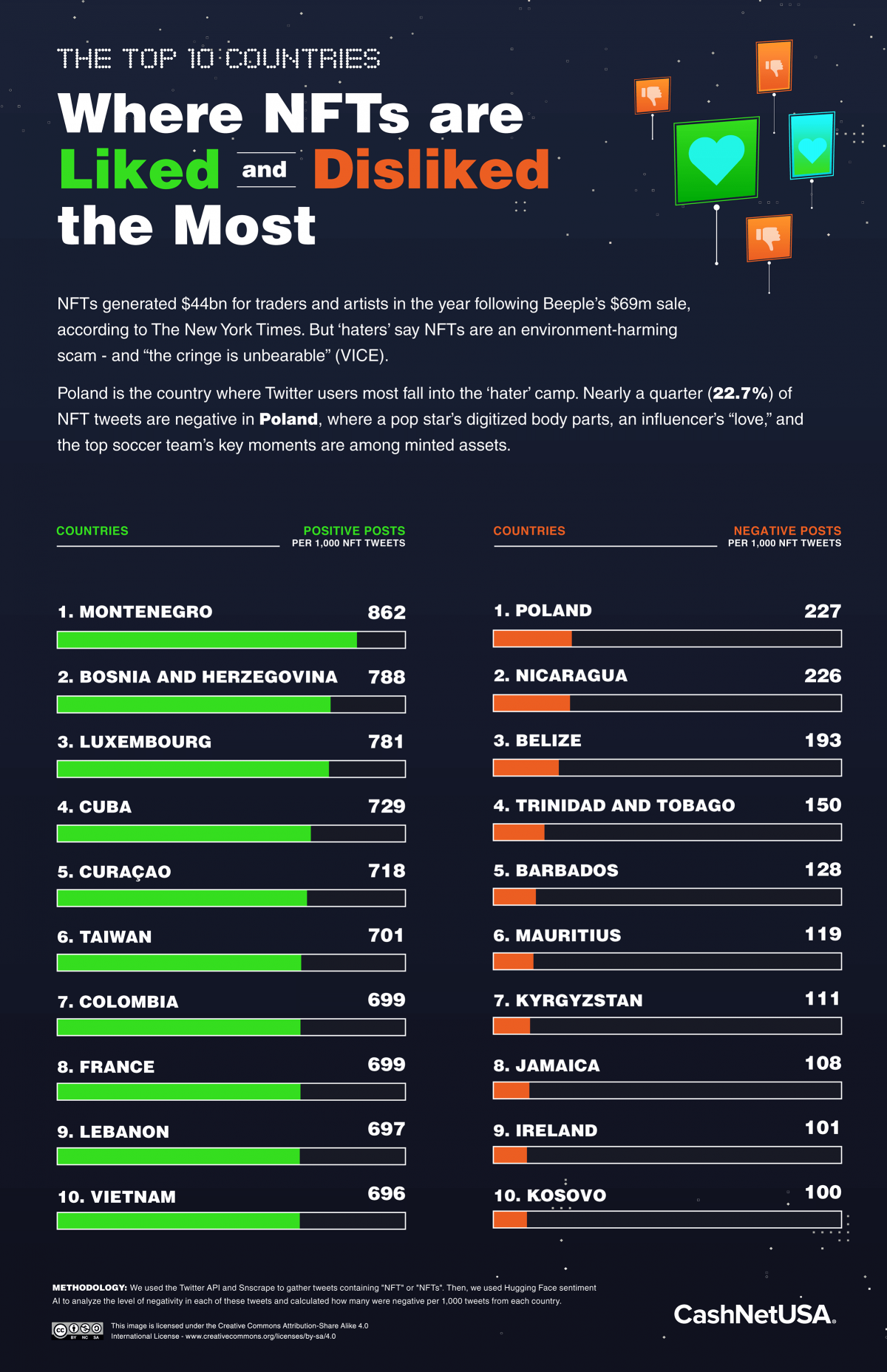 The most popular NFTs in every country
Rounding out the analysis are the top most-searched NFT projects in the world, which were Axie Infinity (being a top search result in 112 countries) Decentraland, Sorare, and Bored Ape Yacht Club. The analysis also looked at which projects are most popular in individual countries.
It's telling that the most wide-reaching and popular projects are part of the play-to-earn metaverse realm of NFTs. Perhaps it's unsurprising that gamified projects have done so well globally in the early days of Web3 when compared to projects focused purely on art or that incorporate other forms of utility.
Check out the fascinating graphics below to get more detailed information on regional differences. Whatever you think about NFTs, it's objectively a good thing that we're finally getting a clearer picture of their global impact.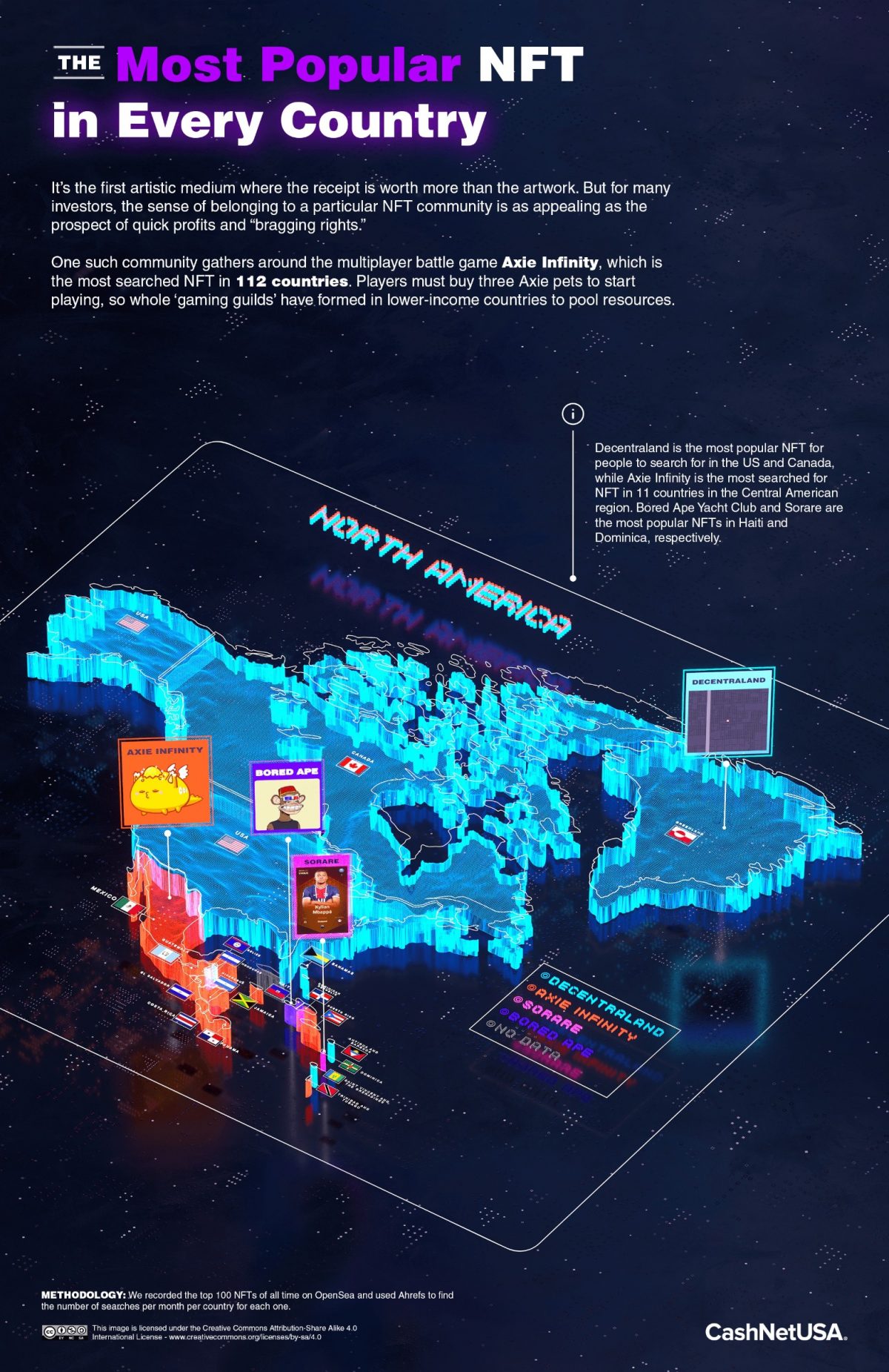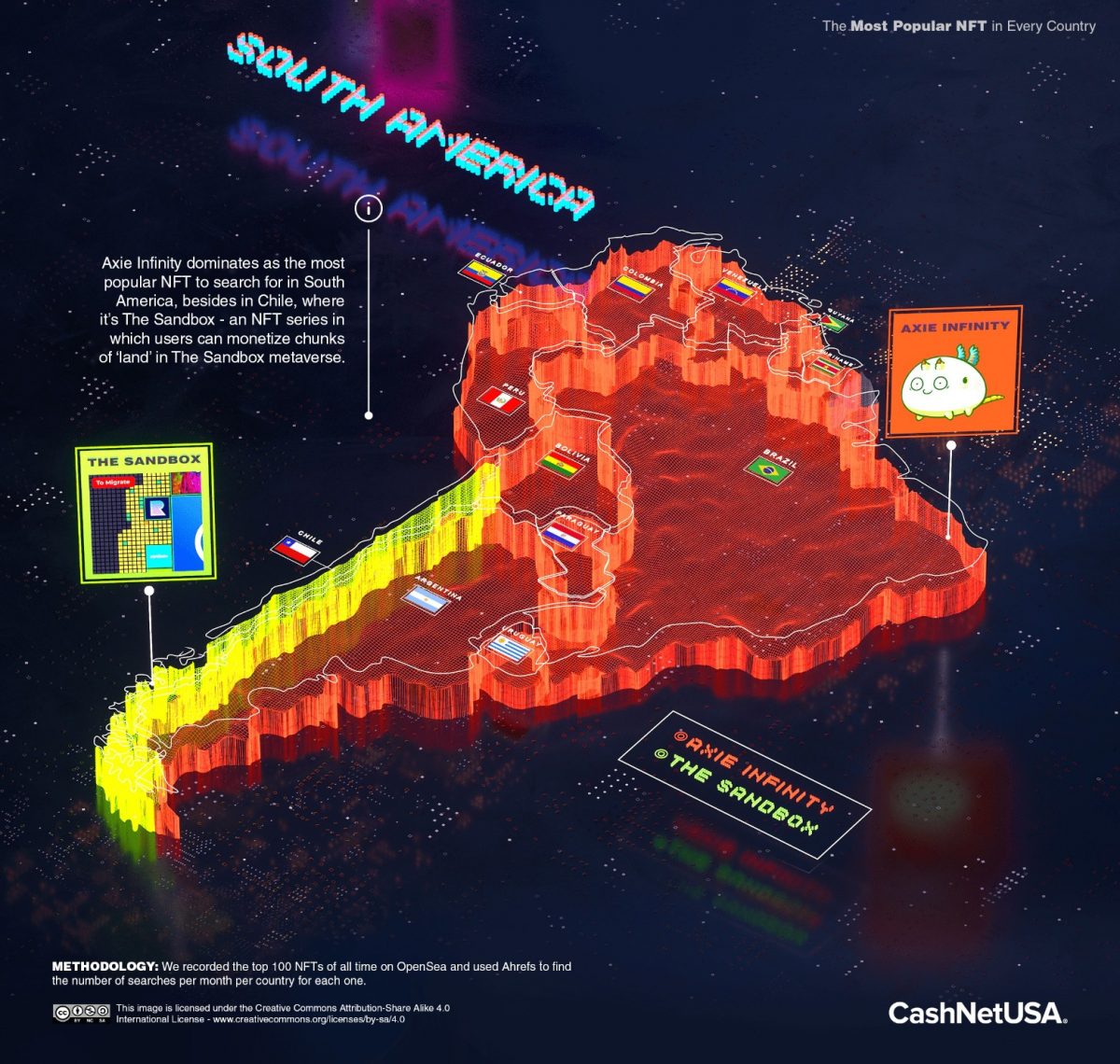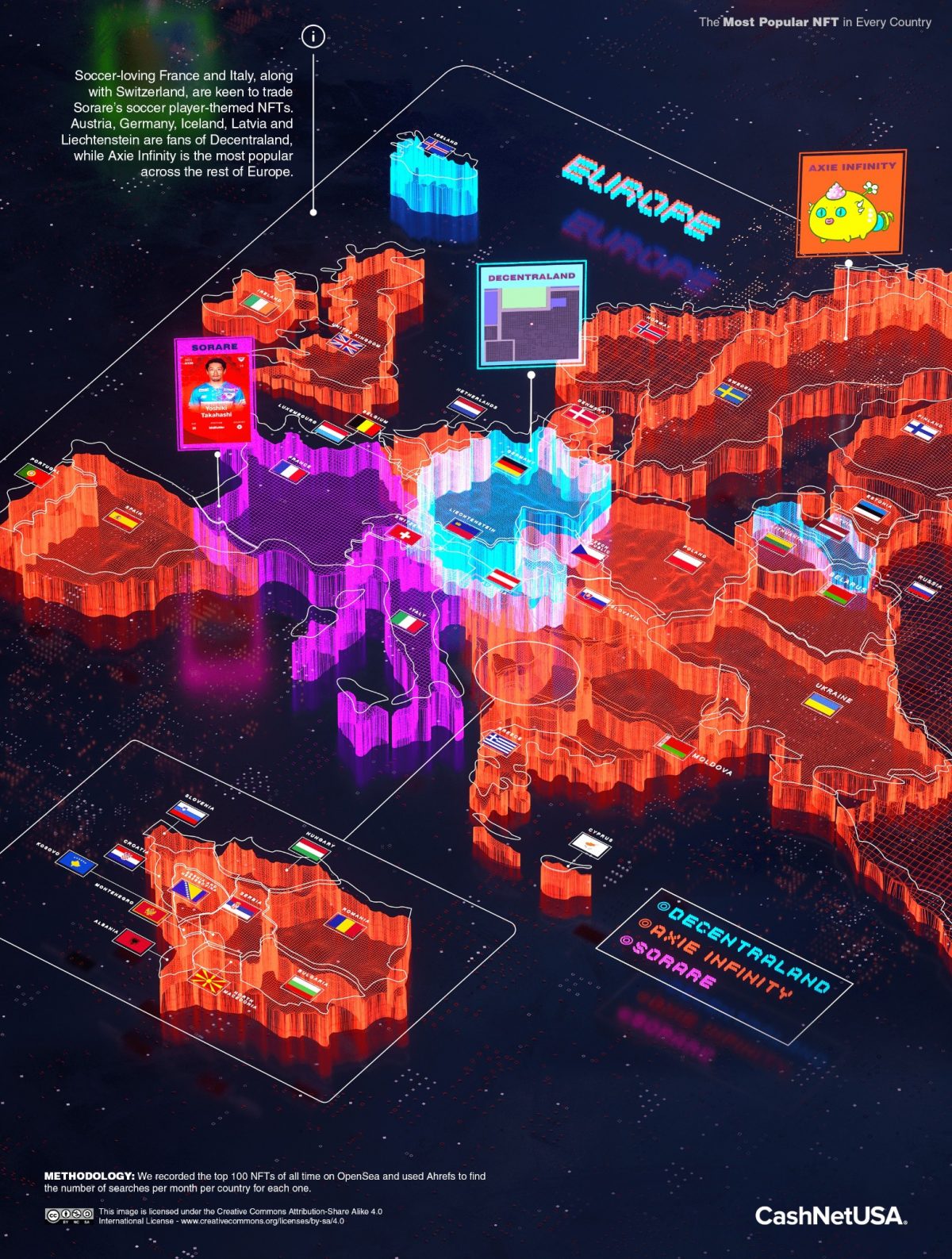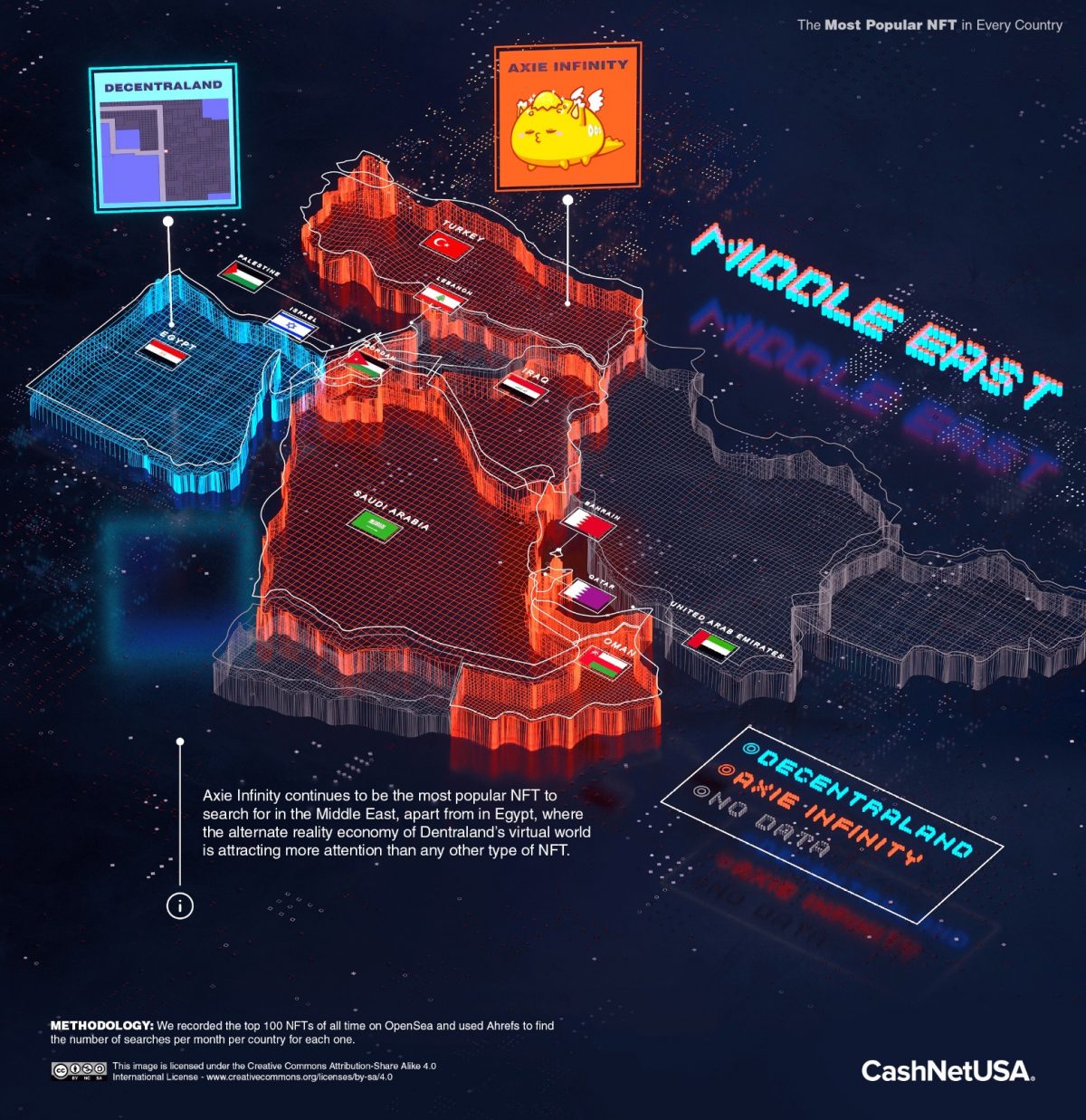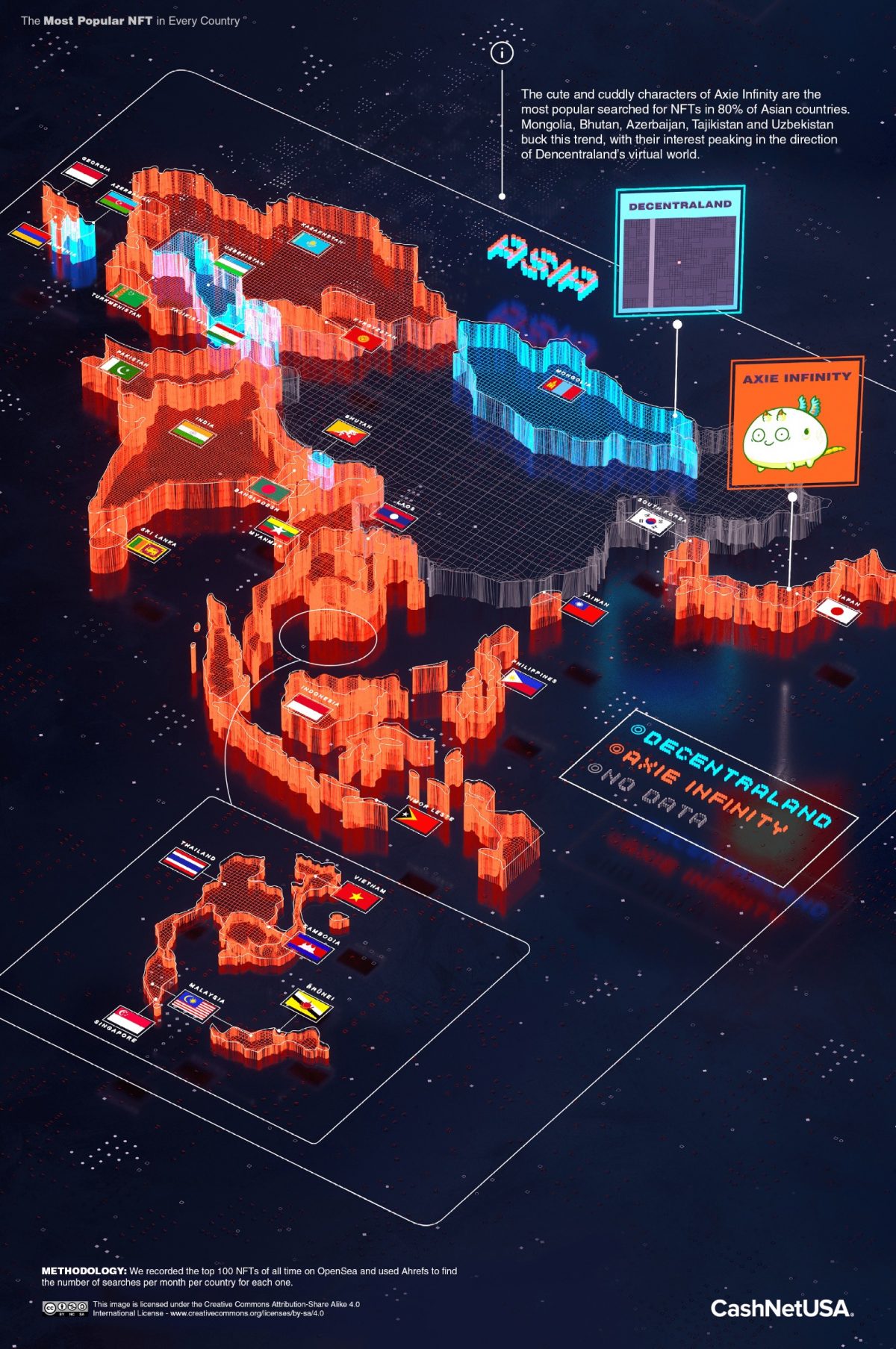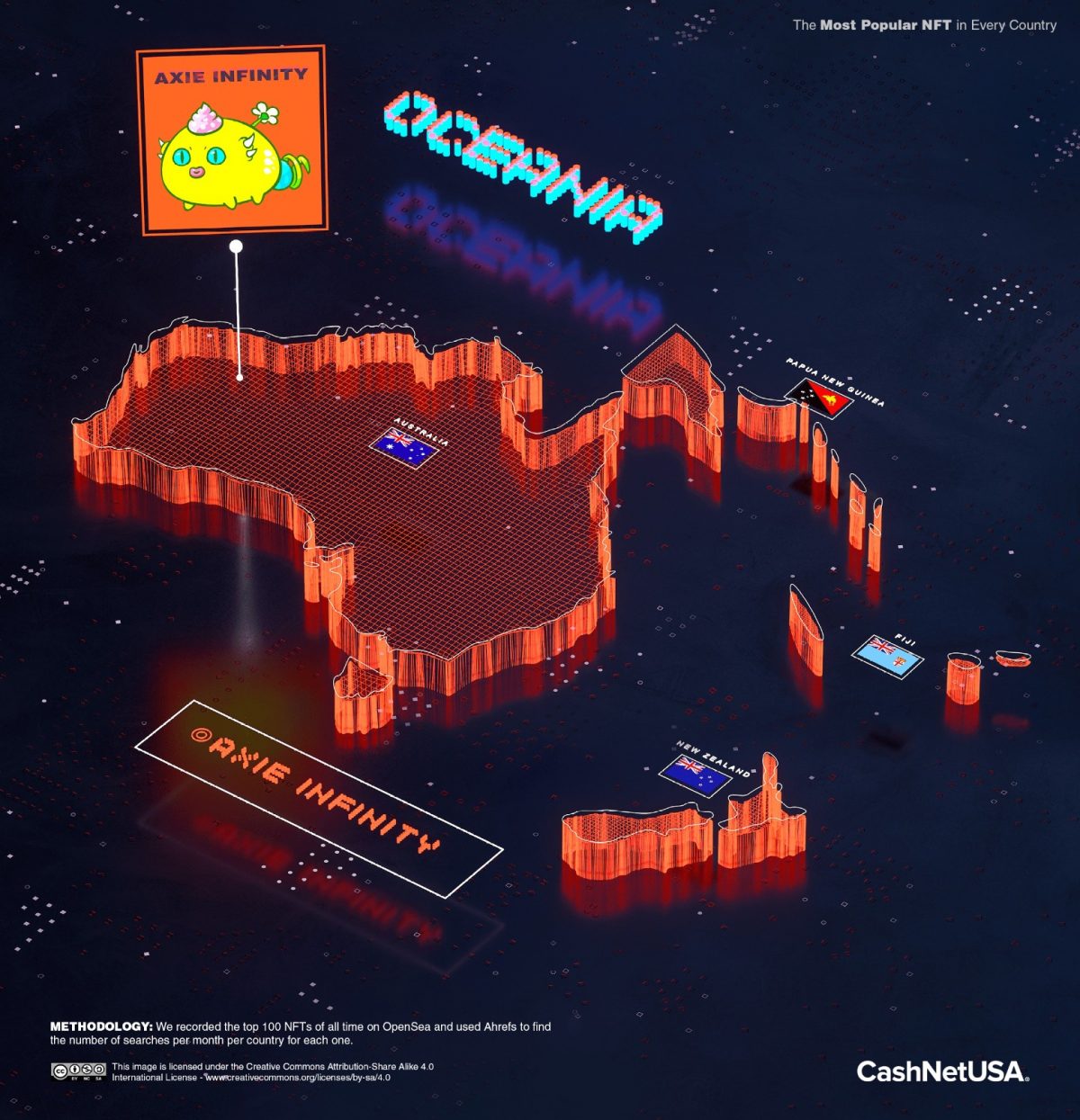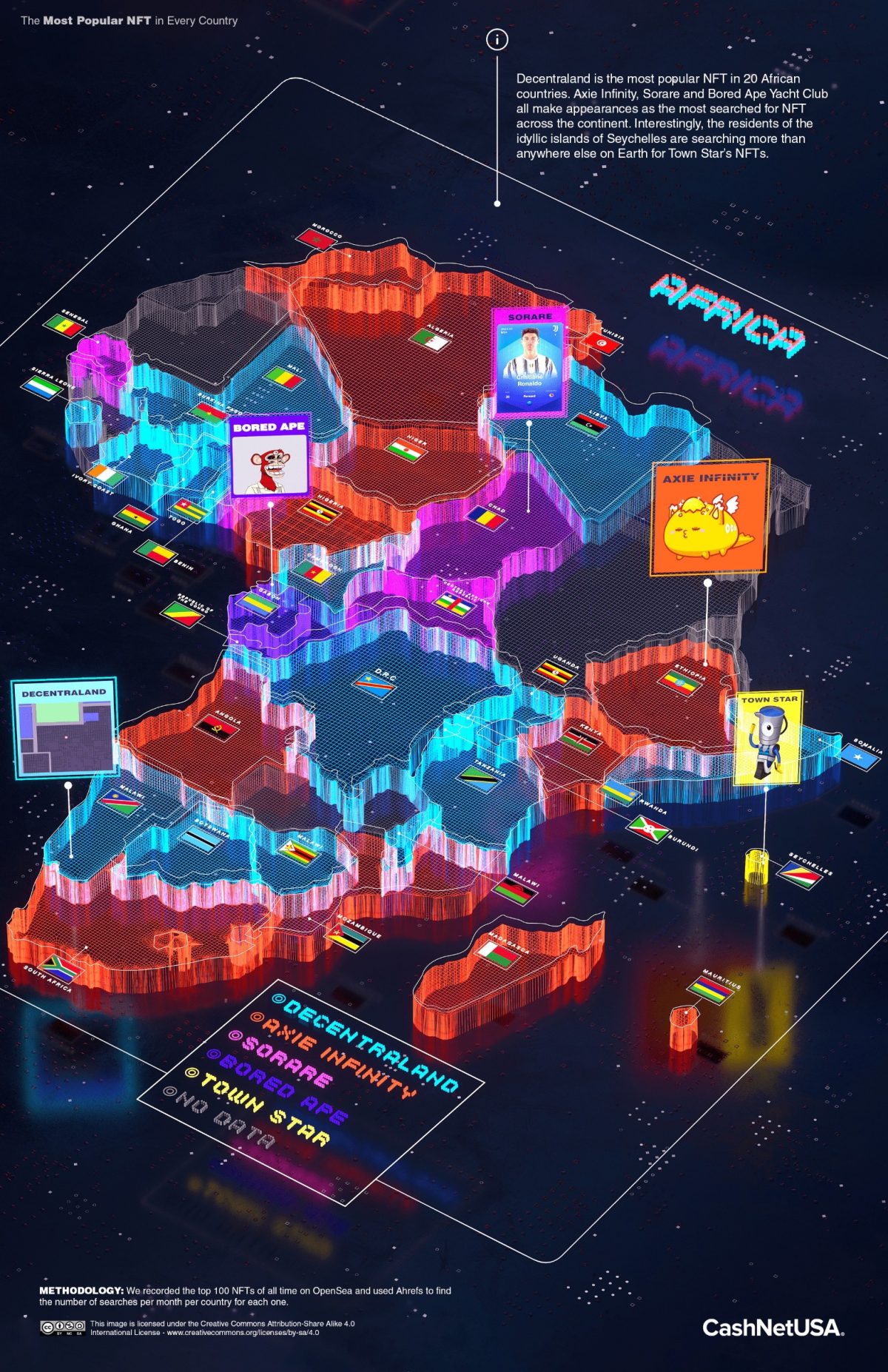 The post It's Official: These Countries are the Biggest Fans and Foes of NFTs appeared first on nft now.