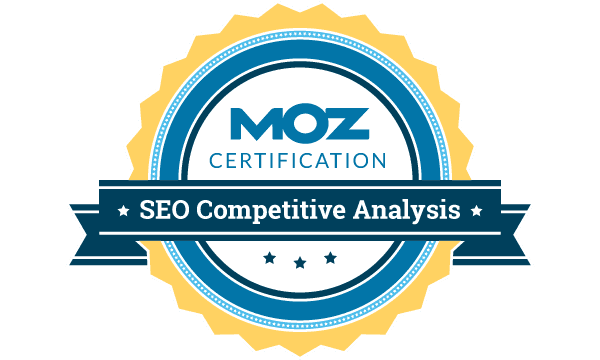 NEW SEO Competitive Analysis Certification: Build a Strategy to Take On the Competition
We've said it before and we'll say it again – our community continues to blow us away with eagerness to learn and hunger for new content. Your feedback and interest in new certifications and coursework through Moz Academy has been super helpful in guiding the development of our learning resources.
In assessing the topic area for our next certification, it struck us just how darned competitive SEO feels these days. Competitive research and analysis still feel like an uphill battle – wouldn't it be nice if an SEO just had a competitive roadmap to follow?
It sure would. And now, it's here!
We're so excited to announce the launch of our brand-new SEO Competitive Analysis Certification. It joins the SEO Essentials Certification and Technical SEO Certification in our Moz Academy course catalog, focused on getting you certified in competitive analysis and research.
What's included in the SEO Competitive Analysis Certification?

The SEO Competitive Analysis Certification is a six-part series focused on competitive research and analysis. Complete with 3 hours of video lessons, tasks, and activities, you'll be able to test your understanding and apply important concepts throughout. At the end of the series, you'll take a final exam and receive your certificate and LinkedIn badge.
The certification was built to help you look holistically at the concept of competitive research as part of your greater SEO strategy. From thinking about how the competition fits into the sales funnel to how search intent drives your audience, you can begin to assess the landscape and build a comprehensive strategy – one that will help you take on the competition with ease.
The certification is organized into six sections:
Competitive Analysis 101

Identify Your True Competitors

Analyze Your Competitors' On-Page Success

Evaluate Your Competitors' Off-Page Activity

Explore Competitive Specialties

Final Exam
Learn more about the coursework below:
1. Competitive Analysis 101
The first course of the series lays the groundwork for the rest of the certification curriculum, beginning with a discussion of why competitive analysis matters and what it looks like.
Our instructor discusses how you and your competition fit into the sales funnel, how the competition fulfills search intent, and a framework for conducting competitive analysis. In addition to an introduction to core concepts and methods, you'll get set up with a worksheet to use throughout the certification.
You'll learn the top reasons why you need to keep your eye on the competition, what competitive analysis is and is not, classic research methods, and a roadmap that we'll use in later sections.
2. Identify Your True Competitors
Now that we've established the purpose of competitive analysis and how it fits into your larger SEO strategy, it's time to dig in: Who are your competitors? This next section helps to distinguish online from offline competitors, primary from secondary competitors, and competitors across multiple products or spaces.
You'll learn how to analyze the SERP with a critical eye (with both qualitative and quantitative approaches), key ways to identify competitors, types of competitive advantages, and how audience research fits in. Taking these important steps will help you to narrow your list of true SERP competitors and move you further along toward your competitive strategy.
By the end of this section, you'll be able to list your top competitors, identify who you shouldn't compete with, and make a distinction between your primary and secondary competitors.
3. Analyze Your Competitors' On-Page Success
This part of the course walks through the process of how to analyze your competitors when it comes to their on-page strategy and efforts.
This section dives in deep to address keyword gap analysis, content analysis, and technical gap analysis. With each step of the process, you'll learn tips and tricks on how to spot opportunities based on what you know about the competition. The analyses about their on-page activities can help to inform your strategy and make decisions on your own site.
By knowing what to look for and how to assess your competitors based on their on-site optimization, you can craft a strategy for your own site that is well-informed and thorough. Your instructor will demonstrate across a number of different tools how to conduct these analyses and document your learnings in the worksheet you received earlier in the course.
4. Evaluate Your Competitors' Off-Page Activity
You will have just learned about on-page strategy, so now it's time to move into the off-page portion of our competitive analysis framework. In this portion of the course, we'll focus in on off-site activities such as link profile research, social media analysis, and more – and don't forget about reporting on all of the above!
You'll learn all about how to conduct a link gap analysis to understand how the competition is approaching their link profile (and strategies to consider!). Additionally, your instructor will dig into the details of a social media analysis and how to examine your competitors' social presence.
Another critical piece of the entire competitive analysis process is that of tracking and reporting. You'll be guided through best practices for how to track your competition as well as your own benchmarks.
5. Explore Competitive Specialties
Now that we've talked through the competitive analysis process and you've got a good feel for the steps to take, it's time to discuss a few other lenses through which you can view this process.
In this section, you'll learn more about what approaches to consider if you work for either a B2B business or a local business. When it comes to B2B, your instructor will discuss a variety of methods for competitive research that work particularly well. Conducting competitive analysis for B2B can look a bit different when it comes to keywords, content, links, and social media.
Similarly, you'll learn how to tweak your competitive analysis approach if you work for a local business with brick-and-mortar locations. Keywords and content should be much more localized, and links, local citations, and social presence are also critical pieces of that puzzle.
And there you have it! Following the courses on these five core competency areas, you'll take a final exam, consisting of 50 multiple-choice questions, to test your knowledge. In addition to a certificate and shiny LinkedIn badge, you'll be ready to implement a competitive analysis roadmap to propel your SEO strategy forward.
SEO Competitive Analysis Certification FAQs
How do I get certified?
The SEO Competitive Analysis Certification is available now on Moz Academy. Simply access the series from the course catalog, register, and get started! Once you've completed the series and passed the final exam, you'll receive an official certificate and a badge for your LinkedIn profile.
How long will the series take to complete?
The certification series includes three hours of instructor-led curriculum, in addition to activities to test your understanding and the final exam. With all of that in mind, you can expect your time commitment to be about four-five hours in total.
How long is the Competitive Analysis Certification valid? Do my credentials expire?
No, your Competitive Analysis Certification credentials will not expire.
I don't have a Moz Pro subscription – is the SEO Competitive Analysis Certification still relevant for me?
Yes! We do use Moz Pro, in addition to various other tools, to apply certain concepts throughout the certification series. That being said, having a Moz Pro subscription is not a requirement, and you'll learn how to apply the concepts regardless of which tools you use. The concepts and activities throughout the certification are generally tool-agnostic.