The Ultimate Guide to Instagram Hashtags for 2022
Instagram hashtags are powerful.
They can help your posts reach a target audience, attract followers in your niche, increase engagement, and develop a more positive and recognizable brand image.
Here's the thing, though: with great power comes great responsibility (#spiderman).
Hashtags can skyrocket your business to new heights, but if used too frequently or without a clear strategy in mind, they become pointless and inefficient.
While it can be hard to choose the right hashtags on Instagram, you don't have to guess. Aside from this article, we've put together an ultimate course on using Instagram for marketing. In this course, we'll teach you to not just attract followers, but to attract the right followers.
First, let's go over Instagram hashtags specifically — and why they're so important for your Instagram marketing strategy. We'll cover the following topics:
Why are hashtags important?
Hashtags are essentially Instagram's sorting process. With around 95 million photos posted on Instagram every day, it's difficult for Instagram to efficiently deliver the right content to the right people. Hashtags help your post get discovered by viewers most interested in seeing it.
Krystal Gillespie, HubSpot's Social Media Community Manager, explains the importance of hashtags this way: "Hashtags are like a funnel. For instance, #marketing is incredibly broad and attracts all types of posts. We've found #digitalmarketing or #marketingmotivation gives us a more specific, targeted reach. The audience searching for these hashtags are also trying to narrow their search to what we offer related to marketing, so we're actually reaching more of the right people."
Essentially, hashtags are a better way to categorize your posts. They help you reach a target audience, and more importantly, they help your target audience find you. These users are more likely to engage with your post because it is exactly what they were looking for.
How Brands Are Using Hashtags in 2022 [Data]
The HubSpot Blog surveyed over 1,000 marketing professionals to understand how they were incorporating hashtags into their Instagram strategy in 2022. Here's what we found:
82% of marketers leverage hashtags as part of their Instagram strategy.
85% of marketers have a documented hashtag strategy for Instagram.
81% of marketers say using hashtags has been somewhat or very effective for their Instagram strategy.
62% of marketers use between four to nine hashtags in an Instagram feed post.
53% of marketers say most of the brands they market leverage branded hashtags.
37% of marketers say using popular hashtags has been most effective when posting on Instagram.
66% of marketers use Instagram's hashtag suggestions to determine which hashtags to use. 58% of marketers look to competitors or accounts that post similar content to find which hashtags to use.
According to marketers, the most popular places to use hashtags on Instagram include in the caption of feed posts (35%), on Instagram stories (39%), in the caption of Instagram live videos (38%), and in the caption and comment section of Instagram Reels videos (33%).
46% of marketers say the most effective hashtag strategy is to place some hashtags in the caption and some in the comments of a post.
Types of Instagram Hashtags
Hashtags are highly versatile little pieces of text. They can build a community, make your account more visible, or simply attract like-minded individuals to your account.
Before choosing a group of hashtags for your posts, take a look at the most common ones you can use and their categorizations.
Best Instagram Hashtags for Companies
Whether you're a social media manager at a company, an owner of a small business, or a sole proprietor, you can use the following hashtags to get more visibility on Instagram.
Product or service hashtags. Companies use product hashtags for posts related to their product and service offerings. This will usually be general, such as #hairsalon or #knitwear.
Industry niche hashtags. These hashtags are used to indicate the specific work you do and are narrower than your product or service hashtags. Examples include #blackhairsalon or #handmadeknits.
Branded hashtags. Branded hashtags help you build a community specifically around your brand or business. This can be a slogan. It can also be the name of a specific product that you offer or even your business name.
Campaign hashtags. If you're running a sponsored ad, you can use a unique hashtag to keep track of activity relating to the campaign.
User-generated content hashtags. This type of hashtag is created specifically for your customers. These are different from product, branded, and campaign hashtags because you, the company, can't influence what gets posted. Other people can visit this hashtag to see unfiltered and unsponsored photos of your product.
Instagram community hashtags for your industry. These hashtags are great for getting more visibility among other Instagrammers who do what you do. For example, if you were a knitter, you might post in #knittersofinstagram.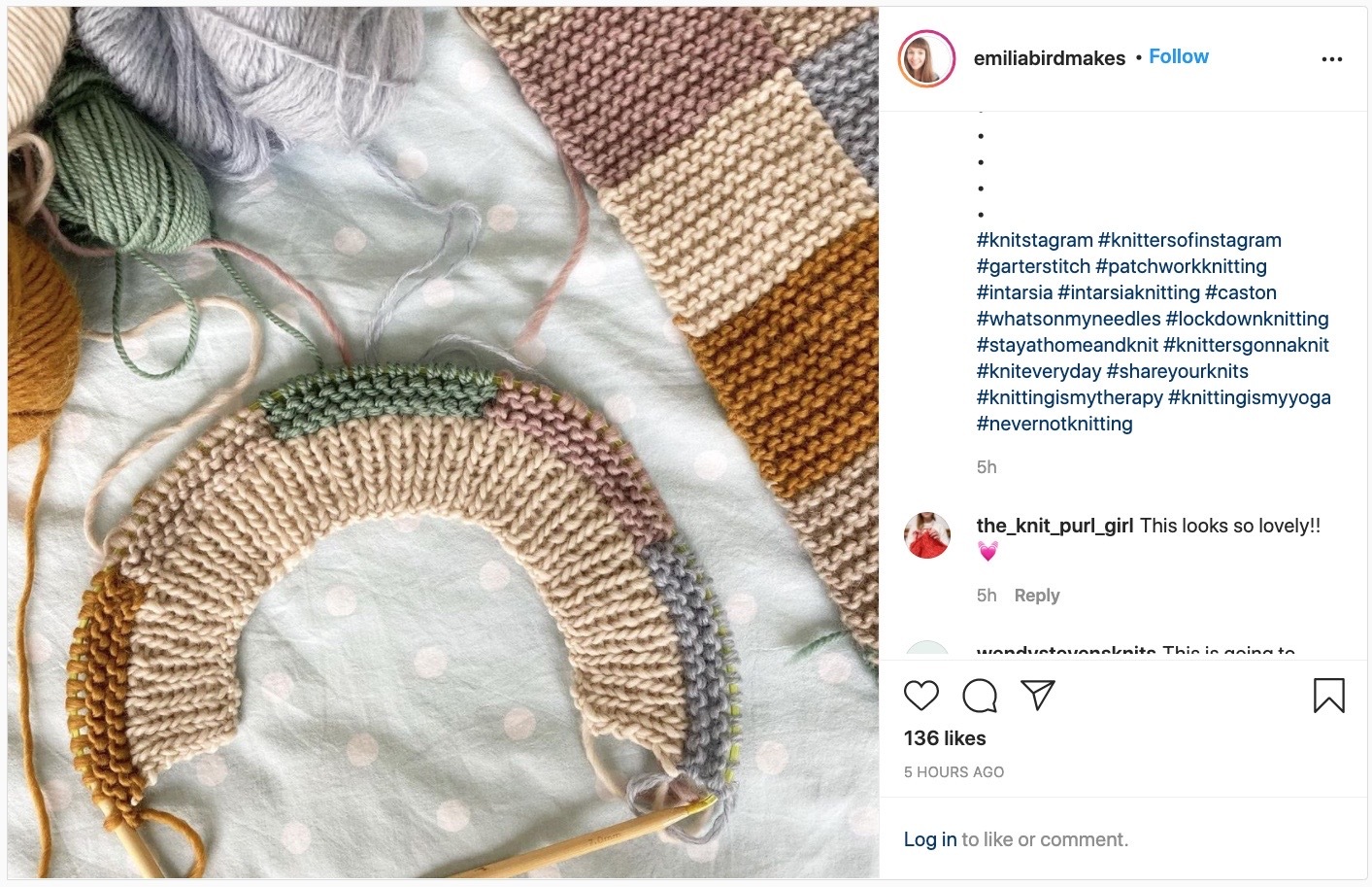 Event or conference hashtags. As a company or business owner, you can use these hashtags to add to the conversation relating to a specific event or industry conference.
Cultural movement hashtags. Cultural movements such as Black Lives Matter, LGBTQ+ Pride, and feminism have hashtags on Instagram (#BlackLivesMatter, #Pride, and #feminism, respectively). Use these hashtags to uplift voices, share information, and make your company's stance clear.
Location hashtags. These are great to target users in your area. Think #hairsalonnyc or #atlantabakery.
Phrase hashtags. Phrase hashtags such as #writeeveryday and #bebrave can hint at what you do while inspiring users.
As individuals, you can also use daily, acronym, and holiday hashtags to engage in trending conversations.
Top Instagram Hashtags for Individuals
Do you use Instagram for personal use? Take a look at the hashtags that are available to you.
Personal hashtags. You use these hashtags specifically in posts related to you. Think #me, #selfie, #lovemyself, #vacation, and #lovemylife.
Daily hashtags. Daily hashtags usually have a theme, such as #workoutwednesday, #throwbackthursday, and #motivationmonday.
Acronym hashtags. Think #ootd (outfit of the day), #potd (photo of the day), and #tbt.
Holiday hashtags. Use these hashtags for specific holidays such as #DiaDeLosMuertos or #IndependenceDay to share how you're spending time during these days.
Like companies, you can also use phrase, cultural movement, event, and location hashtags.
Best Instagram Hashtags
#love (2.1B posts)
#instagood (1.5B posts)
#fashion (1B posts)
#photooftheday (988M posts)
#art (888.6M posts)
#photography (864.7M posts)
#instagram 828M posts)
#beautiful (792.1M posts)
#picoftheday (692.8M posts)
#nature (696.4M posts)
#happy (670.9M posts)
#cute (659.7M posts)
#travel (613M posts)
#style (606.3M posts)
#followme (592.5M posts)
#tbt (588.3M posts)
#instadaily (581.2M posts)
#repost (557.3M posts)
#like4like (538.2M posts)
#summer (523.2M posts)
#beauty (492.6M posts)
#fitness (485.8M posts)
#food (475.3M posts)
#selfie (464.3M posts)
#me (463.9M posts)
#instalike (462.1M posts)
#girl (444.7M posts)
#friends (432.7M posts)
#fun (430.9M posts)
#photo (438.4M posts)
#smile (427.4M posts)
#family (411.9M posts)
#life (409.1M posts)
#music (398.6M posts)
#ootd (396.2M posts)
#makeup (368.7M posts)
#likeforlike (360.1M posts)
#likeforlikes (349.9M posts)
#model (336.2M posts)
#dog (333.1M posts)
#design (310.4M posts)
#follow4follow (300M posts)
#amazing (300.5M posts)
#lifestyle (305.3M posts)
#motivation (305.5M posts)
#sunset (299.5M posts)
#igers (294.9M posts)
#explore (318.1M posts)
#handmade (299.8M posts)
#nofilter (286.8M posts)
#beach (282.1M posts)
#foodporn (279.9M posts)
#instamood (269.1M posts)
#sun (266.2M posts)
#artist (271.1M posts)
#dogsofinstagram (297.9M posts)
#일상 (260.7M posts)
#cat (259.1M posts)
#drawing (256.2M posts)
#sky (251.1M posts)
#followforfollow (246.3M posts)
#f4f (245.7M posts)
#l4l (242.6M posts)
#hair (236.2M posts)
#flowers (233.3M posts)
#followforfollowback (239.2M posts)
#funny (230.9M posts)
#gym (227.1M posts)
#moda (228M posts)
#photographer (225M posts)
#likeforfollow (222.6M posts)
#tagsforlikes (217.9M posts)
#wedding (223.3M posts)
#bestoftheday (215.4M posts)
#baby (217.7M posts)
#memes (219.7M posts)
#inspiration (218.4M posts)
#instafood (215.6M posts)
#vsco (206M posts)
#foodie (209.3M posts)
#vscocam (203M posts)
#instapic (203M posts)
#girls (201.5M posts)
#workout (197.9M posts)
#pretty (189.7M posts)
#yummy (187.2M posts)
#home (187.9M posts)
#fit (185.1M posts)
#party (182.7M posts)
#lol (180.5M posts)
#healthy (181.6M posts)
#naturephotography (186.4M posts)
#nails (185.5M posts)
#illustration (183.6M posts)
#landscape (179.4M posts)
#blackandwhite (177.1M posts)
#catsofinstagram (177.7M posts)
#cool (173.9M posts)
#puppy (176.1M posts)
#night (144.4M posts)
#catsofinstagram (177.7M posts)
#nails (185.5M posts)
#tattoo (165.3M posts)
#happiness (162.6M posts)
#instafashion (169.2M posts)
#work (144.1M posts)
#architecture (161.8M posts)
#japan (153.7M posts)
#weekend (148.7M posts)
Emerging Hashtags
New hashtags are created every day, and staying on top of what's new before it becomes over-saturated can put your content in front of more people. Based on our research, here are some emerging Instagram hashtags to consider using:
#brandpartnerships
#tiktokcreator
#reelstrends
#2022trends
#2022predictions
#igreelstips
#viraltrends
#genzmarketing
#2022goals
#2022socialgoals
#thatgirl
#trendingsound
#engagementtips
#instagramnews
#2022calendar
Hashtags to Retire
It's important to routinely audit the hashtags you're using to make sure they are still on-brand and effective. We compiled this list of hashtags to retire that are over-saturated with content, or are shadowbanned and could hurt your content reach.
#adulting
#beautyblogger
#dm
#humpday
#iphonegraphy
#mustfollow
#killingit
#desk
#mirrorphoto
#instasport
#direct
#always
#snapchat
#workflow
#kickoff
#brain
#tag4like
#thought
#valentinesday
Best Practices for Using Hashtags on Instagram
Using hashtags on Instagram is a relatively simple process, but you'll want to adhere to a few rules to get the most out of your hashtagging.
We've compiled best practices under the following frequently asked questions.
How many hashtags can I use on Instagram?
Thirty hashtags are the maximum number you can use.
The average is eleven, with half of Instagram accounts using between one and three. You can use more or less depending on your Instagram marketing goals. More doesn't necessarily mean better. In fact, Instagram recommends users include no more than three to five hashtags per post.
Should I add hashtags to every Instagram post?
Yes! Absolutely you should.
Try to choose hashtags that are as narrow or as niche as possible. The less volume of posts a hashtag has, the more likely you'll be seen by people who follow them. Plus, if the subject matter is highly specific, people are more likely to engage with your post.
All of my posts are similar. Can I use the same hashtags over and over again?
No. Instagram's algorithm may penalize you for consistently using the same hashtags, pushing your posts down so they don't show up for those tags.
Even more, they might ban your account, because using identical hashtags could make it look like you're spamming users — or worse — like an Instagram bot.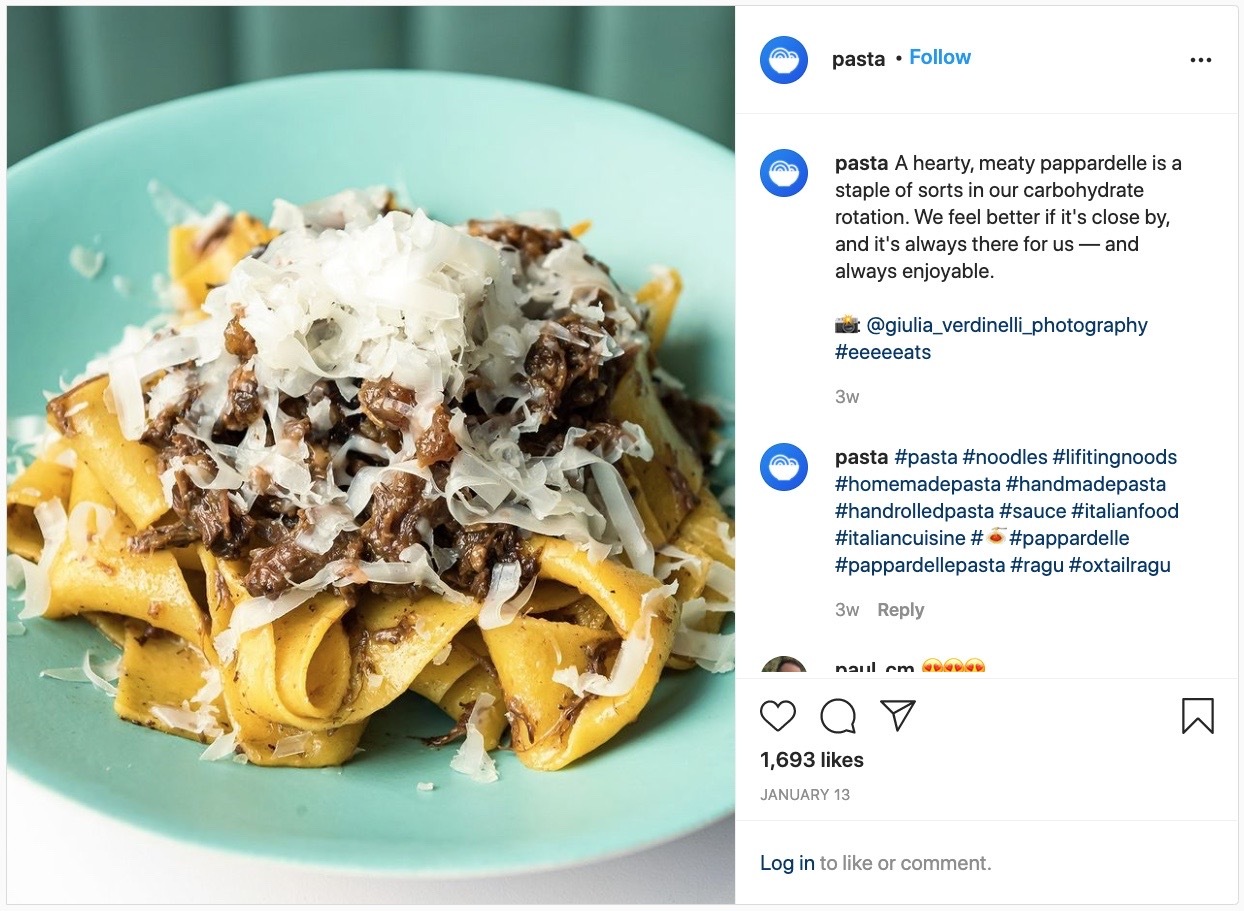 Try rotating out your hashtags so that they're highly relevant to that specific post, even if the posts are similar. Let's say that you own a handmade pasta business. If you always use the hashtag #spaghetti but post photos of linguini, macaroni, and penne, Instagram may flag your account, and users won't engage.
Can I hide the hashtags in a comment?
Absolutely. You can hide your hashtags in a comment. Instagram doesn't distinguish between caption hashtags and comment hashtags.
Simply write your caption as you would. After that, navigate to the published post and leave a comment with your hashtags. They will be hidden completely until users navigate to the comment section.
How do I hide hashtags in the caption?
Don't want to post the hashtags in a comment? No worries.
You can hide the hashtags in the caption by either 1) writing a caption that's more than three lines long or 2) adding 3 to 5 line breaks with a punctuation mark.
To add a line break, place the text cursor at the end of your caption and hit Return. Don't forget to add either a period, a dash, an asterisk, or a tilde to ensure that line stays there. (If there's no punctuation, Instagram may treat it as accidental extra space, and delete those line breaks upon publication.)
Are there any hashtags I should avoid using?
Yes. Instagram maintains a list of banned hashtags. However, they don't publish this list, and there's no authoritative source.
Some are intuitive, such as NSFW and self-harm hashtags, while others, such as #pushups and #mustfollow, aren't as self-evident. If you have any doubt about your hashtags, be sure to look them up using the app's Search function.
If it doesn't show up, it's banned. If it does show up, navigate to the hashtag feed and check for a message like this:
If your prospective hashtag doesn't have a message like this, you're all good to go.
Now that you know some basic dos and don'ts, let's take a look at the top Instagram hashtags for the year.
Adding one of the most popular Instagram hashtags to your post doesn't necessarily mean you'll see more interaction. Since the hashtags below are so popular, they are being used by millions of people, so your post will most likely be obscured by the competition. Narrowing your hashtag topic is important, but we'll get to that next.
Here are the top Instagram hashtags for this year.
1. #love (2.1B posts)
Instagram users build their photo galleries on good feelings. For this reason, the #love hashtag is ever-present next to the pics of friends, family, vacations, and beautiful scenery.
Top Instagram hashtags related to #love:
#love #lovely #loveit #loveyourself #lovelife #lovequotes #loveislove #lovefood #lovemylife #lovewhatyoudo #lovethis
2. #instagood (1.5B posts)
Occurrences of this hashtag are inspired by the @instagood Instagram account, which scours the Instagram community for excellent photos and videos that are just too #instagood not to share. Add this hashtag to your content for a chance to be reposted.
Top Instagram hashtags related to #instagood:
#instagood #instalife #instalike #instapic #insta #instacool #instafollow #instaphoto #instagramers #instamoment #instagramhub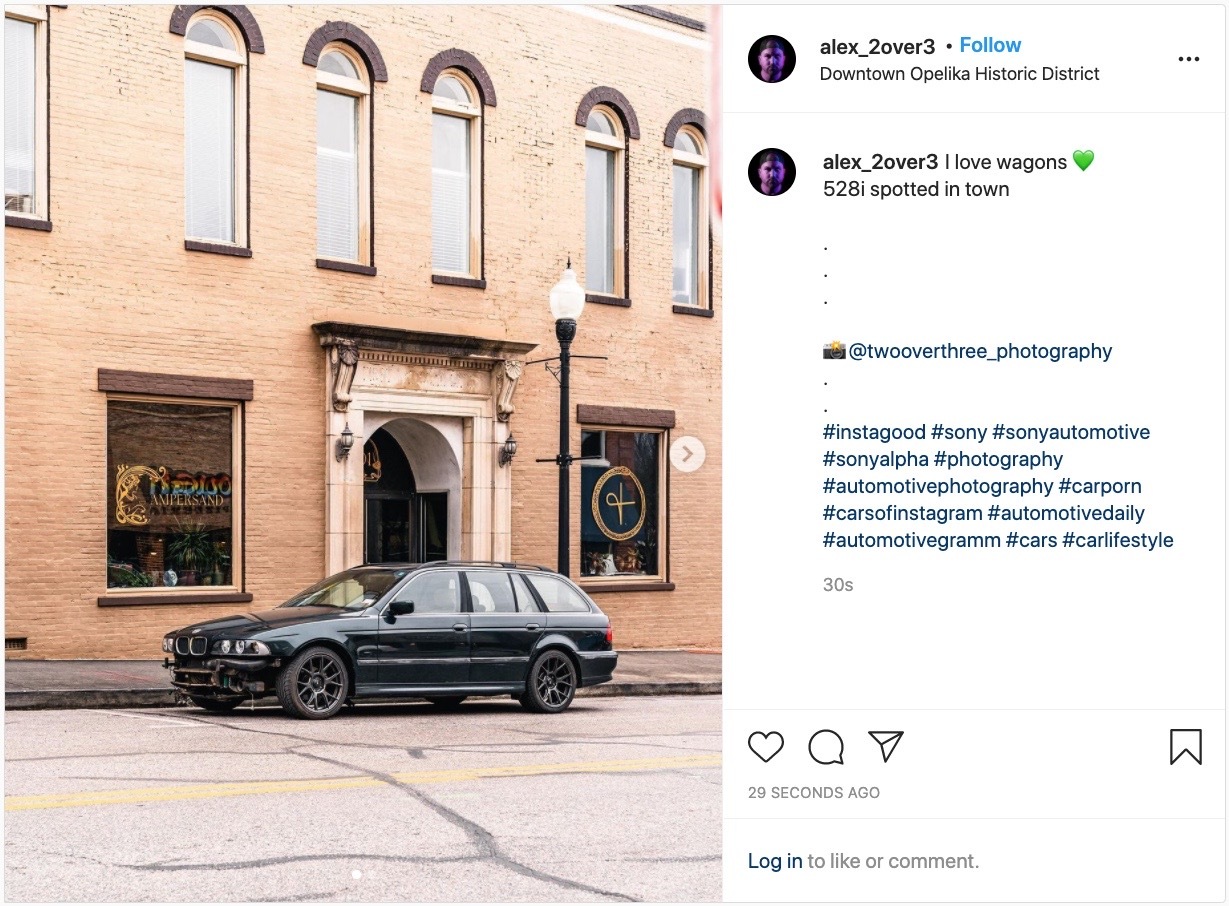 3. #fashion (1B posts)
People often turn to Instagram to see what styles are "in", looking at posts ranging from fashion week to everyday outfit inspirations. This means that a significant portion of the content on Instagram revolves around fashion — in fact, there are nearly one billion #fashion posts on Instagram. You will find celebrities, luxury brands, clothes, makeup, and other aspirational images tagged with #fashion.
Top Instagram hashtags related to #fashion:
#fashion #fashionblogger #fashionista #fashionable #fashionstyle #fashionblog #fashiongram #fashionaddict #fashionweek #fashiondiaries
4. #photooftheday (988M posts)
Managing a business account? This hashtag is a surefire way to attract more followers and repeat visitors. If you plan to post daily content, all-around a common theme, add the #photooftheday hashtag to increase your exposure.
Top Instagram hashtags related to #photooftheday:
#photooftheday #potd #picoftheday #photography #photographyeveryday #photographyoftheday #bestoftheday
5. #art (888.6M posts)
Artists of all kinds have always flocked to Instagram, and this hashtag holds pictures or process videos of all of their paintings, sculptures, and quirky creations.
Top Instagram hashtags related to #art:
#art #artist #artwork #instaart #arte #streetart #digitalart #artofvisuals #artistsoninstagram #artoftheday #artsy #artistic #arts #artgallery #modernart
6. #beautiful (792.1M posts)
Instagram is the place to go to put your best foot forward — whether it be your amazing getaway, a new hairstyle, or a breath-taking sunset, #beautiful photos encompass the best of what the platform has to offer.
Top Instagram hashtags related to #beautiful:
#beautiful #beautifuldestinations #beautifulday #beautifulview #beautifulplace #beautifulcuisines #beautifulplaces #beautifuldestination #beautifulnature
7. #photography (864.7M posts)
At its core, Instagram is a photo-sharing media, so it makes sense that there are some stunning and artistic images shared in #photography. Instagram is unique in that a user could be scrolling through the #photography posts and see National Geographic and professional photos next to amateur photographers.
Top Instagram hashtags related to #photography:
#photography #travelphotography #naturephotography #streetphotography #foodphotography #portraitphotography #landscapephotography #weddingphotography #blackandwhitephotography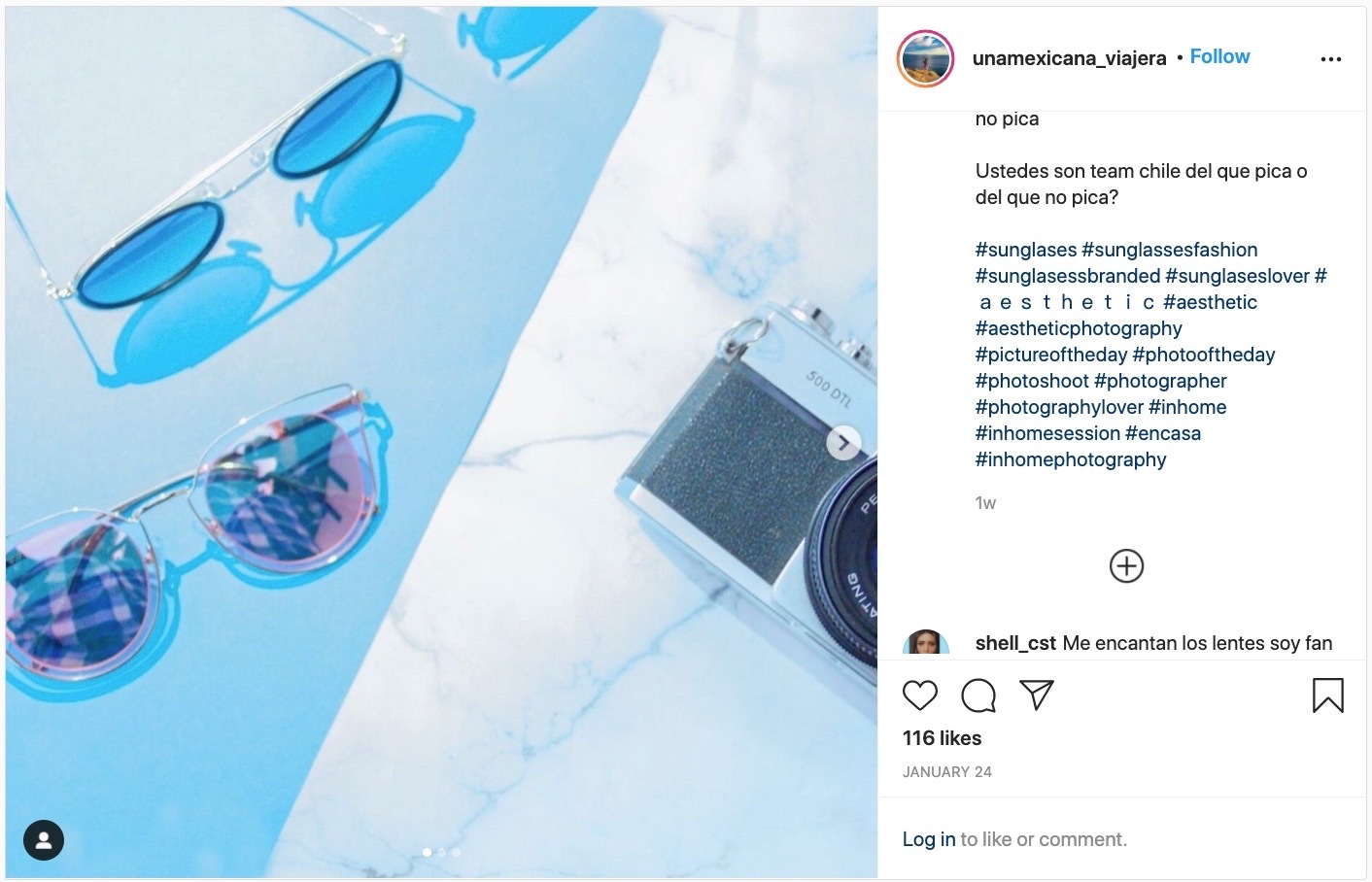 8. #happy (671M posts)
Sometimes the best part of feeling good is sharing that sunshine with others. The #happy group of posts is full of radiant people and lighthearted content that brings us joy. Tag a photo of a cute kitten or one of yourself after getting a promotion with #happy.
Top Instagram hashtags related to #happy:
#happy #happyday #happylife #happyfriday #happyhour #happyme #happymonday #happysunday #happytime #happydays #happydog #happyplace
9. #cute (659.8M posts)
#Cute puts your content in a pool of Instagram photos and videos that elicit "awes" from all over the Instaverse. If you think your puppy is the cutest puppy that ever lived, it deserves a photo with this esteemed hashtag.
Top Instagram hashtags related to #cute:
#cute #cutedog #cutebaby #cuteness #cuteanimals #cutecat #cutepetclub #cutenessoverload #cuteboy #cutedogs #cutecouple #cutepuppy #cutest
10. #instagram (828.1M posts)
Navigate to this hashtag and you'll find everything from selfies to photos of food to pet pictures to vacation shots. Use this hashtag to signal that you're on Instagram and that you have something worth sharing.
Top Instagram hashtags related to #instagram:
#instagram #instagramers #instagramhub #instagrammers #instagramer #instagramanet #instagramdogs #instagrammer #instagramjapan #instagramcats #instagramfitness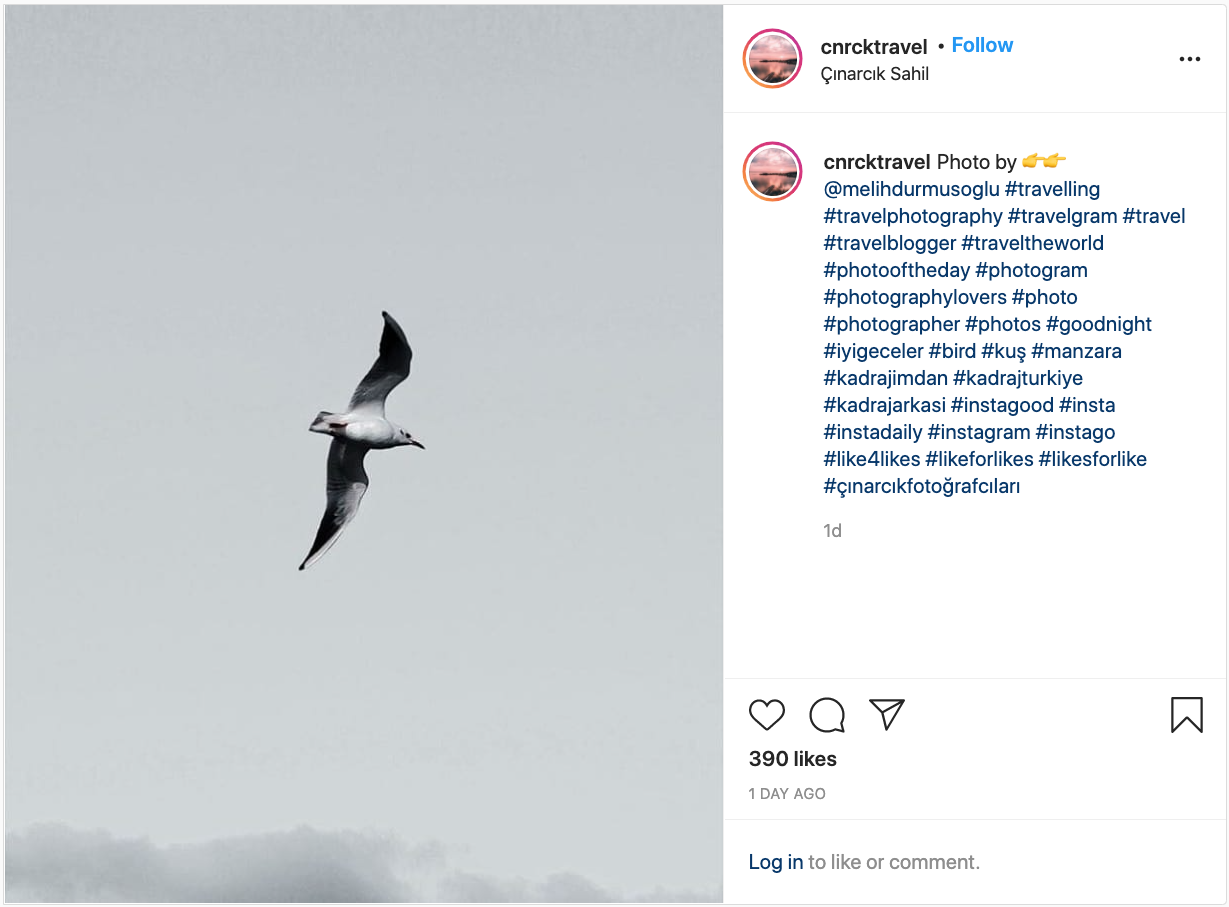 11. #nature (696.5M posts)
Nature is all around us. It's also on Instagram. This hashtag is used to post everything related to nature, including mountains, rivers, and wild animals.
Top Instagram hashtags related to #nature:
#nature #naturephotography #naturelovers #naturelover #nature_perfection #naturegram #nature_brilliance #natureaddict #nature_shooters #naturephoto #naturelove
12. #tbt (588.3M posts)
#Tbt stands for "Throwback Thursday," and encourages Instagram users to post an old photo of themselves or an event they're reminiscing over. Everyone likes content from the good old days — here's your hashtag for enjoying the nostalgia.
Top Instagram hashtags related to #tbt:
#throwbackthursday #tbthursday #tbtphoto
13. #followme (592.5M posts)
A close cousin to #followforfollow and #likeforlike, #followme is used by Instagrammers looking to grow their follower base.
Top Instagram hashtags related to #followme:
#follow #f4f #followme #followforfollow #follow4follow #teamfollowback #followbackteam #followall #followalways #followback #pleasefollow #follows #follower #following
14. #travel (613M posts)
Away for the weekend? Show your followers where you are, using this hashtag to indicate you're traveling somewhere new.
Top Instagram hashtags related to #travel:
#travel #travelgram #instatravel #travelphotography #traveling #travelling #travelblogger #traveler #traveller #travelingram #traveltheworld #travelblog #travels #traveladdict
15. #style (606.4M posts)
This hashtag has more than 500 million posts associated with it, making it one of the top tags on Instagram. It's used for beautifully edited photos of outfits, vacations, luxury products, and anything aesthetically stunning. Tag #style on a gorgeous outfit inspiration or new product, and Instagram users looking to add a little glamour to their lives will find you.
Top Instagram hashtags related to #style:
#style #styleinspo #styleblogger #styleinspiration #styleoftheday #stylefashion #stylegoals #stylediary #stylegram #styleguide #styleblog
16. #repost (557.3M posts)
Reposting is a common function on Instagram that allows you to share content from other users, with credit back to the original user. Use the hashtag, #repost, to tell others on Instagram that you were inspired by this photo or video.
Top Instagram hashtags related to #repost:
#repost #reposter #repostapp #reposting #repostthis #reposted
17. #instadaily (581.2M posts)
This hashtag is similar to #photooftheday and is perfect for Instagrammers who post every day.
Top Instagram hashtags related to #instadaily:
#photooftheday #potd #picoftheday #photography #photographyeveryday #photographyoftheday #bestoftheday
18. #summer (523.2M posts)
The summertime is the best season to enjoy fun vacations, fruity drinks, and time by the pool. This tag is full of Instagram users enjoying the long summertime hours on the beach or showing off the breezy outfits keeping them cool under the hot #summer sun.
Top Instagram hashtags related to #summer:
#summer #summertime #summervibes #summerfun #summernights #summerdays #summerstyle #summerfashion #summerday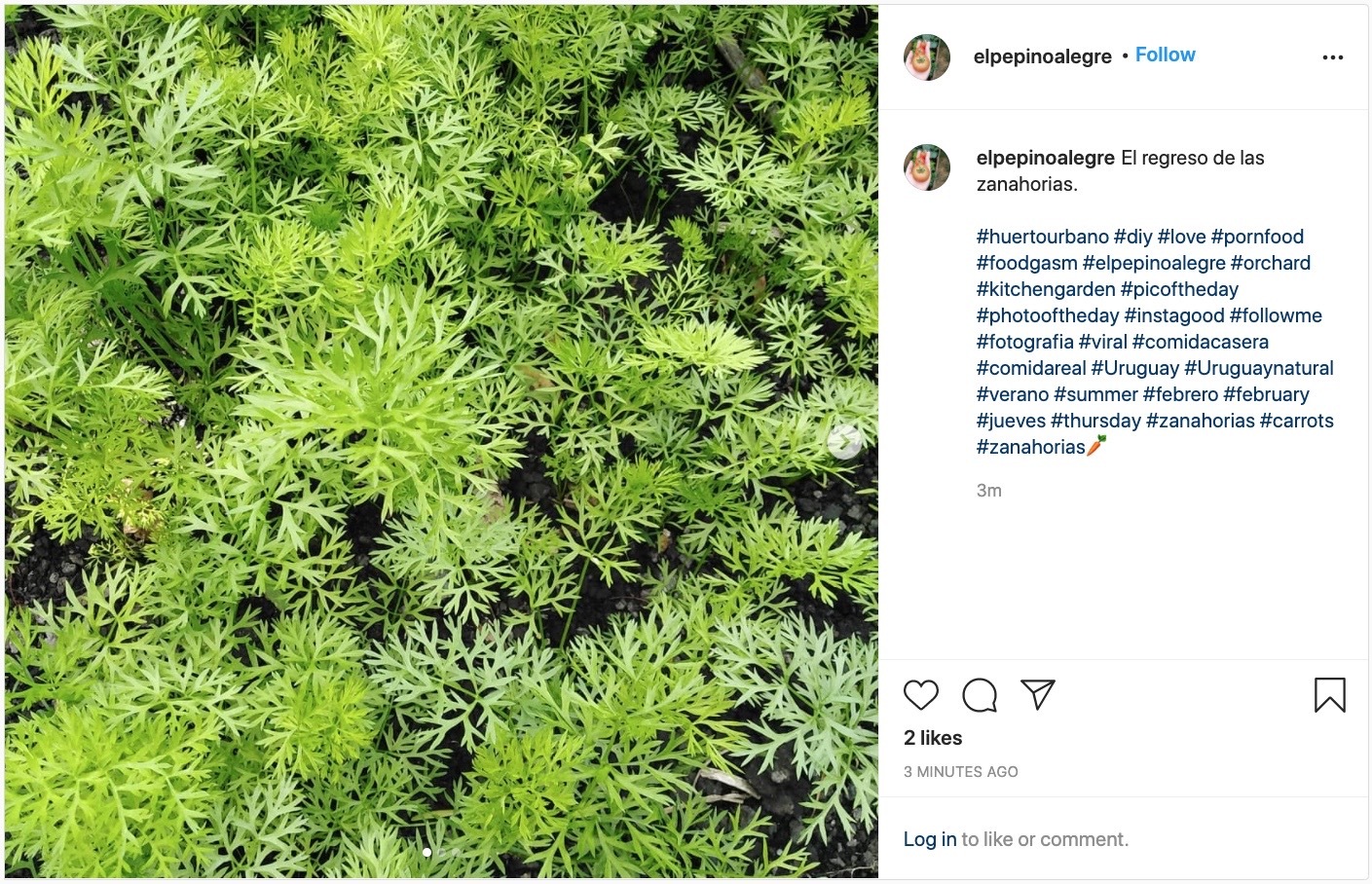 19. #selfie (464.3M posts)
This is the quintessential selfie hashtag, indicating to the Instagram community that the photo its captioning is a picture of you.
Top Instagram hashtags related to #selfie:
#me #selfies #selfietime #selfienation #selfiesunday #selfiegram #selfielove #selfieaddict #selfiesaturday #selfiemania
20. #fitness (485.9M posts)
Get in on a trending community of workout warriors with photos and videos from your best exercise sessions, using the #fitness hashtag to share the moment.
Top Instagram hashtags related to #fitness:
#fitness #fitnessmotivation #fitnessmodel #fitnessaddict #fitnessgirl #fitnessjourney #fitnesslife #fitnesslifestyle #fitnessgoals #fitnessfreak #fitnessfood #fitnessgear #fitnessinspiration
21. #beauty (492.6M posts)
The hashtag #beauty is mainly used by beauty bloggers — professional make-up artists and hobbyists — but you'll also find some pet shots and nature shots in there, too.
Top Instagram hashtags related to #beauty:
#beauty #beautyblog #beautycare #beautytips #beautyaddict #beautysalon #beautybloggers #beautyqueen #beautyguru #beautyproducts #beautyofnature #beautygram
22. #food (475M posts)
Meal pics are the bread and butter (no pun intended) of a people-oriented Instagram account. Use the #food hashtag to caption your next delicious Instagram photo.
Top Instagram hashtags related to #food:
#food #foodporn #instafood #foodie #healthyfood #foodstagram #foodgasm #foodphotography #foodblogger #foodlover #foodpics #foodpic #foodies
23. #fun (430.9M posts)
If it's not fun, it's not Instagram-worthy. Make it known to millions of Instagram users that you had a blast in your latest photo or video with this popular hashtag.
Top Instagram hashtags related to #fun:
#fun #funny #lol #lmao #hilarious #laugh #laughing #tweegram #friends #wacky #crazy #silly #witty #instahappy #joke #jokes
24. #likeforlike (360.1M posts)
#Likeforlike is similar to the #followforfollow hashtag. Use this hashtag if you want to increase engagement on your Instagram account, telling users that you'll like their photo or video if they like yours.
Top Instagram hashtags related to #likeforlike:
#likeforlike #followme #like4like #liker #likes #l4l #likes4likes #love #likesforlikes #liketeam #likeback #likebackteam #likeall #likealways
The above hashtags might have helped define Instagram over the last year, but there are still plenty more that end up trending every year. The following hashtags can help inspire photos and videos that Instagram users always find captivating.
1. #life (409.1M posts)
This one goes out to all the photos and videos that encompass the essence of your life — whether in quarantine or not.
Top Instagram hashtags related to #life:
#life #lifestyle #healthylifestyle #lovelife #luxurylifestyle #lifeisgood #lifestyleblogger #lifequotes #loveofmylife #luxurylife #lifeofadventure
2. #music (398.6M posts)
This hashtag is for those who love music and the people who create it.
Top Instagram hashtags related to #music:
#music #musica #musician #musically #musicvideo #musical #musicians #musicislife #musicproducer #musiclife #musiclover #musicfestival #musicphotography #musicproduction
3. #amazing (300.5M posts)
The hashtag #amazing is used for everything you find, well, amazing — places, art, beautiful homes, awe-inspiring videos, and more.
Top Instagram hashtags related to #amazing:
#beautiful #cute #awesome #amazingview #amazingfood #amazingplaces
4. #nofilter (286.8M posts)
Instagram offers so many different filters to help enhance photos, it's practically assumed that any picture on Instagram has been edited. But if you're posting a pic that was beautiful all by itself, let the world know that this gem didn't need a filter to look so nice.
Top Instagram hashtags related to #nofilter:
#nofilter #nofilterneeded #nofilters #nofiltersneeded #nofilternecessary #nofilterneededforthisbeauty
5. #sunset (299.5M posts)
Who doesn't love a good sunset? Users add posts to this hashtag to show off a beautiful sunset near them.
Top Instagram hashtags related to #sunset:
#sunset #sunsets #sunsetlovers #sunsetporn #sunsetlover #sunsetsky #sunsetphotography #sunsetbeach #sunsethunter #sunsetmadness
6. #motivation (305.5M posts)
On Twitter, #MondayMotivation encourages inspiring quotes and messages to help people start the week off on the right foot. On Instagram, the #motivation hashtag has come to caption anything from a photo of a user after a big gym session, to a computer screen right before he or she gets to work.
Top Instagram hashtags related to #motivation:
#motivation #motivationalquotes #motivational #motivationmonday #motivationalquote #MotivationalSpeaker #motivationalmonday #motivations #motivationquotes
7. #instamood (269.1M posts)
#Instamood is all about the vibe or emotion a photo or video elicits. Pretty scenery, a day at the beach, or a night out with good people are all prominent under the #instamood hashtag. Landscapes are a popular starting point when figuring out what to post on Instagram, according to Jumper Media, and they fit into this hashtag perfectly.
Top Instagram hashtags related to #instamood:
#instamood #instagood #instalife #instalike #instapic #insta #instacool #instafollow #instaphoto #instagramers #instamoment #instagramhub
8. #foodporn (279.9M posts)
I hope you're hungry! The #foodporn tag is brimming with mouthwatering posts of desserts, pizza, recipe videos, and so much more. This hashtag is for the best of the best when it comes to delectable treats on Instagram — find the most original, delicious, and tantalizing food pictures on the internet under this hashtag.
Top Instagram hashtags related to #foodporn:
#food #foodporn #instafood #foodie #healthyfood #foodstagram #foodgasm #foodphotography #foodblogger #foodlover #foodpics #foodpic #foodies
9. #handmade (299.8M posts)
The hashtag #handmade is like the #art hashtag for handmade wares, clothing, and novelties. The rise of slow fashion and a growing interest in sustainably-made products makes this one of the top trending hashtags this year.
Top Instagram hashtags related to #handmade:
#handmade #handmadejewelry #handmadewithlove #handmadeisbetter #handmadefont #handmadegifts #handmadejewellery #handmadeshoes #handmadesoap #handmadeaccessories
10. #dogsofinstagram (267.9M posts)
We all know that the internet loves cute puppies, so it shouldn't be surprising when a hashtag for our beloved doggos trends on Instagram. It's always a good idea to include man's best friend in an Instagram post — your followers will love it and you're almost guaranteed dozens of heart emojis in your comments.
Image Source
Top Instagram hashtags related to #dogsofinstagram:
#dogsofinstagram #dogs #dog #dogstagram #dogsofinsta #dogsofig #dogsitting #dogslife #doglife #dogsofinstaworld #dogoftheday
11. #bestoftheday (215.4M posts)
The #bestoftheday tag offers a glimpse into the massive amount of varied content that is posted to Instagram every day. Here, you'll find some of the most noteworthy images on the platform — images of beautiful spots around the world, award-winning photos, yummy recipes, adorable animals, and so much more.
Top Instagram hashtags related to #bestoftheday:
#bestoftheday #instadaily #potd #picoftheday #photography #photographyeveryday #photographyoftheday
12. #instafood (215.6M posts)
This popular tag is different from other food hashtags because it accompanies food pictures that are gorgeous, creative, and, most importantly, worthy of Instagram. Instagram posts are known for being aesthetically appealing, and #instafood is no different. Use this tag if you're posting a photo of a colorful, unique, and sumptuous dish!
Top Instagram hashtags related to #instafood:
#instafood #food #foodporn #foodie #healthyfood #foodstagram #foodgasm #foodphotography #foodblogger #foodlover #foodpics #foodpic #foodies
13. #explore (318.1M posts)
Instagram has always had an explore section, but only recently have Instagrammers started to use this hashtag to win a highly coveted but elusive spot on this page.
Top Instagram hashtags related to #explore:
#instagrammers #igers #instalove #instamood #instagood #followme #follow #comment #shoutout
14. #memes (219.7M posts)
A classic but a goodie. Throughout the years, humor has taken different forms — comedy sitcoms, stand-ups, knock-knock jokes, and more. But none of these forms come near the Instagram-worthiness of memes. Use this hashtag to share a unique meme or repost one from another account.
Top Instagram hashtags related to #memes:
#memes #meme #dankmemes #funnymemes #memesdaily #edgymemes #offensivememes #fortnitememes #dailymemes #spicymemes #memestagram #btsmemes #memes😂 #memepage #memelord
15. #followforfollowback (239.2M posts)
Interested in building a fast list of followers on Instagram? #Followforfollowback tells everyone who browses this hashtag that you'll follow users who choose to follow you. This hashtag is always trending highly.
Top Instagram hashtags related to #followforfollowback:
#followforfollowback #follow #f4f #followme #followforfollow #follow4follow #teamfollowback #followbackteam #followall #followalways #followback
16. #tweegram (94M posts)
There is plenty of multi-platform sharing across social media sites, and in #tweegram, you'll find images taken from Twitter, Pinterest, and more. #Tweegram is best known for quotes, screenshots of Tweets, and memes.
Top Instagram hashtags related to #tweegram:
#tweetgram #tweet #twitter #twitterposts #twitterweek #twittermarketing #twittermemes #twitterpost #twittermeme #twitterquotes #twitterwhy
17. #instagramhub (65.2M posts)
This hashtag isn't specific to one type of post — #instagramhub is a place for active Instagram users to demonstrate their presence on the platform and reach larger audiences. By including this popular hashtag, influencers on Instagram can connect with as many users as possible.
Top Instagram hashtags related to #instagramhub:
#instagramhub #igers #instagram #instadaily #instamood #instagood #instalife #instalike #instapic #insta #instacool #instafollow #instaphoto #instagramers #instamoment
18. #quarantine (30.1M posts)
#Quarantine is the quintessential COVID-19 hashtag and has no defined aesthetic or subject matter. Instead, it encompasses everything that we see, experience, and do — or don't do — during quarantine. You can find pet photos, cooking videos, memes, and, most shockingly, shots of people on vacation.
It's worth noting that there's no #COVID hashtag because Instagram wants to prevent the spread of misinformation.
Top Instagram hashtags related to #quarantine:
#quarantine #quarantinelife #quarantineandchill
19. #BlackLivesMatter (27.7M posts)
The Black Lives Matter movement swept through the United States in 2020 and has been at the forefront of the cultural imagination since the killing of Trayvon Martin in 2012. Use this hashtag to add value to the movement or uplift voices that differ from your own.
Top Instagram hashtags related to #blacklivesmatter:
#blm #blackhistorymonth #blackownedbusiness #blackgirlmagic #blackouttuesday #blackexcellence
Read HubSpot's stance on Black Lives Matter here.
20. #newmusic (31.5M posts)
The hashtag #newmusic is one of the many tags people use to share either their own original music or let others know who they're jamming to today.
Top Instagram hashtags related to #newmusic:
#music #hiphop #rap #artist #spotify #producer #rapper #soundcloud #musician #beats
21. #whatiwore (21.9M posts)
What better way to show off your OOTD than to tag #whatiwore. This hashtag is commonly used by people interested in the latest fashion trends, often tagging where they found it for sponsorships or for the chance of brand recognition.
Top Instagram hashtags related to #whatiwore:
#ootd #outfitoftheday #fashion #instastyle #style #instafashion #fashionblogger #fashionista #styleinspo
22. #workinprogress (21.1M posts)
The #workinprogress hashtag gives users a glimpse of some of the coolest projects being shared on the app. From art, architecture, or even fitness, this tag helps people post about reaching their goals and the steps along the way.
Top Instagram hashtags related to #workinprogress:
#wip #drawing #artwork #painting #handmade #workout #design #fitness #artistsoninstagram #motivation
23. #space (20.3M posts)
There's something so interesting and beautiful about outer space, and talking about it on social media never gets old either. Posting in the #space hashtag will lead you to find amazing shots of stars far and wide.
Top Instagram hashtags related to #space:
#spaceflight #deepspace #spaceship #spacelovers #spacesuit #spaceexploration #spacecraft #telescope #spacex #spacestation
24. #technology (21.7M posts)
With technologic innovations taking place every day across industries, the #technology hashtag is where you'll find the newest development or gadget.
Top Instagram hashtags related to #technology:
#tech #innovation #engineering #technews #science #design #gadgets #electronics #smartphone #programming
25. #engaged (16.9M posts)
Love is in the air — or in this case it's trending. The #engaged hashtag is there for all your proposal inspiration, wedding ideas, and even more content for all the lovers out there.
Top Instagram hashtags related to #engaged:
#wedding #bride #bridetobe #love #weddinginspiration #engagement #weddingplanning #weddingphotography #weddingday #weddingdress
26. #travelbug (10.8M posts)
Influencers all around the world can use the #travelbug hashtag to document their coolest destination vlogs and photos. Take advantage of this hashtag whether you're hitting the road or flying overseas.
Top Instagram hashtags related to #travelbug:
#travel #wanderlust #travelgram #travelphotography #traveltheworld #travelblogger #traveladdict #instatravel #traveling
Top B2B Hashtags
If you manage an Instagram account for a company that sells products and services to other businesses, consider including these hashtags in your posting strategy.
#business
#entrepreneur
#success
#onlineshop
#smallbusiness
#marketing
#branding
#digital
#marketingdigital
#innovation
#ecommerce
#onlinemarketing
#retail
#contentmarketing
#marketingstrategy
#software
#inboundsales
#b2bmarketing
#b2bevents
#b2bmarketplace
#b2bleadgeneration
#b2bsales
#b2bbusiness
#b2bleads
#b2bemailmarketing
#marketingtips
#marketingstrategy
#startups
#management
#businesstips
#instagramforbusiness
#instagramstrategies
Top B2C Hashtags
Does your company sell directly to consumers? If so, the best hashtags to use may vary depending on your target audience. Here is a list of B2C hashtags that could be effective for various niche areas.
#b2c
#b2cmarketing
#b2csales
#onlineshopping
#smallbusiness
#online
#training
#business
#marketing
#marketingdigital
#socialmedia
#startup
#digitalmarketing
#sales
#socialmediamarketing
#advertising
#networking
#ecommerce
#onlinebusiness
#onlinemarketing
#smallbiz
#startuplife
#company
#contentmarketing
#socialmediatips
#instahacks
#ugc
#acolorstory
1. Keep your hashtags organized.
To create an efficient hashtag system, you can use Excel or an Instagram analytics tool. If you choose an excel sheet, you'll need to manually keep track of which hashtags you use, how often, and which ones correlate to your most popular posts. Over time, you'll see relationships between certain hashtags and your most popular posts, and this can help you decide which hashtags work best for your brand.
If you have a more advanced social media team, you might want to consider a tool like Iconosquare, which automatically stores top hashtags and provides reports on which hashtags reach the most people.
For smaller businesses with limited budgets, Krystal Gillespie says that, "an excel sheet is the best way to start. Once you get more advanced I would highly recommend using a tool to track the data. A manual system can get overwhelming when you're posting three times a day and using about 20 hashtags per post."
2. Figure out your magic number.
Most top brands use seven or fewer hashtags per post, so it's easy to assume that's the magic number for everyone … right? Krystal explains that this isn't always the case: She told me HubSpot has been more successful with hashtags ranging in the low 20s.
The point is, you can't know how many hashtags work best for you until you test it. For HubSpot, it took the team several months to find a number that worked best, and during our trial period, we ranged from seven to 30. Give yourself the same flexibility for trial and error.
3. Narrow your hashtags.
There are two big reasons more specific, smaller-volume hashtags are better for your brand: first, you can compete in a smaller pool. HubSpot, for example, doesn't typically use the hashtag #marketing because it's too broad. If you search #marketing, you'll find pictures of restaurants, inspirational quotes, before-and-after hairstyle pictures, and memes.
The randomness of #marketing leads me to the second reason specific hashtags are a good idea: as a user, I'm more likely to find what I need if I search for something specific, and when your business comes up for my specific search request, I'm more likely to be happy with what I found.
Krystal explains: "Keeping a hashtag close to the interests of your brand really helps. We try to use hashtags tailored for a specific topic and then narrow it down further — for instance, we'd use #SEOTips if our marketing post was mostly about SEO."
Think of it this way: #dogs is more popular, but it has a wide demographic. If I search #goldenretrieverpuppies and I find your post, I'm more likely to engage with it because it's exactly what I wanted.
4. Research what other people are hashtagging.
An easy way to generate hashtag ideas is to make a list of your followers or competitors and research what they're hashtagging on their own photos. It can also be particularly helpful to research what influencers in your industry are hashtagging — by definition, influencers are people with a large social media following, so they must be doing something right.
5. Test out related hashtags.
When you type a hashtag into Instagram's search bar, Instagram shows you related hashtags in the scroll-down menu. Instagram also delivers related hashtags on the next page after you click on a hashtag. This is a simple way to create a longer list of hashtags to try out.
6. Follow your own hashtag.
Another way to use Instagram hashtags for your marketing purposes is to follow your own hashtag. Krystal explains, "On Instagram, I actually follow the hashtag #hubspot so I can find anyone who talks about us and connect with them. As long as your account isn't private, people will be able to find you via the hashtag."
Following your own hashtag is an effective way to engage with other people talking about your brand and develop better relationships with them.
7. Create a brand campaign hashtag.
This is the trickiest item on the list, but if done successfully, it can pay off big time. Some businesses have successfully attracted followers by creating their own campaign hashtags. A campaign hashtag needs to be funny, clever, or at least memorable to work.
Campaign hashtags are particularly useful for promoting a new product or upcoming event, or even just inspiring people. Red Bull, for example, encouraged followers to post Red Bull pictures with a #putacanonit hashtag (see what I mean about clever?). Lululemon, rather than running a more traditional ad campaign, developed a positive connotation for their brand by asking followers to post real, active pictures of themselves with a #sweatlife hashtag.
Now that we've covered the importance of using Instagram hashtags for your business, you might be wondering how to search for Instagram hashtags within the app, or how to use the search function to find related ideas. If you're unsure of the technical process for hashtag searching, here's how:
How to Search Hashtags on Instagram
To search hashtags on Instagram, tap the magnifying glass at the bottom of your screen, then tap the search bar at the top. Selecting the "Tags" option will enable you to search hashtags and related hashtags based on the popularity of each one.
1. Open Instagram and tap the search icon.
Instagram wants you to use hashtags and has made it extremely easy to find the perfect ones for your post. To start, open the Instagram app on your mobile device and tap the magnifying glass at the bottom of your screen.
2. Tap the search bar at the top of your screen.
The search screen on your Instagram might first send you to a newsfeed-style page (the Explore page) with suggested content based on topics you've demonstrated an interest in on social media. To switch to a hashtag search, tap the search bar at the top of this page, as shown in the screenshot above.
3. Tap "Tags."
Once you've tapped the search bar at the top of your screen, Instagram will give you four options with which to filter your search. Instagram refers to hashtags as simply "Tags," as shown in the screenshot below. Tap this "Tags" option, then tap the search bar above it, and begin searching topics for which you want to find a trending hashtag.
You don't have to include the pound sign (#) in your search — your results will be the same with or without it — but you will need to use this pound sign in the caption of your photo once you choose a hashtag.
4. Browse hashtags based on post count and current content.
Voila! You should see multiple options for hashtags based on your search. Browse around at each related hashtag that Instagram suggests for you — you might find that a hashtag with slightly fewer posts includes photos or videos that are more in line with the content you're posting.
After finding the best hashtags for your account, you'll be sure to create a winning hashtag strategy.
Use Hashtags on Instagram to Gain More Followers
Using hashtags is a critical part of a strong Instagram marketing strategy. Following best practices, you can increase your follower count and boost the number of leads coming from Instagram. Happy hashtagging!
Editor's note: This post was originally published in July 2019 and has been updated for comprehensiveness.