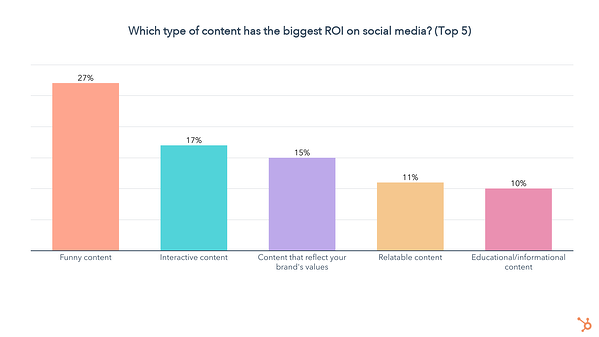 5 Social Media Tips Every Small Business Needs [+ Free Tools]
POV: You're new in the market and you're wondering just how your small business can stand out among the millions of brands currently on social media.
In this article, you'll learn how to use social media for small businesses and which (free) software you should have in your toolbox.
Why social media is important for small businesses?
The biggest benefit to using social media is that it's a low-cost strategy to increase your brand awareness.
While you, of course, have to invest time and resources in building out your content, you can create high-quality content with a reliable phone and a few tools at your disposal.
In addition, with social media, you have the potential to reach your target audience for a fraction of what you would pay in targeted ads.
😍😍😍😍

— Kendall Miles (@TheKendallMiles) September 20, 2021
For instance, you may spend $100 developing creative assets for a video that ends up reaching 100,000 users. To reach those same users with an ad, you will likely have to invest much more money.
In addition, social media allows you to:
Drive more traffic to your website and generate leads.
Promote products and services.
Build a community.
Connect with and learn from your target audience.
When you get down to it, the way you use social media as a small business isn't much different from how you'd use it as a mid to large-size business. In both cases, you're sharing, engaging, monitoring, and optimizing.
The key difference is that a small business is likely focused on growth while an established brand may prioritize expansion.
Social Media Tips for Small Business
1. Be consistent.
The best thing you can do as a small business when starting out on social media is to be consistent.
Too often, brands get discouraged if they don't see results within a few weeks. The truth is social media growth can be slow but like most things, if you remain consistent, you will generate results.
This means posting high-quality content on a regular basis (at least once a week). You do this for a few reasons.
@thecraftghan Acrylic baby milestone signs in 'Linen' #acrylicsignstoronto #makeitwithme #tiktoktoronto #shopsmall #smallbiz #cricutprojects #babymilestones ♬ TO THE MOON – Jnr Choi & Sam Tompkins
The first is that when a user does land on your profile, you want them to get a clear picture of your brand. If you have little to no content, users will quickly lose interest and leave. The same is true for scattered posts.
Social media is an opportunity to tell a story. When you prioritize consistency and cohesiveness, users will know what to expect from your page, what your voice is, and what you offer. And that's how you'll attract your target audience.
2. Diversify your content.
On social media, there's so much room to be creative and experiment. Too often, brands find one strategy that works and stick to that.
While there's a lot of truth to the saying "If it ain't broke, don't fix it," social media is constantly evolving. What worked yesterday may not work today, as these platforms implement new features and user behavior changes.
With this in mind, play around with content formats whenever possible. For instance, on TikTok, you can only post videos. However, on Facebook, you have the option of going live, posting images, conducting polls, and more.
Here are some formats you should leverage:
Photos
Videos
Illustrations
Stop-motion
Live streams
Polls
With content, the limit truly does not exist.
Our social media report revealed that small businesses get the best ROI from creating educational and relatable content. Meanwhile, mid-size and large businesses report better results with funny and interactive content.
This data point makes sense for many reasons. Larger brands have likely already built a strong following and know what their audience likes. That's why they're able to do interactive polls and be creative with their content.
Small businesses, on the other hand, still have a lot to prove. They want to add value to their audience and grow a following, and the easiest way to do that? Make content that educates and/or resonates.
This isn't to say that small businesses should stick to these two types of content. In fact, they should experiment with all content to narrow down what their audience likes. However, this can serve as a strong starting point.
Here are some ideas to get you started:
How-tos
Customer spotlights
Industry facts and updates
Behind the scenes
Trends (viral sounds and dances)
Product highlights
Q&As
3. Focus on quality instead of quantity.
This applies not only to the content you post but also to which platforms you post.
From a content perspective, while it is encouraged that you post often on social media, there's a caveat. Everything you post should add value.
If it doesn't meet that criteria, consider another strategy, such as reposting brand-related content from a non-competitor or sharing user-generated content (UGC).
In fact, 33% of small businesses surveyed (those with 1-25 employees) report getting the best ROI on social media from leveraging UGC.
Now onto the platforms.
If you're a small business with limited time and resources, you may not able to manage an account on every single social platform. And that's OK.
It's much more valuable to focus on one to three platforms that have your target audience's demographics and go from there.
According to our 2022 social media marketing research, small businesses are prioritizing Facebook and YouTube in 2022 (even though they report that Facebook and Instagram generate the highest quality leads).
However, if your audience is Gen-Z, you may choose to focus your efforts on TikTok and grow your audience there.
4. Find trends.
This is another piece of advice that relates to both content and platform.
Our research found that many small businesses are exploring live audio chat rooms and short-form videos for the first time – two of the biggest trends of the last two years.
Yes, trying out a new platform demands a lot more than trying out a new format or type of content.
For a while, brands were wary of TikTok. They saw it as a non-serious platform meant to entertain Gen-Z. Now, brands realize that it's another highly valuable network that can broaden their reach and increase their brand awareness.
This is all to say that you don't have to jump on every trend when it first appears, that's not the recommendation here. Instead, you want to monitor them and their evolution. Because while some trends die off, others turn into staples.
Social Media Tools for Small Business
When asked about the tools they use to track social media metrics, 75% of small businesses said Google Analytics.
The platform allows you to track the impact of your social media accounts on your traffic, specifically:
How many visitors are coming from social media
How long their sessions are
Which landing pages are getting shared most on social media
Conversion rates from social media compared to other channels
Which social campaigns are generating traffic and conversions
There are both free and paid versions of the app – the free version offers so many features that as a small business, there is little need for the upgrade.
2. Canva for Graphic Design
Don't have money to hire a graphic designer? Don't fret – Canva to the rescue.
This graphic design platform offers thousands of free social media templates that you can use to build a consistent visual identity.
You can also find stock images and videos that are free to use for commercial and non-commercial use.
Note: While Canva is incredible for creating branded templates, avoid using it for logos, as you may struggle to find unique designs.
3. Asana for Content Planning
Asana is a project management tool that makes social media planning easy.
With the free version, you can:
Integrate it with 100+ tools, including Slack, Google Calendar, Adobe, Canva, MailChimp.
Create unlimited projects and tasks.
Tag social platforms, content, and more for easy sorting.
Have up to 15 users to facilitate collaboration.
With all of these features, you can map out your content for the month and create tasks to track your progress. This makes scheduling a piece of cake and allows others to get a clear understanding of your plans.
Growing your social media presence as a small business is an exciting time. Use these tools to get you on track and remember, slow and steady always wins the race.