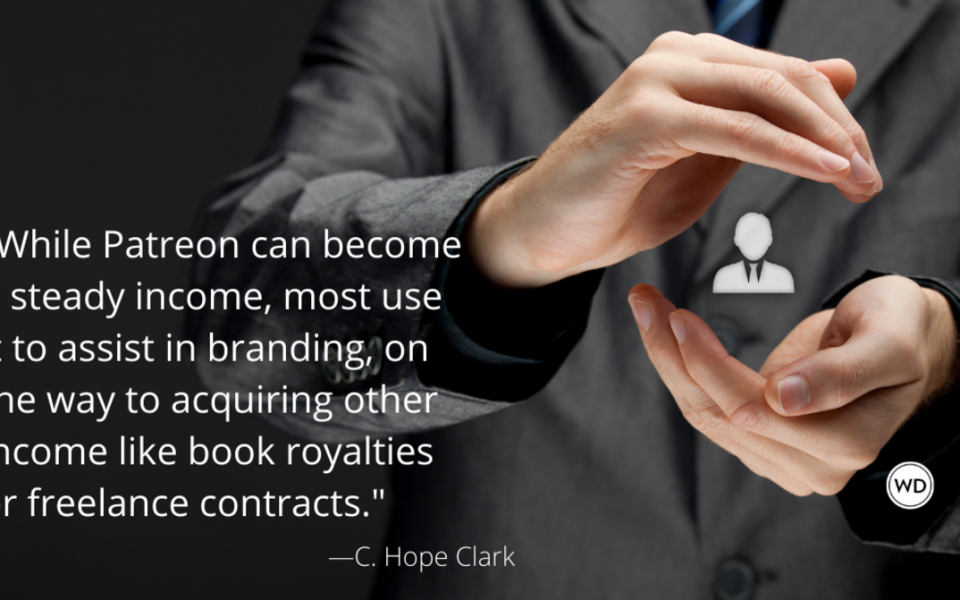 How to Use Patreon as a Freelancer's Tool
Patreon is the mechanism providing you with an online subscription service where you and your followers meet up and share the same lingo. They receive something creatively unique, and you relish the freedom of creative expression while earning a few dollars.
(4 Places for Freelancers to Find Those First Clients.)
You'll find over 200,000 creators on Patreon, and the definition of creativity varies far and wide, with some using it for their primary income, and others as a sideline tool.
Become a Patreon Creator
You have the option to utilize Patreon as a patron or a creative provider, or both. Being a Patreon creator does the following for your freelance writing career:
Gives you freedom to be as creative as you desire. No adhering to popularity, politics, algorithms, or editors, you post what your heart desires (which usually means what your readers desire).
Gives you an income stream. Whether you have ten followers or a thousand, that $1, $5, $10 or higher donation per month generates predictable income.
Anchors you to your super fans.
Brands you as an expert in your genre, your niche, or your journalism specialty.
Author and writing instructor K. M. Weiland is known as much or more for her incredible writing lessons as her award-winning historical and speculative fiction. Her writing guides are internationally renowned, and she offers podcasts and blog posts on Helping Writers Become Authors.
She offers six levels of membership on her Patreon page. They range from admission to a private Facebook group to discounts to copies of all her ebooks. You can become a priority member and get your writing questions shifted to the top of the list, and if you feel particularly generous, you get autographed copies of all paperbacks, fiction and nonfiction, to include those in the future.
One hundred patrons at one of her lower tiers lands her $1,000 per month. Sprinkle in the higher tiers and she turns that number into a high four-figure income.
Short Term or Long Term?
Sci-fi/fantasy author N. K. Jemisin used Patreon to aid her journey. She started her site seeking money to justify quitting the day job. Already an award-winning author, she juggled the job, the writing, the touring, and promotion. She was tired and forced to turn down opportunities.
So she opened an account on Patreon, spilled her needs and limitation and ultimate desires to her fans, and wrote unique content for the patrons in hopes of making her life easier by earning enough through Patreon to quit the nine-to-five. She reached her goal and then some. She still has the account, provides updates, but no longer pushes for new patrons.
A prolific writer, mainly urban fantasy, Seanan McGuire created what she called The Toaster Project, admitting up front that Patreon was a temporary effort with an end goal of financing her relocation. Each month she produced a toaster, or unique fiction work to also include podcasts and visual tools. Patrons received this unique work and various physical rewards. Her Patreon account remains active long after she met her goal.
Tefler opened their Patreon page writing their first novel. Chapter by chapter, they posted for patrons, to include maps, sketches, drafts, and guest writers in between. Patrons pay per chapter in exchange for first-see privilege. To date, they have over 4,000 patrons and receive $8,000 per chapter. They are on chapter 147.
*****
Breaking into traditional book publishing can be tough work. After you write and revise the book, there's finding an agent or an independent publisher, which involves time spent researching instead of what you really want to be doing—writing. So, Writer's Digest has done the work for you with this 144-page guide. The Get Published in 2022: Breaking In Resource Directory collects the resources you need to make 2022 the year your book gets published.
*****
It's Not About Just Fiction
Journalist Laurie Penny wanted to expound her journalism into more predictive than reactive, and she didn't like being held back by higher authorities or politics. Wanting to graduate from being the 23-year-old reporting soft pieces, she chose Patreon in hopes of being taken more seriously writing grown-up journalism.
Coffee + Crumbs posts stories to uplift and inspire mothers. The stories have created a community where moms can feel real and validated.
Niche is Powerful
A freelancer can grow their niche on Patreon, offering specialized material and demonstrating their prowess in an area of expertise. Finance, video games, motherhood, food, travel, fashion, sports, medical, legal, music, political, pets, etc. If you wish to become known for a particular subject matter, and you wish to break into the larger publications and online entities seeking those topics, consider demonstrating your knowledge on a Patreon page.
The niche can be as tiny as anti-Trump material or as broad as educational journalism. As restricted as weightlifting or as wide as the environment. Sylvie von Duuglas-Ittu covers Muay Thai, or Thai boxing. The Bowery Boys discuss New York City history. Doughboys covers the best and worst of chain restaurants.
Your job is to offer good material from a unique perspective that attracts and respects the intelligence of your followers. Podcast, vlog, write short stories, interview a specialist, offer unique artwork, provide devotionals, coach newbies in a field. The sky's the limit.
Become a Patreon Patron Instead
A writer doesn't have to become a creator and manage a page. They can learn volumes and gain access to zillions of opportunities by becoming a patron. There is much to be gleaned from the experts on Patreon. You have accounts like K. M. Weiland, where you can learn the ins and outs of creative novel writing, but you can find freelance work as well.
US Sport Opps has one payment level, $5, for which you receive a weekly newsletter showcasing freelance gigs in the worlds of American football, basketball, tennis, hockey, baseball, and golf.
Write Jobs PLUS+ has two tiers of opportunity for patrons, $3 or $5 per month. In exchange, those patrons receive daily emails containing calls for pitches, leads, and submission openings from markets with clear pay rates and accurate contact information. They even have a filtered database for you to define high-paying leads, paying publications, non-pitching gigs, and worldwide opportunities.
Patreon is how to address your rabid fans, your top shelf fans, your unofficial street team. They are the sweet spot of your market base. They receive exclusive access to articles or parts of your site, and they can be invited into a community room (Discord) where they share thoughts with both you and your other patrons. They can receive email lists, access to podcasts, while at the same time introducing them to all your other venues like YouTube, Reddit, Facebook, and more. They receive early releases or live recognition in podcasts. They are special.
Patreon offers integration with supplemental tools to better enhance your patrons' experience like Discord, Vimeo (video tool), WordPress Plugin (to connect your website), MailChimp (newsletter service), Discourse (another community tool), Automated Early Access (releasing material to higher-tiered patrons before others), Polls, Bonjoro (thank-you videos), and more.
While Patreon can become a steady income, most use it to assist in branding, on the way to acquiring other income like book royalties or freelance contracts. It's been around a long time, nine years, which online is a lifetime. Some creators supplement their other incomes with it, while some creators become surprised at how lucrative a Patreon account can be when fully embraced.
But as a minimum, check out the Patreon pages that can aid you as a freelance writer and creative personality. You'll find tricks and advice you might not find on other venues, simply because Patreon is all about the creator respecting their favorite followers.